The global virtual data room market was valued at USD 1,633.08 million in 2022 and is expected to grow at a CAGR of 14.71% during the forecast period. The shift towards cloud technology can significantly impact organizations. Cloud technology allows organizations to scale up or down as needed, providing greater flexibility in response to changing business needs. Wang Jin, a research fellow at the MIT Initiative on the Digital Economy, has published a new study that offers some of the first extensive analyses of the effects of cloud adoption in 2022. According to the research, moving to the cloud benefits businesses by boosting productivity and revenue while laying the groundwork for future projects like artificial intelligence and enabling remote workers. Cloud computing can reduce costs associated with hardware, software, and IT maintenance and provide economies of scale. This will create a wide range of opportunities for growth and demand for cloud technology in the coming years.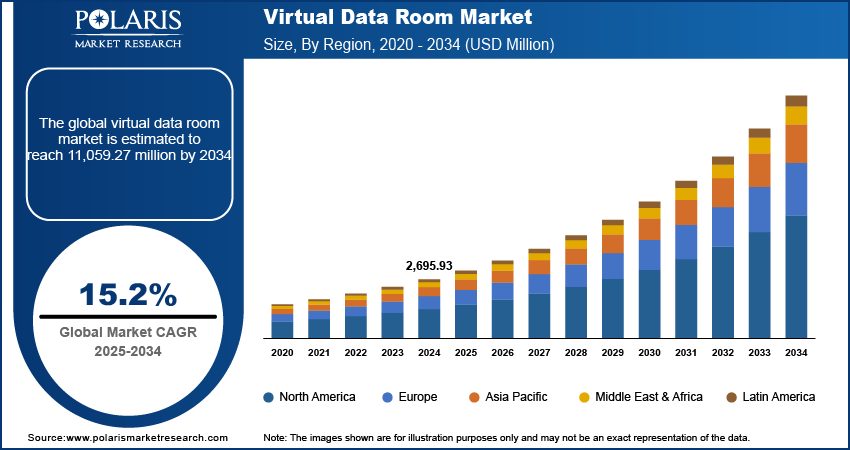 Know more about this report: Request for sample pages
A significant amount of seismic data is also included in oil and gas operations, and well logs must be transferred safely during consolidation processes. The government chose a virtual data room for Bharat Petroleum Corporation Limited due to the pandemic and travel limitations. To enable bidders to do the diligence in 2021, BPCL created a virtual data room to assist bidders in conducting due diligence before submitting financial offers for the government's interest in Bharat Petroleum. A virtual data room will help bidders cut expenses by preventing physical travel. The market is primarily driven by the strong demand for highly secure solutions for transmitting sensitive information and documents between enterprises and legal organizations.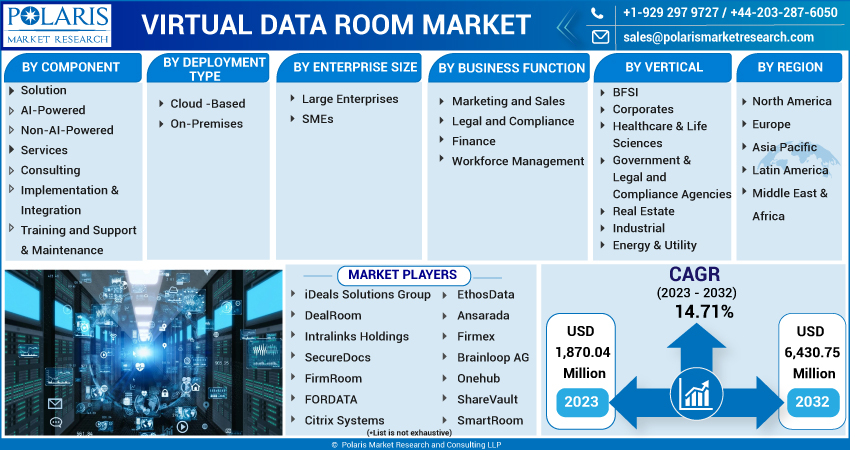 Know more about this report: Request for sample pages
Industry Dynamics
Growth Drivers
Increased demand for secure and efficient information management drives the market's growth. They provide secure and efficient management of sensitive information during due diligence processes, making them a popular choice for various industries. The rise in merger and acquisition activities will fuel the growth of the virtual data room market in the coming years. With increased M&A activities globally, virtual data rooms are becoming a popular tool for the secure and organized exchange of information during due diligence processes. For instance, according to Business Line research, in India, the value of merger and acquisition (M&A) activity reached a record high of $148 billion in the first nine months of 2022. it was 58.2% higher than in 2021.
The growing adoption of cloud technology is expected to create new growth opportunities for the market. The adoption of cloud technology has made virtual data rooms accessible anywhere, anytime, increasing their popularity among users. Compliance with regulatory requirements fuels the growth and demand for the market. Virtual data rooms help organizations comply with various data protection regulations, such as the EU's General Data Protection Regulation (GDPR).
The regulation has not only raised awareness about the importance of data protection, but it has also led to a greater demand for VDR solutions that can help organizations store, manage, and share their data in a secure, compliant, and accessible manner. They provide a cost-effective alternative to traditional physical data rooms, making them a more accessible option for organizations of all sizes. Advancements in security measures will further propel the growth of the market in the upcoming years. With the rise in cyber threats, virtual data room providers have invested in advanced security measures to ensure the safety of sensitive information.
Report Segmentation
The market is primarily segmented based on component, deployment type, enterprise size, business function, vertical and region.
By Component

By Deployment Type

By Enterprise Size

By Business Function

By Vertical

By Region

AI-Powered

Non-AI-Powered

Consulting

Implementation & Integration

Training and Support & Maintenance

Marketing and Sales

Legal and Compliance

Finance

Workforce Management

BFSI

Corporates

Healthcare & Life Sciences

Government & Legal and Compliance Agencies

Real Estate

Industrial

Energy & Utility

North America (U.S., Canada)

Europe (France, Germany, UK, Italy, Netherlands, Spain, Russia)

Asia Pacific (Japan, China, India, Malaysia, Indonesia. South Korea)

Latin America (Brazil, Mexico, Argentina)

Middle East & Africa (Saudi Arabia, UAE, Israel, South Africa)
Know more about this report: Request for sample pages
Cloud-based deployment type accounted for the highest market share over forecast period
The Cloud-based deployment type is expected to witness higher growth revenue throughout the forecast period. Its main advantage is the ability to access cloud-based solutions from anywhere around the globe easily. Additionally, the cloud-based solution became more popular due to its low cost & simplicity of its deployment.
Due to the reduced cost-benefits compared to on-premise solutions, small & medium-sized enterprises (SMEs) favor cloud-based solutions. In the upcoming years, this aspect is anticipated to support market expansion. The cloud service providers also give amenities like round-the-clock support and maintenance services to ensure that the services are always available. This is also expected to accelerate segment growth throughout the projection period. In addition, demand for on-premise solutions is anticipated to rise globally as people seek complete control over their private papers and reduce their worries about cyber threats.
Large Enterprise segment is expected to hold the significant revenue share during forecast period
The large Enterprise segment is expected to have a higher growth rate. Deployment by banks, law firms, healthcare systems, and financial businesses. Utilizing these solutions has enabled these businesses to safely keep and send confidential and legal documents to their clients and business partners. In addition, it is predicted that demand for virtual data room solutions will increase over the coming years due to the growing requirement for board directors & higher authorities.
Large Enterprises produce significant data since they have many employees and a large consumer base. Consequently, huge corporations progressively employ secure solutions to store and relocate confidential information safely. It is anticipated to fuel the growth of the large enterprise segment. Furthermore, it is expected that the market will experience spectacular growth owing to the huge among SMEs handling their legal & secret documents.
Finance segment is expected to witness fastest growth in coming years
Finance segment is projected to experience a higher growth rate in coming years. This is due to the widespread use of VDR technologies in various financial applications across various company finance disciplines. These businesses benefit from the platform when transferring private information through mergers and acquisitions, equity sales and purchases, managing non-performing loans (NPL), bankruptcy, and restructuring, among other business transactions. As an illustration, several significant investments banking firms, including J.P. Morgan, Credit Suisse, Goldman Sachs, Deutsche Bank, and Barclays, actively use the VDR platform throughout their organizations to share important financial files, such as securities and bonds.
Many organizations are aggressively developing safe solutions in response to the constantly evolving data requirements, which aids these businesses in adhering to and being ready for the new set of norms. As a result, it is anticipated that over the forecast period, the utilization of VDR tools for legal domains will increase. Additionally, numerous law firms hold a significant amount of private electronic data pertaining to numerous customers. As a result, they want a reliable solution to maintain this information in an orderly and secure manner and support the growth of the legal segment over the predicted period.
BFSI segment is expected to witness fastest growth in 2022
The Banking, Financial Services, and Insurance segment is expected to have a higher growth rate. This can be attributed to investment banking firms and other financial institutions' fast-expanding use of virtual data room platforms. The platform aids these companies in efficiently streamlining the deal processes throughout merger and acquisition activity. Additionally, during various crucial procedures like capital raising, strategic alliances, rights issues, and mergers and acquisitions, these organizations use VDR solutions. Corporate offices have seen a huge demand for VDR solutions due to creating a secure location for their private documents and data.
The VDR platform offers a central board interface that enables higher-ups in businesses to securely share agendas, documents, and other information from anywhere in real time. Additionally, the use of virtual data room solutions throughout the real estate industry is expected to increase at a higher growth. The rapid increase in demand for VDR solutions for services such as portfolio management, capital raising, branding, and asset sales, among others, is attributed to the high growth.
The demand in North America is expected to witness significant growth over predicted period
North America is projected to experience a higher growth rate; this is attributable to the large investments made by the major market participants, such as Datasite, EthosData, Citrix Systems, and Intralinks Holdings are responsible for a sizable share. Several businesses, law firms, & government organizations in the region have the highest deployment rate. Rising concerns regarding cyber-security threats have also led to the region's expansion.
Asia Pacific is the second largest region to fuel the market's growth and is expected to witness higher revenue share throughout the forecast period. A large rise in startups and merger and acquisition activity in important growing nations like China and India highlights the need for the secure transfer of critical documents across enterprises. India, Japan, China, and Singapore are just a few Asia-Pacific nations where the real estate market is expanding at an explosive rate. Savills India predicts that by 2025, the need for data center real estate will rise by 15 to 18 million square feet. As a result, the demand for secure document sharing during the acquisition or sale of real estate will accelerate the expansion of VDR solutions in the market.
Competitive Insight
Key players include Datasite, iDeals Solutions, DealRoom, Intralinks Holdings, SecureDocs, FirmRoom, Citrix Systems, EthosData, Ansarada, Firmex, Brainloop, Onehub, ShareVault, SmartRoom, Uniscon, Aversure, Ruby Datum, Drooms & Imprima.
Recent Developments
In October 2022, Ansarada, a multinational SaaS company, rebranded its name to boost organizational value by bringing order to chaos. Along with the rebrand, Ansarada introduced several new products. These include Secure Storage, a central repository with bank-grade security, & Ansarada Secure Share.

In January 2023, Firmex, a top virtual data room and subscription file-sharing company in Toronto, Canada, was strategically acquired by Datasite, a leading SaaS-based technology solution for international mergers and acquisitions (M&A) professionals.
Virtual Data Room Market Report Scope
| | |
| --- | --- |
| Report Attributes | Details |
| Market size value in 2023 | USD 1,870.04 million |
| Revenue forecast in 2032 | USD 6,430.75 million |
| CAGR | 14.71% from 2023-2032 |
| Base year | 2022 |
| Historical data | 2019 - 2021 |
| Forecast period | 2023-2032 |
| Quantitative units | Revenue in USD million and CAGR from 2023 to 2032 |
| Segments covered | By Component, By Deployment, By Enterprise Size, By Business Function, By Vertical, By Region |
| Regional scope | North America, Europe, Asia Pacific, Latin America; Middle East & Africa |
| Key companies | Datasite, iDeals Solutions Group, DealRoom, Intralinks Holdings, SecureDocs, FirmRoom, FORDATA, Citrix Systems, CapLinked, EthosData, Ansarada, Firmex, Brainloop AG, Onehub, ShareVault, SmartRoom, Multipartner S.p.A, Uniscon GmbH, Aversure AB, Ruby Datum, Drooms and Imprima. |