The global fire safety equipment market size was valued at USD 52.4 billion in 2017 and is anticipated to grow at a CAGR of 9.1% during the forecast period.
Fire safety equipment refers to devices developed to provide protection and safety to the user in case of fire accidents. This equipment offers warnings, protection, assistance, and medical support to protect the user from conditions, which may otherwise lead to injury. Fire safety equipment includes fire extinguishers, signage, fire blankets, fire hose reels, sprinklers, smoke alarms, and first aid kits among others. Fire Safety Equipment is used in homes, commercial buildings, hospitals, manufacturing factories, and educational institutes among others.
The major driving factors of the fire safety equipment market include increasing concerns regarding safety, and stringent government regulations concerning workplace safety. Implementation of building safety codes, along with rise in accidents and loss of property due to fire supports the growth of the market. Fire safety equipment has registered a rising demand from varied industries such as construction, oil and gas, and mining among others owing to stringent regulatory norms, thereby accelerating the growth of the market.
Other factors driving the growth of fire safety equipment market include growing investments in R&D, and technological advancements in equipment and networking. However, high implementation and maintenance costs associated with them would limit the growth of the market to a certain extent. Expansion of established companies into emerging economies, growing demand from commercial buildings, and increasing automation in homes and offices would provide numerous growth opportunities in the market.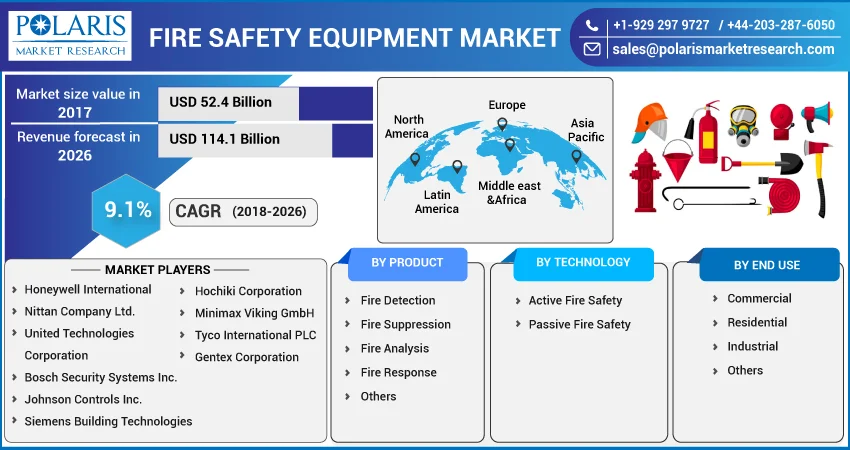 Segment Analysis
The global fire safety equipment market is segmented on the basis of product type, technology, end-user, and geography. Based on product type, the market is segmented into Fire Detection, Fire Suppression, Fire Analysis, Fire Response, and others. In 2017, the fire suppression segment accounted for the highest market share owing to increasing demand for fire extinguishers and fire sprinklers from the commercial and industrial sectors.
The technology segment is categorized into Active Fire Safety, and Passive Fire Safety. Active fire safety dominated the global market in 2017. Active fire safety systems are devices which require manual or automatic fire detection and fire suppression.
The end-users of the fire safety equipment market is segmented into commercial, residential, industrial, and others. In 2017, industrial segment accounted for the highest market share owing to stringent regulations regarding workplace safety from manufacturing, oil and gas, and mining industries.
Regional Analysis
This report comprises a detailed geographic distribution of the market across North America, Europe, Asia-Pacific, Latin America, and MEA. North America is further segmented into U.S., Canada, and Mexico. Europe is divided into Germany, UK, Italy, France, and Rest of Europe. Asia-Pacific is bifurcated into China, India, Japan, and Rest of Asia-Pacific. North America accounted for the largest share in the global Fire Safety Equipment Market in 2017. Stringent government regulations regarding workplace safety, and growing automation in smart homes and buildings accelerate the adoption of fire safety equipment in the region.
Competitive Analysis
The vendors in the fire safety equipment market are launching new products to meet the growing customer needs. In addition, the leaders in the market are acquiring and collaborating with top companies in the market to enhance their offerings in the market and expand their customer base.
The leading players in the fire safety equipment market include Honeywell International, Nittan Company Ltd., United Technologies Corporation, Bosch Security Systems Inc., Johnson Controls Inc., Siemens Building Technologies, Hochiki Corporation, Minimax Viking GmbH, Tyco International PLC, and Gentex Corporation among others.