The global galacto-oligosaccharides market was valued at USD 781.04 million in 2021 and is expected to grow at a CAGR of 9.7% during the forecast period. The market for galacto-oligosaccharides will expand as a result of shifting taste preferences, rising immune health and gastrointestinal development concerns, and other market drivers. Other reasons affecting the market's rise include the rising R&D expenditures and the growing health-conscious populace around the world.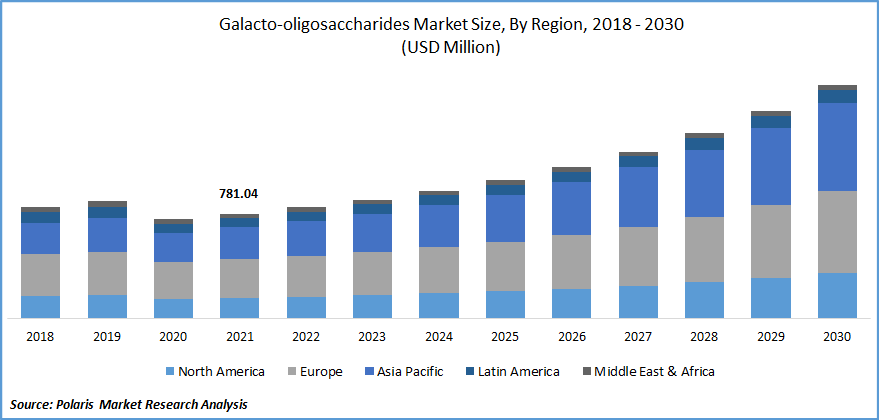 Know more about this report: Request for sample pages
A sequence of galactose molecules combined with glucose molecules, known as galacto oligosaccharide, is largely found in lactose, which is prevalent in cow's milk, as well as certain root vegetable types and bean types. Galacto oligosaccharides travel to the colon in an undigested form, promoting the development of good bacteria and bowel movement.
Despite the uncertainty around the use of prebiotic ingredients in food products, there is a growing galacto-oligosaccharides market for natural dietary fibers that are easy to label, including such galacto oligosaccharides, which continues to present multiple opportunities for participants. Furthermore, this has compelled several firms to spend money on technological advancements and research to create products like galacto-oligosaccharides and FOS that have useful qualities.
Cereals, bakery goods, nutritional supplements, and dairy products all contain various functional additives that are employed in the food and beverage business. The market for galacto-oligosaccharides is also fueled by the increased market demand for medical items like supplements caused by the rising number of premature births, the aging population, and sick patients. These factors have all contributed to the market expansion of the galacto-oligosaccharides.
An alarming effect on the world economy was predicted as a result of the ongoing COVID-19 situation. The coronavirus can disrupt the supply chain, impact the supply of raw materials, and affect the prices of completed goods.
Although the scarcity of suppliers, resources, and natural resources caused by the coronavirus outbreak has little impact on the food and beverage industries' capacity to manufacture products, the food corporations nonetheless change vendors to meet food safety criteria. The use of galacto-oligosaccharides did, however, show an increase in market demand for prebiotics to improve the human gut flora due to the rising COVID-19 infection rate.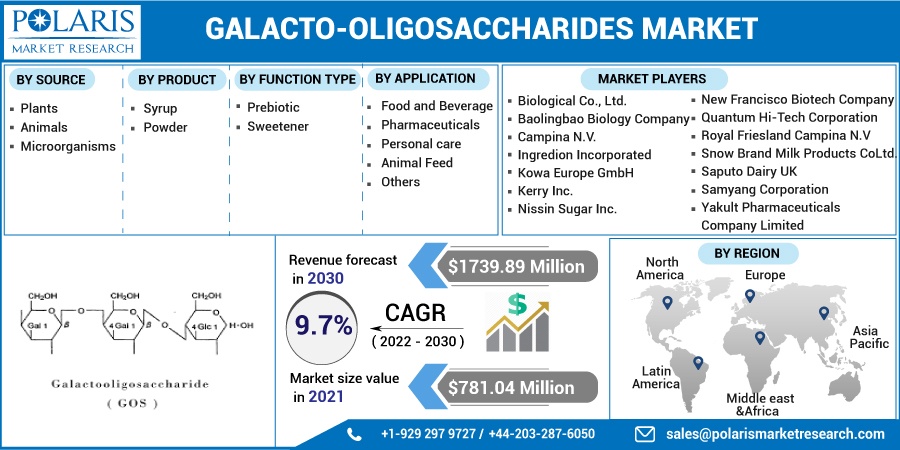 Know more about this report: Request for sample pages
Industry Dynamics
Growth Drivers
The consumption of baby formula has increased due to the fast-growing infant population. As per the World Bank, in 2021, around 25% of the world's population will be between the age of 0-14 years. Galacto oligosaccharides are increasingly being used in infant formula because they have a composition that is almost identical to that of human milk. Galacto oligosaccharide is prone to becoming more well-liked by consumers since it can provide the advantages of both fiber and prebiotics.
Moreover, increased spending on health is required by both public and commercial organizations, as well as the government, in response to increased concern over non-communicable diseases such as diarrhea. The World Health Organization (WHO) estimates that diarrhea, a digestive illness, kills 525,000 children under the age of five every year.
Additionally, every year there are estimated to be 1.7 billion people of diarrheal illness among children. According to the WHO, the total amount spent globally on health in 2018 reached USD 8.3 trillion, with the domestic public sector accounting for a significant 59% of that total. People utilize galacto-oligosaccharides, which occur naturally in a variety of root vegetables, beans, and dairy products, as a prebiotic to alleviate digestive problems like diarrhea. Prebiotics are a type of plant fiber that encourages the expansion of the healthy bacteria that already live in the gastrointestinal tract.
Report Segmentation
The market is primarily segmented based on source, product, application, function type, and region.
By Source

By Product

By Function Type

By Application

By Region

Plants
Animals
Microorganisms

Food and Beverage
Pharmaceuticals
Personal care
Animal Feed
Others

North America (U.S., Canada)
Europe (France, Germany, UK, Italy, Netherlands, Spain, Russia)
Asia Pacific (Japan, China, India, Malaysia, Indonesia. South Korea)
Latin America (Brazil, Mexico, Argentina)
Middle East & Africa (Saudi Arabia, UAE, Israel, South Africa)
Know more about this report: Request for sample pages
Food and Beverage Industry is expected to witness the fastest growth
Galacto oligosaccharides are still primarily used in food and beverages because people are more aware of the advantages of consuming dietary fibers like galacto oligosaccharides for their health. Due to the rising consumption of dairy goods like cheese, the food and beverage industry is expected to experience significant growth in the galacto-oligosaccharides market.
Soups, sauces, and pastries are now more commonly consumed as a result of the increased need for convenience foods. The galacto-oligosaccharides market outlook would be significantly influenced by increasing investments and the rising market demand for low-calorie and sweetened food due to the prevalence of sedentary lifestyles.
Nutritional supplements and functional foods and beverages are two of the product's main uses. Other uses include cereals, sweets, meat substitutes, baked goods, and cosmetics. Over the projected period, the consumption of cereal is anticipated to outpace traditional handmade dishes due to the health benefits in growing nations such as China, India, and Brazil.
Syrup segment accounted for the highest market share in 2021
With more people using syrup as a sweetener in cooking, the category is anticipated to gain significant popularity. Because of this product's exceptional dissolving qualities, it is widely used. Galacto-oligosaccharides syrup is also used to treat digestive issues, including constipation, and to shield infants from allergies. The market for galacto-oligosaccharides will expand as dietary supplements, and dairy products become more widely adopted.
Plant Segment is expected to hold the significant revenue share
Galacto-oligosaccharides derived from plants have proven to be useful in supplying the nutritional needs of the lactose-intolerant population. This is explained by the nutritional value of galacto-oligosaccharides, which makes it a good choice for newborn formulas. Additionally, because the product generates short-chain fatty acids, it has been found to reduce the incidence of colon cancer, which is brought on by lactose intolerance.
Another important factor in the market's growth is the expanding proportion of people who are lactose intolerant. The commercialization of newborn nourishment products is also anticipated to benefit from this trend. Due to this, it is anticipated that both liquid and powder galacto-oligosaccharides would see an increase in market demand in the upcoming years.
Further, due to the growing requirement to cultivate advantageous microorganisms in the colon, probiotic bacteria will become a lucrative sector for the galacto-oligosaccharides business in terms of function. GOS increases intestinal bulk when it travels undigested into the colon, which in turn encourages the development of specific beneficial microbes.
The demand in Europe is expected to witness significant growth
The business for galacto-oligosaccharides in Europe is expected to rise as a result of the region's expanding newborn population and rising consumption of ready-to-eat meals. The rise in the number of people suffering from blood pressure and diabetes-related illnesses has led to an increase in the usage of dietary supplements. Consumer preferences for beverages and confectionary goods in the region are rising as a result of rising family incomes. The increase in the population of seniors will also provide the market's expansion a boost.
The Asia-Pacific nations' daily diets include a sizable portion of dairy products. As a result, lactose intolerance has skyrocketed in recent years. The popularity of vegetarianism and veganism is also increasing the market demand for galacto oligosaccharides. Additionally, vegan products provide the same amount of nutrition as dairy-based alternatives. Galacto oligosaccharide sales are also being positively impacted by the spread of vegan businesses in these nations.
The North American market for galacto-oligosaccharides is anticipated to suffer from strict legislation on prebiotic usage. The impact will be mitigated, though, by rising consumer interest in organic prebiotics and probiotics, which will also create new prospects with FDA approvals for galacto-oligosaccharides usage in nutritional supplements and infant food compositions.
Competitive Insight
Some of the major players operating in the global galacto-oligosaccharides market include Biological Co., Ltd., Baolingbao Biology Company, Campina N.V., Ingredion Incorporated, Kowa Europe GmbH, Kerry Inc., Nissin Sugar Inc., New Francisco Biotech Company, Quantum Hi-Tech Corporation, Royal Friesland Campina N.V, Snow Brand Milk Products Co Ltd., Saputo Dairy UK, Samyang Corporation, and Yakult Pharmaceuticals Company Limited.
Recent Developments
In August 2022, the introduction of the Biotis GOS-OP High Purity solution has been launched by Friesland Campina Ingredients. To encourage development in the expanding galacto-oligosaccharides market for gut nutritional supplements, FrieslandCampina Ingredients significantly sustained the prebiotic. Biotis GOS-OP High Purity is the brand's purest probiotic ingredient, with a galacto-oligosaccharides (GOS) level of over 90%.
In May 2021, Nestle has developed a plant-based evaporated milk substitute composed of oat and rice flour For vegan cakes and treats. The product is perfect for making chocolate chip cookies, cupcakes, and caramel slices without the addition of dairy components.
In February 2018, VITAGOS is the name of Vitalus Nutrition's newest product category. The translucent, high-galacto-oligosaccharides VITAGOS syrup is very soluble. GOS are non-digestible polysaccharides made from lactose, a milk ingredient, through an enzyme process. VITAGOS has an 18-month shelf life with a flavor that is incredibly pure and creamy.
Galacto-oligosaccharides Market Report Scope
| | |
| --- | --- |
| Report Attributes | Details |
| Market size value in 2021 | USD 781.04 million |
| Revenue forecast in 2030 | USD 1,739.89 million |
| CAGR | 9.7% from 2022 - 2030 |
| Base year | 2021 |
| Historical data | 2018 - 2020 |
| Forecast period | 2022 - 2030 |
| Quantitative units | Revenue in USD million and CAGR from 2022 to 2030 |
| Segments Covered | By Source, By Product, By Function Type, By Application, By Region |
| Regional scope | North America, Europe, Asia Pacific, Latin America; Middle East & Africa |
| Key Companies | Biological Co., Ltd., Baolingbao Biology Company, Campina N.V., Ingredion Incorporated, Kowa Europe GmbH, Kerry Inc., Nissin Sugar Inc., New Francisco Biotech Company, Quantum Hi-Tech Corporation, Royal Friesland Campina N.V, Snow Brand Milk Products Co Ltd., Saputo Dairy UK, Samyang Corporation, and Yakult Pharmaceuticals Company Limited |