The global injection molded plastic market size was valued at USD 260.8 billion in 2019 and is anticipated to grow at a CAGR of 6.4% during the forecast period. Injection molding is a manufacturing process for fabrication of plastic parts. The injection molding process uses an injection molding machine, raw plastic material, and a mold. The injection molding machine melts the plastic, which is then injected into the mold, cooled and solidified into the final product. The process of plastic injection molding is used in manufacturing of large quantities of the same plastic product in a short time period. The raw materials used for the production of injection molded plastic include polypropylene, ABS, polystyrene, and polyoxmethylene among others. Injection molded plastic is used in a variety of industries such as medical, construction, automotive, packaging, and consumer goods among others.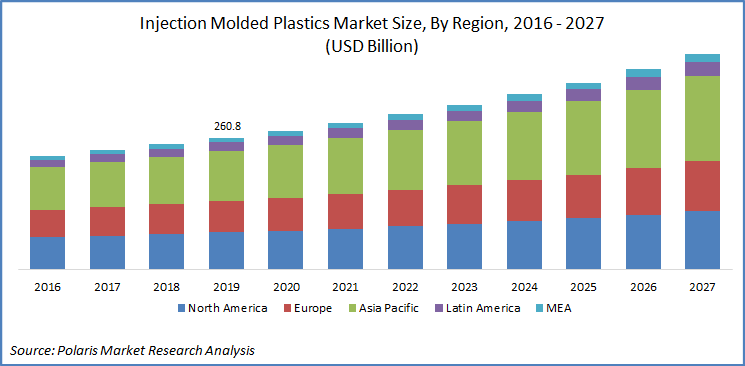 Know more about this report: request for sample pages
The increasing applications of injection molded plastic in automotive industry, and global growth in packaging industry drive the growth of the market. Injection molded plastic is used in various industries such as consumer goods, automotive, construction, healthcare, and packaging among others, and growth in these industries worldwide is expected to supplement the growth of the market. Other factors driving the market include lower labor costs, production at faster rates, reduced wastage, and material flexibility. However, increasing concerns regarding environmental pollution, and increasing demand of bio-based polymers hamper the growth of the market. Growing demand from emerging economies, and technological advancements are factors expected to provide numerous growth opportunities in the coming years.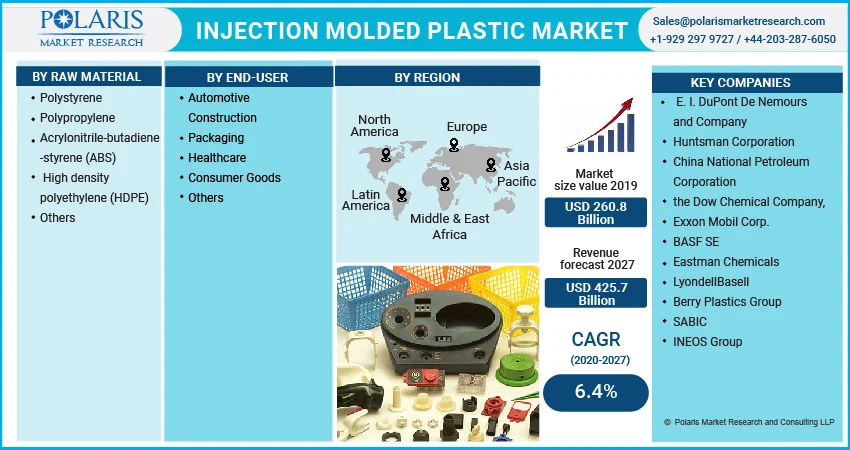 Know more about this report: request for sample pages
Segment Analysis
The global Injection Molded Plastic market is segmented on the basis of raw material, end-user, and region. Based on raw material, the market is segmented into polystyrene, polypropylene, acrylonitrile-butadiene-styrene (ABS), high density polyethylene (HDPE), and others. The end-user segment is categorized into automotive, construction, packaging, healthcare, consumer goods, and others. This report comprises a detailed geographic distribution of the market across North America, Europe, APAC and South America, and MEA. North America is further segmented into U.S., Canada, and Mexico. Europe is divided into Germany, UK, Italy, France, and Rest of Europe. Asia-Pacific is bifurcated into China, India, Japan, and Rest of Asia-Pacific. Asia-Pacific accounted for the largest share in the global Injection Molded Plastic market in 2019.
Competitive Landscape
The leading players in the market include E. I. DuPont De Nemours and Company, Huntsman Corporation, China National Petroleum Corporation, the Dow Chemical Company, Exxon Mobil Corp., BASF SE, Eastman Chemicals, LyondellBasell, Berry Plastics Group, SABIC, and INEOS Group among others. The leading players in the market are introducing new innovative products in the market to cater to the growing consumer demands. Global players are entering new markets in developing regions to expand their customer base and strengthen market presence.