The global 3D food printing market was valued at USD 165.5 million in 2021 and is expected to grow at a CAGR of 57.3% during the forecast period. 3D eatables printing is a process used to produce eatables products using additive manufacturing. Three-dimension eatables printing is mainly used for developing intricate shapes and designs for eatable products. Food ingredients in the form of paste or semi-liquid states, such as puréed vegetables, batters, doughs, cheeses, and sweets, are used for 3D printing. 3D eatables printing is increasingly being used for gourmet dining in molecular kitchens and fancy bakeries.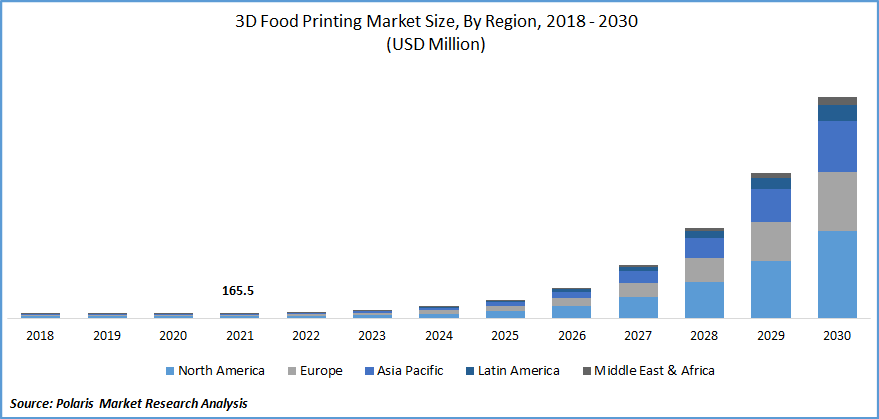 Know more about this report: Request for sample pages
3D eatables printing is increasingly being used for the personalization of meals. Bakers use three-dimension eatables printing for edible wedding cake decorations. Plant-based meat is being eatables printed to gain the desirable texture and flavor. 3D eatables printing allows greater nutritional control per meal, enabling the user to manage the number of vitamins and calories per meal.
3D eatables printing in hospitals and healthcare facilities addresses concerns regarding restricted patient diets and allows for easy meal customization. Biozone, a German company, uses eatables printing to offer accessible meals for senior citizens struggling to process solid foods.
Some professional 3D consumables printers available in the market include byFlow Focus, Foodini, and MMuse, among others. These printers are used in catering, events, and restaurants to develop personalized meals. byFlow Focus is a small printer that operates on material extrusion. It is equipped with Wi-Fi technology and uses reusable syringes that can be filled with edible pastes. Some consumer 3D consumables printers available in the market include Mycusini and Processing, among others.
The COVID-19 outbreak has disrupted the supply chain across the globe. The scarcity of raw materials and reduced workforce has severely impacted the 3D consumables printing industry. Countries worldwide have regulated the movement of individuals and goods, resulting in decreased deliveries, roadblocks, and other logistic issues, hampering the market's growth. Closure of restaurants and consumables outlets due to lockdown, government regulations on movement and lockdowns, and lack of labor have affected the development of the market.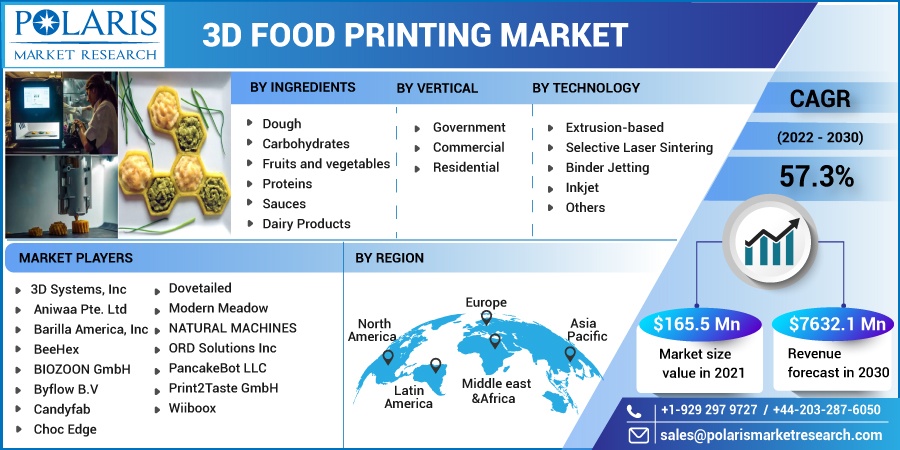 Know more about this report: Request for sample pages
Industry Dynamics
Growth Drivers
Increased demand for gourmet food and increasing trend of fine dining experiences drive the growth of the market. Growing disposable income, rising awareness regarding nutritional intake, and greater demand for personalized meals are fueling the growth of the market. Consumers with food allergies and special dietary needs are turning towards three-dimension consumables printing.
Increasing health concerns coupled with food safety, a more significant need to reduce consumables wastage, and changing eating habits have fueled the growth of the global three-dimension consumables printing industry.
Several companies operating in the food technology sector is innovating with three-dimension consumables printing to develop plant-based meat products. Several market players are launching healthier options with enhanced nutritional content to cater to growing consumer demand for nutritious, low-calorie, organic, and gluten-free products.
Report Segmentation
The market is primarily segmented based on ingredients, vertical, technology, and region.
By Ingredients

By Vertical

By Technology

By Region

Dough
Carbohydrates
Fruits and vegetables
Proteins
Sauces
Dairy Products
Other Ingredients

Government
Commercial
Residential

Extrusion-based
Selective Laser Sintering
Binder Jetting
Inkjet
Others

North America (U.S., Canada)
Europe (France, Germany, UK, Italy, Netherlands, Spain, Russia)
Asia Pacific (Japan, China, India, Malaysia, Indonesia, South Korea)
Latin America (Brazil, Mexico, Argentina)
Middle East & Africa (Saudi Arabia, UAE, Israel, South Africa)
Know more about this report: Request for sample pages
The carbohydrates segment accounts for a major share
Carbohydrates are increasingly being used for texture modulation in three-dimension consumables printing. Carbohydrate-based inks are used to design healthy texturized printed consumables. Carbohydrates are used for aesthetic designs as well as for various health benefits.
Starch is a common carbohydrate used for three-dimension consumables printing. When mixed with water at a specific temperature, starch starts to swell by absorbing moisture and forms a viscous paste. This paste has a shear-thinning property, making it ideal for three-dimension consumables printing. The starch easily squeezes out of the nozzle during deposition and holds its shape offering aesthetic features.
The commercial segment held the largest market share in 2021
The commercial segment includes restaurants, bakeries, cafes, and retail stores. Increasing demand for personalized meals and luxury dining experiences across the globe drives the growth of this segment. An increase in demand for plant-based meat products is expected to fuel the growth of this market. three-dimension consumables printing enables restaurants to customize meals according to taste and specification, cater to nutritional needs, and serve a large number of customers.
Growing demand from developing economies and rising disposable income of consumers support the growth of the 3D food printing market. Technological advancements in food technology and increasing investments in research and development are expected to provide growth opportunities during the forecast period.
Extrusion-based printing is expected to hold the biggest revenue share
The extrusion-based printers are commercially used for three-dimension consumables printing. The extrusion process uses paste-like ingredients such as purées, mousses, and other viscous foods. The ingredients are converted into various innovative designs for personalized consumables products. The advantages of extrusion-based three-dimension consumables printing include low costs, ease of customization, and availability of a wide variety of raw materials.
North America accounted for a significant share in 2021
North America accounts for a significant share of the industry. The high disposable income of consumers and growth in consumption of nutritious consumables drives the growth in this region. There has been an increased demand for premium baked goods, desserts, and pastries in the region owing to increasing awareness regarding healthy eating habits.
Market players in the region are introducing personalized three-dimension printed meals to cater to the growing health concerns. Growth in several fine dining restaurants, cafes, and bakeries is further driving the 3D food printing market adoption.
Growing research and development activities, the presence of international players in this region, and technological advancements further boost the market growth. Rising technological advances in food technology and growing demand for gourmet consumables have increased the adoption of three-dimension consumables printing.
Competitive Insight
Some of the major players operating in the global industry include 3D Systems, Inc, Aniwaa Pte. Ltd, Barilla America, Inc, BeeHex, BIOZOON GmbH, Byflow B.V, Candyfab, Choc Edge, Dovetailed, Modern Meadow, NATURAL MACHINES, Netherlands Organization for Applied Scientific Research, ORD Solutions Inc, PancakeBot LLCPrint2Taste GmbH, and Wiiboox.
These players are expanding their presence across various geographies and entering new markets in developing regions to expand their customer base and strengthen their presence in the industry. The companies are also introducing new innovative products to cater to the growing consumer demands.
Recent Developments
In August 2021, SavorEat collaborated with Sodexo for a pilot project to test its Robot Chef food three-dimension printer at some universities in the U.S. The project aimed to observe, test, and eventually commercialize the Robot Chef system along with the first alternative meat product developed by SavorEat.
In January 2021, Sugar Lab launched three-dimension-printed chocolate truffles and bonbons. These fancy desserts were developed and customized using three-dimension printing. The product range also included candies, cupcake décor, cocktail garnishes, and pastry shells. The company aims to develop culinary innovations using three-dimension printing technology to expand its offerings in the industry and cater to the growing consumer demand for personalized food products.
In October 2020, Indukern collaborated with Natural Machines to advance three-dimension food printing technology. The partnership focuses on offering ingredients and products for Foodini, a 3D food printer. The partnership is aimed at leveraging companies' existing technologies to expand their portfolio and strengthen their position in the 3D food printing market.
3D Food Printing Market Report Scope
| | |
| --- | --- |
| Report Attributes | Details |
| Market size value in 2021 | USD 165.5 million |
| Revenue forecast in 2030 | USD 7,632.1 million |
| CAGR | 57.3% from 2022 - 2030 |
| Base year | 2021 |
| Historical data | 2018 - 2020 |
| Forecast period | 2022 - 2030 |
| Quantitative units | Revenue in USD million and CAGR from 2022 to 2030 |
| Segments covered | By Ingredients, By Vertical, By Technology, By Region |
| Regional scope | North America, Europe, Asia Pacific, Latin America; Middle East & Africa |
| Key companies | 3D Systems, Inc, Aniwaa Pte. Ltd, Barilla America, Inc, BeeHex, BIOZOON GmbH, Byflow B.V, Candyfab, Choc Edge, Dovetailed, Modern Meadow, NATURAL MACHINES, Netherlands Organization for Applied Scientific Research, ORD Solutions Inc, PancakeBot LLCPrint2Taste GmbH, and Wiiboox |