The global absinthe market was valued at USD 36.33 billion in 2022 and is expected to grow at a CAGR of 3.8% during the forecast period.
The rapidly increasing consumer prevalence and proliferation towards the numerous benefits of absinthe like healthier metabolism and anesthetic properties along with the constant surge and augmentation in consumer disposable income with economic prosperity, leading to greater demand for luxurious drinks like absinthe, are the primary factors driving the growth of the market.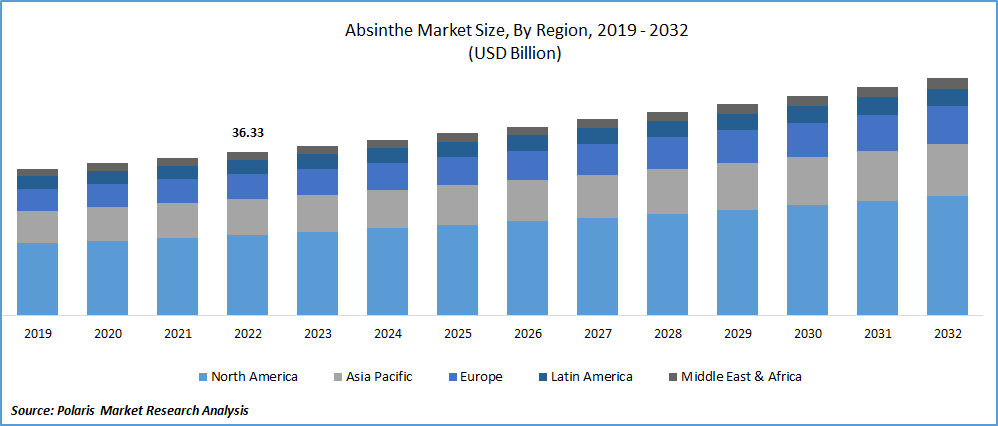 To Understand More About this Research: Request a Free Sample Report
Additionally, the growing popularity of consuming absinthe among the painters, artists, guitarists, and musicians and focus of major producers on enhancing its quality and ability to enhance the taste and flavor of products, is further likely to spur the market growth.
For instance, in November 2022, Hendrick's, introduced its new range of offerings that include the brand's first absinthe, which contains the infusions of rose and cucumber and many other botanicals. The new absinthe is nearly similar to gin in their use of botanicals, while diverging the taste and type.
Moreover, in the recent years, the use of advanced distillation equipment such as high-tech stills and specialized apparatus have emerged drastically, which could influence the flavors and aromas of absinthe and also improves the overall drinking experience, that is likely to open up new possibilities for absinthe producers to experiment with unique blends.
Deadly coronavirus across the globe forced countries to take several necessary actions like lockdown measures and restrictions on trade activities, that led to closure of many restaurants, bars, and travel destinations. The significant decline in international and domestic tourism during the pandemic were also impacted the demand for absinthe in tourist hotspots all over the world.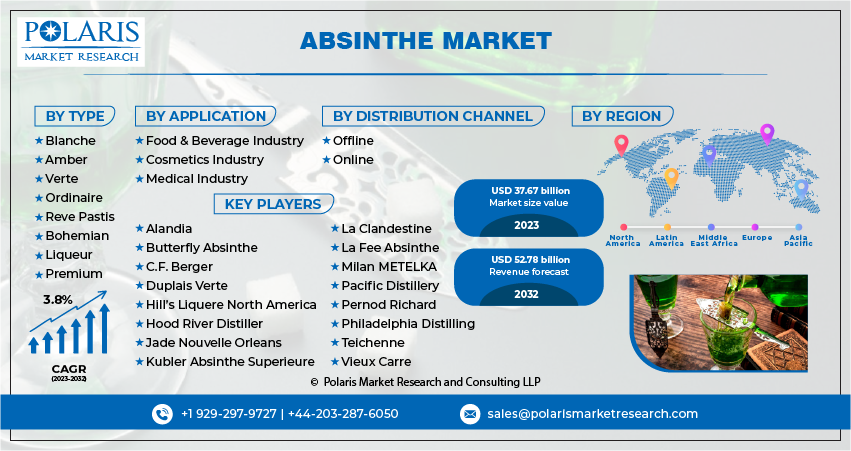 For Specific Research Requirements, Request for a Customized Report
Industry Dynamics
Growth Drivers
Resurgence of traditional spirits and classic cocktails
The exponential rise in the consumer interest in traditional spirits and classic cocktails across the world and surging craftsmanship and artisanal production methods associated with absinthe, which have made it appealing to consumers who value unique and high-quality spirits, are the leading factors driving the market growth. Apart from this, the prevalence of cocktail culture globally has led to increased consumption of absinthe as a key ingredient in classic and contemporary cocktails, and fueled its demand at rapid pace.
Furthermore, with the significant increase in stress and depression problems and issues among the young generation population due to their busy and eventful lifestyles, have led to higher consumption of alcohol products mainly in developed or urban region, have also been propelling the demand and growth of the market significantly.
Report Segmentation
The market is primarily segmented based on type, application, distribution channel, and region.
By Type

By Application

By Distribution Channel

By Region

Blanche

Amber

Verte

Ordinaire

Reve Pastis

Bohemian

Liqueur

Premium

Food & Beverage Industry

Cosmetics Industry

Medical Industry

North America (U.S., Canada)

Europe (France, Germany, UK, Italy, Netherlands, Spain, Russia)

Asia Pacific (Japan, China, India, Malaysia, Indonesia. South Korea)

Latin America (Brazil, Mexico, Argentina)

Middle East & Africa (Saudi Arabia, UAE, Israel, South Africa)
To Understand the Scope of this Report: Speak to Analyst
By Type Analysis
Bohemian segment is projected to hold substantial market share during the forecast period
The bohemian segment is expected to hold substantial market share in terms of revenue over the anticipated period, mainly driven by its rich history and cultural significance particularly in countries like the Czech Republic, where it has been traditionally produced and consumed along with its association with renowned artists, writers, and intellectuals during the Belle Époque period, that has also contributed to its mystique and allure at rapid pace. Additionally, there has been a relaxation of absinthe regulations in some countries, allowing for the production and distribution of absinthes with higher thujone content, that has resulted in resurgence of interest in traditional bohemian-style absinthes across the globe.
The blanche segment led the industry market with significant market share during the projected period, because of rising number of consumers preferring the taste and appearance of blanche absinthe over other options available in the market and is also being considered smoother and less bitter than several green varieties, which may appeal to a broader consumer base all over the world. availability and accessibility of Blanche absinthe in various markets can impact its popularity. Beside this, the easy availability and accessibility of blanche absinthe in bars, restaurants, and retail outlets mainly in the developed economies, are more likely to attract consumers at rapid pace.
By Application Analysis
Food & beverage industry segment accounted for the largest market share in 2022
The food & beverage industry segment accounted for largest market share in 2022, that is largely accelerated to rising demand for various new flavors and higher prevalence for one-stop shopping experience being provided by major retail stores along with them emerging trend of consumers seeking unique and artisanal alcoholic beverage. In addition, the product has been also linked to various artistic and cultural movements, adding to its allure among enthusiasts all over the world.
The cosmetics industry segment is projected to grow at highest growth rate over the course of study period, mainly due to growing interest of people worldwide in natural and botanical-based cosmetic products and wider utilization of absinthe in cosmetics to create sensory experiences through scents, textures, and flavors.
By Distribution Channel
Online segment is expected to witness highest growth over projected period
The online segment is projected to witness highest growth of over forecast period, which is significantly driven by ability of online shopping channels or platforms to offer extensive range of absinthe products from different brands, wider accessibility, higher convenience, easy payment methods, and home delivery coupled with rising internet penetration and number of users opting for online shopping mode due to its numerous benefits over offline channels.
The offline segment held the majority market share both in terms of volume and value, that is largely attributable to presence of strong and well-established distribution networks in the offline segment that have made it easier for absinthe brands to reach a broader consumer base, especially in regions with limited internet access or online shopping infrastructure.
Regional Insight
North America region dominated the global market in 2022
The North America region dominated the global market with considerable share in 2022, and is also projected to maintain its market dominance throughout the study period. The regional market growth can be largely attributed to growing interest among consumers for craft and artisanal spirits including absinthe and number of consumers seeking unique and authentic experiences. Moreover, the rising cocktail nature in the North America region and rapidly surging adoption of clever marketing strategies by major absinthe producers and distributors, are likely to create huge growth potential in the region.
The Europe region is anticipated to be the fastest growing region with healthy CAGR over the study period, owing to significant emergence of craft-distilleries and micro-distilleries across the region leading to surge in the product of high-quality absinthe and increasing number of tourists and visitors in countries like UK, Spain, Germany, and France, who are highly interested in experiencing in traditional beverages like absinthe. For instance, according to a data published in 2023, the number of tourists in the European Union was closed around 2.72 billion near to the pre-pandemic levels, which shows a substantial increased in the number of tourists compared to 2020 and 2021.
Market Key Players &

Competitive Insight
Various players are vying for consumer attention in this niche spirits segment. These competitors engage in continuous product innovation, crafting unique absinthe varieties with distinct flavor profiles and emphasizing their brand heritage and authenticity. Expansion efforts extend beyond domestic markets, with an emphasis on international growth through strategic marketing and distribution initiatives. Sustainability, responsible sourcing, distribution networks, packaging aesthetics, and alignment with emerging consumer trends all contribute to the competitive landscape of the absinthe market.
Some of the major players operating in the global market include:
Alandia

Butterfly Absinthe

C.F. Berger

Duplais Verte

Hill's Liquere North America

Hood River Distiller

Jade Nouvelle Orleans

Kubler Absinthe Superieure

La Clandestine

La Fee Absinthe

Milan METELKA

Pacific Distillery

Pernod Richard

Philadelphia Distilling

Teichenne

Vieux Carre
Recent Developments
In September 2022, Sweetdram, a leading independent, botanical spirit specialist, announced the launch of Edinburgh's first absinthe, under a collaborative project with the local company Radicle Gardens.

In February 2022, Absinthia's Bottle Spirits, introduced its new Absinthia Barrel Aged Absinthe. The new Barrel Aged expression is aged for around 6 months in 30 gallons American Oak Heavy Charred barrels.
Absinthe Market Report Scope
| | |
| --- | --- |
| Report Attributes | Details |
| Market size value in 2023 | USD 37.67 billion |
| Revenue forecast in 2032 | USD 52.78 billion |
| CAGR | 3.8% from 2023 – 2032 |
| Base year | 2022 |
| Historical data | 2019 – 2021 |
| Forecast period | 2023 – 2032 |
| Quantitative units | Revenue in USD billion and CAGR from 2023 to 2032 |
| Segments covered | By Type, By Application, By Distribution Channel, By Region |
| Regional scope | North America, Europe, Asia Pacific, Latin America; Middle East & Africa |
| Customization | Report customization as per your requirements with respect to countries, region and segmentation. |