The global actinic keratosis treatment market is valued at USD 6.25 billion in 2021 and is expected to grow at a CAGR of 4.5% during the forecast period. The market demand for actinic keratosis treatments is increasing as people become more aware of the disease's negative effects. Furthermore, the expansion of the actinic keratosis treatment market is aided by non-profit organizations and government agencies launching public awareness initiatives. For instance, the American Academy of Dermatology Association (AAD) has encouraged several skincare campaigns. It announced that National Healthy Skin Month is celebrated in November, and this year they helped people attain #YourHealthiestSkin from head to toe.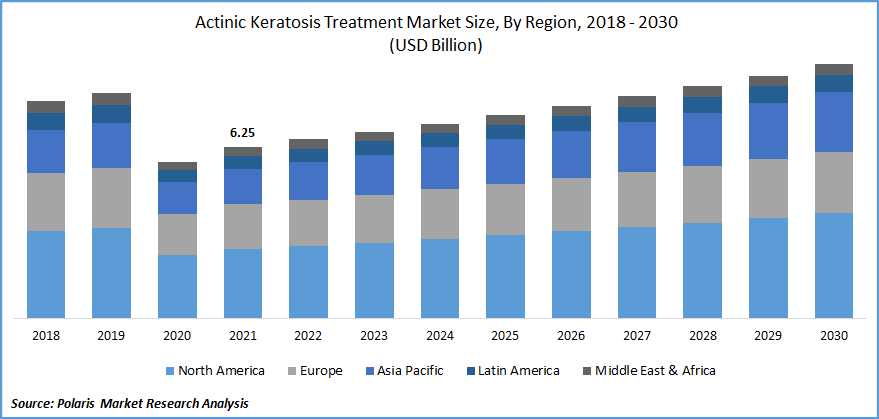 Know more about this report: request for sample pages
The AAD also advises people to #PracticeSafeSun as they head outside for warmer weather and fresh air. Skin cancer is the most frequent cancer in the United States, and the largest preventable risk factor for skin cancer is unprotected UV exposure. SPOT Skin Cancer TM was launched by the American Academy of Dermatology. This large-scale public awareness campaign aims to engage the general public, the AAD's global membership of over 20,500 physicians, other health organizations, the media to increase public awareness and motivate them to change their behavior in order to prevent and detect skin cancer.
In addition, the Skin Cancer Foundation developed a campaign called "Ray Awareness – Preventing Skin Cancer" to raise awareness about the effects of UV radiation from the sun and tanning beds on the skin, as well as actinic keratosis treatment as a critical tool for preventing non-melanoma malignancies. Also, the British Association of Dermatologists initiated a similar campaign to raise awareness about the dangers of actinic keratosis treatment. The elements are predicted to help boost the actinic keratosis treatment market's growth.
However, Cryotherapy, chemical peels, and photodynamic therapy are among treatments for actinic keratosis that require skilled surgeons and professionals. Actinic keratosis treatment market growth is expected to be constrained by a significant scarcity of general surgeons. According to a recent WHO report, there will be a global shortfall of about 13 million healthcare workers by 2035.
Know more about this report: request for sample pages
Industry Dynamics
Growth Drivers
The actinic keratosis treatment market has observed extensive developments in the last few decades supported by various factors such as the rising prevalence of skin cancer development post actinic keratosis diagnosis, and treatment options available. For instance, as per the World Cancer Research Fund, Melanoma, or skin cancer, is the 19th most prevalent cancer. In 2018, over 300,000 new cases were reported. Non-melanoma skin cancer is more frequent in both gender, with around 1 million diagnoses across the globe, in 2018.
Also, Skin Cancer Foundation of America reported that every day around 9,500 people in the U.S. have suffered from skin cancer. By the age of 70, one out of every five Americans will have developed skin cancer. Actinic keratosis is the most prevalent pre-cancerous form, affecting about 58 million people in the country. The cost of treating typical skin in the country is estimated to be around USD 8.1 billion, with non-melanoma skin cancers costing USD 4.8 billion and melanoma costing USD 3.3 billion.
Further, actinic keratosis is progressively being connected with the development of squamous cell carcinoma and basal cell carcinoma, resulting in the widespread use of treatment for the disease as a non-melanoma cancer preventive medication. Actinic keratosis has been connected to the development of squamous cell carcinoma, the country's second most prevalent skin cancer, which can become invasive and life-threatening over time. Treatment of squamous cell carcinoma in its early stages, on the other hand, can significantly minimize the risk of metastasis. This is a key element propelling the market of actinic keratosis treatment forward. Thus, skin cancer development across the globe and the availability of their treatment is the factor propelling the actinic keratosis treatment market growth during the forecast period.
Report Segmentation
The market is primarily segmented based on therapy, topical medications, drug class, end-use, and region.
By Therapy

By Topical Medications

By Drug Class

By End-Use

By Region

Topical
Surgery
Laser
Photodynamic Therapy
Others

Fluorouracil
Imiquimod
Diclofenac
IngenolMebutate
Other Medications

Nucleoside Metabolic Inhibitor
NSAIDs
Immune Response Modifiers
Photo enhancers
Others

Hospitals
Private Clinics
Homecare
Others

North America (U.S., Canada)
Europe (France, Germany, UK, Italy, Spain, Netherlands, Austria)
Asia Pacific (Japan, China, India, Malaysia, Indonesia, South Korea)
Latin America (Brazil, Mexico, Argentina)
Middle East & Africa (Saudi Arabia, UAE, Israel, South Africa)
Know more about this report: request for sample pages
Insight by End-Use
Based on the end-use segment, the hospital's segment is expected to be the most significant revenue contributor in the global actinic keratosis therapy market in 2021 and is expected to retain its dominance in the foreseen period. Several variables, including the availability of healthcare facilities, the rate of therapy, accessibility, healthcare expenditure, and others, are responsible for the segment's market growth. Furthermore, the category is growing due to the high penetration of surgical therapies and a rising acceptance of photodynamic therapy.
Geographic Overview
In terms of geography, North America had the largest revenue share in 2021. Over the predicted period, it is expected to continue its dominance. The dominance is due to high disease prevalence, increased consumer awareness, proactive government initiatives, technological developments, and improvements in healthcare infrastructure. For instance, estimates for melanoma in the United States from the American Cancer Society, in 2021, a total of 106,110 new melanomas will be diagnosed this year (about 62,260 in men and 43,850 in women). Melanoma is estimated to kill 7,180 people this year (about 4,600 men and 2,580 women). Melanoma rates have been significantly increasing over the last few decades. However, this has varied with age. Thus, the various factors are boosting the market growth of actinic keratosis treatment in the region during the forecast period.
Moreover, Asia-Pacific is expected to witness a high CAGR in the global market in 2021. This increases when the disease's treatment rate rises, consumer disposable income rises, and disease prevalence rises in specific nations, such as Australia and New Zealand. For instance, according to a new Indian Council of Medical Research (ICMR) study, melanoma is most common in Northern India, while nonmelanoma skin malignancies are most common in the Northeast, particularly in Nagaland. The data divided skin malignancies into two groups: melanoma and other skin cancers (nonmelanoma).
Melanoma of the skin is more common in the north of India, with 1.62 men and 1.21 females diagnosed for every 100,000 persons. The Northeast has the greatest overall incidence of nonmelanoma skin cancer, with 5.14 males and 3.98 women diagnosed for every 100,000 individuals. This, however, is still a fraction of the global melanoma rate. In the Western Pacific region, the incidence is 36.9 per 100,000 people, while in Europe, it is 31.7 per 100,000 people. Furthermore, pharmaceutical businesses are expanding their market share through a variety of tactics.
Competitive Insight
Some of the major players operating in the global market include 3MStanford Chemicals., Alma Lasers, Almirall, LLC, Bausch Health Companies Inc., Biofrontera, Cipher Pharmaceuticals Inc, GlaxoSmithKline plc., LEO Pharma Inc, Nestle SA, Novartis AG, Pierre Fabre Pharmaceuticals, Inc., Sun Pharmaceutical Industries Ltd, Valeant Pharmaceuticals among others.
Actinic Keratosis Treatment Market Report Scope
| | |
| --- | --- |
| Report Attributes | Details |
| Market size value in 2021 | USD 6.25 billion |
| Revenue forecast in 2030 | USD 9.25 billion |
| CAGR | 4.5% from 2022 - 2030 |
| Base year | 2021 |
| Historical data | 2018 - 2020 |
| Forecast period | 2022 - 2030 |
| Quantitative units | Revenue in USD billion and CAGR from 2022 to 2030 |
| Segments covered | By Therapy, By Topical Medications, By Drug Class, By End-Use, By Region. |
| Regional scope | North America, Europe, Asia Pacific, Latin America, Middle East & Africa |
| Key Companies | 3MStanford Chemicals., Alma Lasers, Almirall, LLC, Bausch Health Companies Inc., Biofrontera, Cipher Pharmaceuticals Inc, GlaxoSmithKline plc., LEO Pharma Inc, Nestle SA, Novartis AG, Pierre Fabre Pharmaceuticals, Inc., Sun Pharmaceutical Industries Ltd, Valeant Pharmaceuticals |