The global adipic acid market was valued at USD 5.44 billion in 2021 and is expected to grow at a CAGR of 4.7% during the forecast period. The adipic acid market has expanded globally due to rapid industrialization and the increasing usage of artificial polymers in various sectors. Nylon manufacture consumes a large amount of the total adipic acid generated worldwide. The reaction of adipic acid with hexamethylene diamine produces nylon, which is used in industry.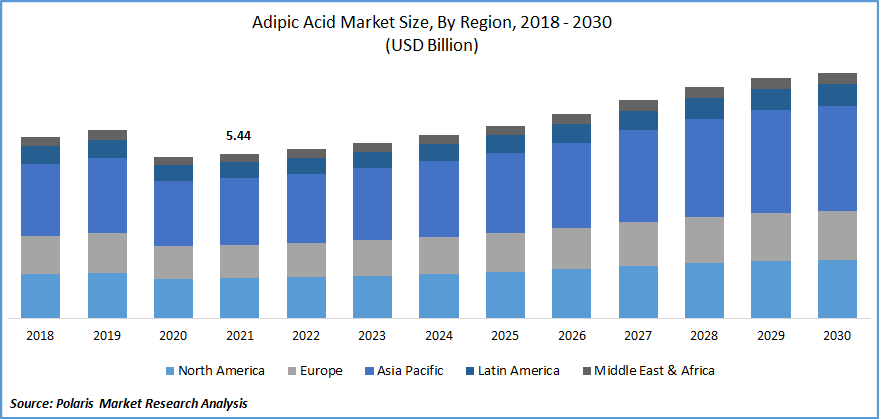 Know more about this report: Request for sample pages
Adipic acid is a white crystalline substance that is principally utilized to manufacture nylon 6,6. It's also employed as a reactant in the production of polyurethanes, plasticizers, lubricant components, and polyester polyols. Organic molecules having the chemical formula (CH2)4(COOH)2 are known as adipic or hexanedioic acid. The products are made commercially by combining cyclohexanone and cyclohexanol.
Product of high quality is utilized in the production of polyurethane. These are commonly used in household furnishings, including bedding mattresses, furniture, and carpet underlays. These are widely used in cushioning materials to improve the comfort and durability of the furniture. Adipic acid is also used as a flavoring and gelling agent in the food and beverage sector. It's also used in several medicine tablets to ensure that acidic or basic medicinal components are released in a controlled manner.
The economic slowdown induced by the coronavirus outbreak has dramatically decreased the consumption of nylon-based products. Statewide lockdowns and restrictions on export have considerably disrupted the adipic acid market's supply. The use of the product in pharmaceutics grew due to the high demand for the medication during the epidemic. As a result, demand for the product has increased.
Industry Dynamics
Growth Drivers
The fast modernization and continued growth of the packaging and consumer goods industries would boost the market's growth rate. Increased use of high plastic, improved lifestyles, and a rising desire for durable furniture will all contribute to growth. The growing need for clean air and water and the requirement to increase the quality of processing end-products are expected to propel the market forward.
Furthermore, different strict government safety laws and novel strategies for its use provide profitable chances to market players. In addition, the increased innovation and research & development initiatives to manufacture bio-based plastic will boost the adipic acid market's future growth.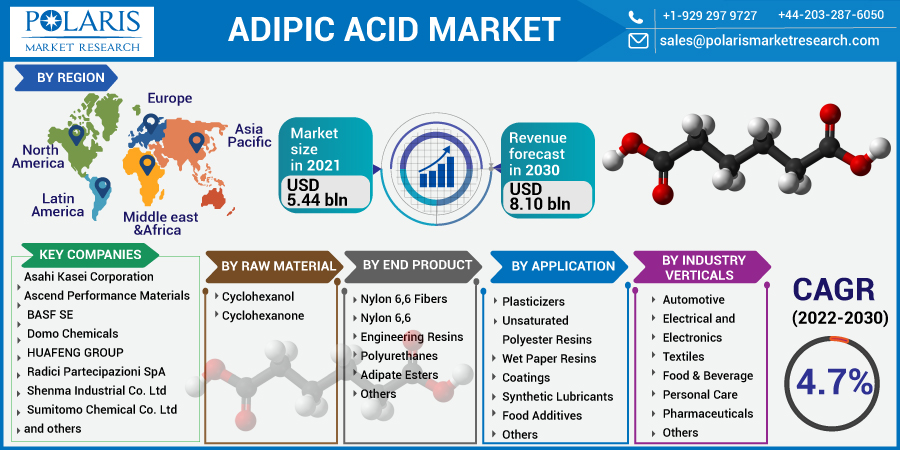 Know more about this report: Request for sample pages
Report Segmentation
The market is primarily segmented based on raw material, end product, application, industry verticals, and region.
By Raw Material

By End Product

By Application

By Industry Verticals

By Region

Cyclohexanol
Cyclohexanone

Nylon 6,6 Fibers
Nylon 6,6 Engineering Resins
Polyurethanes
Adipate Esters
Others

Plasticizers
Unsaturated Polyester Resins
Wet Paper Resins
Coatings
Synthetic Lubricants
Food Additives
Others

Automotive
Electrical and Electronics
Textiles
Food & Beverage
Personal Care
Pharmaceuticals
Others

North America (U.S., Canada)
Europe (France, Germany, UK, Italy, Netherlands, Spain, Russia)
Asia Pacific (Japan, China, India, Malaysia, Indonesia. South Korea)
Latin America (Brazil, Mexico, Argentina)
Middle East & Africa (Saudi Arabia, UAE, Israel, South Africa)
Know more about this report: Request for sample pages
Nylon 6,6 Fibers is expected to witness the fastest growth
Nylon 6,6 fibers were the most common adipic acid application. The growing demand for nylon 6,6 fibers in the automotive industry will likely drive the market forward. The rising automotive sector, together with the ever-increasing population in emerging economies such as China, India, and Brazil, is expected to boost the market growth.
According to the India Brand Equity Foundation (IBEF), which the Department of Commerce created, the Ministry of Commerce and Industry, GOI, has predicted to be the world leader in 2W and 4W segment export by 2020. According to the Auto Mission Plan (AMP), the government of India wishes to make India an automobile manufacturing hub by 2026, with the passenger car segment estimated to reach 9.4 million units.
Increased infrastructure development efforts result from rising population expansion, particularly in nations like India, China, and Brazil. As a result, demand for paints, coatings, and wires and cables increases. Changing lifestyles and rising disposable income are driving demand for convenience foods, which is driving demand for nylon 6,6 resin used in food packaging.
Automotive industry accounted for the highest market share in 2021
Adipic acid is primarily employed as a monomer in the manufacture of polyamide 6.6 granules and other polyamides or polymers used during engineering plastics, as well as polyurethane for elastic and semi-rigid foams. The market is expected to rise due to increased demand for lightweight engineering plastic. Due to the current ecological and financial concerns, automobile makers are currently adopting more modern plastic solutions to minimize weight and make automobiles more fuel-efficient.
Polyamide is also used to make structural parts made of glass-reinforced. Plastics' high absorption capabilities allow the vehicle to fulfill stricter safety regulations. At the same time, polyamides like nylon 6 and nylon 6,6 enable the mass of parts used in cars to be reduced because they offer greater design freedom than metals.
Globally, as per the International Energy Agency (IEA). Light vehicles are predicted to reach 1.6 billion by 2030, with electric cars accounting for 18% of the fleet (290 million automobiles). Increased production and sales of light-duty vehicles are expected to directly impact industrial plastic usage, which will drive adipic acid demands in the long run during the projection period.
Cyclohexanol is expected to hold the significant revenue share
Cyclohexane, cyclohexanol/cyclohexanone (KA oil), and other raw materials make up the raw material sector. In 2021, cyclohexane had a significant market share. Cyclohexane is used to make nearly all commercial adipic acid. Cyclohexane is primarily an intermediate chemical, with adipic acid for nylon-66 accounting for around 54.0% of its synthesis. Cyclohexane is a nonionic solvent used in the chemical industry and a material for the industrial manufacturing of adipic acid and caprolactam, two intermediates in the manufacture of nylon.
The demand in Asia-Pacific is expected to witness significant growth
Asia Pacific led the global market. Consequently, as well as disruptions in global supply chain networks, the industrial and automotive industries were significantly impacted, with the majority of production plants and industries shutting down. The increase can be ascribed to the product's increasing use in plastic and food additive applications. Adipic acid demand was lowered in the market due to a drop in worldwide car sales. On the other hand, the pandemic has created prospects for the market because of the increased demand for personal care and pharmaceutical products.
Further, China is the biggest producer of adipic acid, accounting for over half of global capacity. The nation's dominant position in the plasticizer market stimulated adipic acid demand in the nation's plasticizer uses. After the United States, China has the highest defense budget in the world. The country intends to increase military spending to strengthen its armed forces. Electronic product demand is expected to increase shortly, propelling the adipic acid industry.
The increasing demand for bio-adipic acid in the paints and coatings industry will drive market expansion in North America. The increase in Europe is attributed to the increased use of the substance in polyurethane resin applications. Due to increased product demand for low-temperature lubricants, the Middle East and Africa are expected to see significant growth.
Competitive Insight
Some of the major players operating in the global market include Asahi Kasei, Ascend Performance, BASF SE, Domo Chemicals, HUAFENG GROUP, Liaoyang Tianhua., PetroChina Liaoyang, Radici Partecipazioni, Shenma Industrial, Sumitomo Chemical, Shandong Haili Chemical, Shandong Hongye Chemical, Tangshan Zhonghao, and Yangmei Group.
Recent Developments
In January 2020, Solvay's polyamide business unit was acquired by the BASF. Legacy products like Technyl will complement the acquirer's product depth. With this acquisition, BASF will also be able to provide better products to its dedicated clients.
Adipic Acid Market Report Scope
| | |
| --- | --- |
| Report Attributes | Details |
| Market size value in 2021 | USD 5.44 billion |
| Revenue forecast in 2030 | USD 8.10 billion |
| CAGR | 4.7% from 2022 - 2030 |
| Base year | 2021 |
| Historical data | 2018 - 2020 |
| Forecast period | 2022 - 2030 |
| Quantitative units | Revenue in USD million/billion and CAGR from 2022 to 2030 |
| Segments covered | By Raw Material, By End-Product, By Application, By Industry Verticals, By Region |
| Regional scope | North America, Europe, Asia Pacific, Latin America; Middle East & Africa |
| Key companies | Asahi Kasei Corporation, Ascend Performance Materials, BASF SE, Domo Chemicals, HUAFENG GROUP, Liaoyang Tianhua Chemical Co. Ltd., PetroChina Liaoyang Petrochemical, Radici Partecipazioni SpA, Shenma Industrial Co. Ltd, Sumitomo Chemical Co. Ltd, Shandong Haili Chemical Co. Ltd, Shandong Hongye Chemical Group Co. Ltd, Tangshan Zhonghao Chemical Co. Ltd, Tian Li High & New Tech Co. Ltd, and Yangmei Group Taiyuan New Chemical Materials Co. |