The global advanced phase change materials (PCM) market was valued at USD 1.45 billion in 2021 and is expected to grow at a CAGR of 12.4% during the forecast period. The increased usage of advanced phase change materials (PCM) in lightweight construction due to their ability to recreate the thermal mass effect is predicted to fuel market growth. The market is driven by a growing awareness of the importance of decreasing greenhouse gas emissions, tight building requirements, and increasing demand for renewable energy sources.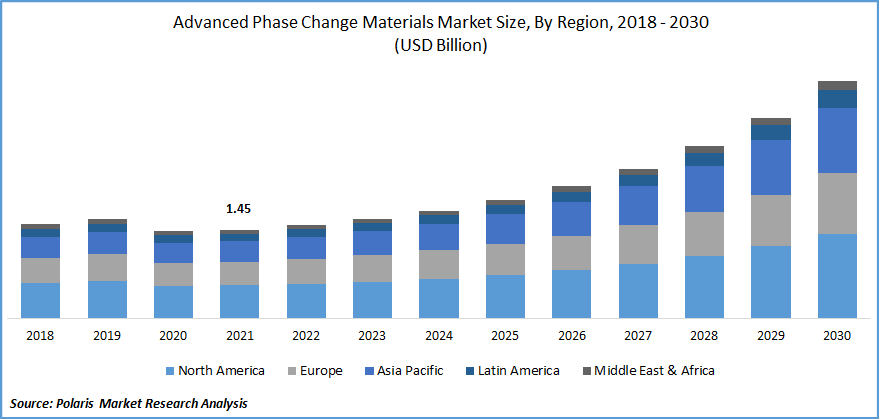 Know more about this report: Request for sample pages
The Climate Act targets a 49% reduction in greenhouse gas emissions by 2030. As per the International Energy Agency(IEA), renewable energy use grew by 3 percent in 2020, while demand fell for other fuel non-renewable alternatives. The most significant cause was a nearly 7% increase in renewable-energy-generated electricity. As a result, renewables will account for 29% of worldwide electricity generation in 2020, up from 27% in 2019.
These materials have a significant potential to store and release a considerable amount of energy. It is essential to activate the latent heat. It is vital to optimize existing energy supplies in an energy crisis. Latent heat storage units are referred to as PCMs. The market is predicted to rise as the number of green buildings built increases.
COVID-19 has significantly influenced the world economy, wreaking havoc on global trade and affecting households, businesses, financial institutions, industrial facilities, and infrastructure corporations simultaneously. Short-term demand for advanced phase change materials (PCM) in the infrastructure market is expected to be limited due to international trade restrictions and chemical industry lockdown rules.
China and India are two of the most critical countries in the building industry, both of which are rapidly expanding. Due to the introduction of coronavirus in the region, the expanding demand for building and construction equipment has drastically diminished. The impending shortage of labor and resources is having a severe impact on the construction industry. Furthermore, various countries' governments have canceled several construction projects to control costs.
Industry Dynamics
Growth Drivers
Rapidly rising adoption of advanced phase change materials (PCM) in the building and construction market is boosting the market growth during the forecast period. PCMs are used in a variety of housing, including indoor places. The major applications in building systems are wallboards or incorporating the component into a concrete matrix.
Further, the inner side of the building envelope is the most typical solution for integrating advanced phase change materials (PCM) in dwellings. To include advanced phase change materials (PCM), wallboards or plasterboards are ideal components. They are inexpensive and widely utilized to reduce internal air temperature changes in buildings, particularly lightweight structures.
Some advanced phase change materials (PCM) have been included in the concrete layer beneath the floor. Their panels have also been utilized to replace the floor as an overlay. Because a substantial quantity of energy is lost from the floor due to heat transfer to the ground, incorporating it into a floor has beneficial consequences.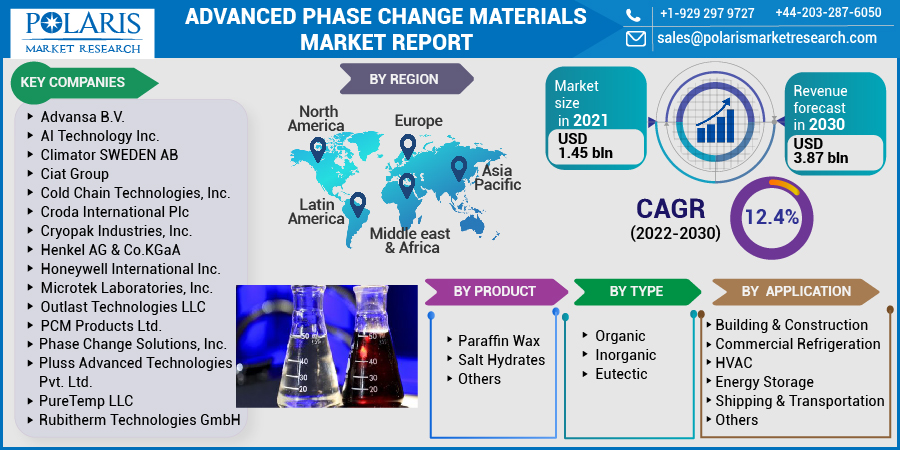 Know more about this report: Request for sample pages
Report Segmentation
The market is primarily segmented based on product, application, type, and region.
By Product

By Type

By Application

By Region

Paraffin Wax
Salt Hydrates
Others

Organic
Inorganic
Eutectic

Building & Construction
Commercial Refrigeration
HVAC
Energy Storage
Shipping & Transportation
Others

North America (U.S., Canada)
Europe (France, Germany, UK, Italy, Netherlands, Spain, Russia)
Asia Pacific (Japan, China, India, Malaysia, Indonesia. South Korea)
Latin America (Brazil, Mexico, Argentina)
Middle East & Africa (Saudi Arabia, UAE, Israel, South Africa)
Know more about this report: Request for sample pages
The organic PCM segment is expected to witness the fastest growth
Organic (PCM) occur naturally in petrochemical bi-products that change advanced phase materials (PCM) at a specific temperature. They are also chemically and thermally stable, with minimal or no subcooling. It is anticipated that this will accelerate segmental expansion in the coming years.
The inorganic portion comprises hydrated salt solutions made from synthetic natural water salts. The chemical composition of salts varies as a result. In the combination, the necessary advanced phase-change materials (PCM) temperature is attained. The salt hydrate combination is given special nucleating agents to lessen advanced phase-change salt dissociation and supercooling.
Building and Construction industry accounted for the highest market share in 2021
(PCM) could be used in various industries, including construction, automotive, aerospace, and others. The product's applications in the construction business are limitless. They can be incorporated into every aspect of the house, from the roof to the flooring and electrical equipment. Wallboards, roofing, doors, concrete, and other materials are mixed to improve the structure's thermal efficiency.
Paraffin wax is expected to hold the significant revenue share
Because of their low cost and ease of usage, paraffin waxes are frequently used in construction and HVAC sectors. The product's extreme flammability, on the other hand, is projected to be a barrier to commercial expansion. The rising popularity of bio-based advanced phase change materials (PCM) will likely boost product demand over the forecast period due to enhanced recycling capabilities without materials degradation, higher melting points, and better encapsulation. Because of features such as biodegradability and fire resistance, bio-based advanced phase transition materials are projected to increase at the highest rate.
The demand in Europe is expected to witness significant growth
The tremendous influence of stringent government rules, construction activities, and consumer expenditure drive regional growth. The advanced phase change materials (PCM) market is projected to be driven by the expanding construction industry. In addition, the rising need for the product in cold chain & packaging, as well as building & construction, is likely to drive (PCM) demand. Europe is a significant producer and consumer of organic and inorganic PCM. The second coronavirus wave hit several European countries, causing a drop in construction activity. In the upcoming years, these factors are projected to limit market expansion.
Further, due to tight government requirements to minimize greenhouse gas emissions, the U.S. is likely to account for most of the advanced phase change materials (PCM) market. The growing usage of advanced phase change materials (PCM) in the automobile market is expected to impact the growth substantially. Furthermore, increased product utilization in the HVAC industry to boost and improve energy savings is predicted to fuel growth. According to the United States Census Bureau and the United States Department of Housing and Urban Development, there are many residential projects in the works, and green construction has become one of the most popular trends in North America in recent years.
Latin America's market is primarily based on imports, and development is likely to be slow due to decreasing construction activity. Increasing manufacturing bases, consumer discretionary incomes, and better living standards in emerging economies such as Brazil and Mexico are the key drivers of demand. Furthermore, the electronics market in Latin America is undergoing significant growth, which benefits the (PCM) market.
Competitive Insight
Some of the major players operating in the global advanced phase change materials (PCM) market include Advansa B.V., AI Technology, Climator SWEDEN, Ciat Group, Cold Chain, Croda International, Cryopak Industries, Henkel AG, Honeywell International, Microtek Laboratories, Outlast Technologies, PCM Products, Phase Change Solutions, Pluss Advanced Technologies, PureTemp, Rubitherm Technologies, Sasol Limited, and Teappcm Limited.
Recent Developments
In January 2020, Solvay's polyamide business was acquired by BASF. With new and well-known products like Technyl, BASF's polyamide capabilities are expanded.
Advanced Phase Change Materials (PCM) Market Report Scope
| | |
| --- | --- |
| Report Attributes | Details |
| Market size value in 2021 | USD 1.45 billion |
| Revenue forecast in 2030 | USD 3.87 billion |
| CAGR | 12.4% from 2022 - 2030 |
| Base year | 2021 |
| Historical data | 2018 - 2020 |
| Forecast period | 2022 - 2030 |
| Quantitative units | Revenue in USD million/billion and CAGR from 2022 to 2030 |
| Segments covered | By Product, By Application, By Type, By Region |
| Regional scope | North America, Europe, Asia Pacific, Latin America; Middle East & Africa |
| Key companies | Advansa B.V., AI Technology Inc., Climator SWEDEN AB, Ciat Group, Cold Chain Technologies, Inc., Croda International Plc, Cryopak Industries, Inc., Henkel AG & Co.KGaA, Honeywell International Inc., Microtek Laboratories, Inc., Outlast Technologies LLC, PCM Products Ltd., Phase Change Solutions, Inc., Pluss Advanced Technologies Pvt. Ltd., PureTemp LLC, Rubitherm Technologies GmbH, Sasol Limited, and Teappcm Limited. |