The global aerospace Valves market was valued at USD 11,593.47 million in 2022 and is expected to grow at a CAGR of 6.0% during the forecast period.
Aerospace valves play a crucial role in motion and flow control technologies. These valves are essential components that contribute to the smooth operation of aircraft by performing various vital functions. Some of these functions include managing heat, controlling the directional flow of oil and fuel, facilitating anti-icing capabilities, maintaining pressure control, and optimizing temperature limits. By fulfilling these integral roles, aerospace valves significantly contribute to the efficient and safe operation of aircraft systems.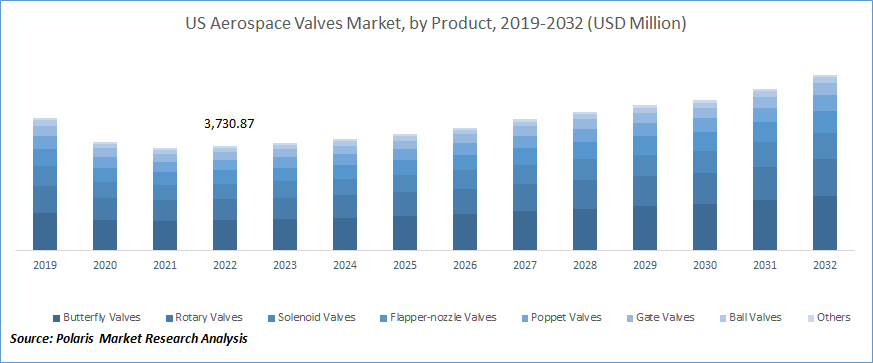 To Understand More About this Research: Request a Free Sample Report
Significant advancements are being made in developing valves used in the aerospace industry. One notable trend is the increasing use of electronically controlled aerospace valves, which offer reliable and efficient control over the flow of gas or liquid and mechanical motions in various areas of an aircraft.
The aerospace market has experienced a severe setback due to the COVID-19 pandemic, surpassing the impact of previous downturns such as SARS in 2003 and the Great Recession in 2008. The pandemic's detrimental effects on the industry have been historically unprecedented, causing substantial damage to the aerospace market.
According to IATA's April 2021 projections, the airline industry will face a net loss of USD 47.7 billion in 2021. Although this is still a substantial loss, it represents an improvement from the USD 126.4 billion loss incurred by the industry in 2020. As lockdown restrictions ease and vaccination campaigns gain momentum, the gradual resumption of air traffic globally points towards a positive outlook for the market in the coming years. This trend is expected to drive a strong recovery across the market, including its various component segments.
The decline of the COVID-19 pandemic has resulted in a notable increase in passenger numbers at airports. This growth can be attributed to governments' removal of border restrictions and the easing of travel restrictions, which have encouraged more people to travel. Consequently, aircraft original equipment manufacturers (OEMs) have ramped up their production capacities to meet the demand and adhere to delivery timelines. As a result, there has been a surge in the market for aircraft valves.
Furthermore, the relaxation of barriers by various countries has facilitated the smooth flow of necessary components required for aircraft valve production. It has created favorable conditions for the aircraft valves market, allowing it to experience steady growth throughout the forecast period. Growing air passenger traffic is placing pressure on airports globally. Aircraft OEMs are increasing production to meet demand and delivery deadlines. The expanding global commercial aircraft fleet drives replacement demand for aerospace valves.
Industry Dynamics
Growth Drivers
Increasing Air Passenger Traffic
The size of the commercial aircraft fleet is expanding due to an increase in air passenger traffic, fueling demand for replacement aerospace valves. Aerospace valves are frequently changed rather than fixed because they are exposed to wear and tear during continuous flight operations. By the end of 2021, commercial aircraft manufacturer Airbus hopes to expand its monthly production pace to 45.
The target for Airbus is to increase its monthly production rate to 64 aircraft by 2023 and 70 aircraft per month by 2024. The aerospace industry has witnessed substantial investments in research and development, due to advancements such as uncrewed aerial vehicles (UAVs) and more electric aircraft. Moreover, there is a significant market opportunity to integrate Internet of Things (IoT) technology into aerospace valves. This integration aims to enhance performance, improve reliability, ensure smoother operation, and significantly reduce lifecycle costs. Proper and timely valve replacements can be carried out by enabling proactive failure detection and predictive maintenance through IoT, resulting in improved functionality and effective data-driven decision-making.
Report Segmentation
The market is primarily segmented based on aircraft, application, product, material, and region.
By Aircraft

By Application

By Product

By Material

By Region

Narrow-body Aircraft

Wide-body Aircraft

Regional Aircraft

General Aviation

Helicopter

Military Aircraft

Spacecraft

UAVs

Fuel Systems

Pneumatic Systems

Hydraulic Systems

Water & Wastewater Systems

Environmental Control Systems

Lubrication Systems

Butterfly Valves

Rotary Valves

Solenoid Valves

Flapper-nozzle Valves

Poppet Valves

Gate Valves

Ball Valves

Others

Stainless Steel

Titanium

Aluminium

Others

North America (U.S., Canada)

Europe (France, Germany, UK, Italy, Netherlands, Spain, Russia)

Asia Pacific (Japan, China, India, Malaysia, Indonesia. South Korea)

Latin America (Brazil, Mexico, Argentina)

Middle East & Africa (Saudi Arabia, UAE, Israel, South Africa)
To Understand the Scope of this Report: Speak to Analyst
The UAVs segment expected to grow fastest over the forecast period.
The UAVs segment expected to grow fastest over the forecast period, primarily driven by a substantial increase in geospatial and security defense expenditures. According to the 2021 Department of Defense budget report by AUVSI (Association for Unmanned Vehicle Systems International), the U.S. Department of Defense (DOD) has allocated a significant budget of USD 75 billion for system technologies. This substantial investment is expected to result in exponential growth in the UAV sector, consequently driving the demand for components, including aerospace valves, in the market.
The environmental control systems segment held the largest market share in 2022
The environmental control systems segment held the largest market share in 2022. It is responsible for maintaining a comfortable and safe cabin environment for passengers and crew. These systems manage air temperature, pressure, humidity, and air quality inside the aircraft.
The aerospace industry has witnessed continuous growth, with increasing aircraft deliveries to meet the rising demand for air travel. As aircraft production and deliveries surged, the need for environmental control systems and related components, such as valves, likely followed suit.
Airlines and aircraft manufacturers prioritize passenger comfort and safety to enhance the flying experience. Effective environmental control systems are crucial for creating a pleasant cabin environment, promoting passenger satisfaction, and maintaining safety standards.
Aviation authorities worldwide enforce strict cabin air quality, temperature, and pressure regulations. Manufacturers and airlines invest in advanced environmental control systems to comply with these regulations. Existing aircraft fleets often undergo retrofitting and upgrades to incorporate new technologies, enhance performance, and comply with updated regulations. Retrofitting environmental control systems may have driven the demand for valves and components.
The North America is expected to dominate the market over the forecast period.
North America is anticipated to dominate the aerospace valves market during the forecast period. The region benefits from robust industry expertise and serves as a key hub for the aircraft industry, encompassing component manufacturing, aircraft assembly, in defense and security. Additionally, North America has an increasing demand for lightweight and high-performance aerospace valves, driven by the need to support modern aircraft platforms like the B777x, A220, and B737Max.
During the forecast period, Asia Pacific is expected to exhibit the significant growth in the global aerospace valves market. This growth is supported by several factors, including the region's increasing interest in indigenous manufacturing of aerospace components and systems. The availability of low-cost labor in the area attracts stakeholders from developed economies in the aircraft industry. Additionally, Asia Pacific boasts the largest commercial aircraft fleet size, which ensures a significant market demand for aerospace valves.
Competitive Insight
The major global market players include Circor International, Inc., AeroControlex, Crane Aerospace & Electronics, ITT Aerospace Controls, Eaton Honeywell, Liebherr, Moog, Meggitt, PARKER HANNIFIN CORP, Precision Fluid Controls, Inc., Porvair, Safran SA, Triumph Group., Sitec Aerospace GmbH, Woodward, Inc., and United Technologies Corporation.
Recent Developments
In November 2022, Triumph Group secured a contract from Lockheed Martin to produce the brake valve assembly for the F-16 Fighting Falcon aircraft. As part of the agreement, Triumph Group will supply production hardware and offer operational support for the F-16 aircraft.

In August 2022, Marsh Brothers Aviation secured a four-year contract with Aviation Fabricators to supply customized aircraft seat actuator valves. This deal came after Marsh Brothers Aviation assisted AvFab in resolving a supply chain issue. AvFab will use the valves to maintain, repair, and overhaul seats in private and commercial aircraft.s
Aerospace Valves Market Report Scope
| | |
| --- | --- |
| Report Attributes | Details |
| Market size value in 2023 | USD 11,941.28 million |
| Revenue forecast in 2032 | USD 20,132.18 million |
| CAGR | 6.0% from 2023 - 2032 |
| Base year | 2022 |
| Historical data | 2019 - 2021 |
| Forecast period | 2023 - 2032 |
| Quantitative units | Revenue in USD million and CAGR from 2023 to 2032 |
| Segments covered | By Aircraft, By Application, By Product, By Material, By Region |
| Regional scope | North America, Europe, Asia Pacific, Latin America; Middle East & Africa |
| Key companies | Circor International, Inc., AeroControlex, Crane Aerospace & Electronics, ITT Aerospace Controls, Eaton Honeywell, Liebherr, Moog, Meggitt, PARKER HANNIFIN CORP, Precision Fluid Controls, Inc., Porvair, Safran SA, Triumph Group., Sitec Aerospace GmbH, Woodward, Inc., and United Technologies Corporation |