The global agricultural enzymes market was valued at USD 284.48 million in 2021 and is expected to grow at a CAGR of 9.8% during the forecast period. Enzymes are known to play a significant role in maintaining the health of the soil and its surroundings because they are essential activators in biological processes. Fruits and vegetables, oilseeds, legumes, grains, and cereals all depend on enzymes to flourish. As they alter the quality of the finished product, agricultural enzymes are gaining popularity.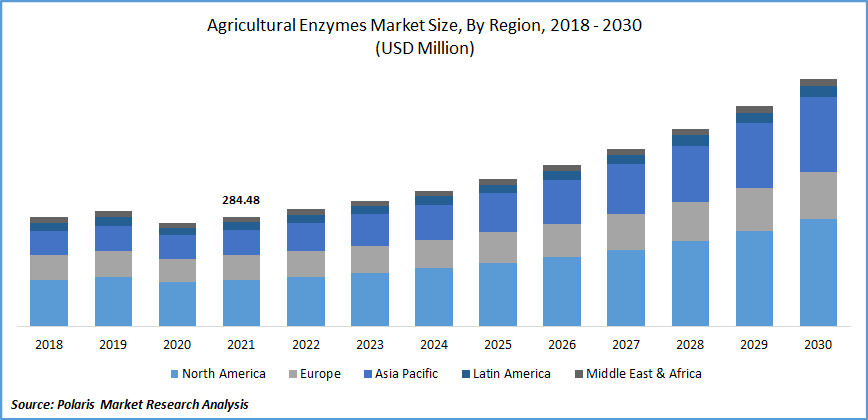 Know more about this report: Request for sample pages
The natural looks of the product are what is driving the market. The enzyme products created are extremely safe to use and environmentally friendly because they are produced naturally and are not genetically modified or manipulated in any way. Over the past few years, these items have become widely accepted in the farming and agricultural industries.
Rising interest in agro-biologicals, significant expansion of organic farming, and an increase in production yield from constricted arable land are a few additional vital variables propelling the market's rise. The main drivers fueling the need for agricultural enzymes are the population boom, the rising market demand for food production, and the increasing desire for organic products.
Additionally, the growing use of precision farming techniques has expanded the market for agricultural enzyme producers. Due to COVID-19, the global market for agricultural enzymes is not significantly impacted. Despite the pandemic epidemic, a global trend toward sustainable and organic farming fueled the market expansion. However, the early global supply disruptions had a detrimental effect on the market.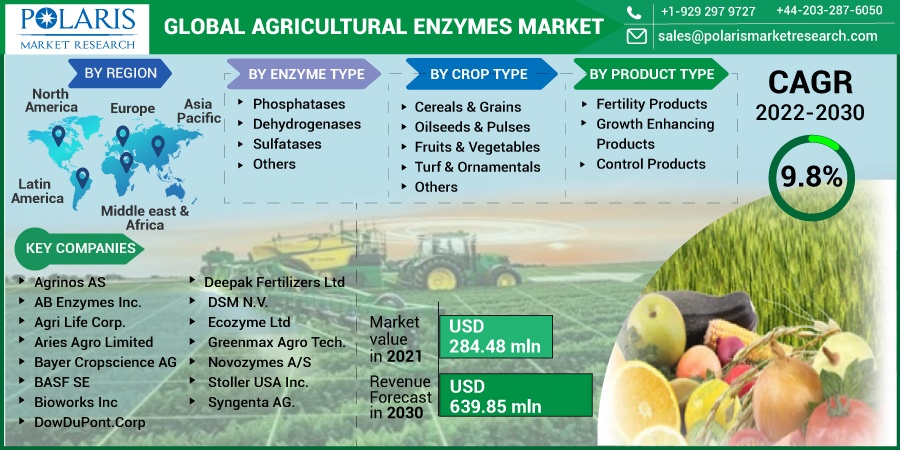 Know more about this report: Request for sample pages
Industry Dynamics
Growth Drivers
The growing interest in agro-biologicals, significant expansion of organic farming, and increase in the total yield from constrained arable land are a few additional vital variables propelling the market's growth. Bioactive proteins called agricultural enzymes are employed in place of chemicals in the production and preservation of food. They are also used to protect crops from various pests and diseases and to improve agricultural fertility.
Additionally, the compounds are widely used in biological processes used in agriculture, such as the fermenting of silage, the bioprocessing of fiber, and the processing of crops and crop residues. Also, major players are investing in developing products to serve the best agriculture solutions.
For instance, in March 2021, To help farmers overcome social and economic obstacles and to satisfy customer demand for more sustainably produced food, BASF expanded its research and development (R&D) efforts for sustainable agricultural solutions. 2020 will see BASF's Agricultural Solutions sector invest €840 million in R&D.
Report Segmentation
The market is primarily segmented based on crop type, enzyme type, product type, and region.
By Enzyme Type

By Crop Type

By Product Type

By Region

Phosphatases
Dehydrogenases
Sulfatases
Others

Cereals & Grains
Oilseeds & Pulses
Fruits & Vegetables
Turf & Ornamentals
Others

Fertility Products
Growth Enhancing Products
Control Products

North America (U.S., Canada)
Europe (France, Germany, UK, Italy, Netherlands, Spain, Russia)
Asia Pacific (Japan, China, India, Malaysia, Indonesia, South Korea)
Latin America (Brazil, Mexico, Argentina)
Middle East & Africa (Saudi Arabia, UAE, Israel, South Africa)
Know more about this report: Request for sample pages
Phosphatases enzymes are expected to witness the fastest growth
Phosphotransferases, alcohol dehydrogenase and sulfatases are some of the main enzyme types employed to enhance soil and boost crop development. The market for phosphatase enzymes is anticipated to expand at the highest rate. The major market participants develop technology to produce these products from microorganisms.
The production-related microorganisms develop in tightly sealed steel tanks fed with ingredients, including sugar, starch, soy, and corn. These microorganisms boost crop yields and cut back on pesticide use in the food industry. Phosphatases are also well renowned as being an excellent indication of soil phosphorous insufficiency. The rise of the phosphatase segment among agricultural enzymes will also be driven by their capacity to dissolve soil particles.
Cereals and Grains accounted for the highest market share in 2021
The cereals and grains are anticipated to provide immensely to the economic growth of the agricultural enzymes market. They are essential to processing cereal because they are thought to enhance quality and safeguard against crop pests. The fiber and germ from the crop can allegedly be removed by these products added to grains and cereals.
Due to changing lifestyles, rising disposable incomes, increased food and calorie needs, and expanding urbanization, the demand for cereal and grains is also being fueled. Since grains are grown in most other countries, the need for agricultural enzymes is expected to expand soon. Almost all countries farm cereals and grains; therefore, this fact is anticipated to propel the market. As they improve grain quality and guard against crop diseases, enzymes are crucial in the processing of cereals.
The bran and germ from the crop can be eradicated by the enzymes added to cereals and grains. Because of the usage of pesticides in agriculture, people are becoming more quality conscious, which is changing their tastes and preferences for organic produce. The use of pesticides in cultivation causes harm to living things and deteriorates the environment.
Fertility Products is expected to hold the significant revenue share
The primary source of nutrients for plants is the soil, which also aids in biological processes and protects both plants and groundwater. The primary measure of soil fertility is its ability to react to weather variations, industrial waste, and agricultural chemicals.
Crop losses caused by rats and other pests are a concern for farmers worldwide. Control chemicals help minimize this damage as it restricts the growth of pests on the crops from growing and migrating. Global crop production has been hampered by dwindling arable land. Control solutions help boost agricultural output and reduce losses brought on by pests.
Control chemicals are used to reduce dangerous germs such as pathogenic fungus and soil-borne microbes. Through this management measure, the soil structure is stabilized, and water infiltration is improved.
The demand in the North America agricultural enzymes market is expected to witness significant growth
Due to rising environmental concerns, increased knowledge of agricultural biotechnology, and the adoption of cutting-edge agricultural techniques, North America holds the largest market share. The agriculture sector accounts for a substantial portion of US economic activity, and strict laws and regulations are in place. According to the United States Department of Agriculture, specific rules have been established for importing goods created by microbes.
Additionally, the same rules apply to the import and export of many items, including enzymes, proteins, and extracts. The United States Department of Agriculture claims that specific regulations have been established for importing goods created by microbes. These rules also apply to the import and export of various materials, such as enzymes, proteins, and extracts. This fuels the local market for agricultural enzymes.
Due to its highly developed agriculture sector and strict environmental rules, North America is led by the United States. Additionally, the United States and Mexico are making significant investments in technology to provide chemical-free products for the agriculture sector. A rise in urbanization would also raise the demand for agricultural enzymes due to changing dietary needs, altered eating patterns, higher disposable incomes, and altered lifestyles.
Competitive Insight
Some major players operating in the global market include Agrinos AS, AB Enzymes Inc., Agri Life Corp., Aries Agro Limited, Bayer Cropscience AG, BASF SE, Bioworks Inc, DowDuPont, Deepak Fertilizers Ltd, DSM N.V., Ecozyme Ltd, Greenmax Agro Tech., Novozymes A/S, Stoller USA Inc., and Syngenta AG.
Recent Developments
In June 2022, Belgian and Novozymes established a cooperation to increase the potential for Evoca. The largest supplier of enzyme and microbial technology for agriculture and numerous other industries is Novozymes. The new eco-friendly bio fungicide from Biotalys, Evoca, has not yet received approval. However, the business has already established a partnership to look into potential possibilities for protein-based products in the future.
In February 2021, Novozymes, with its promising enzyme-based technology for controlling significant pests that harm the agricultural sector and cause billions of dollars in losses annually.
Agricultural Enzymes Market Report Scope
| | |
| --- | --- |
| Report Attributes | Details |
| Market size value in 2021 | USD 284.48 million |
| Revenue forecast in 2030 | USD 639.85 million |
| CAGR | 9.8% from 2022 - 2030 |
| Base year | 2021 |
| Historical data | 2018 - 2020 |
| Forecast period | 2022 - 2030 |
| Quantitative units | Revenue in USD million/billion and CAGR from 2022 to 2030 |
| Segments covered | By Enzyme Type, By Crop Type, By Product Type, By Region |
| Regional scope | North America, Europe, Asia Pacific, Latin America; Middle East & Africa |
| Key companies | Agrinos AS, AB Enzymes Inc., Agri Life Corp., Aries Agro Limited, Bayer Cropscience AG, BASF SE, Bioworks Inc, DowDuPont.Corp, Deepak Fertilizers Ltd, DSM N.V., Ecozyme Ltd, Greenmax Agro Tech., Novozymes A/S, Stoller USA Inc., and Syngenta AG. |