The global agricultural microbials market was valued at USD 6.44 billion in 2022 and is expected to grow at a CAGR of 14.5% during the forecast period.
The increasing prevalence of consuming organic food among people and the growing adoption of chemical-free and organic agricultural products coupled with the rapid surge in global population are key factors augmenting the market growth.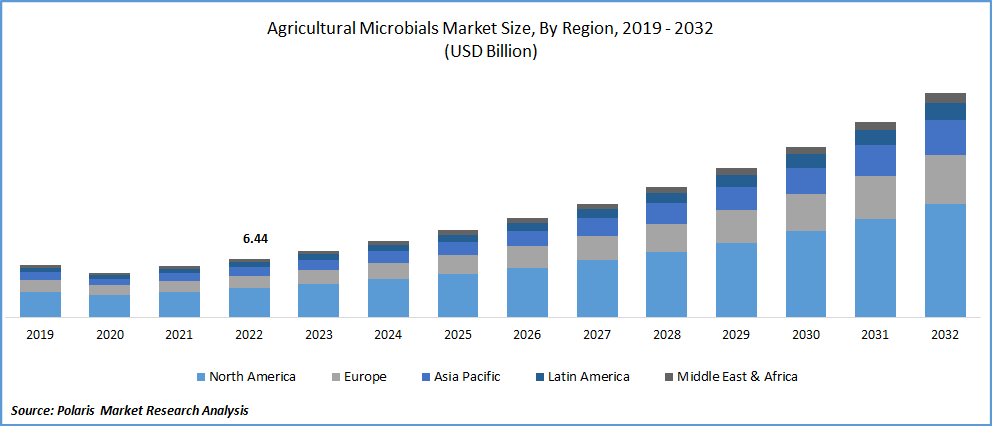 Know more about this report: Request for sample pages
Moreover, rapid urbanization and low availability of arable land encourage farmers to opt for efficient crop protection and enhancement techniques. For instance, the world's total population is expected to reach 8 million in November 2022, and India is likely to surpass China, the most populous country in the world, in 2023. And, according to a report published by United Nations, the global population is projected to grow by around 9.7 billion by 2050 and 10.4 billion, by 2080.
Agricultural microbials consist of various microorganisms, such as bacteria, fungi, and viruses, which are favorable for aiding several agricultural practices, including soil improvement and crop protection. Microbes are important ingredients in bio stimulants, resulting in improved and enhanced crop yields. These factors will likely influence the demand and growth of agricultural microbials across the world over the coming years. For instance, in February 2022, Valent BioSciences announced that it had established a new operating facility to expand its bio-stimulant line with the help of a new internally and externally developed range of products.
Furthermore, a growing number of innovations and high advancements in agriculture technology across the globe to tackle rising challenges like cost of supplies, labor shortage, product sustainability, and changing consumer preferences has paved the way for higher growth opportunities for the market. According to our findings, agriculture technology has seen considerable investment growth, with around USD 6.7 billion in the last five years and USD 1.9 billion in the previous year alone.
The outbreak of the COVID-19 pandemic has significantly impacted the growth of the agricultural microbials market. The rapid emergence of deadly coronavirus worldwide has resulted in high supply chain disruptions and other trade activity restrictions, which lead to a slight decline in sales and market growth. Moreover, the production capacity was also impacted due to limited staff availability and strict social distancing, negatively impacting the market.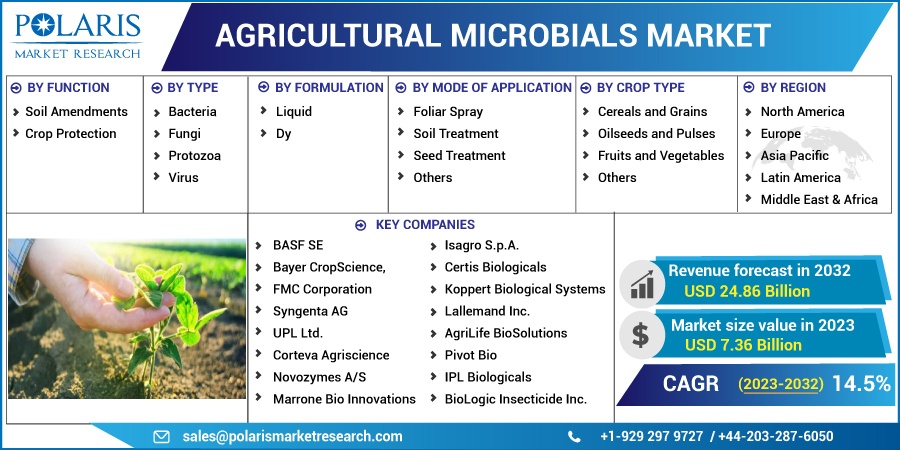 Know more about this report: Request for sample pages
Industry Dynamics
Growth Drivers
The rising utilization of microbials in agriculture to increase crop harvest and nutrient uptake and improve soil fertility, coupled with the increased penetration of naturally derived food products, are key factors fueling the growth of the global agricultural microbials market. In addition, increased need and demand for ecological farming and adoption of microbial over synthetic chemical products to enhance the product quality with any harmful effect is further likely to propel the demand for agricultural microbials.
Furthermore, rapid changes in global climatic conditions that have led to the increased prevalence and occurrence of plant pests and diseases are also major factors driving the adoption of agricultural microbials. Continuous change in climate plays a crucial role in crop production and better susceptibility to pests, forcing farmers to depend more on crop protection products for effective prevention.
Report Segmentation
The market is primarily segmented based on function, type, formulation, mode of application, crop type, and region.
By Function

By Type

By Formulation

By Mode of Application

By Crop Type

By Region

Soil Amendments
Crop Protection

Bacteria
Fungi
Protozoa
Virus

Foliar Spray
Soil Treatment
Seed Treatment
Others

Cereals and Grains
Oilseeds and Pulses
Fruits and Vegetables
Others

North America (U.S., Canada)
Europe (France, Germany, UK, Italy, Netherlands, Spain, Russia)
Asia Pacific (Japan, China, India, Malaysia, Indonesia, South Korea)
Latin America (Brazil, Mexico, Argentina)
Middle East & Africa (Saudi Arabia, UAE, Israel, South Africa)
Know more about this report: Request for sample pages
Soil amendments segment is expected to witness fastest growth
The soil amendments segment is projected to grow significantly over the anticipated period on account of increasing utilization of agricultural microbials for various purposes among farmers, such as controlling plant pests and diseases. Many farmers have started using these microbes as sustainable and cost-effective solutions. The high prevalence of integrated pest management practices across the globe is likely to fuel the growth of the segment market.
However, the crop protection segment is expected to grow considerably over the coming years due to the rising need for better protection techniques for crop yields to cater to the rising demand for food products due to increased global population. Moreover, continuously changing climatic conditions are also a major concern for the protection of crops, due to which, demand for innovative crop protection products is likely to grow significantly.
Bacteria segment accounted for the largest market share
The growth of the segment market can be attributed to increasing number of applications of bacteria in the formulation of biofertilizers, biopesticides, and biostimulants. Bacteria are commonly known for performing several growth-enhancing functions in plants and protecting plants from various root-fungus diseases, influencing the segment market growth.
Furthermore, the fungi segment is expected to register a significant growth rate over the anticipated period due to its rapidly growing popularity among farmers as a Plant Growth-Promoting Fungi. It helps to increase germination, flowering, seedling vigor, and yield, which is projected to contribute to increasing demand for the product shortly.
Liquid segment dominated the global market in 2022
Due to its high convenience compared to dry formulation and can be easily and directly used as sprays, root dips, and drenches. In addition, it does not need any previous procedures like mixing, which helps to avoid spoilage and wastage of product.
However, the dry formulation segment is gaining high traction among farmers across the globe owing to its ease of storage, convenient transportation, and longer lifespan. Additionally, the growing adoption of dry formulation-based products for seed treatment and many other agriculture-related activities positively impacts segment growth.
Foliar spray segment held the largest revenue share in 2022
The foliar segment held the largest global market revenue share in 2022 and is likely to grow at a significant growth rate during the projected period, which is mainly accelerated by its effectiveness in improving overall plant health and a wide range of benefits on other applications. The uptake of nutrient is much faster in foliar spray as it quickly absorbs the nutrients and this technique is comparatively easier to apply and acts like a prompt correction treatment of several diseases and deficiencies in plants, which is projected to drive the segment growth over the next coming years.
Fruits & Vegetables segment is projected to exhibit fastest growth
The rising demand for organic fruits & vegetables as consumers shift towards healthy and chemical free products to maintain their health and well-being is likely to propel the development of the segment market at a rapid pace.
Moreover, cereals and pulses are further anticipated to contribute to the global market growth due to increasing adoption of agricultural microbials for achieving higher sustainability and better yields. Various microbes such as bacteria and fungi also help cereal crops like rice to increase photosynthesis and better survival in nutrient limitation and drought conditions.
North America region dominated the global market with a healthy holding
The North America region dominated the global market in 2022. The growth of the regional market is mainly driven by increasing awareness among farmers regarding the environmental benefits of such microbial and growing adoption of organic farming practices. In addition, various government organizations and agencies, such as National Science Foundation and the U.S. Department of Agriculture, are highly focused on developing agricultural microbials and encouraging farmers to opt for these solutions to enhance crop production and quality.
However, Asia Pacific is expected to be the fastest growing region in the market over the projected period. India and China are major countries dependent on agriculture and are likely to contribute a significant market share. Increased prioritizing of environmental protection and restoration, which led to high adoption of agricultural microbials is key reason behind the growth of the market.
Competitive Insight
Some of the major players operating in the global market include BASF SE, Bayer CropScience, FMC Corporation, Syngenta AG, UPL Ltd., Corteva Agriscience, Novozymes A/S, Marrone Bio Innovations, Isagro S.p.A., Certis Biologicals, Koppert Biological Systems, Lallemand Inc., AgriLife BioSolutions, Pivot Bio, IPL Biologicals, BioLogic Insecticide Inc., Provivi, and Fytofend.
Recent Developments
In January 2022, Certis Biologicals, introduced its new product MeloCon, a water-dispersible concrete that contains spores of natural soil fungus, which helps to control a wide variety of nematodes at every stage it's of their lifecycle. The newly developed formulation brings various advantages to growers of both conventional and organic acreage.
In February 2022, Valent BioSciences expanded its biostimulant line by integrating new internally and externally developed products for the global market. The new unit will mainly work on developing, discovering, and commercializing arbuscular mycorrhizal fungi products with its partners.
Agricultural Microbials Market Report Scope
| | |
| --- | --- |
| Report Attributes | Details |
| Market size value in 2023 | USD 7.36 billion |
| Revenue forecast in 2032 | USD 24.86 billion |
| CAGR | 14.5% from 2023 – 2032 |
| Base year | 2022 |
| Historical data | 2019 – 2021 |
| Forecast period | 2023 – 2032 |
| Quantitative units | Revenue in USD billion and CAGR from 2022 to 2030 |
| Segments Covered | By Function, By Type, By Formulation, By Mode of Application, By Crop Type, By Region |
| Regional scope | North America, Europe, Asia Pacific, Latin America; Middle East & Africa |
| Key Companies | BASF SE, Bayer CropScience, FMC Corporation, Syngenta AG, UPL Ltd., Corteva Agriscience, Novozymes A/S, Marrone Bio Innovations, Isagro S.p.A., Certis Biologicals, Koppert Biological Systems, Lallemand Inc., AgriLife BioSolutions, Pivot Bio, IPL Biologicals, BioLogic Insecticide Inc., Provivi, and Fytofend. |