The global smart agriculture market was valued at USD 13.17 billion in 2021 and is anticipated to grow at a CAGR of 10.4% during the forecast period.
The rising population and growing food demands require an urgent need for surging agricultural production. For instance, as per the Department of Economic and Social Affairs, UN, the global population is projected to reach 8 billion in November 2022 and could grow to a massive figure of 9.5 billion in 2030. To fulfill this huge food demand, farmers need better yields per hectare of land. Rising climate pollution, depleting level of natural resources like – groundwater and soil fertility, adoption of technologies such as AI, IoT, Big Data, etc., and etc., drives the overall targeted market.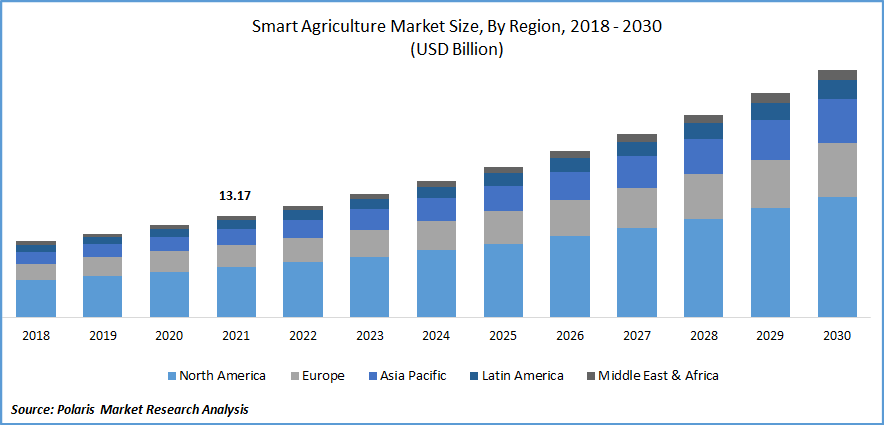 Know more about this report: Request for sample pages
Smart Agriculture is a sustainable practice of agriculture along with the use of some modern technologies like – Livestock biometrics, RFID, GPS, Robotics, and AI to better predict the farms' output. By leveraging these technologies, farmers can increase their yields and manage their agricultural products through various forecasted climatic data.
Increasing labor costs coupled with the shortage of labor in farms have increased the demand for smart agriculture. Agricultural Robots, Drones, Sensors, Smart greenhouses, Smart remote sensing, Computer Imaging, and Cloud-based SaaS software are some of the majorly used technologies in Smart farming. By using these technologies, it helps farmers in data collection and analysis, high-precision crop control, and automation of farming techniques.
The effect of Covid 19 on the Smart agriculture market was moderate in nature. During and post-pandemic period, labor supply shortages and supply chain disruptions were some of the main issues this sector faced. But the stringent government regulations regarding food safety and security boosted this smart agriculture market. Post pandemic period sees a rapid utilization of various technologies in this farming sector to manage the labor shortage and more Agri-Tech companies are coming up with technology-driven solutions to various supply chains, inventory, crops, and soil health management issues. No doubt that this pandemic has created many barriers to our agricultural production, but it also boosts the need for technology in this sector too.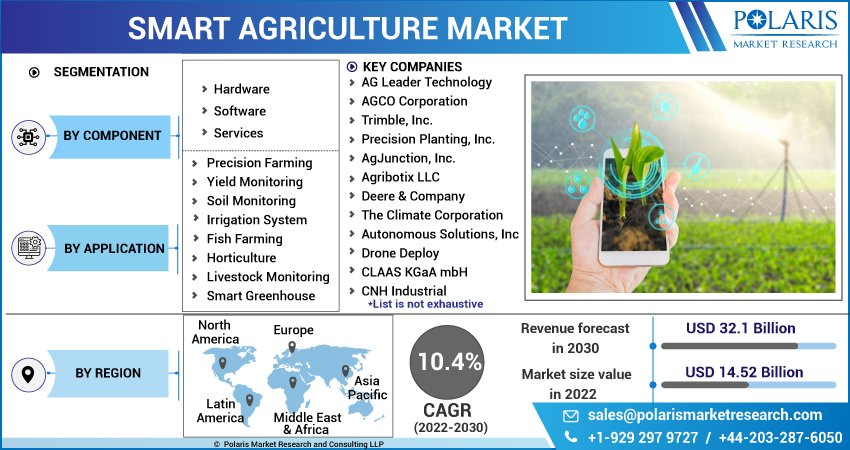 Know more about this report: Request for sample pages
Industry Dynamics
Growth Drivers
The rising demand for food with limited arable land, and a strong need for technological intervention to increase the yield per hectares manifold. To achieve this, farmers need better weather forecasting, good inventory management, proper soil and crop health management, less usage of pesticides, and a well-developed infrastructure for irrigation. These requirements have been fulfilled by the interconnectedness of different devices like GIS and other remote sensing devices through IoT which is the main driver for the overall growth of this market.
Rising labor and energy costs and the unavailability of laborers are also major factors in using these technologies in the farming sector. During the period of Covid 19 pandemic, farming lands that depend on manual labor witnessed the need for automation to eradicate the labor dependency.
Growing demand for organic foods, better yields, investments from both the Government and private sectors, higher income and purchasing power of the farmers, and easy financing options are some of the other factors that drive this market.
Report Segmentation
The market is primarily segmented based on product, and region.
By Component

By Application

By Region

Hardware
Software
Services

Precision Farming
Yield Monitoring
Soil Monitoring
Irrigation System
Fish Farming
Horticulture
Livestock Monitoring
Smart Greenhouse
Others

North America (U.S, Canada, Mexico)
Asia-pacific (China, Japan, India, Rest of Asia- pacific)
Europe (Germany, UK, France, Italy, Rest of Europe)
Latin America (Brazil, Middle East & Africa)
Know more about this report: Request for sample pages
Software is expected to dominate the market during the forecast period
During the forecast period, the hardware market is expected to witness the highest growth rate within the component segment. The rising demand for the automation of agriculture will give rise to the increase in the manufacturing of various smart agricultural tools, dairy products, and other remote sensing devices which are the main driving factors of this segment shortly.
Smart Greenhouse is expected to dominate the market during the forecast period
In the application segment, the smart greenhouse application market is also anticipated to have significant growth due to the rising need for well-developed irrigation infrastructures and growing environmental concerns. The major applications of smart greenhouses are to provide adequate heating and ventilation to the crops amid these growing environmental concerns which also propels the growth of the smart agriculture segment market.
Precision farming is expected to dominate the market during the forecast period
In the application segment, precision farming is anticipated to dominate the market in the forecast period. The shift of focus to improving crop productivity, farm efficiency, and the increasing water scarcity drives this segment. The major applications of precision farming include weather tracking and forecasting, crop yield monitoring, etc. Increasing adoption of GPS, guidance technology and remote sensing technology are the major reasons for the high demand for precision farming marketing segments.
North America is expected to hold the largest share during the forecast period
North America accounted for the largest share of the global Smart Agriculture market in 2021 owing to the growing need to improve agricultural productivity.
During the forecast period, North America dominated the Global smart agricultural market due to growing government initiatives and rising population density. Favorable guidelines for the expansion of this market and Tax incentives are some of the other key drivers for this market. Initiatives are taken like – providing subsidies for the enhancement in the applications of Smart irrigation, forming a platform "North America Climate Smart Agriculture Alliance (NACSAA)" for educating and equipping the cultivators for sustainable agricultural productivity, rebate on smart controllers.
Among the emerging economies, the Asian Pacific countries is anticipated to grow in the forecast period. Countries like India, China, and Japan are in the early stage of adoption for this market and have been adopting these technologies very fast. Growing demand for food and rising pressure on farmers to improve yields with limited resources are the major drivers for these emerging markets. Unexpected climate changes, rising budgetary allocations from Government, and rising awareness among cultivators are some of the other factors driving the adoption of smart agriculture technologies. The demand for Europe is expected to be driven by automation products and advanced equipment, which is helping farmers to earn profit from the agriculture sector.
Competitive Insight
The leading players in the smart agriculture market include AG Leader Technology, AGCO Corporation, Trimble, Inc., Precision Planting, Inc., AgJunction, Inc., Agribotix LLC, Deere & Company, The Climate Corporation, Autonomous Solutions, Inc., Drone Deploy, CLAAS Group, and CNH Industrial among others. The leading players in the market are introducing new innovative products in the market to cater to the growing consumer demands. Global players are entering new markets in developing regions to expand their customer base and strengthen their market presence.
Recent Developments
March 2022: John Deere is offering a new stepless Electric Variable Transmission (EVT) in their 8 and 9 Series Tractors for the model year 2023 that improves transmission performance, reliability, and increased efficiency.
November 2022: DroneDeploy acquired StructionSite, a leading provider of ground reality capture for the construction industry to expand their product portfolio.
Smart Agriculture Market Report Scope
| | |
| --- | --- |
| Report Attributes | Details |
| Market size value in 2022 | USD 14.52 billion |
| Revenue forecast in 2030 | USD 32.1 billion |
| CAGR | 10.4% from 2022 - 2030 |
| Base year | 2021 |
| Historical data | 2018 - 2021 |
| Forecast period | 2022 - 2030 |
| Quantitative units | Revenue in USD billion and CAGR from 2022 to 2030 |
| Segments covered | By Component, By Application, By Region |
| Regional scope | North America, Europe, Asia Pacific, Latin America |
| Key companies | AG Leader Technology, AGCO Corporation, Trimble, Inc., Precision Planting, Inc., AgJunction, Inc., Agribotix LLC, Deere & Company, The Climate Corporation, Autonomous Solutions, Inc., Drone Deploy, CLAAS KGaA mbH, and CNH Industrial |