The global air brake system market was valued at USD 3.14 billion in 2022 and is expected to grow at a CAGR of 2.1% during the forecast period.
The air brake system has been integrated into heavy and commercial vehicles to exert more substantial brake effort, resulting in an increasing need for air brakes and consequently growing the air brake system sector. Heavy commercial vehicles and trucks frequently use air brake systems. They necessitate a significant braking effort, which can be delivered solely by the driver's foot. The air braking system is an extremely powerful braking device. It is typically found on big vehicles such as trucks and buses.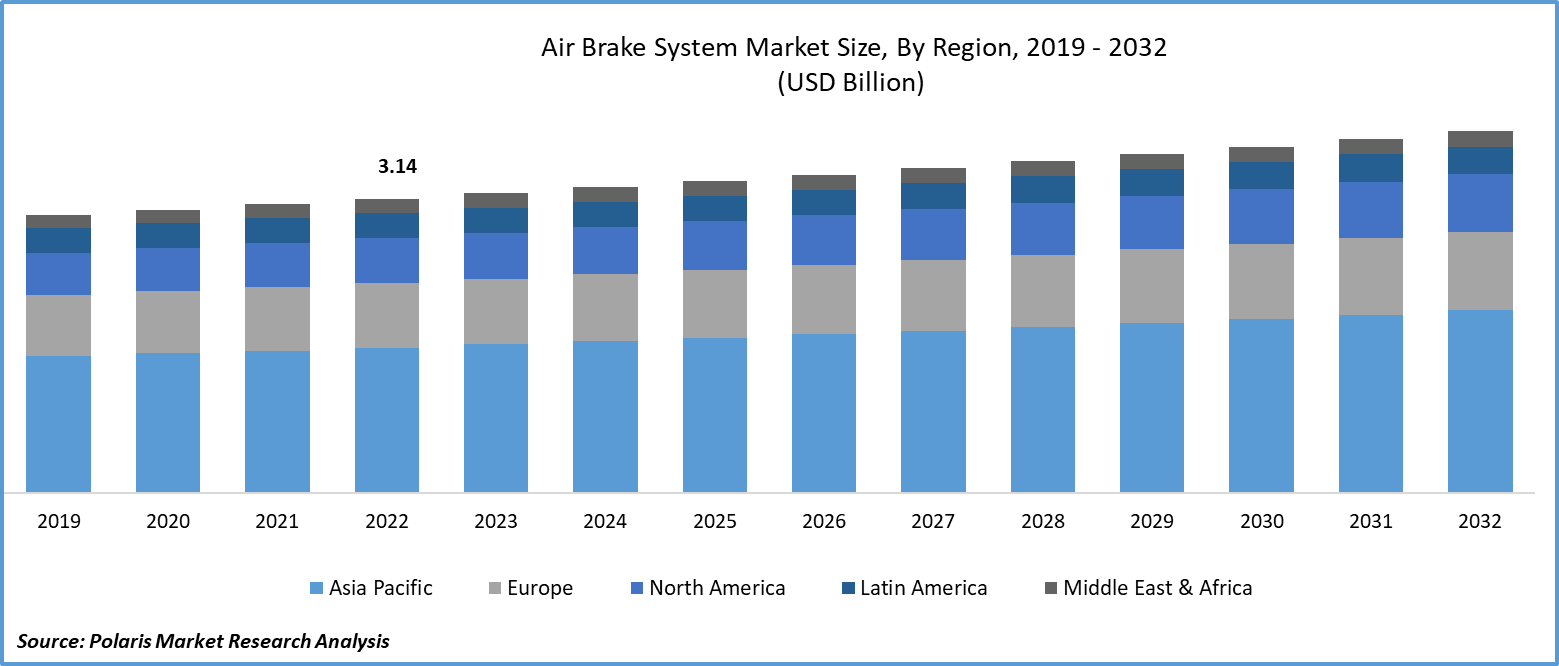 To Understand More About this Research: Request a Free Sample Report
The demand for air brake systems across various end-users is increasing due to its various benefits for the drivers of vehicles, such as being more efficient than other types of brakes, and the air brake components are advantageously placed where the chassis design is straightforward. Compressed air can be utilized to inflate tires, power wipers, horns, and other accessories. It is also used on railways. The locomotive supplies compressed air to the braking and feed pipes. Gradual drops match stepwise increases in braking force in brake pipe pressure. Today, air brake systems are used by some vehicles and buses on the road. It delivers powerful braking effects for big cars and trucks. These are the factors that have propelled the market growth.
Industry Dynamics
Growth Drivers
Rising adoption of advanced technology in vehicles
The increasing demand for advanced technology across the verticles is boosting the need for air braking systems that are driving the growth of the market over the forecast period. There are various technologies for air braking systems are available, and the key players in the market are focusing on adopting technologies to expand the air brake system market, such as CS, SC, ABS, and EBD, among others. For instance, WABCO specializes in sophisticated technology for commercial vehicle brakes, stability control, and gearbox automation systems.
In June 2023, Magura recently revealed the release of a few air brake technologies. The MT A2 disc brake and the Combined Braking System are new. The MAGURA Royal Blood braking fluid is used in the MT A2. MAGURA has once again merged its two business divisions' technology to bring them to the vehicle as a world first. The CBS will be added to MAGURA's existing in-house ABS component line.
Report Segmentation
The market is primarily segmented based on vehicle type, brake type, component, technology, and region.
By Vehicle Type

By Brake Type

By Technology

By Component

By Region

Rigid Body Trucks

Heavy Duty Trucks

Semi-Trailer Tractor

Bus

Rolling Stock

Air Disc Brake

Air Drum Brake

C.S. (Traction Control System)

S.C. (Electronic Stability Control)

EBD (Electronic Brake-force Distribution)

A.B.S. (Anti-Lock Braking System)

Compressor

Governor

Storage Tank

Air Dryer

Foot Valve

Brake Chamber

Slack Adjuster

Others

North America (U.S., Canada)

Europe (France, Germany, UK, Italy, Netherlands, Spain, Russia)

Asia Pacific (Japan, China, India, Malaysia, Indonesia. South Korea)

Latin America (Brazil, Mexico, Argentina)

Middle East & Africa (Saudi Arabia, UAE, Israel, South Africa)
To Understand the Scope of this Report: Speak to Analyst
By Vehicle Type Analysis
Heavy Duty Trucks segment is expected to witness highest growth during the forecast period
The heavy-duty truck segment is expected to grow at the highest CAGR during the forecast period. Class 7 and class 8 vehicles are heavy-duty trucks, with class 7 weighing roughly 12 to 14 tonnes and class 8 weighing up to approximately 15 to 36 tonnes. Fleet operators prefer heavy-duty trucks due to their high weight-bearing capacity and engine power. Because of their large load-carrying capacity, most big trucks use air brake systems. The future demand for heavy-duty vehicles is likely to be driven by the continuing growth of economies in Asia and other countries.
The rigid body trucks segment led the industry market with substantial revenue share in 2022, largely driven by its factors. This is because commercial vehicles must create extra braking force because of their high gross weight, making it dangerous for the driver to use solely the foot brake system. Furthermore, being the second autonomous emergency braking system, the air brake system gives the driver extra time to deploy the foot brake to avoid an accident.
By Component Analysis
The compressor segment accounted for the largest market share in 2022
The compressor segment accounted for the largest market share in 2022 and is likely to retain its market position throughout the forecast period. The compressor is an important component of the air brake system, as it is in charge of pressurizing and providing compressed air to the system. It is an essential part of big commercial vehicles, ensuring that the entire air brake system works properly. The compressor's importance in maintaining the requisite air pressure for efficient braking makes it a critical and frequently used component, solidifying its market dominance.
The air dryer segment is expected to grow at the fastest growth rate over the next coming years, attributed to the various advantages. Air filters, as the name implies, are employed to remove dust mites from atmospheric air, while a drier intake removes moisture as well as humidity from the air. Before pressurized air reaches the brake system, an air dryer removes moisture and impurities. Because moisture can impair the performance and dependability of an air brake system, the requirement for air dryers is increasing.
By Brake Type Analysis
Air Disc Brake sector held a significant revenue share in 2022
Air disc brakes sector holds a significant share owing to the major players' focus on the development of air disc brakes as well as collaborations for the development of air disc brakes. In contrast to drum brakes, the automotive industry has adopted new-age disc brakes in car braking systems. Disc brakes, as opposed to drum brakes, feature more sophisticated mechanics and components.
In July 2022, Orbis Brakes introduced the Periodic Wave disc brake line, which was developed in collaboration with the NASA. The collaboration resulted in the patented Periodic Wave disc brake, which combines advanced aerodynamics to deliver greater surface cooling, eliminate dangerous brake fade, & fuel economy.
By Region
Asia-Pacific region dominated the global market in 2022
The Asia-Pacific region dominated the global market with the largest market share in 2022 and is expected to maintain its dominance over the anticipated period. Increased heavy commercial vehicle manufacturing, expanding industrialization, and urbanization in developing nations like China and India, as well as current projects, will drive the APAC market forward. The region's major players' focus on the expansion of product offerings is also driving the growth of the market.
For instance, in April 2023, ZF Aftermarket introduced 3 TRW products: shock absorbents, brake pads, and brake discs. According to the company, brake repair for passenger automobiles is an essential aspect of the independent aftermarket.
Key Market Players & Competitive Insights
Some of the major players operating in the global market include:
Bendix Commercial Vehicle Systems LLC

Continental AG

Dana Incorporated

Federal-Mogul LLC (A subsidiary of Tenneco Inc.)

Hino Motors, Ltd.

Haldex AB

Knorr-Bremse AG

Meritor, Inc.

MAT Holdings, Inc.

Sealco Commercial Vehicle Products, LLC

Stemco LP (A subsidiary of EnPro Industries, Inc.)

TSE Brakes, Inc.

Sorl Auto Parts, Inc.

WABCO Holdings Inc.

ZF Friedrichshafen AG
Recent Developments
In May 2023, Knorr-Bremse announced the South American debut of its commercial vehicle servicing brand Knorr-Bremse Truck Services.

In June 2023, Tevva introduced regenerative braking on its 7.5t battery-electric vehicle. The use of EBS (Electronic Brake System) permitted the safe integration of regenerative braking up to 180 kW, whereas the conventional air brake system had limited passive regen to roughly 40 kW due to safety concerns.

In March 2022, Meritor, collaborated with the ConMet under which Meritor would build purpose-built trailers the suspensions & brakes, in conjunction with the company's PreSet Plus eHub. This new method will enable the construction of zero-emissions refrigerated trailers.
Air Brake System Market Report Scope
| | |
| --- | --- |
| Report Attributes | Details |
| Market size value in 2023 | USD 3.20 billion |
| Revenue Forecast in 2032 | USD 3.86 billion |
| CAGR | 2.1% from 2023-2032 |
| Base year | 2022 |
| Historical data | 2019-2021 |
| Forecast period | 2023-2032 |
| Quantitative units | Revenue in USD billion and CAGR from 2023-2032 |
| Segments Covered | By Vehicle Type, By Brake Type, By Component, By Technology, By Region |
| Regional scope | North America, Europe, Asia Pacific, Latin America; Middle East & Africa |
| Customization | Report customization as per your requirements with respect to countries, regions, and segmentation. |