The global air cushion packaging market size was valued at USD 3.09 billion in 2020 and is expected to grow at a CAGR of 8.7% during the forecast period. Air cushion packaging is increasingly being used in wrapping, protection, and void filling to secure packages and ensure safety during transit. The advantages of air cushion packaging are low weight and high relative strength.
Air cushion packaging offers transit protection and reduces product damage by filling the void around the product, keeping it secure and away from the rigid outer package. Air cushion adds little additional weight to the package, reducing freight costs.
Air cushion packaging significantly reduces packaging waste while avoiding transport damage. Air cushions are used for on-demand void filling, offering higher space efficiency as they are inflated at the packing station and require little warehouse space. Packaging concerns such as excess packaging and voids in e-commerce have increased the demand for air cushion packaging across the globe.
Air cushion packaging is equipped to minimize void space and deliver value across the entire supply chain. Consumers are becoming increasingly aware of global environmental issues and are altering their buying habits. Brands are adopting sustainable packing solutions to create perception and brand identity, thereby fueling the growth of biodegradable air cushion packing.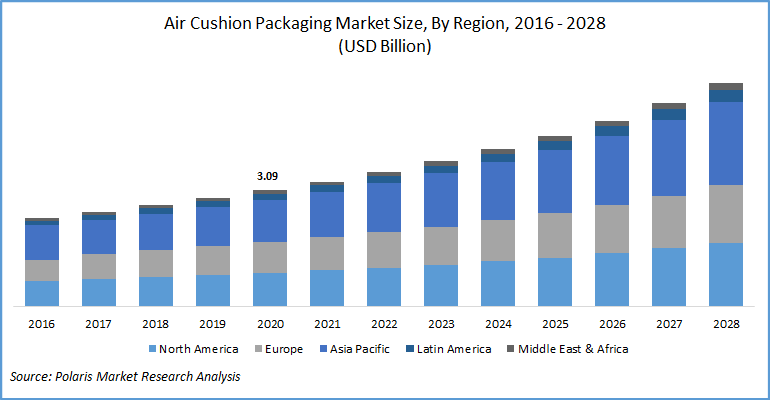 Know more about this report: request for sample pages
Industry Dynamics
Growth Drivers
Consumers are increasingly opting for packaging that is easy to use and convenient to transport. Air cushion packaging is easy to produce, pack, and offers high impact resistance. The increasing environmental concerns and rising awareness regarding recycling and packaging waste disposal is a trend influencing the growth of the air cushion packaging industry.
The need to minimize the environmental impact of packing and adopt sustainable packaging options has encouraged market players to develop biodegradable cushion packing solutions. Technological advancements and innovation have resulted in the development of efficient packing solutions, which reduce packing weight without sacrificing strength and performance. The increasing need to minimize industrial packaging will foster further innovation and growth in the market.
The increasing demand for consumer goods drives the growth of the cushion packaging market, especially in emerging economies. The increasing population and rising demand from the electronics and food & beverages sectors drive the growth of the market. The growing inclination of consumers towards beauty trends and the introduction of innovative personal care products in the market at competitive prices by market players further augment market growth. Other factors driving the cushion packing market include improving lifestyles, rising health concerns, and increasing disposable income.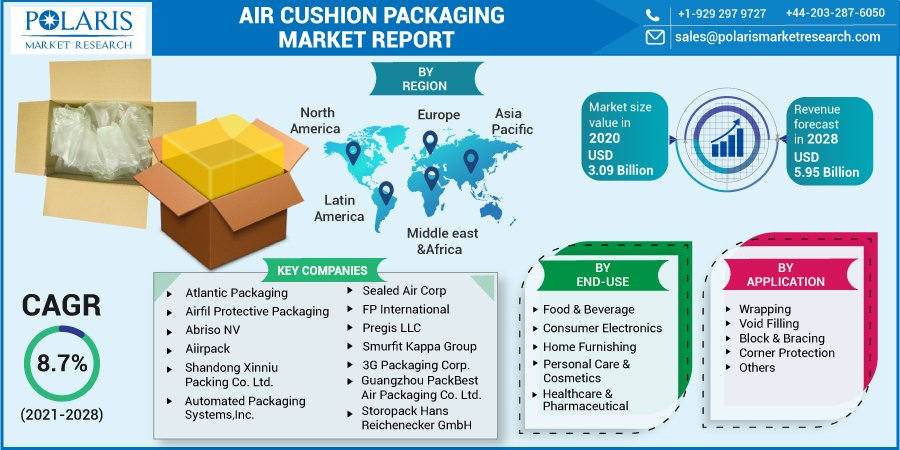 Know more about this report: request for sample pages
Air Cushion Packaging Market Report Scope
The market is primarily segmented on the basis of application, end-use, and region.
By Application

By End-Use

By Region

Wrapping
Void Filling
Block & Bracing
Corner Protection
Others

Food & Beverage
Consumer Electronics
Personal Care & Cosmetics
Home Furnishing
Healthcare & Pharmaceutical
Others

North America (U.S., Canada)
Europe (Germany, UK, France, Italy, Spain, Netherlands, Austria)
Asia Pacific (China, India, Japan, South Korea, Malaysia, Indonesia)
Latin America (Brazil, Mexico, Argentina)
Middle East & Africa (Saudi Arabia, South Africa, Israel, UAE)
Know more about this report: request for sample pages
Application Outlook
On the basis of Application, the market is segmented into wrapping, void filling, block & bracing, corner protection, and others. In 2019, the void filling market segment dominated the global market. Air cushion packing is used for void filling to fill the space between the product and the outer package to prevent the movement of the product and protect it from damage. The packing of lightweight objects uses an air cushion for void filling without adding weight and increasing shipping costs.
Air cushions are non-abrasive, making them suitable for the packing of delicate items without causing scratches. Cushions are capable of preventing damage associated with rough handling and impacts during transit. There has been an increasing demand for void filling from the food and beverages, electronics, and consumer goods industry. The rising demand for cosmetics and personal care products has supported the growth of air cushion packing across the globe.
End-Use Outlook
On the basis of end-use, the market is segmented into food & beverage, consumer electronics, personal care & cosmetics, home furnishing, healthcare & pharmaceutical, and others. The demand from the consumer electronics sector is expected to increase during the forecast period. Air cushions are used for the packing of electronic components owing to their lightweight, elasticity, transparency, sound-proof and shockproof properties.
The need for reduced costs and sustainability is driving the development of lighter-weight transit materials in this industry. Growing demand from emerging economies, increasing consumer spending, and technological advancements are factors expected to provide numerous growth opportunities in the coming years.
Geographic Overview
Asia Pacific market dominated the global air cushion packaging market in 2020 owing to the increasing population, growth in the food & beverages and electronics sectors, and changing consumer preferences. The significant investments by producers in environmental protection and energy optimization programs, coupled with initiatives aimed at reducing packing waste and improving logistics & transportation majorly drive the market growth. The growth in e-commerce driven by growing broadband internet penetration, use of smartphones and increasing proportion of tech-savvy consumers would further support the growth of the air cushion packing market.
Competitive Landscape
The leading players in the air cushion packaging market include Atlantic Packaging, Shandong Xinniu Packing Co. Ltd., Airfil Protective Packaging, Abriso NV, Aiirpack, Automated Packaging Systems, Inc., Sealed Air Corp, FP International, Storopack Hans Reichenecker GmbH, Pregis LLC, Smurfit Kappa Group, Guangzhou PackBest Air Packaging Co. Ltd., and 3G Packaging Corp.
These players are expanding their presence across various geographies and entering new markets in developing regions to expand their customer base and strengthen their presence in the market. The companies are also introducing new innovative products in the market to cater to the growing consumer demands.