The global ambulance services market was valued at USD 32.42 billion in 2020 and is expected to grow at a CAGR of 9.9% during the forecast period. The factors responsible for the market growth include an increase in medical tourism, rise in road and traffic accidents, favorable reimbursement policies in developed countries, rising need for urgent medical attention to decrease mortality rate, and surge in old age population, who are more prone to disease onset, as they have low immunity.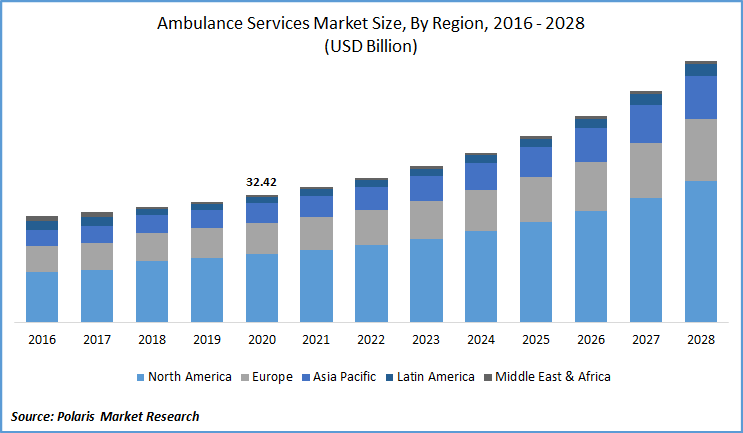 Know more about this report: Request for sample pages
Road accidents and the rising need for immediate medical attention require necessary medical attention and consequent ambulance services. As per the statistics published by the Association for Safe International Road Travel (ASIRT), around 1.3 million people across the globe die in road accidents each year, and more than 20-50 million got injured or were disabled.
Road traffic accidents accounted for the largest number of deaths across the globe. ASIRT reported that in the U.S. alone more than 37,000 individuals die in road accidents each year and more than 2.3 million were disabled.
According to the market statistics published by the Ministry of Road Transport and Highways Transport Research Wing, GOI, road accidents in the country have risen by 2.5 percent, while deaths due to this stood at 4.6 percent from 2014-15. It is also being reported that around 400 deaths happen each day on Indian roads.
Cardiovascular disorders, such as stroke, cardiac arrest, coronary artery disease, and congestive heart failure, require urgent medical attention to save an individual's life. According to the market statistics published by the WHO, cardiovascular disorders are one of the leading causes of death and comprise more than 31 percent of global deaths. Among these, 6.7 million were due to stroke and around 7.4 million due to coronary artery diseases.
As per the estimates of the CDC, each year, around 735,000 cases of heart-related diseases were reported in the U.S. alone. Moreover, according to the estimates of the British Heart Foundation, there are around 200,000 hospital visits each year, which is one visit every 3 minutes.
It is also being reported that each year, around 40,000 people die, due to stroke in the UK. CVD is one of the leading deaths causes and requires immediate medical attention, driving the need for ambulance services. Thus, an increase in the incidence of cardiovascular diseases is projected to foster ambulance services market growth.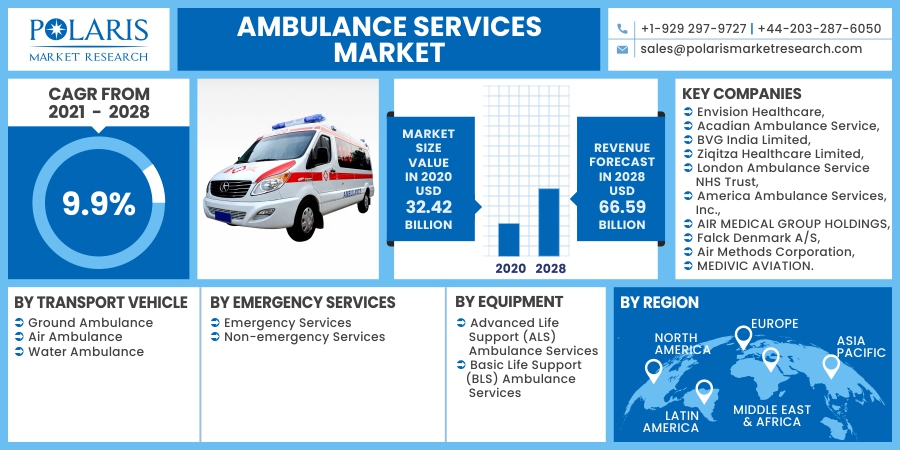 Know more about this report: Request for sample pages
Ambulance Services Market Report Scope
The market is primarily segmented on the basis of transport vehicle, emergency vehicles, equipment, and region.
By Transport Vehicle

By Emergency Services

By Equipment

By Region

Ground Ambulance
Air Ambulance
Water Ambulance

Emergency Services
Non-emergency Services

Advanced Life Support (ALS) Ambulance Services
Basic Life Support (BLS) Ambulance Services

North America (U.S., Canada)
Europe (France, Germany, UK, Italy, Spain, Netherlands, Austria)
Asia Pacific (Japan, China, India, Malaysia, Indonesia, South Korea)
Latin America (Brazil, Mexico, Argentina)
Middle East & Africa (Saudi Arabia, UAE, Israel, South Africa)
Know more about this report: request for sample pages
Insight by Transport Vehicle
The ground ambulance market segment accounted for the largest market revenue share, in 2020. It includes vans, cars, motorcycles, all-terrain vehicles, buses, and pick-up trucks. In the U.S. alone, there are 4 types of ambulances currently being running, Type I, II, III, and IV. Type I include vehicles with heavy truck chassis, primarily used for rescue services.
Type II includes pick-up trucks used to shift patients with basic life support systems. Type III is similar to type I in function but varies in chassis length. Type IV is used for ad hoc transfer of patients using small utility vehicles. Moreover, different regions are prescribed with standards of ambulance making such as level of basic life support systems used, crash resistance, movability along with tough roughs.
The air ambulance market segment is projected to witness a lucrative market growth rate over the study period. It includes services from airplanes, helicopters, aircraft, and specialized air ambulances to transport patients from the accident site to healthcare facility or during rescue work, to move people to safe places. These services are faster than ground and water ambulance services and the patient could be moved from remote areas. Though, the services require high operation costs.
Geographic Overview
In 2020, the North America market accounted for over 40% of the global market. Regional market factors favoring the market growth include the presence of key market players, well-developed healthcare infrastructure with ever-rising disposable income, favorable reimbursement policies, and strong government reforms in line with this.
Both countries focus on value-based healthcare and quality of healthcare delivery. Moreover, the emergence of community paramedicine in the U.S. also boosted the region's market growth. These communities offer emergency medical services for primary care and other transport services in the remotest areas.
Competitive Insight
The prominent market players operating in the ambulance services market are Envision Healthcare, Acadian Ambulance Service, BVG India Limited, Ziqitza Healthcare Limited, London Ambulance Service NHS Trust, America Ambulance Services, Inc., AIR MEDICAL GROUP HOLDINGS, Falck Denmark A/S, Air Methods Corporation, and MEDIVIC AVIATION.