The global ambulatory care services market was valued at USD 3.45 Billion in 2021 and is expected to grow at a CAGR of 5.6% during the forecast period. Key factors responsible for the industry growth include the rising necessity to provide out-patient medical services to the patients seeking treatment without any stay at the medical facilities; this is further escalated with the onset COVID-19 pandemic, advancements, and significant investments in teleconsultation, and dearth in medical practitioners in the emerging nations.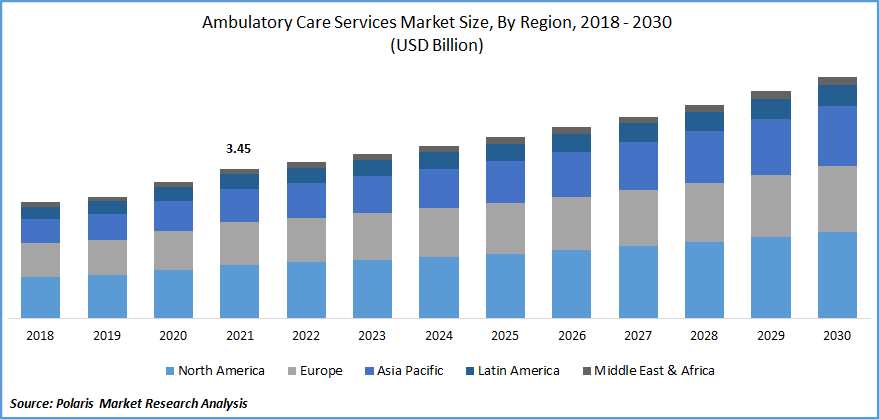 Know more about this report: Request for sample pages
These facilities are significantly important for the old age population and people with limited physical activities. These are offered at places such as dialysis clinics, ambulatory surgical facilities, hospital outpatient departments, doctor's offices and other places that cater to medical providers.
In a variety of ambulatory settings, one can meet physicians, registered nurses, physical therapists, surgical technologists, medical lab technologists, and administrative staff. Hospitals have been shifting numerous services to outpatient facilities during the last ten years. Numerous medical investigations, treatments, and preventative operations, including numerous diagnostic procedures, dental services, dermatological services, and other minor surgical and medical procedures, can be carried out in an outpatient setting.
In addition to routine visits, ambulatory care providers may also provide emergency and therapeutic treatments. Telephone consultations are occasionally seen as a form of ambulatory service. Numerous locations are able to provide these facilities. Clinics, hospital ERs, health initiatives, etc., are a few of them. The primary drivers of the industry are the rising trend of minimizing hospital stays and overall medical costs.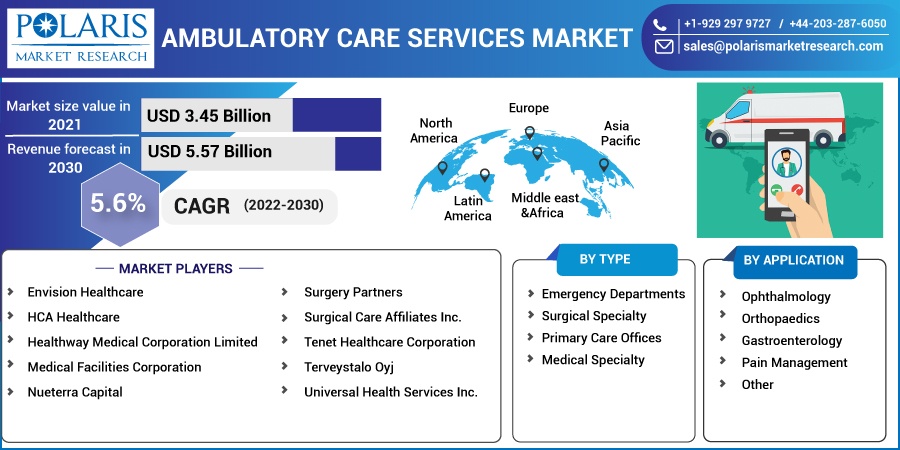 Know more about this report: Request for sample pages
Industry Dynamics
Growth Drivers
With the help of presently available procedures and medications, "acute condition" diseases are being treated; however, chronic diseases are on the rise. Over the past few years, outpatient care service has become more important in the fight against chronic disease. As a percentage of the total healthcare volume, it is projected that market demand will rise while inpatient care demand will continue to decline. Additionally, as the active baby boomer generation ages and obesity rates rise, more patients may seek treatment in the outpatient department. Outpatient decisions are often driven by convenience, but inpatient treatment is frequently based on physician consultations, which supports the growth of this market.
Additionally, a variety of elements, including rising patient expectations for comfort, technological advancements, and new treatment procedures, are supporting the continuous rise of outpatient services. On the other hand, pressures on complicated reimbursement rates, a switch to a bundled payment rate structure, and an increase in the number of centers being acquired by hospital settings are factors that might slow the expansion of ambulatory services.
Report Segmentation
The market is primarily segmented based on type, application, and region.
By Type

By Application

By Region

Emergency Departments
Surgical Specialty
Primary Care Offices
Medical Specialty

Ophthalmology
Orthopaedics
Gastroenterology
Pain Management
Other

North America (U.S., Canada)
Europe (France, Germany, UK, Italy, Netherlands, Spain, Russia)
Asia Pacific (Japan, China, India, Malaysia, Indonesia. South Korea)
Latin America (Brazil, Mexico, Argentina)
Middle East & Africa (Saudi Arabia, UAE, Israel, South Africa)
Know more about this report: Request for sample pages
Primary Care Offices segment is expected to witness the fastest growth
Due to the need for speedy, efficient, and high-quality medical services as an alternative to inpatient treatment, the global ambulatory care services market is witnessing an increase in demand. As the primary point of care, primary care offices hold the largest market share.
Government and non-government organizations are taking steps to invest in general practitioners' businesses and turn them into community-based care models. As an alternative to inpatient treatment due to the rise in chronic diseases, aging population, and illnesses needing prompt medical attention, outpatient is expected to expand significantly faster.
Owing to enhanced patient care and the adoption of new technology like electronic health records and automated prescription systems, primary care offices dominated the market in 2021. (EHRs). Drug acquisition and EHR implementation have improved primary and follow-up treatment, lowering manual errors. The ambulatory services market is anticipated to grow as a result of partnerships between significant individuals and organizations that aim to offer affordable access to a wide range of treatments.
For instance, in order to acquire ownership of 244 ASCs, 20 imaging centers, and 16 short-stay surgical hospitals in the U.S, Tenet Healthcare and United Surgical with a joint venture. Because of the desire for less invasive treatments, the availability of flexible reimbursement policies, and the increased M&A activity among major corporations, the surgical specialty is anticipated to grow at the quickest rate throughout the projected period.
Gastroenterology accounted for the largest market share in 2021
Several relatively affordable medical services are offered by ambulatory facilities, including orthopedics, ophthalmology surgery, cosmetic surgery, gastrointestinal surgery, and others. These are some of the primary factors fueling the market's expansion is the increasing prevalence of gastric diseases. The prevalence of individuals with gastrointestinal problems is growing as more people adopt sedentary lifestyles.
Over the duration of the projected year, it is anticipated that an increase in digestive illness cases would result in a substantial demand for ambulatory medical facilities. According to Medicare statistics, around 21% of ambulatory surgery centers in the US are billed for gastrointestinal services. Therefore, there may be a significant increase in the need for ambulatory services throughout the projection period due to the increased frequency of digestive illnesses.
Several relatively affordable medical services are offered by ambulatory facilities, including orthopedics, ophthalmology surgery, cosmetic surgery, gastrointestinal surgery, and others. Since the therapy is provided outside of the hospital, the patient does not need to be admitted. As more incidents involving serious injury or death necessitate urgent medical attention and surgery, orthopedic surgery accounts for the second largest section of the market.
Due to an increase in accidents involving burns, maxillofacial injuries, rhinoplasty, high disposable incomes, and low self-esteem, plastic surgery will have the fastest growth throughout the predicted period. Catheters, ventilators, pediatric critical care, and other equipment are available through these services, which is projected to boost the growth of the ambulatory care services market.
The demand in North America is expected to witness significant growth
The market for ambulatory services was dominated by North America, and it is anticipated that throughout the projection period, there will be no shift from this trend. The ambulatory medical sector covers outpatient services, including doctor's and dentist's offices, home health care, and medical labs. However, it includes social aid and inpatient care, such as that provided in hospitals and nursing homes. Additionally, the Agency for Healthcare Research and Quality (AHRQ) in the US is dedicated to raising the standard and safety of ambulatory facilities. In the United States, the market is expanding primarily due to the increased prevalence of chronic illnesses and the availability of superior medical infrastructure.
The increase in chronic illnesses, the aging population's evolving reimbursement environment, and technology advancements in the ambulatory care services market are primarily responsible for the expansion.
As of 2020, the European Union has spent 115 billion Euros on the treatment of chronic illnesses, according to the Organization for Economic Co-operation and Development. Due to the high incidence of chronic illnesses, better medical infrastructure, activities by both government and non-government groups to promote primary medical facilities, and favorable reimbursement rules, Europe is anticipated to be the second-largest market.
The growth of the ambulatory care services market in the Asia Pacific is attributable to elements including the region's expanding disposable income, thriving medical tourism industry, and increased prevalence of chronic illnesses. However, in the near future, the market for ambulatory care services in Latin America, the Middle East, and Africa will see substantial expansion due to factors such as expanding health infrastructure, rising awareness, and the desire to lower medical costs.
Competitive Insight
Envision healthcare, Surgery Partners, HCA healthcare, Terveystalo Oyj, Healthway Medical, Medical Facilities, Nueterra Capital, Surgical Care, Tenet Healthcare, and Universal Health are the key players operating in the market.
Ambulatory Care Services Market Report Scope
| | |
| --- | --- |
| Report Attributes | Details |
| Market size value in 2021 | USD 3.45 billion |
| Revenue forecast in 2030 | USD 5.57 billion |
| CAGR | 5.6% from 2022 - 2030 |
| Base year | 2021 |
| Historical data | 2018 - 2020 |
| Forecast period | 2022 - 2030 |
| Quantitative units | Revenue in USD billion and CAGR from 2022 to 2030 |
| Segments covered | By Type, By Application, By Region |
| Regional scope | North America, Europe, Asia Pacific, Latin America; Middle East & Africa |
| Key companies | Envision Healthcare, HCA Healthcare, Healthway Medical Corporation Limited, Medical Facilities Corporation, Nueterra Capital, Surgery Partners, Surgical Care Affiliates Inc. (UnitedHealth Group Incorporated), Tenet Healthcare Corporation, Terveystalo Oyj and Universal Health Services Inc. |