The global ammonia market was valued at USD 71.20 billion in 2021 and is expected to grow at a CAGR of 6.5% during the forecast period. The global ammonia market is predicted to expand during the forecast period due to the rising need for food production and the growing dependence on fertilizers.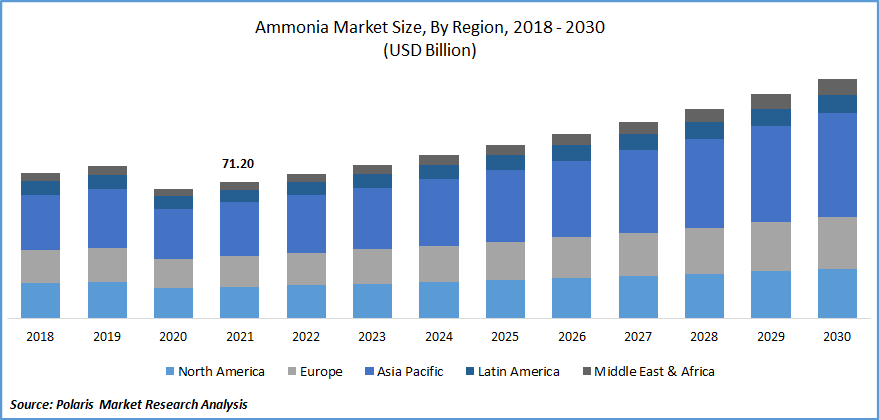 Know more about this report: Request for sample pages
The majority of ammonia produced worldwide is utilized in fertilizer to maintain the availability of crops. Food crops typically decrease the nutritional content of the soil. Ammonia-based fertilizers are typically used by farmers to sustain healthy crops and effective soil.
Ammonia is a colorless gas with a distinct odor that is used as a fundamental chemical in the production of many items that people use daily. It is naturally present in the environment in the air, soil, and water, as well as in plants, animals, and people. Additionally, ammonia is a major component of ammonium nitrate fertilizer, which extracts nitrogen, an essential ingredient for growing plants, especially lawns and crops.
The supply chain for fertilizer in the Asia Pacific market region has been severely impacted by the COVID-19 outbreak. The inability of crop makers to get fertilizers due to delays in customs clearance, disturbances in local and international transportation networks, and congested highways and ports. Due to farmers' inability to get raw materials, the production of grains and oilseeds has decreased as a result of their dependence on these characteristics.
For instance, the Indian government is carefully watching the production and distribution of fertilizers to make sure that farmers can easily access soil nutrients during the coronavirus pandemic. In the first three months of 2020, the production was suddenly cut by 80% to 90%. Additionally, a lot of nations have prioritized challenges related to food security and have taken steps to enhance grain output.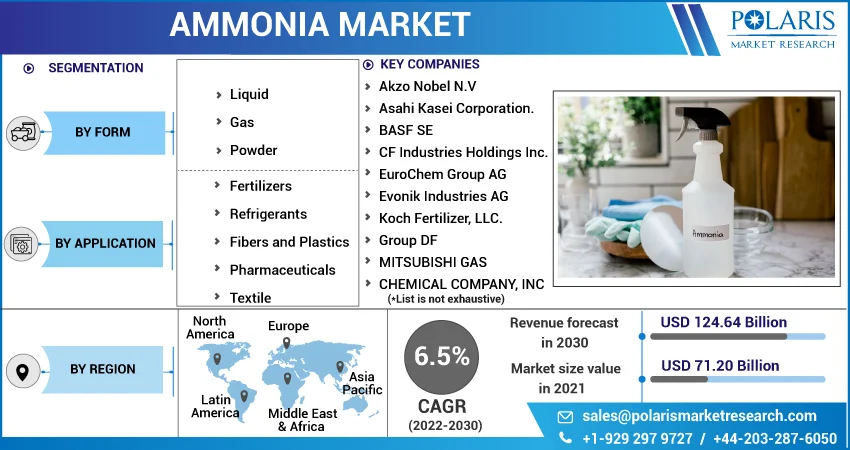 Know more about this report: Request for sample pages
Industry Dynamics
Growth Drivers
Fertilizer sales are projected to increase as a result of the expanding world population and rising food consumption. In terms of crop yield and agricultural productivity, the fertilizer sector is crucial. The essential nutrients that plants require to thrive, such as nitrogen, phosphorus, and potassium (NPK), are provided by fertilizers. Nitrogenous fertilizers are projected to become more widely used due to the increasing global popularity of commercial agriculture. The ammonia market for these fertilizers is reliant on the demand for grains and groundnut crops, which fuels fertilizer production as a whole.
The agriculture sector uses the majority of the ammonia produced as a supply of nitrogen, which is essential for plant growth. The substance is extensively used in the fertilizer sector to create solid products like urea, ammonium nitrate, and sulfate. Fast-releasing fertilizer ammonium phosphate is also useful for overseeding, establishing new grass, as well as other lawn-related duties.
Report Segmentation
The market is primarily segmented based on form, application, and region.
By Form

By Application

By Region

Fertilizers
Refrigerants
Fibers and Plastics
Pharmaceuticals
Textile
Others

North America (U.S., Canada)
Europe (France, Germany, UK, Italy, Netherlands, Spain, Russia)
Asia Pacific (Japan, China, India, Malaysia, Indonesia, South Korea)
Latin America (Brazil, Mexico, Argentina)
Middle East & Africa (Saudi Arabia, UAE, Israel, South Africa)
Know more about this report: Request for sample pages
The liquid form is expected to witness the fastest growth in the global market
The liquid category dominated the worldwide ammonia market. This is mostly attributable to the rise in demand for fertilizer and pharmaceutical production. Ammonia gas is used in a small number of applications.
During the predicted period, it is likely that the gas category will grow steadily. Since the liquid is used in many applications, including those in the textile, pulp & paper, and mining industries, it is expected to develop significantly throughout the projected period in the global market.
Fertilizers industry accounted for the highest market share in 2021
Ammonium nitrate fertilizers, which produce nitrogen, an essential nutrient utilized for plant growth, including that of lawns and crops, are made of NH3, which is one of its building blocks. Farmers mostly depend on fertilizer to make their soil productive to promote healthy crops.
Fertilizers aid in raising the concentrations of vital nutrients in food crops, such as selenium and zinc. The market demand for fertilizers will rise as a result of the expanding population and rising food prices. The main drivers of ammonia market expansion in the global market are the advancement of modern farming methods and the growing use of bio-fertilizers.
Numerous household cleaning and disinfection products contain the active component ammonium hydroxide, sometimes referred to as household ammonia. It is used to clean a variety of surfaces, including tiles, sinks, tubs, and countertops, toilets, among other things. When 5% to 10% NH3 and water are combined, these cleaning solutions are suitable for use in homes.
Further, due to its great thermodynamic characteristics and low price, ammonia is a reliable and widely used refrigerant gas. Because NH3 has a lower density in the liquid phase than CFCs and HFCs, NH3-based refrigeration systems are 10 to 20% cheaper than those using those substances. Additionally, any leakage odor may be easily noticed, meaning that any refrigerant loss is also reduced.
Pharmaceutical Industry is expected to hold the significant revenue share
The worldwide market for ammonia is anticipated to be driven by the rising demand for ammonia in the production of medicines and vaccines, as well as its widespread use in fertilizers and other end-use products.
The market demand has a big impact on how ammonia is used in many end-use industries, including mining, agriculture, pulp & paper, and pharmaceuticals. The usage of fertilizers to boost productivity per available area of agriculture has increased noticeably as a result of an increase in the world's appetite for food.
The market for ammonia is growing as a result of the rising demand for fertilizer in developing nations. Ammonium carbonate, phenol, urea, amino acids, hydrogen cyanide, nitriles, hydrazine, hydroxylamine, and other substances are all prepared using ammonia in substantial amounts.
The demand in Asia Pacific is expected to witness significant market growth
This is addressed by the rise in market demand for fertilizer in China and India. Food consumption has increased due to rapid urbanization and rising population levels, which would cause the fertilizer to need to increase for greater agricultural output. The world's greatest producer and consumer of fertilizer are China. Because China's soils are phosphate deficient by nature, the government has implemented programs to promote phosphate use and production to increase overall yield.
With over 50% of the population reliant on agricultural supplies and agriculture accounting for about 17% of the country's gross value added (GVA), agriculture is crucial to the economic development of rural India. India comes in third place after China and the US in terms of the production of food grains, primarily because of its low crop productivity. The potential for an increase in fertilizer use in the Indian market over the long term is comparatively significant due to the country's growing population and limited arable land. In FY 2020, India consumed 61.4 million tonnes of fertilizer in total.
In the upcoming years, the market for ammonia in Europe could have a significant growth rate. Natural gas production serves as a primary raw material for NH3 synthesis in Europe, and steam methane reforming (SMR) is the predominant technique. Fertilizer made with nitrogen requires a lot of energy to produce.
The energy efficiency of producing mineral fertilizer has improved in the European fertilizer sector. The current technology, which is anticipated to increase energy efficiency and have the lowest CO2 emissions, is being invested in by businesses.
Competitive Insight
Some of the major players operating in the global market include Akzo Nobel N.V, Asahi Kasei Corporation., BASF SE, CF Industries Holdings Inc., EuroChem Group AG, Evonik Industries AG, Koch Fertilizer, LLC., Group DF, Indian Farmers Fertiliser Cooperative Limited, MITSUBISHI GAS CHEMICAL COMPANY, INC, Nutrien Ltd., OCI NV, Orica Limited, Qatar Fertiliser Company, Solvay S.A., Syngenta Crop Protection AG, SABIC Inc., Uralchem JSC.
Recent Developments
In May 2022, LSB Industries, Incorporation announced the agreement with the thyssenkrupp, and Bloom Energy to produce about 30,000 mt of carbon-free or "green" ammonia annually at a facility in Oklahoma.
In April 2022, Azane Fuel Solutions and Yara International agreed to work together commercially to build a network of ammonia fuel bunkers in Scandinavia.
In February 2022, GenCell Energy announced the launch of its GenCell FOX off-grid power technology for mobile carriers, which produces power-on-demand from ammonium.
Ammonia Market Report Scope
| | |
| --- | --- |
| Report Attributes | Details |
| Market size value in 2021 | USD 71.20 billion |
| Revenue forecast in 2030 | USD 124.64 billion |
| CAGR | 6.5% from 2022 - 2030 |
| Base year | 2021 |
| Historical data | 2018 - 2020 |
| Forecast period | 2022 - 2030 |
| Quantitative units | Revenue in USD million/billion and CAGR from 2022 to 2030 |
| Segments covered | By Form, By Application, By Region |
| Regional scope | North America, Europe, Asia Pacific, Latin America; Middle East & Africa |
| Key companies | Akzo Nobel N.V, Asahi Kasei Corporation., BASF SE, CF Industries Holdings Inc., EuroChem Group AG, Evonik Industries AG, Koch Fertilizer, LLC., Group DF, Indian Farmers Fertiliser Cooperative Limited, MITSUBISHI GAS CHEMICAL COMPANY, INC, Nutrien Ltd., OCI NV, Orica Limited, Qatar Fertiliser Company, Solvay S.A., Syngenta Crop Protection AG, SABIC Inc., Uralchem JSC |