The global antifreeze proteins market size was valued at USD 5.04 million in 2021 and is expected to grow at a CAGR of 36.1% during the forecast period. Antifreeze proteins possess a wide range of applications and serve important industrial tasks, such as improving the freezing and dissolving qualities of foods, protecting frost plants, improving the smoothness of ice cream, cryopreservation, and cryosurgery, of tissues and cells. Increasing awareness regarding these applications is expected to propel market demand.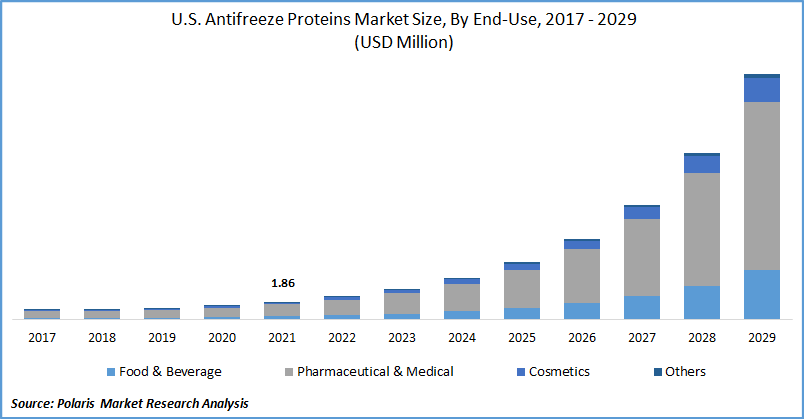 Know more about this report: Request for sample pages
The prospective uses of AFPs have been well known in recent years, owing to the progressive accumulation of data acquired from the identification and description of unique features. Generally, the formation of ice crystals poses significant obstacles in a variety of fields. Because of their important biological function in cold degrees, antifreeze proteins and their related counterparts are often used to suppress the development of ice crystals under freezing circumstances.
Industry Dynamics
Growth Drivers
Increasing research on antifreeze protein application development by several institutes, including NARO Bio-oriented Technology Research Advancement Institution for novel medical procedures, is expected to create lucrative opportunities for the growth of the antifreeze protein market during the forecast period.
Furthermore, some organisms never die in extremely freezing temperatures, which has prompted R&D attempts to expand such use in the medical and commercial industries, as well as experimental studies, which in turn is expected to create a positive influence for the market over the estimated period.
The demand for AFPs has increased as COVID-19 vaccines began to get urgent government authorization. They are under increasing need to ensure that vaccines are properly stored, transported, and distributed across various locations with different weather conditions. All COVID-19 vaccinations must be kept and delivered at a specific temperature which in turn will increase the demand for these proteins as adjuvants in vaccines.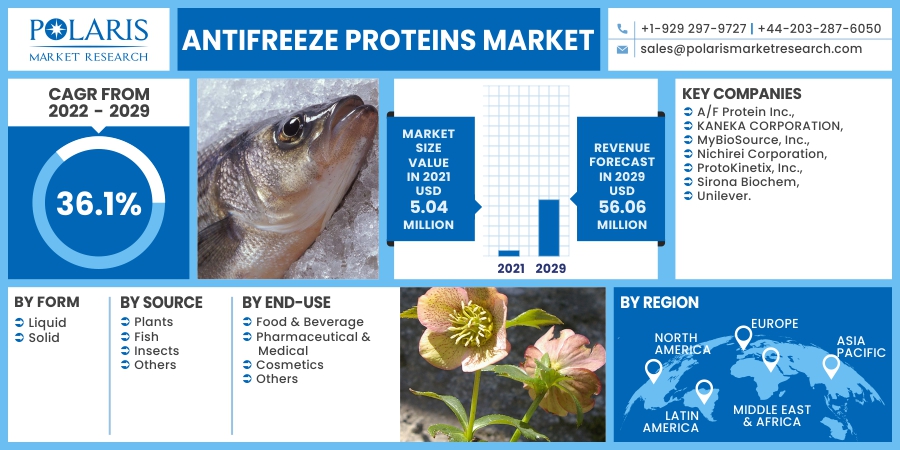 Know more about this report: Request for sample pages
Report Segmentation
The market is primarily segmented on the basis of form, source, end-use, and region.
By Form

By Source

By End-Use

By Region

Plants
Fish
Insects
Others

Food & Beverage
Pharmaceutical & Medical
Cosmetics
Others

North America (U.S., Canada)
Europe (Germany, UK, France, Italy, Spain, Netherlands, Austria)
Asia Pacific (China, India, Japan, South Korea, Indonesia, Malaysia)
Latin America (Brazil, Mexico, Argentina)
Middle East & Africa (Saudi Arabia, South Africa, Israel, UAE)
Know more about this report: request for sample pages
Insight by Form
The solid market segment accounted for over 70.0% of the global revenue share in 2021. The solid form of antifreeze proteins provides extended shelf life and preserves the taste & texture of the food in extremely cold temperatures. This form of AFPs is highly utilized in frozen food applications including frozen meats and seafood, ice-creams, and many others.
The liquid form of Antifreeze Proteins (AFPs) accounted for a minor market revenue share in 2020 in this particular segment. AFPs have a substantial effect in frozen solutions for inhibiting ice recrystallization. They are widely used as a solution in medical applications. In proper maintenance of organs, the solutions (liquid antifreeze proteins) are required for blood elimination and organ stabilization.
Insight by Source
The fish segment accounted for the largest share of 57.7% in 2021 of the overall market size. AFPs are found in some fishes which survive in cold water, reaching below their blood's freezing point. Polar fishes protect themselves in extremely low temperatures due to the presence of AFPs in their blood and other body fluids to survive in the freezing seawater (?1.9 °C) of the world's polar oceans.
These proteins prevent the growth of ice crystals that enter the body by depressing the temperature at which ice will grow below the equilibrium freezing point of body fluids (approx. ?0.7 to ?1.0 °C) to a lower nonequilibrium hysteresis freezing point. The fish antifreeze proteins types are clustered into distinct groups comprising of type I AFPs, type II AFPs, type III AFPs, and type IV AFPs.
Antifreeze proteins in plants are extracted from a wide range of overwintering plants that help them cope with the extremely low temperatures in their natural habitat. Plant AFPs have multiple hydrophilic ice-binding domains. These proteins inhibit the growth of ice crystals that are formed inside the apoplast (water transport route) of plants in sub-zero temperatures.
The unique characteristics of AFPs from insects are 10 times more effective than AFPs from fish allowing them to survive in much colder situations. This source of antifreeze proteins is expected to witness higher growth as compared to its counterparts owing to the easy availability of insects and the more effective property of the insect-based antifreeze proteins.
Insight by End-Use
The pharmaceutical & medical segment is the largest contributor to the market demand with a market share of 63.9% in terms of revenue. The demand for AFPs in the pharmaceutical & medical industry is expected to increase owing to their anti-infective properties. They are useful against bacteria, fungi, protozoa, and viruses in the body and on the skin through treating and reducing the infection and its occurrence.
A surge in the number of millennial and gen-Z consumers among the urban population who are choosing convenience frozen food is pushing the market forward. Antifreeze proteins are used in these products to improve food conservation over freezing. Owing to the change in consumers eating habits and the adoption of a healthy lifestyle, the AFPs in the food & beverage market are projected to grow at a faster pace.
The cosmetic industry is anticipated to be the fastest-growing industry in the near future. The rise in applications of AFPs in the cosmetic industry is likely to boost the growth of the market over the forecast period. They are used as an additive for preventing the quality degradation of cosmetics.
Geographic Overview
North America dominated the antifreeze proteins market share with 41.3% of the revenue share due to the growing emergence of the biotechnological sector in the region. Several key manufacturers of antifreeze proteins present in North America are Sirona Biochem, A/F Protein, ProKinetix, and MyBioSource, therefore contributing to the growth of antifreeze proteins in the region by creating awareness about the benefits of AFPs.
Demand for anti-aging personal care products is rising in Canada due to the presence of a large base of an aging population, which is contributing to the increasing application of the product. By 2026 over 20% of Canada's population is estimated to be 65 years and above. According to 2019 Canadian population data, 17% of the population, or 6.5 million Canadians, were older than 65 years.
Germany is one of the largest food importers in the world. Changing food preferences, increasing ready-to-eat meals, along with higher purchasing power, are some factors responsible for the demand. Furthermore, increasing demand for frozen seafood and meat in Germany is expected to fuel the antifreeze demand over the forecast period.
Increased consumption of frozen food products in the emerging markets of Asia Pacific is likely to contribute to an increase in the demand for AFPs. The rise in the export and import of frozen food is possible owing to the presence of strong global cold chain logistics services in several economies that helps to maintain the temperature and quality of frozen food products.
Competitive Landscape
The major players operating in the antifreeze proteins market include A/F Protein Inc., KANEKA CORPORATION, MyBioSource, Inc., Nichirei Corporation, ProtoKinetix, Inc., Sirona Biochem, and Unilever. These companies operate through various manufacturing facilities across the globe to increase their foothold in the market.
On September 30, 2021, Nichirei Corporation announced an acquisition with Norish (N.I.) Limited to expand the temperature-controlled logistics business to U.K. through subsidiary Norish Limited that operates in six refrigerated warehouses in inland and port areas that provide storage and related value-added services, including blast freezing.
Antifreeze Proteins Market Report Scope
| | |
| --- | --- |
| Report Attributes | Details |
| Market size value in 2021 | USD 5.04 million |
| Revenue forecast in 2029 | USD 56.06 million |
| CAGR | 36.1% from 2022 - 2029 |
| Base year | 2021 |
| Historical data | 2017 - 2020 |
| Forecast period | 2022 - 2029 |
| Quantitative units | Revenue in USD million and CAGR from 2022 to 2029 |
| Segments covered | By Form, By Source, By End-Use, By Region |
| Regional scope | North America, Europe, Asia Pacific, Latin America, Middle East & Africa |
| Key companies | A/F Protein Inc., KANEKA CORPORATION, MyBioSource, Inc., Nichirei Corporation, ProtoKinetix, Inc., Sirona Biochem, and Unilever. |