The global artificial discs market was valued at USD 2.09 billion in 2021 and is expected to grow at a CAGR of 18.08% during the forecast period.
Artificial discs are one of the novel inventions of the century, which are used to manage and treat patients suffering from discogenic pain and degenerating spinal diseases. The increasing applications of artificial discs, along with a rising number of artificial disc replacement procedures as viable long-term therapeutic management, are projected to support the growth of the market.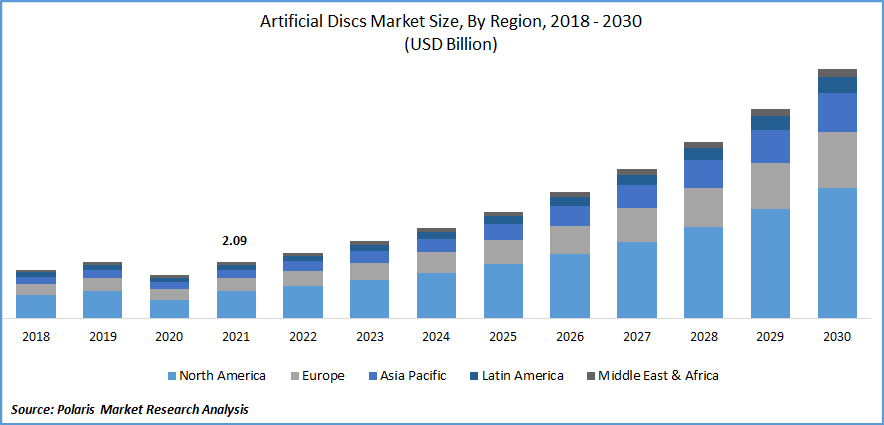 Know more about this report: Request for sample pages
For instance, in April 2022, the DISC Surgery Center located in California, U.S., performed its 1000th artificial disc replacement procedure successfully. The surgery was a milestone benchmark for the institution, with 98% post-operative satisfactory care. The upsurge in the number of disc replacement surgeries combined with higher success rates of artificial discs as compared to traditional spinal implants is estimated to drive the growth of the market.
Disc replacement surgeries were complex earlier due to their invasive nature. The advent of novel techniques, such as minimally invasive procedures, has rendered such replacements less tedious and efficient. This has further supported the adoption of artificial disc implants and gained popularity among orthopedic communities, increasing awareness of its applications and benefits to patients suffering from long-term spinal conditions.
Artificial discs are mainly made of metal and plastic. They can be contoured per the surgeon's expertise and customized to the patient's physiological needs. These disc implants enhance spine movement, helps in the reduction of vertebral abnormalities, and help in early recovery. These factors promote the success rate of disc replacement procedures and encourage the use of artificial discs among the patient population.
The acceptance of artificial disc replacement among the younger population suffering from spinal injuries, increasing access to the procedure to the previously untreated patient population, along with regional governments supporting the adoption of these devices, is expected to create a viable environment for the growing market. Moreover, orthopedic implant manufacturers focusing on the development and commercialization of novel product portfolios for catering to the rising demand for artificial disc replacement surgeries is anticipated to promote growth of the market.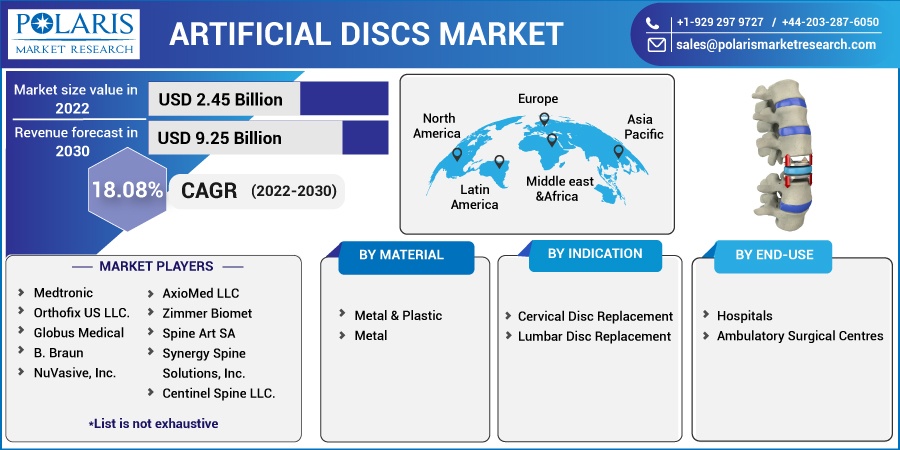 Know more about this report: Request for sample pages
Industry Dynamics
Growth Drivers
The artificial discs market is primarily driven by product innovation owing to increasing demand for spinal procedures along with growing opportunities in branching fields such as advanced spinal robotic surgeries, and predictive procedure planning algorithms, among others. The recent rise in cervical disc injuries, along with corrective surgeries, is estimated to drive market growth. Moreover, the growing geriatric population across the globe, along with the aging population developing the spinal disease as an effect of frailty and other co-morbidities, is also responsible for augmenting the patient population undergoing spinal diagnosis and opting for a disc replacement procedure.
For instance, according to a research study published by the Acta Neurochirurgica, in 2022 reported, approximately 33.5% of cervical spine injuries to be treated with surgery in the U.S., which is an increasing preference of medical practitioners to treat these conditions through corrective surgeries over traditional conservative treatment. This is expected to increase the adoption of artificial disc adoption and therefore support the growth of the market.
Key market players focused on innovating and diversifying their product ranges to address the rising need for customized spinal implants and increasing applications of artificial discs in spinal rehabilitation due to its benefits are some of the major factors supporting its adoption among the patient population.
Report Segmentation
The market is primarily segmented based on material, indication, end-use, and region.
By Material

By Indication

By End Use

By Region

Cervical Disc Replacement
Lumbar Disc Replacement

Hospitals
Ambulatory Surgical Centres

North America (U.S., Canada)
Europe (France, Germany, UK, Italy, Netherlands, Spain, Russia)
Asia Pacific (Japan, China, India, Malaysia, Indonesia, South Korea)
Latin America (Brazil, Mexico, Argentina)
Middle East & Africa (Saudi Arabia, UAE, Israel, South Africa)
Know more about this report: Request for sample pages
Metal & Plastic segment is expected to witness fastest growth
The Metal & Plastic segment is anticipated to foster through the forecast period owing to higher procedural success rates along with the advantages of medical plastic and metal hybrid surface over traditional metal on metal. For instance, an article published by The Spine Journal reported a high success rate of metal over plastic (MOP) artificial discs in patients without developing adjacent segment disease (ASD), a condition prevalent in patients' post-surgery after implanting traditional discs. Moreover, the Metal segment is expected to grow through the study period owing to increasing research applications in the field of orthopedics along with lesser wear and tear advantages of metal-on-metal discs post-surgery.
Cervical Disc Replacement accounted for the largest market share in 2021
Cervical disc replacement segment is accounted for the major revenue share in the market owing to its minimally invasive nature of therapy along with better adoption of cervical disc replacements performed compared to lumbar disc replacements. A higher occurrence of cervical injuries and lifestyle and work-oriented skeletal disorders are some factors supporting diagnosing these conditions and undergoing spinal management. Moreover, market players are innovating implants for cervical-oriented vertebral procedures owing to cater to the larger demand and thereby foster segment growth.
The lumbar disc replacement is projected to grow due to the ability to preserve spinal motion along with providing it stability. Previously, the lumbar disc was implanted with fusion implants which provided stability but took a longer rehabilitation time and affected the patient's quality of life. With the introduction of lumbar discs, nerve pinching can be managed alongside faster healing and preservation of spinal motility. This, combined with a preferential shift by subject experts for the management of chronic lower back pain through implanting lumbar discs among a larger patient population, is expected to augment the growth of the segment.
Hospitals segment is expected to hold the significant revenue share
Hospitals segment is estimated to account for a larger share of the market owing to traditional preference of patients opting for therapy through the institutional system. Moreover, increased adoption, larger medical infrastructure to accommodate the rising demand for surgeries and efficient workflow to cater to higher patient footfalls are some factors supporting the growth of the hospital segment in the artificial discs market.
Ambulatory surgical centers segment is expected to grow through the study period owing to an increasing number of spine surgeons practicing through a privately held or a corporately managed ambulatory surgical center. These settings provide surgeons with better customization of therapy for their patients, faster procedure times, and are cost-effective for patients. Moreover, orthopedic surgeons can now offer super specialty to their patients and provide specialized treatments compared to larger hospital settings.
For instance, Dr. Alok Sharan, Director and CMO of Spine and Orthopedics at NJ Spine and Wellness at Doc. Social uses navigation systems and regional anesthetic blocks to avoid general anesthesia in performing spinal procedures. This was possible due to flexibility and incorporation of novel technology and techniques which he believes is accelerating the shift of surgeons from hospitals to ambulatory surgical centers.
The demand in North America is expected to witness significant growth
The North American market is anticipated to grow through the forecast period owing to increasing prevalence of bone generative diseases and rising incidence of lower back syndromes along with increasing awareness of spinal disc replacement procedures as an eradicative therapy. Moreover, major health service providers in the region improving accessibility and catering to the growing demand for disc replacement procedures is expected to drive the region's growth.
For instance, according to a research study published by the European Spine Journal, in 2022, estimated a prevalence of Lower Back Pain (LBP) to be at 1,362.08/100,000 of North American population. The occurrence was the highest found globally among other regions followed by Europe at 1,127.05/100,000 European population. Therefore, the increasing patient population for diagnosis and treatment of spinal disc correction along with government reimbursements to help the adoption of disc implants, is augmenting the growth of the artificial discs market in North America.
The patient population for disc replacement surgeries in Europe is estimated to foster, owing to the increasing geriatric population along with geriatrics at a higher risk developing bone disorders such as scoliosis, and degenerative disc diseases among others. This coupled with better availability of surgical centers, product availability by key market players and higher disposable income by the patient pool is anticipated to drive the region's growth.
For instance, according to data published by Eurostat Statistics, in February 2022, the population aged over 80 in Europe is expected to grow from 6% to 14.6% of its total population. Moreover, a research article published by the NCBI, in 2022, has suggested a clinical relation of senescence with bone degenerative disorders such as spinal misalignment, spinal stenosis, and osteoporosis-related disc degeneration, among others.
Therefore, the rise in the geriatric population and the concurrent risk of them developing bone disorders is anticipated to augment the patient pool undergoing surgical procedures for long-term management of spinal complaints. This, coupled with higher disposable income and greater adoption rates of novel surgical methods to replace spinal disc implants, is anticipated to drive growth.
Asia Pacific is expected to grow during the study period owing to developing healthcare infrastructure alongside growing awareness of breakthrough disc replacement procedures among orthopedic experts in the region. Moreover, fierce competition among domestic market players in the region is expected to reduce the pricing of disc implants, thereby improving the affordability of replacements in the region.
Competitive Insight
Some of the major players operating in the global market include Medtronic, Orthofix US LLC., Globus Medical, B. Braun, NuVasive, Inc., AxioMed LLC, Zimmer Biomet, Spine Art SA, Synergy Spine Solutions, Inc., and Centinel Spine LLC.
Recent Developments
In September 2022, NuVasive, Inc. launched Reline Cervical, a posterior cervical fusion (PCF) fixation system, to provide a minimally disruptive spinal disc replacement procedure. The product launch is an integrated solution to offer ease of compatibility and a comprehensive solution. Moreover, the development enables the company to improve its market presence in the artificial disc competitive market space owing to its novel product portfolio, supplanted by its product reach among targeted regions.
In July 2022, Medtronic announced its U.S. Food and Drug Administration approval of UNiD Spine Analyzer, a predictive analysis algorithm to help surgeons plan lower lumbar spinal replacements and help design compensative mechanisms six months post-surgery. The advent of machine learning combined with artificial disc replacement data provides the company with a significant competitive advantage in the market owing to superior customization on patient procedures. This will further increase spinal disc implant procedures that are anticipated to reinforce the company's product presence in the artificial disc market.
Artificial Discs Market Report Scope
| | |
| --- | --- |
| Report Attributes | Details |
| Market size value in 2022 | USD 2.45 billion |
| Revenue forecast in 2030 | USD 9.25 billion |
| CAGR | 18.08% from 2022 - 2030 |
| Base year | 2021 |
| Historical data | 2018 – 2020 |
| Forecast period | 2022 – 2030 |
| Quantitative units | Revenue in USD billion and CAGR from 2022 to 2030 |
| Segments Covered | By Material, By Indication, By End Use, By Region |
| Regional scope | North America, Europe, Asia Pacific, Latin America; Middle East & Africa |
| Key Companies | Medtronic, Orthofix US LLC., Globus Medical, B. Braun, NuVasive, Inc., AxioMed LLC, Zimmer Biomet, Spine Art SA, Synergy Spine Solutions, Inc., Centinel Spine LLC. |