The global artificial intelligence in food & beverages market was valued at USD 4.49 Billion in 2021 and is expected to grow at a CAGR of 45.4% during the forecast period.
Development of new recipes guided by customer trends, better supply chain management, and a more clean production line are how AI supports the beverages market, which boosts market growth during the forecast period. Artificial Intelligence has expanded significantly in recent years, with many companies actively investing in realizing the potential of technology in the market. This developing Artificial Intelligence technology assists beverages enterprises with supply chain management through transportation, predictive analytics, and transparency.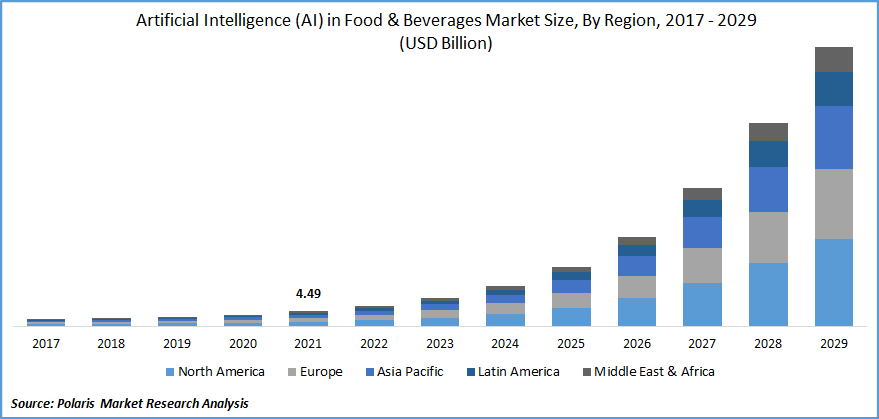 Know more about this report: request for sample pages
Organizations are increasingly digitizing their supply chains to distinguish themselves and generate new revenue streams, enhancing supply chain efficiency. It generates huge amounts of data, and AI assists organizations in analyzing this data and acquiring a better knowledge of supply chain dynamics by forecasting future scenarios. Artificial Intelligence in the supply chain network is helping companies in rapidly innovating by shortening time to deliver and situations of indecision during crises.
Further, with supply chain management enduring a big challenge for many beverages firms, AI can assist bring about transparency in the workings of enterprises by successfully managing the supply chain. For instance, according to United Nations Environment Program, every year, 30% of all food & beverages in the United States is discarded, costing US$48.3 billion. Even though agriculture is the biggest human use of water, it is reported that approximately a portion of the water used to produce this food is also wasted.
Families in the UK waste an estimated 6.7 million tons of food each year, accounting for around one-third of the 21.7 million tonnes consumed. These losses and waste were approximately USD 680 billion in developed countries, whereas these losses and waste in developing countries totaled approximately USD 310 billion. Because of these variables, Artificial Intelligence can play a crucial role in tracking food & beverages from the farmer, manufacturer, and distributor to the end of the supply chain. AI can assist in product tracing and ensure that food & beverages consumed are safe by detecting anomalies.
Though this technology offers numerous benefits to the beverage market, the high cost of large-scale implementation limits market growth. One of the issues of this sector is that its feedstock is never homogeneous. It is clear that the food & beverages is stored using manual labor. However, this sorting process may be automated with artificial intelligence, lowering labor costs, increasing speed, and improving returns.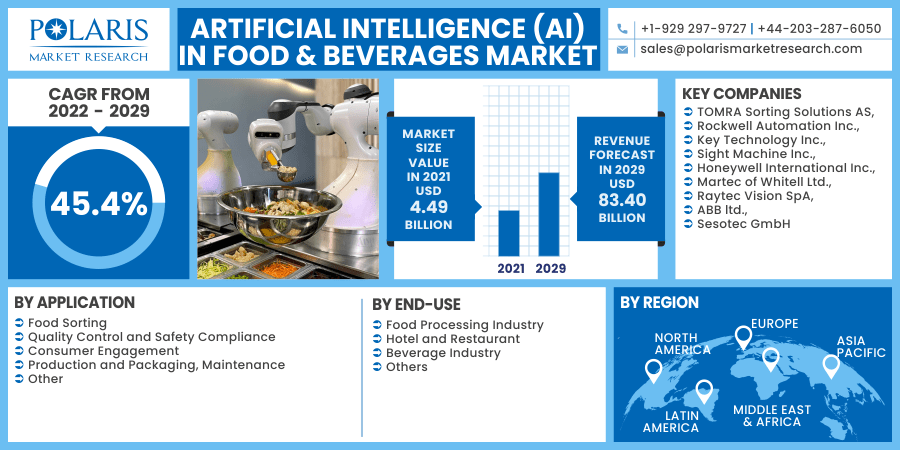 Know more about this report: request for sample pages
Industry Dynamics
Growth Drivers
In order to reduce this waste, there is a growing need to analyze consumer purchasing behavior and predict inventory levels. There is also a need for automated sorting of beverages products. With every day, the growing number of consumers managed by beverage enterprises becomes more difficult, and it takes significant effort to engage with customers. Artificial Intelligence analyses data gathered from previous records and processed it using AI-enabled algorithms to estimate sales results for a particular period. Artificial Intelligence primarily benefits food & beverages makers and vendors by assisting them in better understanding their clients. Companies are able to determine their clients' tastes and preferences, allowing them to forecast potential sales patterns for their items. They would also be able to recognize and forecast the purchasing behaviors of clients who interact with them on a regular basis. This would allow them to accumulate their inventory accordingly.
Further, the requirement for automated sorting of food & beverages products is also a major factor boosting the Artificial Intelligence in food & beverages market growth during the forecast period. Companies spend a significant amount of time searching through these services. Artificial Intelligence can assist businesses in sorting swiftly and efficiently, as the sensor-based optical sorting technology can save businesses significant time and effort on sorting. Companies will also be able to save money on labor by using automated sorting. As a result, there is a significant opportunity for businesses to benefit from reduced waste and enhanced returns, ensuring higher quality.
Report Segmentation
The market is primarily segmented based on application, end-use, and region.
By Application

By End-Use

By Region

Food Sorting
Quality Control and Safety Compliance
Consumer Engagement
Production and Packaging, Maintenance
Other

Food Processing Industry
Hotel and Restaurant
Beverage Industry
Others

North America (U.S., Canada)
Europe (France, Germany, UK, Italy, Spain, Netherlands, Austria)
Asia Pacific (Japan, China, India, Malaysia, Indonesia. South Korea)
Latin America (Brazil, Mexico, Argentina)
Middle East & Africa (Saudi Arabia, UAE, Israel, South Africa)
Know more about this report: request for sample pages
Insight by Application
Based on the application, the customer engagement segment is expected to be the most significant revenue contributor in the global market in 2021 and is expected to hold its dominance in the foreseen period. Artificial Intelligence is being used to analyze better customer behavior, leading to more accurate forecasts. It may also help marketers and businesses connect with customers more personally, participate in deeper interactions, and improve their entire brand experience. Furthermore, Artificial Intelligence can analyze, monitor, and derive customer behavior and attitudes across multiple social media channels. As a result, when Artificial Intelligence creates an in-depth customer profile, it compares it to their social experiences with the product. Organizations can now seek to improve the consumer experience and make it more productive with significant insights, resulting in Artificial Intelligence in food & beverages market growth.
Geographic Overview
In terms of geography, North America had the highest share in 2020. The rapid adoption and a substantial fractional increase replace the major drivers of their economic effects, reflecting the region's leadership position on Artificial Intelligence and its application and the significant automation predicted at the regional level. Furthermore, food & beverages production is one of the most important manufacturing industries in the United States. According to the United States Department of Agriculture, food processing facilities accounted for 15.8 percent of total shipments and 14.7 percent of all employees in all U.S. industrial plants in 2019. For the most part, this is a high-volume, low-margin market. As a result of such functional hindrance, several of the country's top food & beverages processing industries are turning to Artificial Intelligence technology.
Moreover, Asia-Pacific is expected to witness a high CAGR in the global Artificial Intelligence in food & beverages market in 2021. The rapid adoption of deep learning and NLP technology in farming, marketing, and finance in the Asia Pacific is one of the causes for the region's rapid growth of the market in the FMCG business. Moreover, the presence of several regional players has also contributed to the sector's growth in the region.
Competitive Insight
Some of the major players operating in the global market include ABB ltd., Honeywell International Inc, Key Technology Inc, Martec of Whitell Ltd, Raytec Vision SpA, Rockwell Automation Inc, Sesotec GmbH, Sight Machine Inc, TOMRA Sorting Solutions AS, GREEFA, Duravant LLC, among others.
Artificial Intelligence (AI) in Food & Beverages Market Report Scope
| | |
| --- | --- |
| Report Attributes | Details |
| Market size value in 2021 | USD 4.49 Billion |
| Revenue forecast in 2029 | USD 83.40 Billion |
| CAGR | 45.4% from 2022 - 2029 |
| Base year | 2021 |
| Historical data | 2017 - 2020 |
| Forecast period | 2022 - 2029 |
| Quantitative units | Revenue in USD billion and CAGR from 2022 to 2029 |
| Segments covered | By Application, By End-Use, By Region |
| Regional scope | North America, Europe, Asia Pacific, Latin America, Middle East & Africa |
| Key Companies | TOMRA Sorting Solutions AS, Rockwell Automation Inc., Key Technology Inc., Sight Machine Inc., Honeywell International Inc., Martec of Whitell Ltd., Raytec Vision SpA, ABB ltd., Sesotec GmbH |