The global Artificial Intelligence (AI) in pharmaceutical market was valued at USD 859.1 Million in 2021 and is expected to grow at a CAGR of 31.2% during the forecast period. Increasing awareness of artificial intelligence among pharma manufacturers and rising adoption of Artificial Intelligence (AI) in the pharmaceutical market for R&D activities and drug development drive the industry growth during the forecast period.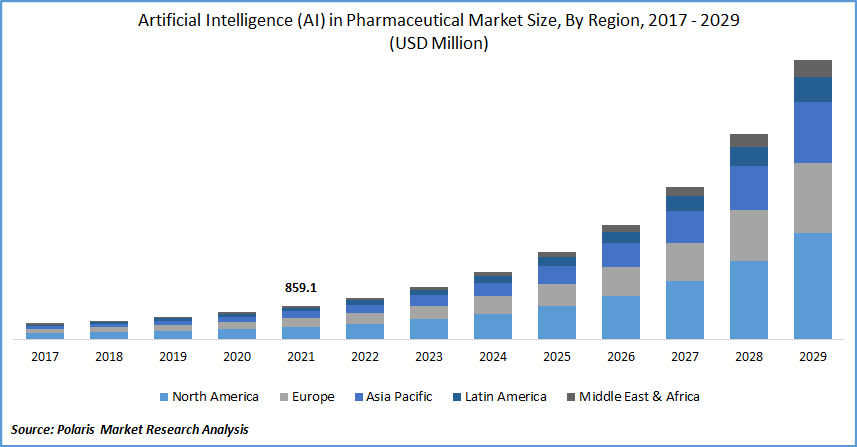 Know more about this report: request for sample pages
Artificial intelligence in pharmaceutics has grown over the years, and it can save money and effort while offering a greater knowledge of the interactions between different compositions and process parameters. Drug discovery, smart manufacturing, automated control processes systems, predicting new treatments, and the production of novel peptides from natural foods raise awareness for the use of AI in pharma.
Further, pharma companies present across the global market are using advanced machine learning algorithms and AI-powered tools to speed up the drug discovery process. These technologies are designed to detect complex patterns in vast datasets and may thus solve problems related to complex biological networks.
Furthermore, artificial intelligence has the ability to improve the R&D process. Artificial intelligence can handle everything from designing and finding new compounds to target-based drug validation and discovery. According to MIT research, just 13.8% of medications make it through clinical testing. To top it all off, a pharma company must pay anywhere from US$ 161 million to US$ 2 billion for medicine to go through the entire clinical trial procedure and receive FDA approval.
These are the two primary reasons pharma companies are rapidly utilizing artificial intelligence to increase the success rates of new pharmaceuticals, develop more cheap drugs and therapies, and, most crucially, lower operational expenses. However, a major challenge projected to impede global artificial intelligence growth for the pharmaceutical business is a lack of experienced people and IT infrastructure to support seamless artificial intelligence adoption. As a result, in addition to limited acceptability by health care providers, high costs and technological feasibility of artificial intelligence decision-making will hinder the Artificial Intelligence (AI) in pharmaceutical market growth.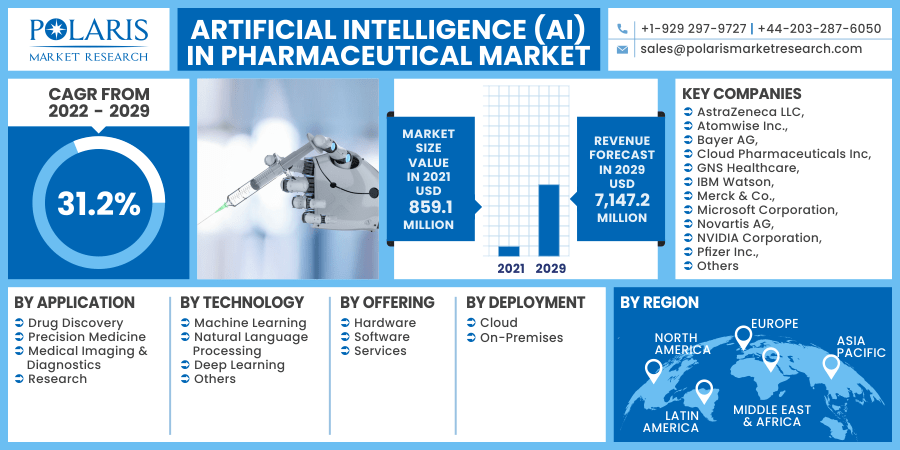 Know more about this report: request for sample pages
Industry Dynamics
Growth Drivers
Factors such as the growing complexity of modern pharmacology, rising adoption for disease prevention, epidemic prediction, and the rising artificial intelligence in pharmaceutical market demand for viable therapeutic candidates have catapulted the market forward. Pharmaceutical companies can use artificial intelligence to research therapies for both common diseases such as Alzheimer's and Parkinson's and unusual disorders.
In general, pharma companies do not devote time and resources to finding medicines for rare diseases since the Return On Investment (ROI) is very poor compared to the time and expense required to create pharmaceuticals for treating uncommon diseases. Also, the rising prevalence of such diseases is forcing research companies to adopt AI.
For instance, according to the Alzheimer's Association (AA), the disease impacts over 6 Mn Americans of all ages. In 2021, around 6.2 Mn individuals in the U.S. aged 65 and older will suffer from Alzheimer's disease. Alzheimer's will cost the nation $355 billion by 2021. These costs have been expected to rise to USD 1.1 trillion by 2050. Alzheimer's disease affects one out of every nine adults aged 65 and up (11.3%).
Without medical advances to prevent, treat, or cure Alzheimer's disease, the number of persons aged 65 and older with the condition is expected to rise to 12.7 million by 2050. However, due to the revolutionary capabilities of AI and ML, the situation is gradually changing for the better.
Further, many pharmaceutical businesses are using artificial intelligence and other SOS applications to predict outbreaks worldwide. The information is collected from disparate web sources, investigate the impact of several geological, ecologic, and biological factors in the community's health in different geographic areas, and attempt to make the connection between these considerations and previous outbreaks. Such models are beneficial for developing economies to deal with the situation in a proper way.
Report Segmentation
The market is primarily segmented based on application, technology, offering, deployment, and region.
By Application

By Technology

By Offering

By Deployment

By Region

Hardware

Software

Services

North America (U.S., Canada)

Europe (France, Germany, UK, Italy, Spain, Netherlands, Austria)

Asia Pacific (Japan, China, India, Malaysia, Indonesia, South Korea)

Latin America (Brazil, Mexico, Argentina)

Middle East & Africa (Saudi Arabia, UAE, Israel, South Africa)
Know more about this report: request for sample pages
Insight by Technology
Based on the technology market segment, the natural language processing segment is expected to be the most significant revenue contributor in the global market and is expected to hold its dominance in the foreseen period.
Natural language processing facilitates the translation of data sets into coherent narratives that are easily comprehended by medical experts and patients and the interpretation of perceptions for personal market growth. Nonetheless, the deep learning market is expected to grow the fastest due to its simplicity over other technologies and greater accuracy when loaded with vast amounts of data.
Geographic Overview
In terms of geography, North America had the largest revenue share in the global Artificial Intelligence (AI) in pharmaceutical market. The region's dominance is due to the accessibility of capital spending, the presence of significant AI technology providers, and the extensive adoption of AI technologies across the country. For instance, the National Health Expenditure Accounts (NHEA) announced that in 2020, healthcare spending in the United States had risen to 9.7% to $4.1 trillion, or $12,530 per person.
Health spending contributed to 19.7% of the nation's Gross National Product. Furthermore, a very well national healthcare infrastructure is likely to enhance AI technology adoption in pharmaceutical and biotech enterprises.
Moreover, Asia Pacific is expected to witness a high CAGR in the global market in 2021. The region is expanding as a result of increased healthcare spending, regional economic development, and increased market demand for tailored treatments. For instance, according to the IBEF, the Indian government intends to expand public spending on health care to 2.5% of the country's GDP by 2025. It has also increased healthcare spending to 3% of GDP by 2022.
Competitive Insight
Some of the major players operating in the global Artificial Intelligence (AI) in pharmaceutical market include AstraZeneca LLC, Atomwise Inc., Bayer AG, Cloud Pharmaceuticals Inc, GNS Healthcare, IBM Watson, Merck & Co., Microsoft Corporation, Novartis AG, NVIDIA Corporation, Pfizer Inc., Recursion Pharmaceuticals Inc., and XtalPi Inc.
Artificial Intelligence (AI) in Pharmaceutical Market Report Scope
| | |
| --- | --- |
| Report Attributes | Details |
| Market size value in 2021 | USD 859.1 Million |
| Revenue forecast in 2029 | USD 7,147.2 Million |
| CAGR | 31.2% from 2022 - 2029 |
| Base year | 2021 |
| Historical data | 2017 - 2020 |
| Forecast period | 2022 - 2029 |
| Quantitative units | Revenue in USD million/billion and CAGR from 2022 to 2029 |
| Segments covered | By Application, By Offering, By Technology, By Deployment, By Region |
| Regional scope | North America, Europe, Asia Pacific, Latin America, Middle East & Africa |
| Key companies | AstraZeneca LLC, Atomwise Inc., Bayer AG, Cloud Pharmaceuticals Inc, GNS Healthcare, IBM Watson, Merck & Co., Microsoft Corporation, Novartis AG, NVIDIA Corporation, Pfizer Inc., Recursion Pharmaceuticals Inc., and XtalPi Inc. |