The global automotive aftermarket market was valued at USD 362 billion in 2017 and is anticipated to grow at a CAGR of 4% during the forecast period. This market includes activities required for maintenance of vehicles after initial sale till the end of its lifecycle. Automotive aftermarket supplies components such as spare parts, accessories, second-hand equipment, lubricants, and appearance products required in repair and maintenance of vehicles. The demand for the aftermarket products has increased owing to growing need of consumers to maintain and repair their vehicles in order to increase vehicle longevity. Growing vehicle fleets as well as increasing demand for replaceable components such as engine parts, and clutch systems among others drive the growth of the market.
The major driving factors of the market include growing automotive industry, and increasing manufacturing of auto components. Consumers are increasingly becoming aware regarding proper maintenance and repair of vehicles for enhanced safety and efficiency, which supports the growth of the market. The growing need of long distance travel and changing lifestyles further increase the need for periodic repairs and replacements of vehicle parts. Increasing average age of vehicles also encourages consumers to maintain their vehicles. Other factors driving the growth of this market include poor road infrastructure in developing economies, and technological advancement. Expansion of established companies into emerging economies and increase sales of vehicle components through online channels would provide numerous growth opportunities in the market.
The vendors in the market are launching new products to meet the growing customer needs. In addition, the leaders in the market are acquiring and collaborating with top companies in the market to enhance their offerings in the market and expand their customer base. The automotive aftermarket is highly competitive with the presence of a large number of small and large vendors. Vendors offer products and services required for repair and maintenance for wide range of cars, trucks, vans, and buses. Denso Corporation, a major player in the global automotive aftermarket offers a range of automotive service parts and accessories. It offers maintenance parts such as spark plug, oil filter, wiper blade, cabin air filter, and air filter element among others. Its offerings of repair parts include starter, compressor, alternator, fuel pump, oxygen sensor, and air conditioner service parts among others. Other leading players in the market include Royal Dutch Shell PLC, Denso Corporation, Johnsons Controls Inc., Exide Technologies, Inc., 3M Company, Delphi Automotive PLC, Magneti Marelli S.p.A, Goodyear Tire & Rubber Company, Robert Bosch GmbH, Cooper Tire & Rubber Company among others.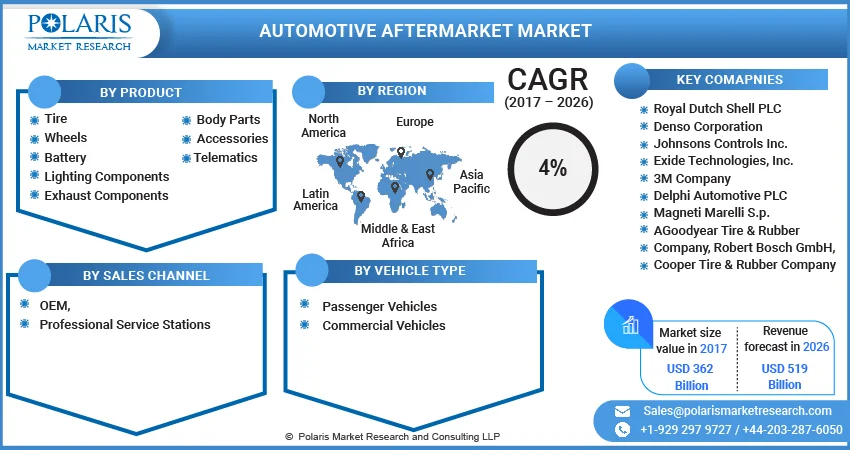 Segment Analysis
The global automotive aftermarket is segmented on the basis of product type, sales channel, vehicle type, and geography. Based on the type of product, the market is segmented into tire, wheels, battery, lighting, exhaust components, body parts, accessories, telematics, and others. The sales channel segment is categorized into OEM, professional service stations, and others. The vehicle types include passenger vehicles, and commercial vehicles. This report comprises a detailed geographic distribution of the market across North America, Europe, APAC and South America, and MEA. North America is further segmented into U.S., Canada, and Mexico. Europe is divided into Germany, UK, Italy, France, and Rest of Europe. Asia-Pacific is bifurcated into China, India, Japan, and Rest of Asia-Pacific. North America accounted for the largest share in the global automotive aftermarket in 2017.