The global electric two-wheeler market was valued at USD 6,505.65 Million in 2022 and is expected to grow at a CAGR of 21.74 % in the forecast period. The rising concerns for emission-free vehicles, increasing fuel prices, and lower maintenance costs over traditional petroleum-based vehicles have been the key driving factors for the market in the last couple of years. Favorable government regulations, incentives, and other technological advancements in the EV ecosystem are expected to drive the market further in the forecast period.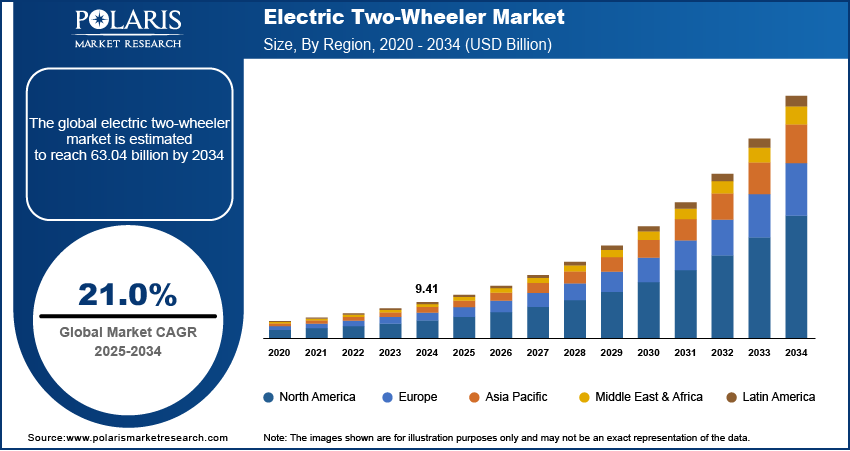 Know more about this report: Request for sample pages
Electric motors power two-wheeler electric vehicles (EVs) and run on rechargeable batteries. The vehicles include electric scooters, motorcycles, and bicycles. They are becoming increasingly popular worldwide due to their low operating costs, environmental benefits, and ease of use.
One of the main advantages of two-wheeler EVs is their low operating cost. EVs require less maintenance than traditional gasoline-powered vehicles and zero fuel costs, making them an attractive option for budget-conscious consumers.
In addition to their economic benefits, two-wheeler EVs have significant environmental advantages. They produce zero tailpipe emissions, reducing air pollution and improving air quality in urban areas. It can significantly impact public health, especially in areas with high levels of air pollution. Another advantage of two-wheeler EVs is their ease of use. They are typically smaller and lighter than traditional vehicles, making them easier to maneuver through congested city streets and park in tight spaces. It can be especially beneficial in urban areas where traffic and parking are major challenges.
For instance, as per "The National Renewable Energy Laboratory (NREL)" report, the two and three-wheelers EV vehicles stock in 2021 accounted for 275 million, 42% of global cells. The report further highlighted the battery pack price from $1,220/kWh in 2010 to just $132/kWh in 2021, a decline of about 89%. Increasing publicly available charging stations between 2015 to 2021 has increased by 40%, which is a major boosting factor for the electric two-wheeler market.
The covid 19 pandemic has hampered the market in the short term, while the post-pandemic period has witnessed a steep demand for the vehicles. The pandemic has caused supply chain disruptions, decreased consumer demand, and lowered production units. The disruption of global supply chains leading to delays in the production and delivery of EV 2-wheelers and resulted in a shortage of vehicles in the market. The period has caused a decrease in consumer demand for EV 2-wheelers due to economic uncertainty and reduced disposable income. Due to financial constraints, many people have postponed purchasing new vehicles, including EV 2-wheelers.
The post-pandemic period has highlighted the importance of sustainable living, and more people are now aware of the need to reduce their carbon footprint. EV two-wheelers are an excellent option for eco-conscious consumers as they produce zero emissions and are more energy-efficient than traditional petrol vehicles. The period has also made people wary of public transportation, increasing demand for personal mobility solutions.
One of the significant challenges that the industry faces are the need for proper charging infrastructure across emerging economies. The availability of charging infrastructure is especially crucial in densely populated urban areas, where EV two-wheelers are most commonly used. However, the development of charging infrastructure is still in its early stages in many countries, and the cost of setting up charging stations is often high, which can deter potential investors.
The limited travel range with a single charge and safety concerns are the two key restraining factors for the market. Many EV two-wheelers have a limited range, which can be a major concern for consumers, particularly those who use them for daily commuting or long-distance travel. Some safety concerns are still associated with EV two-wheelers, particularly around battery safety and other aspects.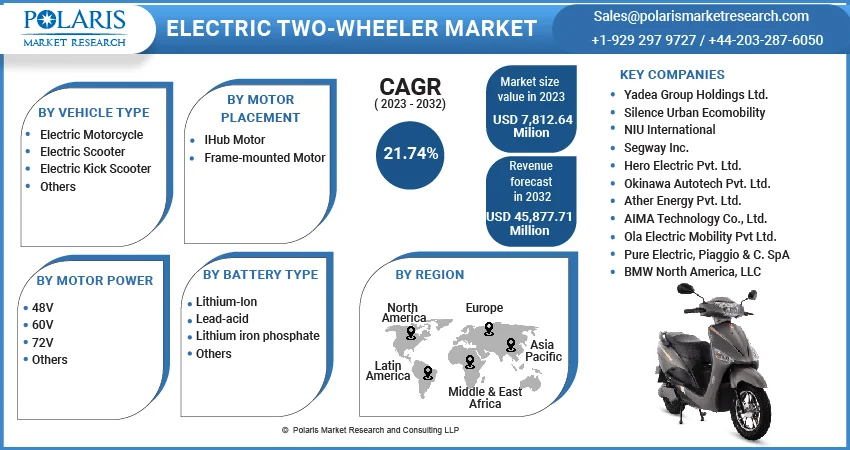 Know more about this report: Request for sample pages
Industry Dynamics
Growth Drivers
The fluctuating petroleum products in the last few years due to various micro and macro-economic factors remained a key factor for adopting electric vehicles. As petrol costs rise, consumers may look for alternative options, such as electric two-wheelers, offering lower operating prices.
In many countries, the price of petrol is highly volatile and subject to fluctuations in the global oil market, making it difficult for consumers to predict the long-term cost of running a petrol-powered vehicle.
As more governments worldwide set targets for reducing carbon emissions and increasing the adoption of electric vehicles, additional incentives or subsidies may be available to consumers who choose to purchase EV two-wheelers. These incentives can further reduce the cost of ownership and make electric two-wheelers more attractive to consumers.
In the last few years, advancements in battery management technology have made monitoring and optimizing battery performance possible, extending the lifespan of batteries and reducing the need for expensive replacements. With better battery management technology, improving the range of EV two-wheelers is possible, making them more practical and convenient for daily use. For example, developments in battery chemistry, such as lithium-ion batteries, have significantly improved the performance of EV two-wheelers by increasing their range and reducing charging times.
Report Segmentation
The market is primarily segmented based on vehicle type, motor placement, motor power, battery type, region
By Vehicle Type

By Motor Placement

By Motor Power

By Battery Type

By Region

Electric Motorcycle

Electric Scooter

Electric Kick Scooter

Others

Hub Motor

Frame-mounted Motor

Lithium-Ion

Lead-acid

Lithium iron phosphate

Others

North America (U.S, Canada, Mexico)

Asia-pacific (China, Japan, India, Australia, Rest of Asia- pacific)

Europe (Germany, UK, France, Spain, Italy, Rest of Europe)

LAMEA (Latin America, Middle East & Africa)
Know more about this report: Request for sample pages
The Electric Motorcycle segment is accounted to witness a considerable CAGR in the forecast period.
One of the main drivers of this growth is the increasing demand for eco-friendly transportation options. As more and more consumers become environmentally conscious, they are looking for ways to reduce their carbon footprint, and electric motorcycles offer a great alternative to traditional gasoline-powered bikes.
Several benefits of electric motorcycles can be characterized by higher speed and range, more comfortable riding positions, greater power and performance, and more customization options. Electric motorcycles generally offer a more comfortable and natural riding position than electric scooters. They often have larger seats, better suspension, and more ergonomic handlebars, making them a more comfortable choice for longer rides.
Additionally, advances in battery technology have made electric motorcycles more practical for everyday use. Today's electric motorcycles can travel further on a single charge than ever, and charging times have improved significantly.
The Hub motor segment is projected for the fastest growth rate in the forecast period.
A hub motor is an electric motor built into the hub of a wheel and used to power electric bicycles, scooters, and motorcycles. The growth of the hub motor segment in the electric 2-wheeler market is driven by a combination of factors, including improved technology, greater efficiency, and a simplified design.
Motor technology advancements have made hub motors more efficient, reliable, and affordable. Today's hub motors are often smaller and lighter than their predecessors, yet they offer more power and better performance. Hub motors allow for greater control over the vehicle's speed and acceleration. Riders can adjust the engine's power output to suit their needs, making it easier to navigate tricky terrain or heavy traffic. It also helps to extend the range of an electric 2-wheeler by reducing energy loss and improving efficiency.
The Lithium-Ion battery segment accounted for the highest market share in 2022
The Lithium-Ion battery segment has been experiencing significant growth in the electric 2-wheeler market in recent years. Lithium-Ion batteries are rechargeable batteries commonly used in electric 2-wheelers because of their long cycle life, high energy density, and low self-discharge rate.
Lithium-Ion batteries can be charged faster than others, making it easier for riders to keep their electric 2-wheelers charged and ready to go. Lithium-Ion batteries are more environmentally friendly than other types of batteries, such as lead-acid batteries. They do not contain toxic materials and can be recycled at the end of their life cycle.
Further, the batteries can extend the range of an electric two-wheeler by providing more power and longer run times. With a Lithium-Ion battery, a rider can get more miles out of each charge, making it possible to travel longer distances without recharge.
The Asia Pacific market is projected to account for the largest market share in the forecast period.
The upgradation of charging infrastructures in the last few years, coupled with various government schemes such as FAME II and other incentives, has increased the production rate of vehicles. In addition, the rising air pollution concerns and improvement in EV vehicles have lured customers towards this sustainable mobility option.
In many countries in the Asia Pacific region, the cost of gasoline is high, and electric 2-wheelers are seen as a more cost-effective option for transportation. The region is experiencing rapid urbanization, increasing demand for electric 2-wheelers as they are more convenient and efficient for navigating congested city streets.
Competitive Insight
Some of the prominent key players operating in the Marketspace includes Yadea Group Holdings Ltd., Silence Urban Ecomobility, NIU International, Segway Inc., Hero Electric Pvt. Ltd., Okinawa Autotech Pvt. Ltd., Ather Energy Pvt. Ltd., AIMA Technology Co., Ltd., Ola Electric Mobility Pvt Ltd., Pure Electric, Piaggio & C. SpA, BMW North America, LLC
Recent Developments
January 2023: Hero Electric has partnered with Maxwell Energy Systems, which will supply more than ten lakh units of battery management systems (BMS) for the next three years. The partnership will enable the company to reduce import dependency and support the Make in India mission.

December 2022: Yadea Group Holdings Ltd. has announced its national dealership promotion plan as part of its goals for worldwide expansion and recruited regional agents and distributors in the United States.
Electric Two-Wheeler Market Report Scope
| | |
| --- | --- |
| Report Attributes | Details |
| Market size value in 2023 | USD 7,812.64 Million |
| Revenue forecast in 2032 | USD 45,877.71 Million |
| CAGR | 21.74% from 2023 - 2032 |
| Base year | 2022 |
| Historical data | 2019 - 2021 |
| Forecast period | 2023 - 2032 |
| Quantitative units | Revenue in Volume (Thousand Units) and Revenue (USD Million) and CAGR from 2023 to 2032 |
| Segments covered | By Vehicle Type, By Motor Placement, By Motor Power, By Battery Type, By Region |
| Regional scope | North America, Europe, Asia Pacific, Latin America, Middle East & Africa |
| Key companies | Yadea Group Holdings Ltd., Silence Urban Ecomobility, NIU International, Segway Inc., Hero Electric Pvt. Ltd., Okinawa Autotech Pvt. Ltd., Ather Energy Pvt. Ltd., AIMA Technology Co., Ltd., Ola Electric Mobility Pvt Ltd., Pure Electric, Piaggio & C. SpA, BMW North America, LLC |