The global baby bassinets market was valued at USD 317.90 million in 2022 and is expected to grow at a CAGR of 6.3% during the forecast period.
A bassinet is a bed designed especially for infants between the ages of birth and roughly four months. In contrast to cradles, which typically give a gliding motion, bassinets are typically built to work with fixed legs or with castor wheels. The rise in partnerships and collaborations to cater to a wider audience is expanding the availability of products in the marketplace.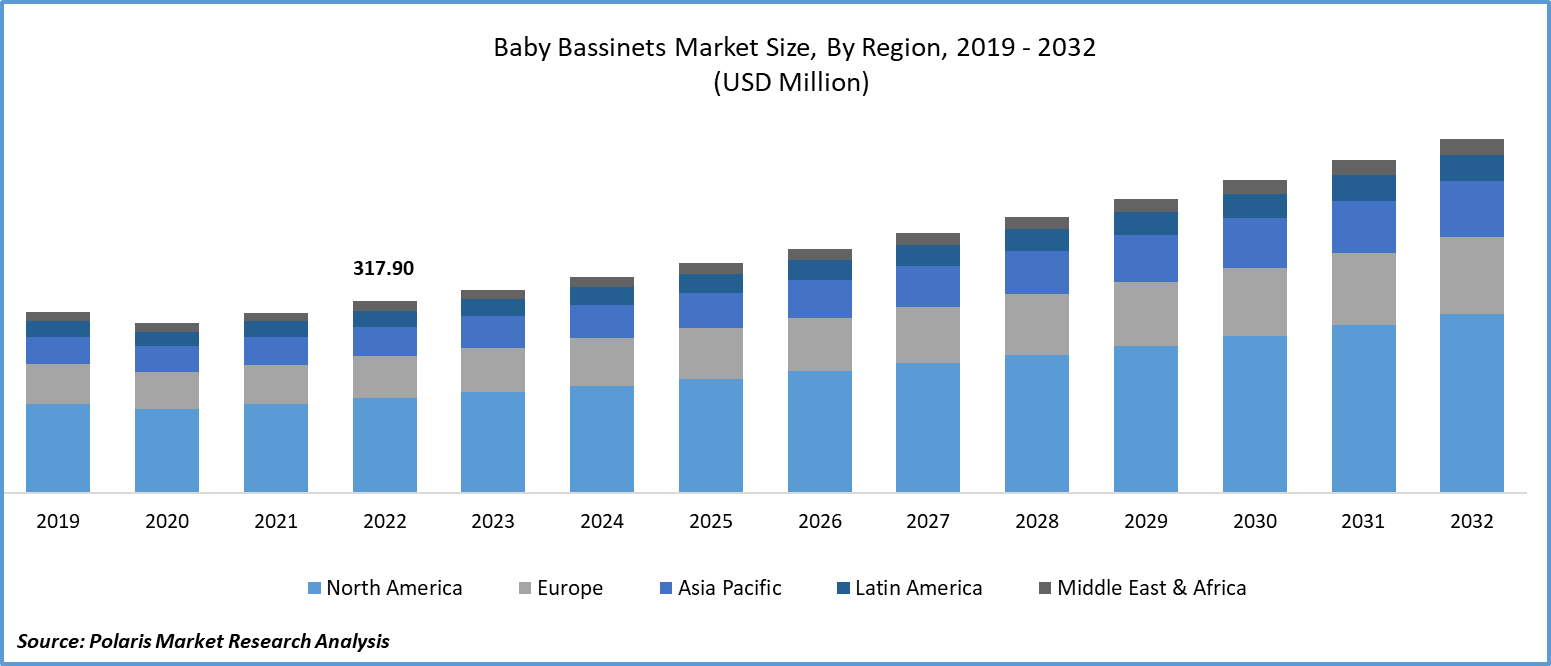 To Understand More About this Research: Request a Free Sample Report
For instance, in November 2022, Gap introduced a line of family basics in partnership with Amazon Fashion in the US and Canada. The launch will include baby products like strollers, bassinets, cribs, and more under the BabyGap brand.
Moreover, bassinets are more popular in households due to their affordability and portability. These factors are contributing to the higher demand from middle-class consumers. A bassinet is a compact, movable item. Infants can sleep safely in their own cot next to their parents at night and can also be present in their kitchen or living room during the day. It is helpful for the parents to do their household work while also ensuring child safety.
However, low house space for baby furniture like bassinets is hampering the growth of the market. This is attributable to the higher housing prices due to urbanization, leading the population to settle in smaller homes, impeding the demand for furniture.
Growth Drivers
Governments are formulating policies to reduce infant mortality rates, which may create demand for child care products
Governments are coming forward to ensure infants and children's safety with effective policy implementations. Both the Maternity Care Coalition (MCC) and the Philadelphia Department of Public Health (PDPH) are offering free food and infant formula along with Pack n' Play cribs to ensure that all infants have a secure place to sleep. This is driving awareness of cribs among consumers and assisting them to know the benefits associated with child care products like bassinets, cradles, and more.
Companies are stepping forward to create effective products to ensure infant safety. DockATot introduced a sustainable KIND bassinet, a fashionable sleeping option. It is a portable, solid bassinet that is lightweight and provides a flat sleeping surface. It also comes with a handy carry case for storage or travel. These growing product innovations are driving health-conscious parents to purchase the product. An increase in birth rates in certain regions can boost the demand for baby bassinets, as more infants require sleeping arrangements. Also continuous innovation in the design and features of baby bassinets, such as built-in music, nightlights, and adjustable height, attracts consumers looking for convenience and functionality.
Report Segmentation
The market is primarily segmented based on type, portability, materials, baby age, price distribution channel and region.
By Type

By Portability

By Materials

By Baby Age

By Price

By Distribution Channel

By Region

Young Infants (2 months to 12 months old)

Toddlers (18 months to 36 months old)

Online Distribution Channels

Retail Shops and Supermarkets

North America (U.S., Canada)

Europe (France, Germany, UK, Italy, Netherlands, Spain, Russia)

Asia Pacific (Japan, China, India, Malaysia, Indonesia. South Korea)

Latin America (Brazil, Mexico, Argentina)

Middle East & Africa (Saudi Arabia, UAE, Israel, South Africa)
To Understand the Scope of this Report: Speak to Analyst
By Type Analysis
Bedside segment is expected to have higher growth during the forecast period
The bedside segment is expected to grow at a CAGR during the projected period, primarily due to the advantages associated with the bassinet. A bedside bassinet lowers the possibility of suffocation or damage from rolling over while the parent is asleep by providing a safe and comfortable sleeping environment for both. Parents can readily check their baby's breathing and provide comfort as needed throughout the night if they keep them within arm's reach. These factors are appealing to parents, as they assist in child care, driving its consumption in the future
By Portability Analysis
Portable segment accounted for the largest market share in 2022
The portable segment accounted for the largest market share. These bassinets are very suitable for travelling, and as they are portable, it is easier to carry them from one place to another, driving their demand in the future. These bassinets enable users to save space, making them an attractive option for people living in urban areas.
By Materials Analysis
Wood segment held the significant market revenue share in 2022
The wood segment held a significant market share in revenue in 2022, which is highly fuelled due to its safety standards and environmental friendliness. One of the primary factors driving this material is its durability. Wood-based bassinets can last longer, driving their use by more children in the house. This can be decorated by parents as their preference, driving demand from consumers for personalized decoration in their homes.
By Baby Age Analysis
Young infants segment held a significant growth in 2022
The young infants segment held a significant growth rate in 2022, which was highly accelerated due to the importance of taking care of children from 2 months to 12 months old. A secure environment for younger infants is one of the most important factors for parents to ensure that their child gets enough sleep. As companies specializing in the manufacturing of child care products build effective child care bassinets to cater to parents needs for their child's safety, this may enhance awareness of the product and, in turn, fuel demand in the future.
By Price Analysis
Medium segment held the fastest growth in 2022
The medium segment held the fastest growth with a healthy CAGR in 2022, which is highly attributable to consumers' willingness to try new products at a reasonable price with assured quality. This will be a more appealing pricing option for parents who are purchasing the product for the first time, as it is more convenient and affordable compared to the premium price with good quality baby bassinets.
By Distribution Channel Analysis
Online segment registered a substantial revenue share in 2022
The online segment held a significant market share in revenue in 2022, which was highly accelerated due to the evolution of e-commerce platforms with user-friendly interfaces. Manufacturers are establishing specialized distribution channels to provide quality products to consumers and tackle the problem of product duplicates in the market. Furthermore, this enforces a single platform with symmetry in price information for similar products, driving global reach without geographical barriers. The rise in establishments of specialised distribution stores primarily catering to child care products is driving demand for baby bassinets in global outreach.
Regional Insights
North America region registered the largest share of the global market in 2022
The North America region witnessed the largest market share in the global market in 2022 and is projected to maintain this trend during the study period. Government organizations are formulating effective policies with child safety as a crucial aspect. According to the American Academy of Paediatrics, newborns should always sleep alone in, bassinet, or flat mattress. The most effective strategy to lower the risk of sudden infant death syndrome (SIDS) is to adhere to safe sleep practices. Baby bassinets work effectively in providing a secure and safe environment for children, driving their use by consumers in the region.
The Europe region is expected to have a faster growth rate during the projected period, owing to the growing awareness about the importance of having baby bassinets in ensuring infants safety. Growing child mortality at a younger age in the region is showcasing the benefits of consuming baby bassinets to protect child health and security in sleep. Rising awareness campaigns and marketing strategies by manufacturers may create new growth opportunities for the market in the coming years.
Key Market Players & Competitive Insights
The baby bassinets market is fragmented in line with the growth in the number of companies investing in this product space. New innovations are going on with technological advancements and further research and development activities are fuelling the expansion of the market. Rise in the collaboration, mergers and acquisitions is enhancing the companies share in the global market. Increase in the competition by companies is fuelling the supply, driving reasonable prices to the consumer at global level.
Some of the major players operating in the global market include:
Aar Kay Enterprises

Accusion Engineering

Akay Rolling Mills

Brb Arts & Jewels Private Limited

British India Instruments Supplying

Chamunda Steel & Furniture

Dessin Le Arte

Fairbizps

Ira Furniture

Jindal Enterprises

Kavya Enterprise

Knick Knack

Matrix Medical System

Quali Surge Surgicals

Shalvi Engineering
Recent Developments
In June 2023, Shopcon, a Nigerian company established to offer a distribution store specialized in baby and mother products as well as an ebook to assist mothers in actively managing their knowledge of caring for a baby. It provides baby goods including bassinets, cribs, strollers, and more.
Baby Bassinets Market Report Scope
| | |
| --- | --- |
| Report Attributes | Details |
| Market size value in 2023 | USD 337.73 million |
| Revenue forecast in 2032 | USD 587.28 million |
| CAGR | 6.3% from 2022 – 2030 |
| Base year | 2022 |
| Historical data | 2019 – 2021 |
| Forecast period | 2023 – 2032 |
| Quantitative units | Revenue in USD million and CAGR from 2023 to 2032 |
| Segments covered | By Type, By Portability, By Materials, By Baby Age, By Distribution channel, By Price, By Region |
| Regional scope | North America, Europe, Asia Pacific, Latin America, Middle East & Africa |
| Customization | Report customization as per your requirements with respect to countries, region and segmentation. |