The global e-commerce logistics market was valued at USD 438.18 billion in 2021 and is expected to grow at a CAGR of 17.6% during the forecast period. Logistics for e-commerce include offering services such as warehousing, shipping, value-added services, and packaging. The development of digital technology has led to a surge in the need for the e-commerce logistics market across a variety of applications.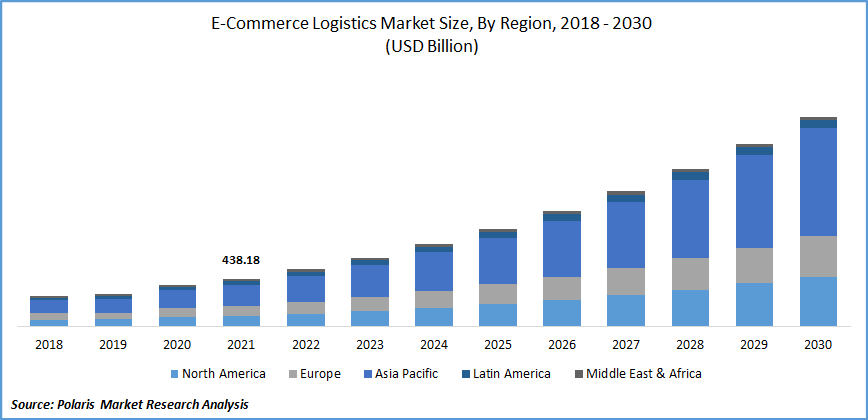 Know more about this report: Request for sample pages
The main forces behind the growth of the online business are the expansion of cross-border e-commerce and the rise in online consumers, particularly in developing countries. People are more frequently using e-commerce platforms to purchase goods, including food, electronics, personal care items, furniture, and apparel, instead of going to a real store.
As a consequence of growing smartphone use, drone delivery, digitalization, and digital payments, the market is expected to grow considerably over the course of the projected period. The market's expansion is further fueled by the growing use of technology such as the Internet of Things (IoT), barcodes, portable data terminals, GIS, and GPS.
Venture capitalists (VC) from all around the world are investing heavily in digital platforms firms in order to achieve this promise. In January 2021, venture capitalists (VC) invested USD 1.5 billion in the Asian firm Lalamove and USD 2.5 billion in the Indonesian business J&T Express. Due to the increased customer demand for the shortest delivery, the on-demand (rapid) delivery industry has experienced considerable inflows of money compared to other sectors.
The opportunity to compare price and product affordability online has driven consumers' desire to buy products online. The need for market operations has grown as a result. Players in the market now have quicker delivery methods because of the quick development of technology.
The COVID-19 pandemic outbreak resulted in more people purchasing online than in stores. But as e-commerce grows rapidly, companies must contend with convoluted supply chains, increasing fuel costs, and increased competition. It may be feasible for 3PLs to manage these restrictions and keep their competitiveness, but doing so becomes more challenging as multi-client fulfillment models are put into place. The multi-client fulfillment approach is less expensive than specialized fulfillment methods.
Compared to other industries, the COVID-19 pandemic outbreak had a favorable impact on the target market. Due to physical stores closing, people were forced to turn to online shopping for their most basic needs, including food, furniture, technology, and apparel. Even after the epidemic, last-mile deliveries for e-commerce were still the most sought-after logistical service, according to a DHL poll.
The stock for those non-essential commodities was left unclaimed in warehousing and fulfillment centers, taking up space that might have been utilized for necessary goods that are in high demand because no one could have predicted the abrupt decline in demand. Due to the significant shift in customer demand, businesses were unable to instantly increase their storage & transportation facilities, which resulted in a large backlog of orders. All the big businesses are either focused on M&A activity or going public to obtain additional cash to grow their operations in reaction to the epidemic.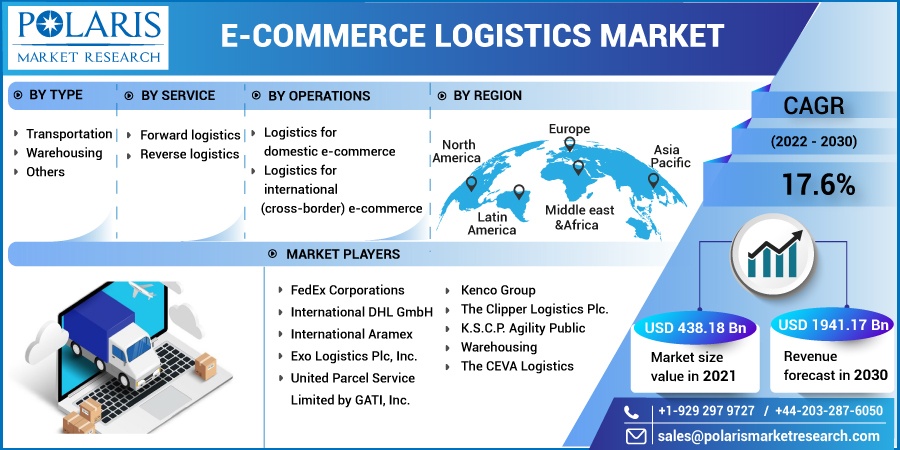 Know more about this report: Request for sample pages
Industry Dynamics
Growth Drivers
One of the main factors boosting the growth of the global e-commerce logistics market is the rise in cross-border e-commerce operations. Countries like the US, China, Singapore, Indonesia, Australia, France, Brazil, and India have very high levels of cross-border e-commerce. For instance, the top three exporters of clothes globally are China, India, and also the EU.
The two countries that export the most cosmetics and personal care items are France and the US. Due to the rise in per income per capita and the increased accessibility of international brands, consumers are favoring cross-border e-commerce more and more. The number of international trade corridors is also rising as a result of the expansion of cross-border commerce.
Trade corridors are comprehensive transportation systems that connect different geographic areas and encourage trade while fostering economic growth. These corridors are made up of integrated infrastructure, such as highways and trains, that connects cities or nations.
Additionally, logistic is important in cross-border e-commerce since networks for transportation and distribution are necessary for the movement of goods. As a result, it is anticipated that throughout the projection period, the demand for e-commerce logistics market will expand in tandem with the growth of cross-border e-commerce.
Report Segmentation
The market is primarily segmented based on service, type, operation, and region.
By Service

By Type

By Operations

By Region

Transportation
Warehousing
Others

Forward logistics
Reverse logistics

Logistics for domestic e-commerce
Logistics for international (cross-border) e-commerce

North America (U.S., Canada)
Europe (France, Germany, UK, Italy, Netherlands, Spain, Austria)
Asia Pacific (Japan, China, India, Malaysia, Indonesia, South Korea)
Latin America (Brazil, Mexico, Argentina)
Middle East & Africa (Saudi Arabia, UAE, Israel, South Africa)
Know more about this report: Request for sample pages
Transportations accounted for the largest market share in 2021
The market segment is divided into three categories: transportation, storage, and others. A further division of the transportation sector is made into airways, trains, roads, and waterways. Mega centers, hubs/delivery centers, and returns processing centers are other divisions of warehousing. Mega centers are enormous warehouses with a lot of space for storing items.
These mega centers transport goods to smaller facilities known as hubs or delivery centers. To speed up trade, hubs and delivery facilities are growing considerably. Mega centers have the biggest market share of almost 43% in the international market for warehousing. With a CAGR of over 20.0% over the forecast period, the hubs/delivery centers are anticipated to have the fastest growth.
In the service-based segment of more than 70% in 2021, transportation represented the largest proportion. Roadways accounted for the biggest market share of more than 52% in the transportation sector overall. Roadways account for a large portion of all last-mile deliveries, which accounts for their significant market share. The category for airways is anticipated to increase at the fastest rate, with a CAGR approaching 22.9%. The rapid increase is caused by the rising popularity of same-day and then next deliveries, for which air travel is the best mode of transportation.
Forward Logistics is expected to witness the fastest growth
The market is divided into forwarding logistics & reverse logistics based on type. With a revenue share of almost 69% in 2021, forward logistics is predicted to increase at the highest CAGR of 20.5% throughout the projection period. At the downstream end of an e-commerce supply chain, forward logistics manages the flow of goods, services, & commodities from suppliers to customers.
Inside the e-commerce supply chain, reverse logistics was created to manage the transportation of goods upwards and from customers to suppliers. These goods are refilled and changed back to the inventory, or they are returned to the sellers. Industry analysts estimate that merchants invest 8% of overall sales on returns, whereas incoming shipments generate 4% of global retail sales.
Domestics e-commerce market is expected to hold the significant revenue share
The e-commerce logistics market is fragmented into international and domestic segments based on the operation. In 2021, the domestic market accounted for almost 75% of total sales. However, throughout the projection period, foreign operations are anticipated to develop at the quickest CAGR of 23.0%. Due to the sharp rise in the number of cross-border exports, there is an expansion in global internet commerce.
International companies are collaborating with independent logistics service providers to increase their local footprint in emerging countries. There is a great demand for international brands in Asia-Pacific nations like India, Indonesia, and Thailand. Cross-border exports are anticipated to gain market share in the near future.
The marketplace for domestic digital platforms is growing quickly as consumers increasingly demand same-day deliveries over next-day deliveries or regular deliveries. The need for logistics services is also being greatly influenced by the rise in swift commerce for the delivery of food, groceries, and medicines. The demand for regional hubs and delivery facilities is rising quickly as a result of the surge in 10-minute deliveries.
The demand in Asia pacific continent is expected to witness significant growth
Comparing the Asia Pacific to other areas, it has become the industry's leading region. The region's high rate of smartphone and internet use has increased demand for online shopping and, unintentionally, for logistical services. The emergence of new e-commerce firms in the area has boosted the expansion of the e-commerce market.
The expansion of logistic services in China is greatly aided by many Chinese investments in enhancing infrastructures, such as ports, trains, and highways. Due to the rising demand for home delivery, which Japanese customers prefer over in-store shopping, Japan's e-commerce logistics industry is growing quickly.
Additionally, the market growth is greatly influenced by major advancements in digital transformation, the adoption of cutting-edge technology by small and medium-sized businesses, and the growing modernization of Asia Pacific nations.
In 2021, North America had the second-highest revenue share, with about 26%. Due to the existence of e-commerce behemoths like Amazon, Walmart, and eBay, the revenue share is significant. With a market worth of more than USD 1.5 trillion, Amazon continues to dominate the American e-commerce sector, accounting for approximately 38% of all e-commerce suppliers.
Competitive Insight
Due to the existence of several businesses, including major players like FedEx Company, DHL International Ltd, and Aramex Global, among others, the industry is quite competitive. To obtain an advantage over rival competitors, the players are taking part in a number of strategic efforts like growth, mergers, and acquisitions.
To expedite the delivery of products, businesses are creating warehouses in several nations throughout the world. The following are a few well-known companies in the worldwide e-commerce logistics market: FedEx Corporations, International DHL Gmbh, International Aramex, Exo Logistics Plc, Inc. United Parcel Service, Limited by GATI, Inc. Kenco Group, The Clipper Logistics Plc, K.S.C.P. Agility Public Warehousing, The CEVA Logistics.
Recent Developments
In June 2022 Delhiver a logistics and supply chain startup based in India, offers guaranteed same-day deliveries (SDD) in 15 cities and aims to assist businesses win over customers. In collaboration with companies, Delhivery has discovered SKUs that sell quickly and maintains them inside the warehouses closest to the final consumers. The fast-moving SKUs that are available for same-day delivery will be displayed by Delhivery's technology when the consumer puts the order for it.
In July 2022 Panattoni, a prominent leader in the development of industrial and logistical real estate worldwide, has chosen to spend US $200 million in India to build four industrial and logistical parks throughout important cities including Delhi, Bombay, Chennai, Hyderabad, Bangalore, and Pune. In order to establish four industrial and warehouse buildings on 250 acres of land for an integrated park, the business is in talks with the landowners.
E-Commerce Logistics Market Report Scope
| | |
| --- | --- |
| Report Attributes | Details |
| Market size value in 2021 | USD 438.18 billion |
| Revenue forecast in 2030 | USD 1,941.17 billion |
| CAGR | 17.6 % from 2022 - 2030 |
| Base year | 2021 |
| Historical data | 2017 - 2021 |
| Forecast period | 2022 - 2030 |
| Quantitative units | Revenue in USD million/billion and CAGR from 2022 to 2030 |
| Segments covered | By Type, By Service, By Operation, By Region |
| Regional scope | North America, Europe, Asia Pacific, Latin America; Middle East & Africa |
| Key companies | FedEx Corporations, International DHL GmbH, International Aramex, Exo Logistics Plc, Inc. United Parcel Service, Limited by GATI, Inc. Kenco Group, The Clipper Logistics Plc., K.S.C.P. Agility Public Warehousing, The CEVA Logistics |