The global bakery contract manufacturing market was valued at USD 19.49 billion in 2021 and is expected to grow at a CAGR of 9.2% during the forecast period. Changing lifestyles, with an expanding middle-class population and rising disposable incomes, will likely drive demand for baked goods, complementing the bakery contract manufacturing market.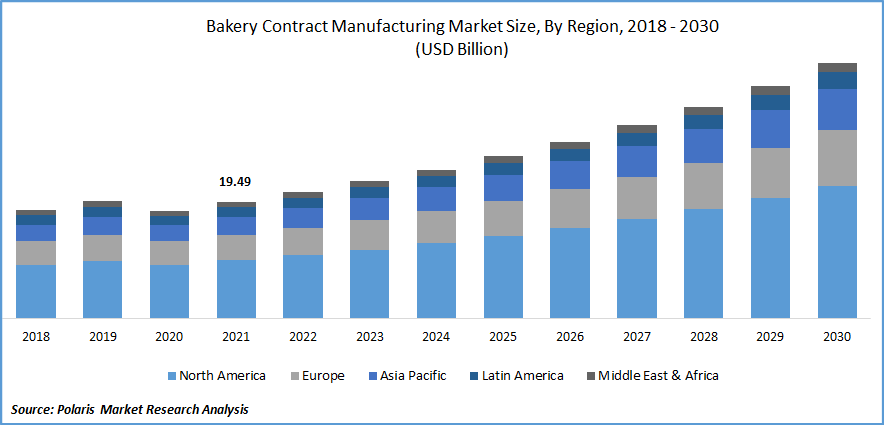 Know more about this report: Request for sample pages
The COVID crisis affected the entire food supply chain, one of the most important aspects of any economy, from the farm to the consumer. The pandemic impacted labor, consumer demand, and bakery production facilities. It also affected food-trade legislation, which restricted food trade and caused financial constraints in the food supply chain.
Rising consumer demand for healthy food products and an aging population drive the market. The pandemic caused a significant shift in consumer demand for food and beverages, significantly changing how supply chains operate globally. This has led to increased demand for processed foods such as baked goods, and manufacturers are moving to contract manufacturing to meet the increased demand. Gen Z customers prefer personalized and unique products and experiences over physical goods.
Furthermore, social networking, online influencers, and online marketing appear to significantly impact Gen Z's purchasing decisions, which is expected to increase demand for this service. Growing household consumption of healthy baked goods, new product launches, retail network expansion, and population growth are some of the major factors expected to promote bakery industry growth, which, in turn, is expected to augment demand for this industry.
Eating out, takeaways, and fast food are all common components of standards of Generation Z. According to the FSA's Food and You survey, growing preference for healthy baked goods and rising acceptance of vegan baked goods among younger demographics is expected to boost the market. Bakery contract manufacturers are increasingly involved in customized bakery product formulations. Market participants emphasize healthy and vegan products in response to rising demand for healthy food. Furthermore, the ability to pivot to new initiatives will almost certainly boost industry growth. With technological advancements and ongoing innovations in the bakery contract manufacturing system, the market is expected to have new opportunities. During the forecast period, it is expected to provide numerous new growth opportunities in the market.
Furthermore, an emerging trend for developing clean-label products with distinct flavors and improved texture and taste is expected to lead to advancements in technologies used in the preparation of baked food products, which is expected to provide rising new growth opportunities for the market over the forecast period.
The outbreak of COVID-19 pandemic has brought many unexpected changes to the global economy, affecting all industries. The COVID-19 pandemic has significantly impacted market growth, posing a significant challenge to market growth. It has also impacted food trade legislation, which restricts food trade and causes financial constraints in the food supply chain.
In all of its manifestations, the Ukraine crisis has alarming implications for a global economy already impacted by COVID-19, with negative consequences for developing countries. Russia and Ukraine both have a significant impact on the global economy. This is because they are the primary suppliers of raw materials on the global market. Rising raw material prices are expected to reduce profit margins in baked goods, limiting the market growth. These elements are expected to challenge the market's growth significantly.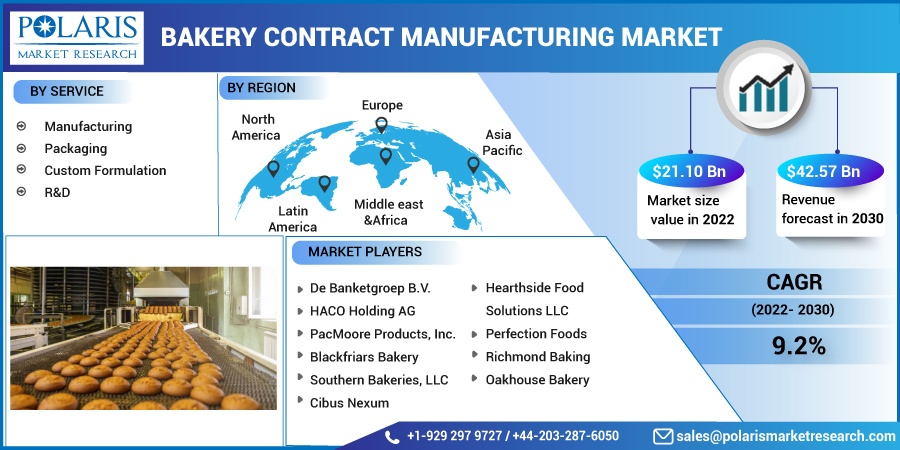 Know more about this report: Request for sample pages
Industry Dynamics
Growth Drivers
Contract manufacturing involves using a customer's formula (recipe) and processing methods agreed upon between the customer and the manufacturer; usually, the bakery and its customer sign confidentiality agreements to protect each other's interests. The finished goods are either delivered to the customer or stored in a warehouse. The customer is generally solely responsible for marketing foods produced under contract manufacturing. The contract manufacturer has commercial-scale equipment to manufacture and package a food product, which adds value to the customer. Because most bakeries do not use all of the capacity of their lines, they may look for outside activities (contract manufacturing) to fill the empty time on those lines. The baked goods market contains sugar, fats, and delivered nuts and fruits.
Furthermore, bakery product manufacturers are experimenting with new methods to expand the global bakery product market. These modern technological means are advantageous in providing products with a high nutritional value, a pleasant taste, and a pleasing appearance. As a result, the growing demand for bakery products is expected to drive the market during the forecast period. The rise in consumer preference for convenience foods due to global urbanization propels the bakery products market forward.
Changing lifestyles, a growing middle class, and rising disposable incomes are expected to drive demand for baked food products, bolstering the growth of the bakery contract manufacturing market. Technology is propelling small, localized industrial food manufacturers to demonstrate how they can carve out a niche while expanding to large-scale production. Increased demand for fast and packaged foods is expected to prompt manufacturers to increase production capacity, increasing demand for baked goods throughout the forecast period.
Furthermore, the growing awareness of advertisements with appealing images and the availability of a wide variety of flavors in bakery products are expected to impact demand for processed foods positively and, as a result, on the bakery industry. On the other hand, rapid urbanization in developing countries is expected to boost market growth during the forecasted period.
Report Segmentation
The market is primarily segmented based on service and region.
By Service

By Region

Manufacturing
Packaging
Custom Formulation
R&D

North America (U.S., Canada)
Europe (France, Germany, UK, Italy, Netherlands, Spain, Russia)
Asia Pacific (Japan, China, India, Malaysia, Indonesia, South Korea)
Latin America (Brazil, Mexico, Argentina)
Middle East & Africa (Saudi Arabia, UAE, Israel, South Africa)
Know more about this report: Request for sample pages
The manufacturing segment accounted for the maximum revenue in 2021
In 2021, the manufacturing category dominated the market, accounting for the largest revenue share. The increasing use of automation and robotics in the bakery industry improves the quality of baked goods and the efficiency and productivity of contract bakers. Automation technologies aid in reducing human intervention in the baking process, resulting in lower food contamination risks and the production of high-quality baked goods. Increasing labor and energy prices worldwide and rising ingredient costs in baked goods are expected to drive bakeries to use advanced bakery techniques or outsource their baking processes to improve overall production capacity.
The custom formulation and R&D category segment is expected to grow at a high CAGR over the forecast period, owing to the increasing prevalence of lifestyle-related diseases worldwide, which has resulted in increased consumer awareness about the benefits of a healthy diet, which primarily consists of natural food and gluten-free products, thereby augmenting demand for bakery contract manufacturing. The current trend to develop clean-label products with unique flavors and improved texture and taste is expected to lead to advances in baked goods preparation. The rising global demand for healthy baked goods is expected to increase R&D activities and custom formulation of new and nutritional products.
North America accounted for the most significant revenue in 2020
North America dominated the market due to rising demand for processed foods, increasing immigration, and technological advancements in the bakery industry, all of which contributed to the growth of the bakery contract manufacturing market. The growing popularity of vegan foods among the general public is expected to boost demand.
The food and beverage industry in Central and South America has grown significantly in recent years due to significant investments in the region's manufacturing sector. Rapid urbanization and increased consumer spending capacity in countries such as Argentina, Brazil, and Chile have all contributed significantly to the growth of the food and beverage industry.
Asia Pacific is expected to grow at a high CAGR during the forecast period, owing to the rising middle-class population, increasing spending power, and changing millennial preferences toward processed food products, which is expected to drive demand for bakery contract manufacturing. Europe led the market for bakery contract manufacturing owing to consumer health awareness, dietary shifts, and changes in their preferences for nutritional food and beverages, which are some of the key trends observed in the European food and beverage industry that are expected to augment product demand.
Competitive Insight
Key players in the market are De Banketgroep B.V., HACO Holding AG, PacMoore Products, Inc., Blackfriars Bakery, Southern Bakeries, LLC, Cibus Nexum, Hearthside Food Solutions LLC, Perfection Foods, Richmond Baking, Oakhouse Bakery, Adventure Bakery LLC, Michel's Bakery, Inc., Bake Works, Inc., Stephano Group Ltd., Tradition Fine Foods Ltd.
Recent Developments
In Dec 2021: Hearthside Foods Solutions, LLC acquired Weston Foods Ambient Division assets. The acquisition will strengthen Hearthside's connection to 43 facilities in Europe, the United States, and Canada.
Bakery Contract Manufacturing Market Report Scope
| | |
| --- | --- |
| Report Attributes | Details |
| The market size value in 2022 | USD 21.10 billion |
| Revenue forecast in 2030 | USD 42.57 billion |
| CAGR | 9.2% from 2022 - 2030 |
| Base year | 2021 |
| Historical data | 2019 - 2021 |
| Forecast period | 2022 - 2030 |
| Quantitative units | Revenue in USD billion and CAGR from 2022 to 2030 |
| Segments Covered | By Service, By Region |
| Regional scope | North America, Europe, Asia Pacific, Latin America; Middle East & Africa |
| Key Companies | De Banketgroep B.V., HACO Holding AG, PacMoore Products, Inc., Blackfriars Bakery, Southern Bakeries, LLC, Cibus Nexum, Hearthside Food Solutions LLC, Perfection Foods, Richmond Baking, Oakhouse Bakery, Adventure Bakery LLC, Michel's Bakery, Inc., Bake Works, Inc., Stephano Group Ltd., Tradition Fine Foods Ltd. |