The global barrier systems market size was valued at USD 15.13 billion in 2020 and is anticipated to grow at a CAGR of 8.9% during the forecast period. The adoption of the product has increased over the years on account of the growing need to provide safety against excessive speed, vehicle component failure, driver fatigue or inattention, and vehicle crashes, among others.
The devices are developed for control of vehicular access to specified areas while providing security to facilities. These systems are generally installed at entry points to allow access to authorized vehicles. The products are also used for other functionalities such as guiding traffic around a controlled area, absorbing vehicle impact in case of collisions, and impairing a vehicle during intrusion attempts.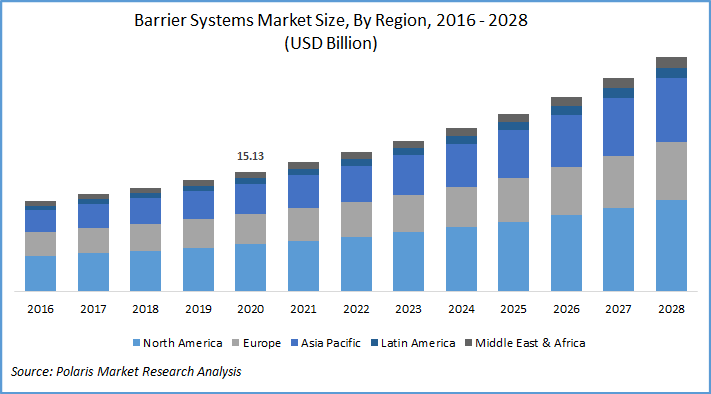 Know more about this report: request for sample pages
Industry Dynamics
Growth Drivers
In August 2019, Lindsay Corporation introduced its new solution, ABSORB-M in the market. This offering is a non-directive, water-filled crash cushion system aimed at improving safety for narrow areas. The solution is equipped with interchangeable, stackable elements coupled with accessible forklift points that allow for easy pickup.
In April 2019, the company also launched TAU-M, which is a partially reusable crash cushion system. This system offers safety and protection to the temporary, work zone and permanent hazards. The system has features such as shortened length, durable slider panels, free-standing backstops, and bi-directional traffic applications. These new products expand the company's offerings in the market while enabling it to strengthen its market presence and cater to the growing consumer demands.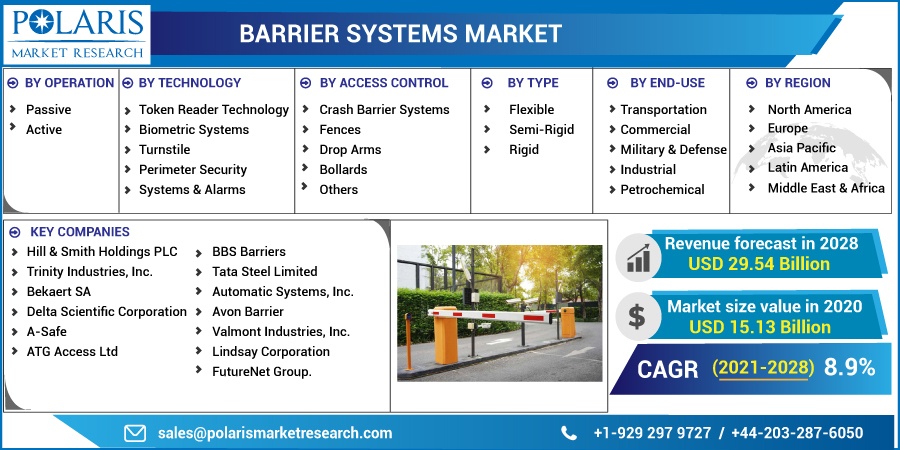 Know more about this report: request for sample pages
Different types of barrier systems available in the market include bollards, drop arms, crash barriers, and fences among others. Drop arm barriers are generally installed at entry and exit points of parking lots and garages to provide access to authorized vehicles.
Some drop-arm barriers are also capable of damaging unauthorized vehicles in case of a breach. Semi-rigid products such as W-Beam and Three-Beam barriers are installed to redirect vehicles through-beam action of rails. These systems are capable of transferring impact loads to the ground through closely spaced posts.
Barrier Systems Market Report Scope
By Operation

By Technology

By Access Control

By Type

By End-Use

By Region

Token Reader Technology
Biometric Systems
Turnstile
Perimeter Security Systems & Alarms
Others

Crash Barrier Systems
Fences
Drop Arms
Bollards
Others

Flexible
Semi-Rigid
Rigid

Transportation
Commercial
Military & Defense
Industrial
Petrochemical
Others

North America (U.S., Canada)
Europe (Germany, UK, France, Italy, Spain, Netherlands, Austria)
Asia Pacific (China, India, Japan, South Korea, Malaysia, Indonesia)
Latin America (Brazil, Mexico, Argentina)
Middle East & Africa (Saudi Arabia, South Africa, Israel, UAE)
Know more about this report: request for sample pages
Operation Outlook
On the basis of operation, the market is segmented into passive and active. The passive segment accounted for a major share in 2020. Passive products are obstacles with no moving parts developed for protection from interference. These are permanent barrier systems preventing access to critical facilities on an ongoing basis. The products such as bollards and perimeter fencing systems are designed to absorb shocks and transmit impact to the foundation. Passive products are integrated with active ones at times to offer complete security to a facility.
The upgrade of transportation infrastructure, especially in developing countries, growth in the automotive sector, and increased safety concerns contribute significantly to the growing adoption of the product. The increasing need for efficient traffic management and control of road networks encourages increased installation of barrier systems.
Installation of the product offers enhanced road safety while reducing the number of accidents and their impact. Growing installation of barrier techniques at airports and railway stations, increasing use in the commercial sector, proactive government initiatives supporting infrastructure development, and stringent safety regulations are expected to further boost the growth of the market.
Technology Outlook
On the basis of technology, the market is segmented into token reader technology, biometric systems, turnstile, perimeter security systems & alarms, and others. In 2020, the token reader technology segment accounted for a significant market share owing to increasing safety concerns, and ease of use. Market players are developing customized solutions using this technology to address increasing safety concerns and offer automated access control, parking control, mobile defense, and traffic management solutions.
Access Control Outlook
On the basis of access control, the market is segmented into crash barrier systems, fences, drop arms, bollards, and others. Crash barrier systems accounted for a major share of the barrier systems market in 2019. Increasing incidences of road accidents, growing road safety concerns, and the rising need to minimize vehicle impact are some factors driving the growth of this segment. Governments are investing in infrastructure development and introducing road safety regulations, promoting the adoption of crash barrier systems.
Type Outlook
On the basis of type, the market is segmented into flexible, semi-rigid, and rigid. The semi-rigid barrier systems segment accounted for a major share in 2019. These products are installed close to hazards and have lower deflection levels. These barrier systems are usually manufactured using rails or steel beams and use a combination of beam bending and tensioning for restraining and redirecting incoming traffic.
End-Use Outlook
On the basis of end-use, the market is segmented into transportation, commercial, military & defense, industrial, petrochemical, and others. The military and defense sector widely use barrier products for perimeter security and restricted access to personnel & employees. Barrier systems are used to prevent unauthorized and hostile vehicular access in high-security areas. Growing terrorism and illegal trafficking across borders have increased the adoption of barrier technology in this sector.
Geographic Overview
North America accounted for a significant share of the global market in 2020 owing to the increasing demand from the defense sector. Rising terrorism and growing safety concerns have increased the adoption of the product in the region. Moreover, concerns regarding increasing road safety and stringent government regulations have accelerated the growth of the market in the region.
Vendors in the market are developing advanced safety solutions to meet the growing market demand. Well-established construction and transportation infrastructure coupled with the growing need for effective traffic management and the rising occurrence of traffic accidents boost the growth of the barrier systems market in North America.
Competitive Landscape
The leading players in the market include Hill & Smith Holdings PLC, Trinity Industries, Inc., Bekaert SA, Delta Scientific Corporation, A-Safe, ATG Access Ltd, BBS Barriers, Tata Steel Limited, Automatic Systems, Inc., Avon Barrier, Valmont Industries, Inc., Lindsay Corporation, and FutureNet Group. These players are expanding their presence across various geographies and entering new markets in developing regions to expand their customer base and strengthen their presence in the market.