The global bio-plasticizers market size was estimated to be USD 1,088.5 million in 2018 and is expected to grow at a CAGR of around 8.8% from 2019 to 2026. Bio-plasticizers are the polymer additives which improve the performance of plasticized materials in terms of softness, volatility, workability and flexibility. The purpose of bio-plasticizers is achieved by its application on plasticize materials such as polyvinyl chloride (PVC), polybutadiene and others.
The bio plasticizer market is witnessing tangible growth on account of rising demand for PVC products in innumerable end-use applications. The bio-plasticizers are obtained from chemically modified renewable products such as starch, castor oil, palm oil and soybean oil. With a ban being imposed on few plasticizers such as phthalate-based in purely safe applications including food packaging and toys, demand for them entered the non-environmentally friendly products.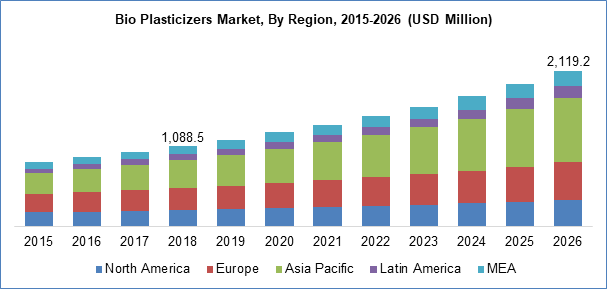 Know more about this report: request for sample pages
Product Type Analysis
The global bio plasticizer market is segmented based on product type, applications and regional markets. In product category, castor-oil based (glycol esters and sebacates) and epoxides are extensively used owing to their excellent properties such as high stability in concurrence with feature-rich output. The other product types include succinic acid and citrates.
Leading demand for flexible PVC and low VOC emissions including regulation-justified ceasing of phthalate-based plasticizers are anticipated to drive Bio-plasticizer market. The government policies on misuse of phthalates in regard to environmental damage could be overcome by bioplasticzers which holds enough potential to replace phthalates. Thus bio-plastizers will foster a welcome addition to applications such as medical devices, food packaging, toys and personal care products. Thus, this market paints a rosy picture concerning end-use applications and compliant regulatory framework over the forecast period.
They are entirely bio-degradable due to their organic composition whereas this advantage is lost in inorganic plasticizers. The rising demand for consumer goods, medical materials and wires and cables in developing regions such as Asia Pacific and Middle East is good to impact growth in this market in the forthcoming years.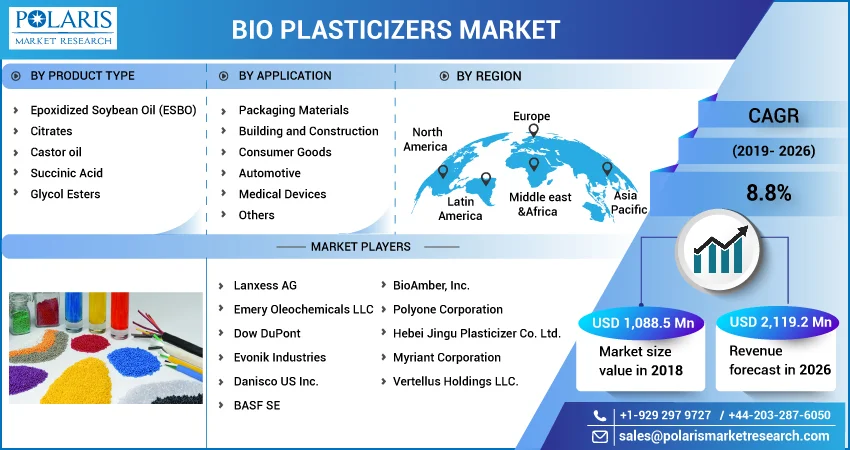 Know more about this report: request for sample pages
Bio Plasticizers Market Report Scope
By Product

By Application

By Regions

Epoxidized Soybean Oil (ESBO)
Citrates
Castor oil
Succinic Acid
Glycol Esters

Packaging Materials
Building and Construction
Consumer Goods
Automotive
Medical Devices
Others

North America
(U.S. and Canada)
Europe
(UK, Germany, France)
Asia pacific
(India, China, Japan)
Latin America
(Mexico, Brazil)
MEA
Know more about this report: request for sample pages
Application Analysis
Growth in construction industry in developing nations such as India, China, Brazil etc. are keenly viewed to drive market during forecast period. Reduction in supply of harmful phthalates and making consumers wise to these changes are driving growth of bio-plasticizer market. The prohibition on phthalate-based plasticizers in consumer goods, food packaging material and medical products have led to improvement of eco-friendly bio-based plasticizers.
The application in PVC polymers will turn out to be a critical driver to bio-plasticizer industry. PVC polymers are not much of use without addition of additives and once prepared the polymer finds numerous applications including polymer design.
They have also indirectly helped the polymer industry which is a driver to the healthcare industry. Thus bio- plasticizers are indirectly assisting healthcare which is an expanding industry in U.S. North America and Europe will be prime markets to bio-plasticizers.
Bio-plasticizers assist in reducing water requirement and make concrete strong and functional. These are most probably a combination of organic and inorganic substances that help reduce water content for functionality. Thus they help conserve natural resource such as water and hence are useful in flooring and wall coverings. The bio-plasticizers market is further dependent on technological advancements because of numerous requirements from end-use industries related to product specification and versatility.
The rapid evolving lifestyles and rise in disposable incomes have given vent to luxurious applications to boost the market. The endless list of applications including toys, electronic equipment, cars, packaging materials, personal care product and many others are witnessing phenomenal days. The global bio-plasticizer market is competitive in nature and high brand differentiation equates to customers switching loyalties. This limits the growth of bio-plasticizer market. There are unlimited raw material suppliers and industry is witnessed to focused R&D activities and constant innovations to discover newer application materials. This is necessary factor to driving growth.
The two most popular applications for bio-plasticizers are automotive fabrication materials and flexible PVC packaging. Other types of applications include consumer goods, wires and cables, floorings and walls, adhesives, sealants, medical, sports and coated fabrics. Bio-plasticizers are effectively required in thermo-insulation panels, architectural molds and sculptures that depend intrinsically on adhesives and sealants.
Regional Analysis
Asia Pacific is the fast-growing region in market in both volume and sales revenue. Larger sales in the regions end-use industries and flourishing economy of its developing South Asian Nations are factors leading to growth of this market.
North America is a very significant market for this industry because of technological adroitness in consumer goods and packaging industry, while nurturing growth in many end-use industries especially the automotive industry in the region. North America is most promising market for bio plasticizers thanks to a growing manufacturing industry. A good and sound domestic demand with stringent regulations in place also promotes bio plasticizers in the region. Emerging economies such as India and Brazil are no less important in the build-up to bio-plasticizers industry with the countries making important contributions to growth.
Competitive Analysis
The global bio-plasticizers market is highly competitive and many factors running for the market including joint mergers and collaborations, technological development and material science know-how. Large number of key players are present in Bio-plasticizer industry. The leading market players include Lanxess AG, Emery Oleochemicals LLC, Dow DuPont, Evonik Industries', Danisco US Inc., BASF SE, BioAmber, Inc., Polyone Corporation, Hebei Jingu Plasticizer Co. Ltd., Myriant Corporation and Vertellus Holdings LLC.