The global biomethane market was valued at USD 2.21 billion in 2022 and is expected to grow at a CAGR of 5.8% during the forecast period. Energy-producing biomethane is a compressed form of biogas, sometimes referred to as Renewable Natural Gas (RNG). Natural gas known as biomethane is created when organic materials like plant and animal waste, sewage, manure, industrial pollution, and green waste, among others, are gasified or respired by fermentation. RNG is an environmentally benign gas with a varied range of uses, including heating, home cooking, and power generation, because its basic material is organic.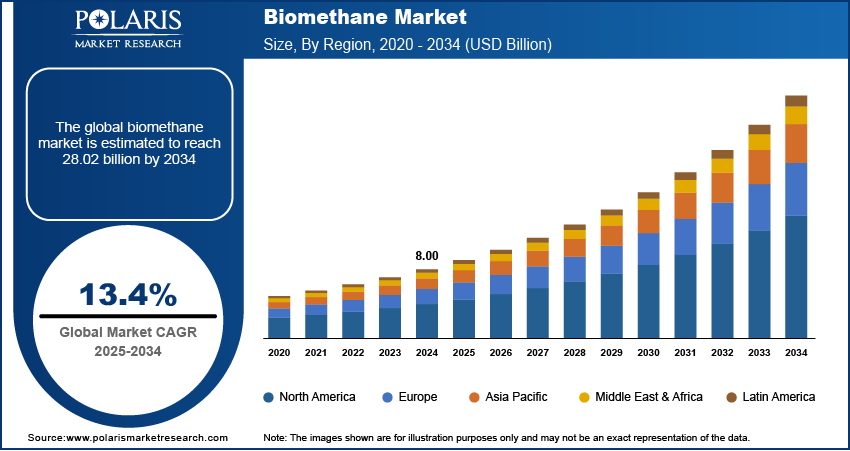 Know more about this report: Request for sample pages
In the automobile sector, it is also utilised as an alternate fuel. Being more eco-friendly than other fuel sources, it is perfect and decreases carbon dioxide emissions from the environment. To create biomethane, biogas is processed to remove the high calorific value methane. As a potential source of energy for the automotive industry, biomethane lowers greenhouse gas emissions. Significantly, the production of biomethane uses the same infrastructure as that of natural gas, hence avoiding the need for additional production expenses.
The enormous potential for use of biomethane in the energy production and automotive industries is what drives the global demand for it. A refined form of the green gas biomethane could be utilised as a fuel for automobiles. Due to the increasing demand for renewable natural gas as vehicle fuel, the automotive industry is expected to expand. RNG is also suitable for automobile engines, which further accelerates this market. In December 2021, the EPA finalised updated national greenhouse gas (GHG) emissions requirements for light trucks and passenger vehicles for Model Years 2023–2026.
With the adoption of the final regulations, GHG emissions would be significantly reduced, along with other criterion pollutants. Green energy can be produced by injecting it into main gas networks. Reduced greenhouse gas emissions and the use of clean energy are now more important due to growing worries about global warming. Throughout the projection period, market demand is expected to be driven by worries about global energy security brought on by rising power and heating consumption.
The outbreak of the coronavirus disease caused chaos and panic around the world and put an end to all regular daily activities like attending work, gatherings, meetings, travelling between countries, and sometimes even stepping foot outside the house. Forestry harvests and residues are essential to the biogas sector. The epidemic has caused regional or national movement restrictions in significant countries, which presents a considerable problem for the sector. Biogas and biomethane have nevertheless continued to be used to produce heat and power.
The huge investment needed to set up a production unit is one of the key obstacles that could hinder the expansion of the biogas business. A large investment is also needed to set up the biogas distribution and transmission lines. Due to the pandemic, the market is anticipated to experience difficulties, although these difficulties are anticipated to pass quickly.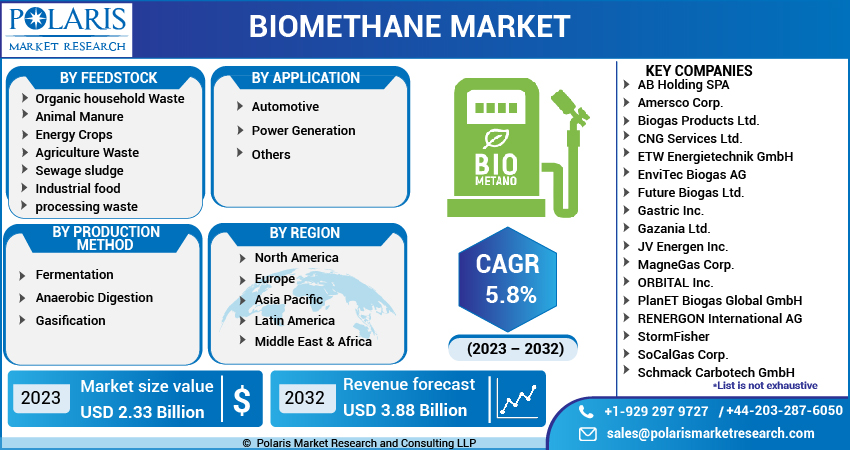 For Specific Research Requirements, Request for a Customized Report
Industry Dynamics
Growth Drivers
The rising demand for renewable energy has accelerated the demand for energy plants to generate biomethane. For this, the major players are concentrating on partnerships and the development of plants which is driving the growth of the biomethane market over the forecast period.
As per the IEA, In 2022, the capacity for renewable energy is predicted to grow by more than 8%, totalling over 320 GW. For instance, in December 2021, AstraZeneca is collaborating with the clean energy firm Future Biogas at its facility that will produce bio-methane instead of natural gas to just provide heat & power for AstraZeneca's UK locations. Through this project, the UK gas system will receive more renewable gas. AstraZeneca's "Ambition Zero Carbon" pledge, which calls for becoming carbon-neutral across all of its operations by 2025 and carbon-positive by 2030, is fundamentally based on switching to the 100 per cent renewable energy for heat & power. Therefore, the market is growing rapidly as natural products are high in demand.
Report Segmentation
The market is primarily segmented based on feedstock, application, production method, and region.
By Feedstock

By Application

By Production Method

By Region

Organic household Waste

Animal Manure

Energy Crops

Agriculture Waste

Sewage sludge

Industrial food processing waste

Others

Automotive

Power Generation

Others

Fermentation

Anaerobic Digestion

Gasification

North America (U.S., Canada)

Europe (France, Germany, UK, Italy, Netherlands, Spain, Russia)

Asia Pacific (Japan, China, India, Malaysia, Indonesia, South Korea)

Latin America (Brazil, Mexico, Argentina)

Middle East & Africa (Saudi Arabia, UAE, Israel, South Africa)
Know more about this report: Request for sample pages
The power generation segment is expected to witness the fastest growth
The power-generating category now maintains the greatest market share due to the rising need for home electric grid networks for various purposes including cooking and water heating. Due to the rapidly expanding urbanization that has been the driving force behind the segment expansion, there have also been more building construction projects in the residential sector.
Additionally, many anaerobic digesters are converting to enhanced biogas units for power generation from biogas to achieve greater efficiency. Due to the growing population, there is a greater need for power, which drives up the segment that produces electricity.
The Organic household waste segment industry accounted for the highest market share in 2022
Biowaste, municipal waste, sewage waste, agricultural waste, and others are categories for organic household waste. The organic household & waste category has the biggest market share because this raw material is widely accessible worldwide. The natural and important environmental process of organic matter biodegradation takes place in both land and marine habitats. The procedure participates in several microbially catalysed processes, including oxidation, hydroxylation, hydrolysis, reduction, dehalogenation, and dealkylation. Carbon dioxide and methane are produced during the degradation of organic matter, whereas a significant amount of methane is also produced during anaerobic decomposition.
Agriculture waste and bio waste are the main raw materials that are widely accessible everywhere. For instance, as per the ICAR, Around 1.3 billion tonnes of food intended for human use are lost or discarded annually, and domestic kitchen garbage created by households accounts for nearly one-third of all biodegradable municipal solid waste. Also, China produces around 4.8 billion tonnes of agricultural waste annually. Around 350 million tonnes are produced annually in India, 60 million tonnes in France, 81 million tonnes in Canada, and 291 million tonnes in Brazil's agro-industrial system. Therefore, the organic household waste segment growing due to its benefits for various processes.
The anaerobic digestion segment industry accounted for the largest market share in 2021
The anaerobic digestion segment significantly dominates the industry. A useful feedstock for anaerobic digestion is a wet waste with a high organic content, which is produced by some industrial subsectors, including the food and beverage and chemicals industries. In these sectors, producing biogas can also have the additional advantages of treating waste and generating on-site heat and energy. Although the U.S. produces the most biogas overall, 75% of it comes from landfills. The 1,497 anaerobic plants in this nation handle sewage sludge, biowaste, and commercial and industrial waste.
On the other hand, agricultural and industrial wastes are the main sources of biogas production in Germany. A regular individual can utilise the anaerobic digestion process to produce such environmentally benign methane on a modest scale because it is simple to operate and affordable. As a result, the anaerobic digestion market is rapidly expanding globally.
Europe acquired largest revenue share in 2022
The region's growth is influenced by industry growth and development as well as rapid urbanisation. Because of growing government support and investments in biogas technology, the market is expected to grow in Europe throughout the forecast period. Manufacturers in the biomethane business can make a sizable income because of favourable European government rules.
Further, due to the advancement of cutting-edge waste treatment methods, North America is the second largest market for biogas plants. The majority of large-scale enterprises feature wastewater biogas plants that process one to several hundred million gallons of wastewater per day.
The farmers in the Asia-Pacific region practise mixed farming, which means they have both plantation and agricultural land in addition to raising livestock. Additionally, the structure of cattle varies greatly depending on the region. The combinations of cattle vary depending on the cultures and faiths present. To increase the social acceptance of biogas users—cows, pigs, and/or hens—it is crucial to consider the availability and preferences of manure.
Competitive Insight
Some of the major players operating in the global biomethane market include AB Holding Amersco Corp., Biogas Products, CNG Services, ETW Energietechnik, EnviTec Biogas, Future Biogas, Gastric Inc., Gazania, JV Energen, MagneGas Corp., ORBITAL., PlanET Biogas Global, RENERGON International, StormFisher, SoCalGas Corp., Schmack Carbotech, SGN PLC, VERBIO, and WELTEC Biopower.
Recent Developments
In May 2021, BayoTech and IBMS Group have announced a deal to start the UK's first renewable hydrogen production using biomethane produced from food waste as a fuel. A total of 1,000 kg of renewable hydrogen will be produced each day as part of the initiative, which will be used to refuel zero-emission cars in the UK's Surrey and London regions
Biomethane Market Report Scope
| | |
| --- | --- |
| Report Attributes | Details |
| Market size value in 2023 | USD 2.33 billion |
| Revenue forecast in 2032 | USD 3.88 billion |
| CAGR | 5.8% from 2023 – 2032 |
| Base year | 2022 |
| Historical data | 2019 – 2021 |
| Forecast period | 2023 - 2032 |
| Quantitative units | Revenue in USD billion and CAGR from 2023 to 2032 |
| Segments Covered | By Feedstock, By Application, By Production Method, By Region |
| Regional scope | North America, Europe, Asia Pacific, Latin America; Middle East & Africa |
| Key Companies | AB Holding SPA, Amersco Corp., Biogas Products Ltd., CNG Services Ltd., ETW Energietechnik GmbH, EnviTec Biogas AG, Future Biogas Ltd., Gastric Inc., Gazania Ltd., JV Energen Inc., MagneGas Corp., ORBITAL Inc., PlanET Biogas Global GmbH, RENERGON International AG, StormFisher, SoCalGas Corp., Schmack Carbotech GmbH, SGN PLC, VERBIO GmbH, and WELTEC Biopower GmbH |