The global biorational market was valued at USD 4.55 billion in 2022 and is expected to grow at a CAGR of 20.7% during the forecast period.
The rising use of biorationals therapy in the crop production business for strengthening resistance against pests and insects due to their high effectiveness is a major driver driving global revenue growth. The biorationals are low-toxic insecticides and pesticides that halt the regular eradication of different insects and pests. Biorationals are used to break the cycle of pests and insects and preserve the beneficial bacteria and pests in the soil and on the leaves, thus increasing the production of agricultural products.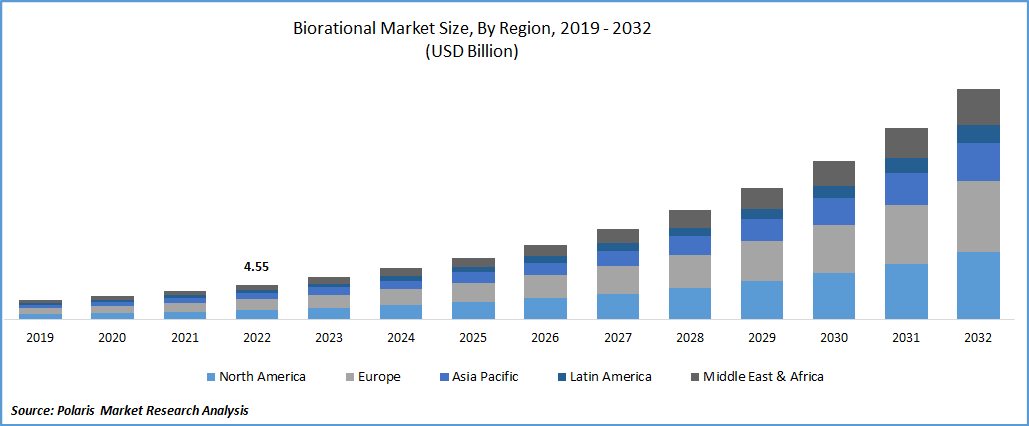 Know more about this report: Request for sample pages
Biorationals are becoming more popular in agricultural techniques because they help prevent seed- and leaf-borne illnesses and diseases, as well as reduce the amount of toxic residue on fruits and vegetables. Additionally, according to a review paper by Akinlolu Olalekan et al. published in 2021, a biorational approach for using organic amendments to accomplish sustainable agricultural practices calls for the use of botanicals, insecticides, & organic minerals to have plant fitness & disease suppression.
Additionally, the biorationals products have great specificity, are reasonably priced, and are of a healthy and environmentally beneficial type. Regular insecticides harm beneficial species while degrading the quality of the soil and crops. The market for biorational is also driven by an increase in customer demand for organic food, consumer concerns about food safety, and tight food safety standards. The product's short lifespan and rapid breakdown are predicted to be a constraint on the biorational industry.
COVID-19 is really an unexpected public health crisis that has impacted nearly every business, and the long-term impacts are expected to have an influence on industry growth during the forecast period.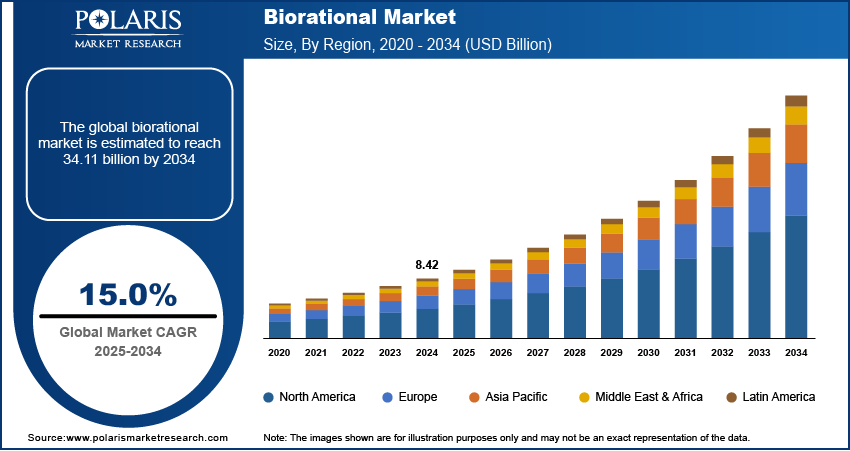 Know more about this report: Request for sample pages
Industry Dynamics
Growth Drivers
Increasing use of integrated pest control is anticipated to fuel industry expansion during the forecasted period. Numerous potentials for bio-based products have been provided by synthetic pesticides' detrimental impacts on beneficial species in agriculture and terrestrial ecosystems. For instance, Research by Luis Fernando Esquivel-Cervantes et al., published in 2022, examines the role of biorational products in the prevention & treatment of several diseases in greenhouse agriculture. The use of these products is an alternate method of disease management that saves tomato growers, while also having less of an adverse effect on the environment.
During the projected period, the market for biorational products is anticipated to rise due to the rising use of advanced pest management. The detrimental effects of synthetic pesticides on beneficial organisms found in agricultural goods have opened up the profit potential for the development of bio-based products.
Report Segmentation
The market is primarily segmented based on product, crop, and region.
By Product

By Crop

By Region

Botanical
Semiochemicals
Others

Fruits & Vegetables
Cereals
Grains
Corn
Others

North America (U.S., Canada)
Europe (France, Germany, UK, Italy, Netherlands, Spain, Russia)
Asia Pacific (Japan, China, India, Malaysia, Indonesia. South Korea)
Latin America (Brazil, Mexico, Argentina)
Middle East & Africa (Saudi Arabia, UAE, Israel, South Africa)
Know more about this report: Request for sample pages
Botanical product is expected to dominate the industry's market sector
Botanicals will dominate the market in 2022, accounting for considerable sales. One of the primary drivers of biorational market expansion is the growing use of natural plant products as pesticides and to control pests like nematodes, red spider mites, termites, and aphids. Around 2000 plant species are used to control pests worldwide. The use of botanicals is thought to be the most cost-effective and environmentally friendly strategy for pest management of grains that have been stored. Locals employ extracts from various plant parts as pesticides against stored goods, which is a more cost-effective and biodegradable way.
In the environment, botanicals often have a short shelf life since they degrade quickly in the presence of light and air. As a result, they only effectively control pests for a day or two at most. The majority of plants have a wide spectrum, which causes them to also kill helpful insects.
Fruits & vegetable will account for a higher share of the market.
Fruits and vegetables had the highest revenue share in 2022, and this sector is predicted to continue to dominate the market for the length of the forecast. Market growth is primarily being driven by the high product demand from crop protection activities like foliar spraying of insecticides and pesticides. The effects of biorational pesticides and insecticides on crops are comparable to those of less hazardous organic pesticides and insecticides. Biorationals have an effect on the life cycles of living organisms that might thwart the life cycles of insect pests in order to lessen potential agricultural damage.
For instance, according to a Research article by S. Gayathri et al. published in 2019, Shoot and fruit borer is one of the most devastating pests of brinjal in South Asia. The efficiency of various chemical pesticides against shoot and fruit borer, which reduces output by 20–60%, was assessed. Study biorational pesticides lessened the infection of the shoots and fruit in brinjal. The two biorational pesticides shown to be most effective were Spinosad 45 SC and Emamectin benzoate 5 WG.
The demand in Asia Pacific is expected to witness significant growth
Asia Pacific region will account for significant during the forecast year. The region is anticipated to maintain its top ranking over the anticipated period by expanding at a steady CAGR. The demand for low-cost, high-quality organic products coming from China, Mexico, and India is expected to be the key driver of market growth. As a result, crop growers have been forced to boost productivity and cut losses from pests. Furthermore, over the next few years, organic agricultural techniques are expected to grow significantly throughout the region.
According to the national center for organic and natural farming report 2021, India maintains a unique position among the 187 countries that practice organic agriculture. With 2.30 million acres, India is the country with the third-largest organic producer population in the world. In recent years, the country has seen a significant relative rise in organic agricultural acreage. This is due to the increase in demand for agricultural products derived from biomaterials, which is likely to propel regional market expansion over the coming years.
Competitive Insight
Some of the major players operating in the global market include Koppert B.V., Bayer AG, Isagro S.P.A, Gowan, Summit Chemicals, McLaughlin Gormley King, Suterra, Russell IPM, Agralan, BASF SE, Syngenta, Monsanto, Crop Science, Chemtura, Nufarm and DuPont
Recent Developments
On October 12, 2022, Valent BioSciences, a leader in biorational products for agriculture, public health, and forest health, announced the start of direct sales of bio stimulant goods to its U.S. clientele. The organisation is now able to serve the whole U.S. market thanks to the newly constructed operating unit, which was founded in February 2022 and is now fully functioning.
Biorational Market Report Scope
| | |
| --- | --- |
| Report Attributes | Details |
| Market size value in 2023 | USD 5.50 billion |
| Revenue forecast in 2032 | USD 29.93 billion |
| CAGR | 20.7% from 2023 – 2032 |
| Base year | 2022 |
| Historical data | 2019 – 2021 |
| Forecast period | 2023 - 2032 |
| Quantitative units | Revenue in USD billion and CAGR from 2023 to 2032 |
| Segments covered | By Product, By Crop, By Region |
| Regional scope | North America, Europe, Asia Pacific, Latin America; Middle East & Africa |
| Key companies | Koppert B.V., Bayer AG, Isagro S.P.A, Gowan, Summit Chemicals, McLaughlin Gormley King, Suterra, Russell IPM, Agralan, BASF SE, Syngenta, Monsanto, Crop Science, Chemtura, Nufarm and DuPont |