The global biosensors market was valued at USD 22.45 billion in 2020 and is expected to grow at a CAGR of 8.0% during the forecast period. The advent of nanotechnology-based biosensors, major technological innovations in recent years, increasing use of biosensors to track blood sugar levels in people with diabetes, and booming need for home-based point-of-care devices due to the emergence of COVID-19, is expected to drive market demand.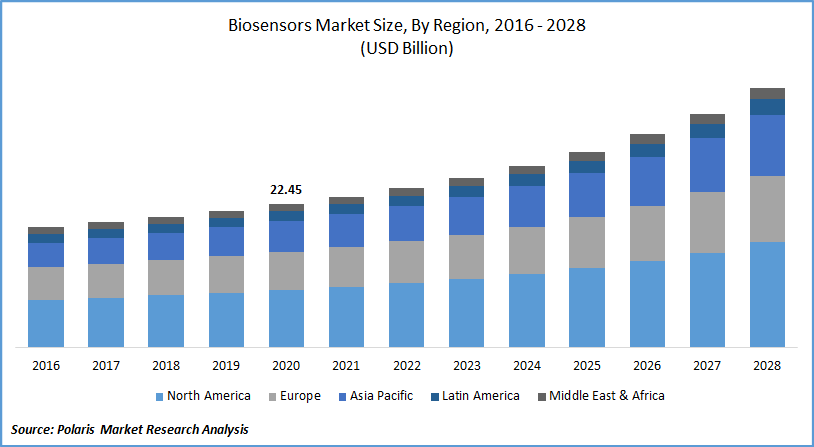 Know more about this report: request for sample pages
In addition, the increasing government policies toward diagnostics are some of the critical factors that will possibly supplement the growth of the global market during the forecasted period 2021-2028. Low-costs, simple to use, portable, and provide quick results, resulting in the rapid adoption of biosensor devices in the field of medicine, agriculture, and environment monitoring.
Biosensors are in high market demand due to their widespread use in clinical treatment and medicine. Furthermore, biosensors have appeared in several fields, including diagnosis, patient health tracking, disease detection, and personal health management, which will help pave the way for future development.
According to the International Diabetic Federation, the prevalence of diabetes is growing at an annual rate of about 8.0%, with over 590 million people expected to develop diabetes by 2035, resulting in significant market demand for biosensors over the projected period.
Industry Dynamics
Growth Drivers
A biosensor is an analytical device that consists of a biological element and transducer that will convert a physiological response into an electrical response to recognize the function of various molecules. It has a wide range of applications in drug discovery, blood glucose monitoring, infectious disease diagnosis, pregnancy testing, food safety, agriculture, and environmental monitoring. There is a significant increase in the market demand for biosensors globally due to a rise in diabetes, geriatric population, and adoption of modern technologies in drug discovery and agriculture.
More than 462 million individuals live with type 2 diabetes which is more than 6% of the global population. An increase in the geriatric population will increase chronic diseases globally since older people are more susceptible to acquiring these diseases. Globally, nearly 1 billion people are aged above 60, and by 2050, it is estimated to reach 2.1 billion. There is also an increase in the growth of drug discovery, and the industry is estimated to be over USD 100 billion by 2025.
The increasing market demand for biosensors has resulted in the development of innovative biosensor devices. World's first Biosensor Platform, GBS Inc., devises the first saliva-based SARS-COV-2 antibody biosensor and The Saliva Glucose Biosensor to diagnose COVID-19 and diabetes. In another development, a novel electronic biosensor that utilizes CRISPR is being developed to identify specific genes in genomic DNA - CRISPR-Chip.
The utilization of nucleotides or aptamers, peptide arrays, fluorescence tagged nanomaterials is some of the latest developments in biosensors. Nano-biosensors have an important role in crop productivity, and they can be used to detect moisture, soil pH, herbicide, insecticide, pesticide, and fertilizers.
Cardea Bio Inc. raised USD 7.8 million in Series A funding, in 2019, for the development and commercialization its biosensor technology. BioMed X entered into a partnership with Roche Diagnostics, in 2019, for nanomaterial-based biosensors. The company has completed the proof of principle for its new device that can monitor several different parameters in blood samples.
COVID-19 is expected to positively impact the global market, as many companies have launched diagnostic biosensor products for the detection and monitoring of COVID-19 in patients, and many new products related to COVID-19 are in the pipeline.

Know more about this report: request for sample pages
Biosensors Market Research Scope
The market is primarily segmented on the basis of technology, application, end-use, and region.
By Technology

By Application

By End-Use

By Region

Thermal
Electrochemical
Piezoelectric
Optical

Medical

Cholesterol
Blood Glucose
Blood Gas Analyzer
Pregnancy Testing
Infectious Testing

Food Toxicity
Bioreactor
Agriculture
Environment
Others

Home Healthcare Diagnostics
POC Testing
Food Industry
Research Laboratories
Security and Biodefense

North America (U.S., Canada)
Europe (France, Germany, Italy, Spain, UK, Austria, Netherlands)
Asia Pacific (China, India, Japan, South Korea, Malaysia, Indonesia)
Latin America (Argentina, Brazil, Mexico)
Middle East & Africa (Israel, Saudi Arabia, South Africa, UAE)
Know more about this report: request for sample pages
Insight by Technology
The electrochemical segment held the largest market share in 2020 and is projected to maintain its dominance over the study period. The diverse application for quantification and evaluation in biological and biochemical processes makes the segment the largest shareholder. Electrochemical detection has several advantages over other technologies, resulting in higher consumption and a larger label.
The optical market segment is expected to grow at the highest growth rate during the forecast period. The global biosensors market for optical biosensors in the analysis is projected to increase the segment's market growth over the forecast timeframe, owing to their wide analytical coverage. Structure studies, receptor-cell interactions, fermentation tracking, kinetic, concentration, and equilibrium analysis are possible with optical biosensors.
Insight by Application
Among various applications, the medical segment generated the highest revenue in 2020 and is expected to maintain its dominance during the forecast period. Biosensors are used in the fields of cholesterol checking, blood gas analyzer, blood glucose monitoring, pregnancy testing, infectious diseases, and drug discovery in the medical section.
It is regarded as a crucial tool in identifying and monitoring a broad range of ailments, ranging from diabetes to cancer, and thus contributes to market segment development. In comparison to previous techniques used to minimize the loss of livestock and crops due to natural hazards and bioterrorism, biosensors provide quick and reliable identification of the various fungus.
Geographic Overview
North American biosensors market is projected to hold the largest region for the market in terms of revenue in 2020. Due to the surge adoption of biosensor technology and an increase in chronic diseases such as diabetes. According to market estimation, the U.S. has more than 34 million diabetic people, more than 10% of its population. Biosensors are increasingly adopted in the country due to their modern agriculture methods and great interest in genomics and proteomics technology.
The Asia Pacific biosensors industry will be the fastest-growing market globally due to the presence of rapidly growing economies such as China and India. China is home to 116 million diabetic people, whereas India has over 75 million diabetic patients. The countries are also expected to adopt biosensor technologies in genomics, agriculture, food safety, and the environment due to its improved economic situation and increased pollution.
Competitive Insight
Major players in the global market are increasingly spending on R&D to introduce new biosensors as a biosensor is used in the medical field and has various diversified applications. Companies are developing strategies through collaborations and funding to increase their foothold in several developed and developing markets.
Some of the major players operating in the market include Abbott Laboratories, Bayer AG, AZUR Environmental, Biosensor BV, DuPont Biosensor Materials, Cranfield Biotechnology Centre, Pinnacle Technologies Inc., Johnson & Johnson, Ercon, Inc., EG & IC Sensors, Inc., Strategic Diagnostics, Innovative Biosensors Inc., Sysmex Corporation, LifeScan, Inc., QTL Biosystems, Molecular Devices Corp., and Roche Diagnostics.
Recently, many new biosensors have been launched, and new collaborations and funding are related to biosensor development. In May 2020, Philips Biosensor BX100 was approved by the FDA. It is a wearable biosensor that is extremely useful in managing COVID-19 patients by monitoring their vital parameters through Philips patient deterioration detection solution. Libre Sense Glucose Sport Biosensor, the first glucose sport biosensor developed by Abbott, was introduced in the market in September 2020.
Report Scope
| | |
| --- | --- |
| Report Attributes | Details |
| Market size value in 2020 | USD 22.45 billion |
| Revenue forecast in 2028 | USD 40.53 billion |
| CAGR | 8.0% from 2021 - 2028 |
| Base year | 2020 |
| Historical data | 2016 - 2019 |
| Forecast period | 2021 - 2028 |
| Quantitative units | Revenue in USD million/billion and CAGR from 2021 to 2028 |
| Segments covered | Technology, Application, End-use, Region |
| Regional scope | North America Europe Asia Pacific Latin America; Middle East & Africa |
| Key Companies | Abbott Laboratories, Bayer AG, AZUR Environmental, Biosensor BV, DuPont Biosensor Materials, Cranfield Biotechnology Centre, Pinnacle Technologies Inc., Johnson & Johnson, Ercon, Inc., EG & IC Sensors, Inc., Strategic Diagnostics, Innovative Biosensors Inc., Sysmex Corporation, LifeScan, Inc., QTL Biosystems, Molecular Devices Corp., and Roche Diagnostics. |