The global blockchain gaming market was valued at USD 5.41 billion in 2022 and is expected to grow at a CAGR of 68.9% during the forecast period. Blockchain games are games created using blockchain technology or placed on the blockchain so that the complete cluster of system applications is actively playing or has a copy of it. The usage of cryptocurrencies for in-platform payment transactions and the use of NFTs are two characteristics that distinguish blockchain games.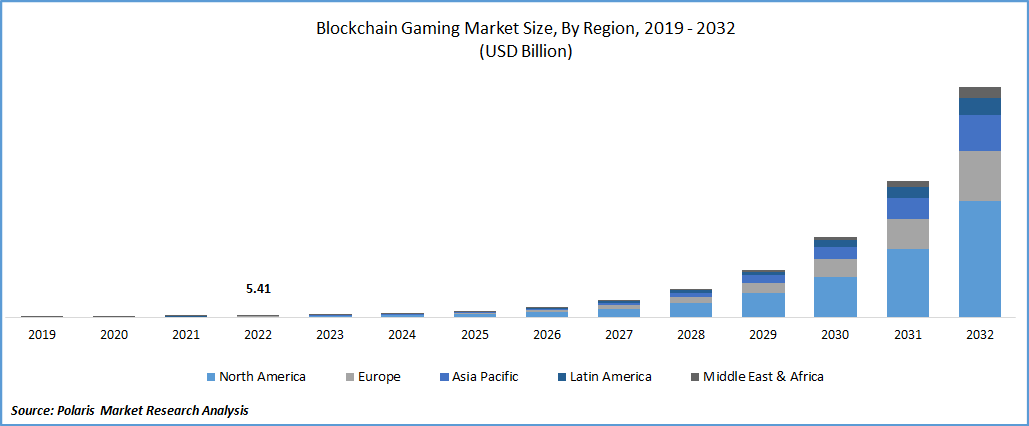 Know more about this report: Request for sample pages
A blockchain-based game gives players complete control over their cryptographic keys, account holders, and resources. All player objects, collectibles, monetary systems, and others in a centralized game are documented in the manufacturer's directory and controlled and owned by a centralized corporation. But in blockchain-based games, assets such as in-game hardware, wearable technology, player skins, cards, and others can be connected to NFTs and saved on the game's decentralized system.
With the introduction of blockchain games, gamers may now make money from the time, talent, and effort they invest in playing the games. For instance, players may acquire incentives like cash, weapons, skins, & other items in blockchain-based games and retain complete ownership of these possessions.
Due to the COVID-19 pandemic's sudden outbreak, the operations of many different businesses were disrupted, including automotive, manufacturing, and many more. Despite the devastating effect of COVID-19, this market developed exponentially during the period. As many countries implement strict lockdowns and laws for home isolation, people are forced to stay at home. People were seeking activities that would keep them entertained and socially connected. Millions of people used blockchain gaming to escape boredom at that time, boosting market growth. Also, the play-and-earn system of blockchain gaming influenced individuals to earn while being home, helping in the market growth.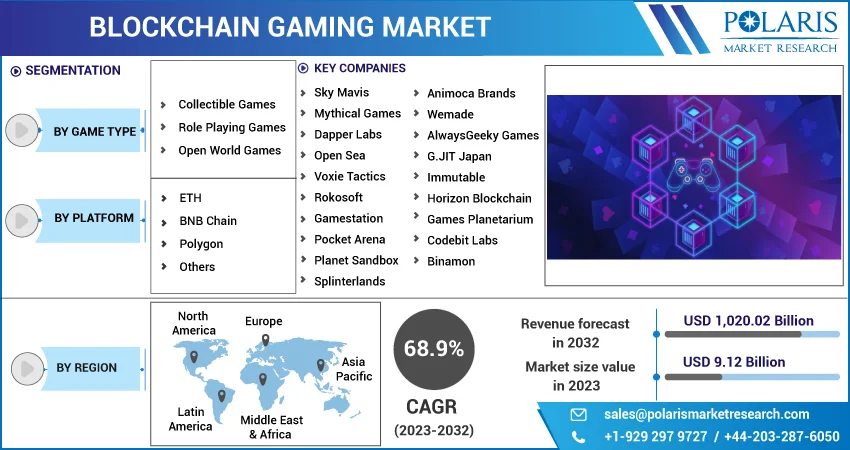 Know more about this report: Request for sample pages
Industry Dynamics
Growth Drivers
The ongoing investment in the global market is expected to boost the blockchain gaming market growth. As blockchain technology revolutionizes the gaming industry, many game studios and developers collaborate with blockchain platforms. Globally, billion-dollar values have been assigned to blockchain gaming systems. Many of the largest gaming businesses in the world are investing in blockchain gaming systems. For example, Microsoft paid $68 billion for Activision, and Ubisoft has joined the blockchain ecosystem with the launch of NFT. Even India's gaming industry is being tried to be changed by well-known blockchain-based platforms. Additionally, many people are drawn to playing blockchain-based games since they are easily accessible via smartphones and the internet.
Additionally, the rising trend of decentralized gaming among the players is boosting the market growth. Due to the centralization of traditional games, all the assets—including characters, skins, weaponry, and even code and experience acquired during play—cannot be utilized in other gaming endeavors. But, blockchain gaming allows users to develop virtual goods within games. Now, players may access incentives and in-game products from various cryptocurrency gaming initiatives. There are several ways players can make money in real life with blockchain games. An example of this idea is the Play-To-Earn (P2E) model.
For instance, players can purchase in-game characters called Axies in Axie Infinity, one of the most well-known P2E games in the world, level them up, and then sell them for more money. Gamers may compete against other players to acquire the game's native tokens, $SLP and $AXS. The advantages of implementing blockchain in gaming include increased game security, real-time ownership of things, and the ability for players to receive real incentives. This is projected to fuel market expansion.
Moreover, some programs promote and foster early cryptocurrency gaming firms to dramatically enhance the rate of widespread adoption of technology, which additionally boosts market growth. For example, Binance Smart Chain and Animoca Brands have collaborated to launch a USD 200 million asset program to promote and foster early cryptocurrency gaming firms. The new investment program will fund ideas involving GameFi (decentralized game financing). Blockchain games are getting more and more well-liked, including those that utilize cryptocurrencies or nonfungible tokens (NFTs)
Report Segmentation
The market is primarily segmented based on game type, platform, and region.
By Game Type

By Platform

By Region

Collectible Games,

Role Playing Games,

Open World Games

ETH

BNB Chain

Polygon

Others

North America (U.S., Canada)

Europe (France, Germany, UK, Italy, Netherlands, Spain, Russia)

Asia Pacific (Japan, China, India, Malaysia, Indonesia, South Korea)

Latin America (Brazil, Mexico, Argentina)

Middle East & Africa (Saudi Arabia, UAE, Israel, South Africa)
Know more about this report: Request for sample pages
Role Playing game

segment is expected to witness the fastest growth
The role-Playing game segment is expected to dominate the market growth in the forecast period. In role-playing games (RPGs), players take on the role of a fictional character who grows up in a made-up universe. In role-playing games, just like an actor in a video game, one adopts the part of the character they are playing. A new level of complexity has been added to classic RPG games with the advent of blockchain RPGs that let one earn actual crypto prizes and NFTs. In blockchain role-playing games, players may receive rewards for their accomplishments by making Ethereum currencies (for passing stages, solving riddles, winning competitions, etc.)
Additionally, users may utilize cryptocurrency to buy more inventory to advance in the game and further their character development. Furthermore, digital scarcity and total transparency are ideas made possible by blockchain technology. Player-owned digital assets are now potential in this type of game, attracting millions of gamers. On the blockchain, NFT assets are distinct, which increases their value and trading ability. Moreover, blockchain RPG games are often launched as soon as there is a minimal playable product. In time, they either develop or get better. This might be an opportunity for early adopters as well.
ETH segment accounted for the largest market share in 2022
The ETH segment is expected to hold the largest market share in 2022 and dominates the global market. Game developers rely on the ETH platform because it significantly minimizes security difficulties and allows businesses to verify that their client's money and data are secure. CryptoKitties was the first ETH NFT initiative. In this game, users may gather digital cat collectibles backed by NFTs. Following that, several games are created on the Ethereum platform. Popular games that employ the ETH blockchain platform include Axie Infinity, Gods Unchained, The Sandbox, Decentraland, and CryptoKitties.
BNB chain is anticipated to grow fastest in the forecast period. ETH being a public blockchain, faces unique challenges. Blockchain game creators consider incorporating the BNB chain platform to address scalability or processing power difficulties. As a result, the BNB Chain market is anticipated to expand more rapidly than other blockchain platforms like Polygon and Solana in the future.
The demand in Asia Pacific is expected to witness significant growth
Asia Pacific is expected to witness significant growth and revenue share in 2022. A huge number of potential gamers and investments from various global market players escalate the market growth in this region. The Asia Blockchain Gaming Alliance was formed in November 2021 to promote blockchain gaming in Asia. ABGA contributed to the development of the industry's ecosystem. To push the market, ABGA shares expertise about the business and offers advice to investors & entrepreneurs.
As a result, blockchain game vendors will have access to a sizable consumer base. Government blockchain rules also benefit the blockchain gaming business in this region, boosting market growth. For instance, laws in Japan are evolving to be more blockchain-friendly. The Japan Cryptocurrency Business Association has published new guidelines for cryptocurrency custody providers. The development of blockchain-based games that give players more power over in-game resources will be made possible with these new standards, which will also assist developers in adhering to legal requirements.
Competitive Insight
Some of the major players operating in the global market include Sky Mavis, Mythical Games, Dapper Labs, Open Sea, Voxie Tactics, Rokosoft, Gamestation, Pocket Arena, Planet Sandbox, Splinterlands, Animoca Brands, Wemade, AlwaysGeeky Games, G.JIT Japan, Immutable, Horizon Blockchain Games Planetarium, Codebit Labs, Binamon.
Recent Developments
In October 2022, A strategic investment from Animoca Brands was disclosed by Cool Cats Group. In this collaboration, Animoca Brands will assist Cool Cats in becoming a recognized NFT brand worldwide.

In August 2022, Splinterlands began a collaboration with MLSPA. These businesses will collaborate to design & develop a Play to Earn blockchain-based soccer game.

In July 2022, Dacoco's Alien & Zilliqa collaborated to develop a platform to offer new features that combine competitive & blockchain gaming.
Blockchain Gaming Market Report Scope
| | |
| --- | --- |
| Report Attributes | Details |
| Market size value in 2023 | USD 9.12 billion |
| Revenue forecast in 2032 | USD 1,020.02 billion |
| CAGR | 68.9% from 2023 – 2032 |
| Base year | 2022 |
| Historical data | 2019 – 2021 |
| Forecast period | 2023 – 2032 |
| Quantitative units | Revenue in USD billion and CAGR from 2023 to 2032 |
| Segments covered | By Game Type, By Platform, By Region |
| Regional scope | North America, Europe, Asia Pacific, Latin America; Middle East & Africa |
| Key companies | Sky Mavis, Mythical Games, Dapper Labs, Open Sea, Voxie Tactics, Rokosoft, Gamestation, Pocket Arena, Planet Sandbox, Splinterlands, Animoca Brands, Wemade, AlwaysGeeky Games, G.JIT Japan, Immutable, Horizon Blockchain Games Planetarium, Codebit Labs, Binamon. |