The global blood meal market was valued at USD 2.29 billion in 2022 and is expected to grow at a CAGR of 3.5% during the forecast period.
The rapid increase in the consumption of various types of meat products across the globe and growing consumer awareness about the numerous potential benefits of consuming blood meals rich in various essential nutrients, including protein, iron, and nitrogen, have led to increased usage of the product as a dietary supplement and organic fertilizer, are among the prominent factors expected to drive global market growth over the coming years.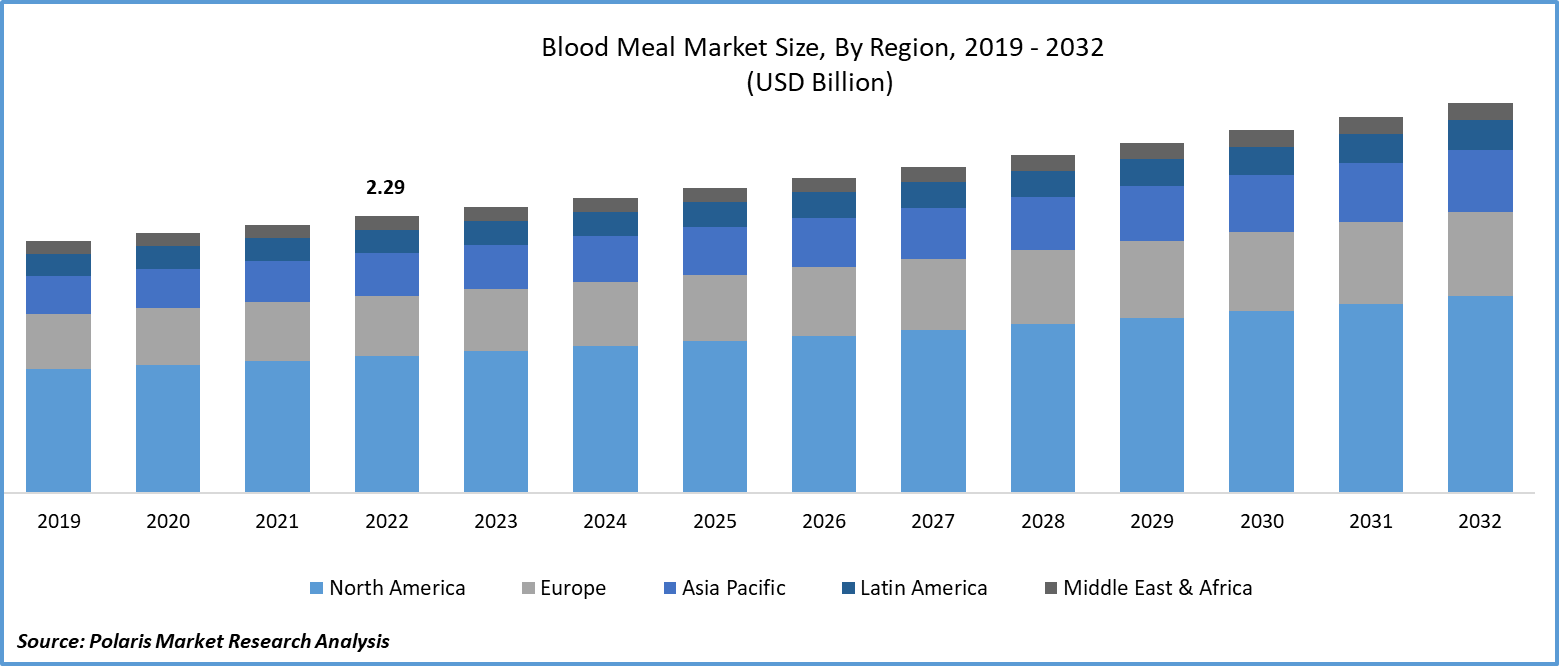 To Understand More About this Research: Request a Free Sample Report
For instance, as per a report published by THE WORLD COUNTS, global meat consumption is likely to reach between 460 million to 570 million by 2050, which is approx. Double with the consumption of meat in 2008. The US is the country with the highest meat consumption per capita, with around 124 kilos, followed by Australia and Argentina, with 122 and 109 kilos, respectively.
Additionally, with the drastic increase in the number of farmers worldwide seeking and utilizing blood meal in combination with several other compost materials like paper or straw and dried leaves, among others, in order to better ensure the availability of nutrients and adoption as an appropriate natural and cost-effective alternative to boost the nutrient contents in the soil, the demand and need for blood meal has grown drastically and put a pressure of companies to develop blood meal specially catered to farming usage.
In recent years, there has been an emerging trend among manufacturers and suppliers all over the world to introduce new value-added blood meal products like fortified blood meal with specified nutrients or blends and food-as-a-medicine products, which is further likely to escalate product demand at a rapid pace.
For instance, in August 2023, ModifyHealth, a global leader in food as medicine space, announced the launch of its new food-as-medicine meal, which is mainly developed to help people fight several costly and chronic conditions. The new meals will allow the company to provide better care and relieve pain points for consumers dealing with the struggles of restrictive diets

.
Industry Dynamics
Growth Drivers
Exponential growth of poultry feed industry
The product has gained significant traction and is becoming increasingly popular as an important feed ingredient in poultry feed due to its many beneficial characteristics such as better performance and cost-effectiveness. This, in turn, has driven extensive global blood meal market growth. Additionally, the exponential rise in demand for poultry across various nations and the emergence of blood meal as a source of various important micronutrients, such as iron, which is crucial for the formulation of hemoglobin as well as the prevention of anemia, is anticipated to create lucrative growth opportunities for the market.
For example, according to the Agri-Food Outlook 2023 report, the total feed tonnage was estimated to be around 1.266 billion metric tons globally. Out of this, approximately 525.8 million metric tons of totalled feed is poultry feed, accounting for 42% of total compound feed production worldwide.
Report Segmentation
The market is primarily segmented based on source, process, application, and region.
By Source

By Process

By Application

By Region

Poultry Food

Porcine Food

Ruminant Food

Solar Drying

Drum Drying

Spray Drying

Ring & Flash Drying

Poultry Feed

Aqua Feed

Procine Feed

Natural Pest Deterrents

Ruminant Feed

Organic Fertilizers

North America (U.S., Canada)

Europe (France, Germany, UK, Italy, Netherlands, Spain, Russia)

Asia Pacific (Japan, China, India, Malaysia, Indonesia. South Korea)

Latin America (Brazil, Mexico, Argentina)

Middle East & Africa (Saudi Arabia, UAE, Israel, South Africa)
To Understand the Scope of this Report: Speak to Analyst
By Source Analysis
Poultry food segment accounted for the largest market share in 2022
The poultry food segment accounted for a notable market share. The growth of the segment market can be largely attributed to the increased use of blood meals by a large number of poultry farmers as supplementary feed ingredients in order to meet the protein requirements of birds and also to improve the overall productivity of poultry.
Apart from this, poultry farmers across the world are increasingly becoming aware of the specific nutritional requirements of their birds for optimal growth and production, which has led to a greater emphasis on formulating balanced diets, including the incorporation of high-quality protein sources such as blood meal, which have fueled the growth of the segment market.
By Process Analysis
Ring & flash drying segment held the significant market share in 2022
The ring & flash drying segment held a significant market share in terms of revenue in 2022, which is majorly driven by the widespread use of this processing method to manufacture blood meal more effectively and efficiently, as it helps in reducing waste and complying with environmental standards. In addition, the growing advances in ring & flash drying methods have resulted in improved efficiency and cost-effectiveness of blood meal production, which encourages a greater number of meat processing plants to invest in such kind of technologies and processing methods, thereby influencing the segment market at a rapid pace.
By Application Analysis
Organic fertilizers segment is expected to witness highest growth
The organic fertilizers segment is expected to grow at the highest growth rate over the next coming years on account of increasing consumer awareness and concern about food safety and environmental sustainability across the world and the growing popularity of blood meal in the agriculture sector, as it is rich in nitrogen which is an essential nutrient for plant growth.
Additionally, several major governments and regulatory bodies have been introducing new favorable polices and certifications to support organic farming practices and promote the use of organic inputs like blood meal, which, in turn, is expected to bode well for segment market growth in the near future.
Regional Insights
North America region dominated the global market in 2022
The North America region dominated the global market. The regional market growth is highly attributable to the region's increased consumption of various types of livestock products, including meat products, and the presence of a well-established animal feed sector across the region. The continuous increase in research & development activities and efforts in agriculture and organic farming practices are also likely to open up new application areas and formulation methods for products, thereby propelling the overall regional market growth.
For instance, according to our findings, the consumption of broiler meat in the United States amounted to about 98.9 pounds per capita in the year 2022, and the number is expected to be around 100.1 pounds per capita by 2023.
Asia Pacific will grow at a rapid pace, owing to continuous expansion and establishment of manufacturing capabilities in major Asia Pacific countries and a surge in the number of governments promoting the use of several specified feed ingredients.
Key Market Players & Competitive Insights
The blood meal market is moderately competitive in nature with the presence of several leading companies all over the world. Top companies involved in the production and distribution of product are investing significantly to ensure the quality of their products and also looking to strengthen their market position ahead of their competitors and gain a competitive edge.
Some of the major players operating in the global market include:
Agro-Industrial Complex Backa Topola Ltd.

Allanasons Pvt. Ltd.

APC Inc.

Darling Ingredients Inc.

FASA Group

Ridley Corporation Limited

Sanimax

Spelsa Guadalajara SA de CV

Terramar Chile SpA

The Boyer Valley Company

The Fertrell Company

Valley Proteins Inc.

West Coast Reduction Ltd.
Recent Developments
In August 2023, Beneo, an ingredient supplier, announced the launch of its new wholegrain barley flour named Orafti β-Fit, which will tout enough beta-glucans to justify attention-grabbing and qualified heart health claims. The newly developed flour can easily deliver the same number of beta-glucans found in 3 bowls of oatmeal in just 15 grams of 3-4 tablespoons.

In April 2023, Nestle introduced its new line of meals, namely nutritious Lean Cuisine Balance Bowls, that is likely to support people in managing their blood sugar levels and help consumers to achieve their personal nutritional goals effectively. Also, the new meal meets the guidelines of American Diabetes Association Better Choices for the Life Program.
Blood Meal Market Report Scope
| | |
| --- | --- |
| Report Attributes | Details |
| Market size value in 2023 | USD 2.37 billion |
| Revenue forecast in 2032 | USD 3.23 billion |
| CAGR | 3.5% from 2023 – 2032 |
| Base year | 2022 |
| Historical data | 2019 – 2021 |
| Forecast period | 2023 – 2032 |
| Quantitative units | Revenue in USD billion and CAGR from 2023 to 2032 |
| Segments covered | By Source, By Process, By Application, By Region |
| Regional scope | North America, Europe, Asia Pacific, Latin America; Middle East & Africa |
| Customization | Report customization as per your requirements with respect to countries, region and segmentation. |