The global livestock monitoring market was valued at USD 3.59 billion in 2019 and is expected to grow at a CAGR of 15.7% during 2020-2027. Prominent factors responsible for the market growth include rising cases of zoonotic diseases among herd animals, technological innovations leading to data-driven decisions, and increased adoption of IoT enabled devices as real-time monitoring.
Livestock monitoring consumes enormous time if managed manually. This could be decreased manifold with disruptive technologies, with automation providing real-time monitoring. The global concern of food security across the globe, leading to the entry of corporate players with significant investments. Moreover, the COVID-19 outbreak led to a severe economic toll on the animal health industry. Nationwide lockdowns and social distancing measures resulted in delayed veterinary visits, thereby increasing the demand for livestock monitoring.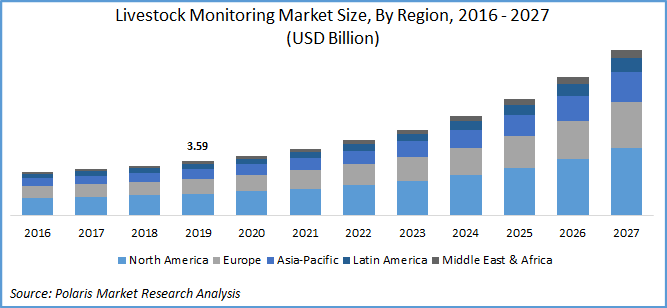 Know more about this report: request for sample pages
Industry Dynamics
Growth Drivers
With the increasing global population, there is a rising concern for food security, with sparse arable land, there is a shift in demand for eggs, meat, and milk, and milk-based products, which thereby driving livestock monitoring. Most of the producers are located in the U.S., Australia, Brazil, and Argentina. According to the statistics published by the Australia Bureau of Agriculture and Resources Economics and Sciences, by 2050, China will represent more than a 40 percent increase in meat consumption.
Moreover, intense competition among market players with a strong focus on product lines and innovations also shaping the future of livestock management. For instance, recently in March 2020, the U.S.-based CattleEye introduced an AI-backed livestock management platform. Users with this platform would be able to identify cows and living conditions of their health, feed, and environment to improve productivity.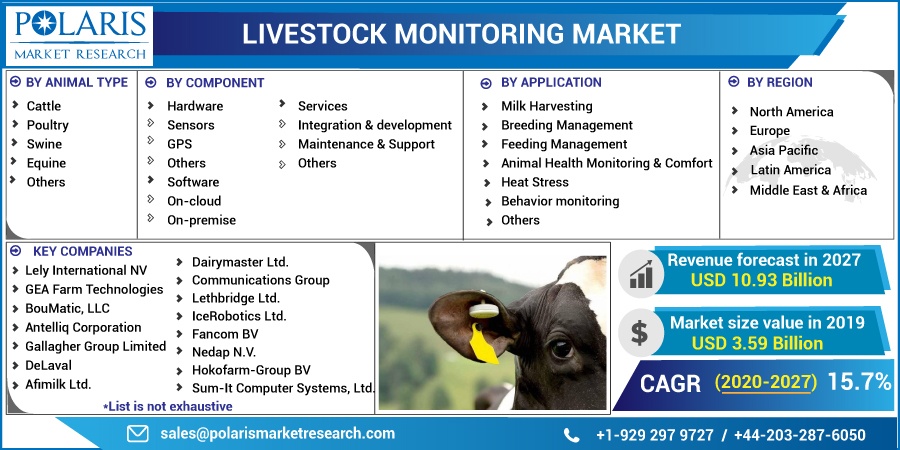 Know more about this report: request for sample pages
Technology will enable farmers to produce around USD 400 more milk per cow, as per the company's claims. The company has expertise in cattle management and till now, it has raised USD 1 million funding from Techstart ventures and a research grant from Invest Northern Ireland.
Livestock Monitoring Market Report Scope
The market is primarily segmented on the basis of animal type, component, application, and region:
By Animal Type

By Component

By Application

By Region

Cattle
Poultry
Swine
Equine
Others

Hardware
Software
Services

Integration & development
Maintenance & Support
Others

Milk Harvesting
Breeding Management
Feeding Management
Animal Health Monitoring & Comfort
Heat Stress
Behavior monitoring
Others

North America (U.S., Canada)
Europe (France, Germany, UK, Italy, Spain, Netherlands, Austria)
Asia Pacific (Japan, China, India, Malaysia, Indonesia, South Korea)
Latin America (Brazil, Mexico, Argentina)
Middle East & Africa (Saudi Arabia, UAE, Israel, South Africa)
Know more about this report: request for sample pages
Insight by Animal Type
On the basis of animal type, the global market is bifurcated into cattle, poultry, swine, equine, and others. In 2019, the cattle segment accounted for the largest revenue share and is likely to maintain its dominance over the study period. A significant increase in consumption of dairy-based products and a rise in the non-vegetarian population were the high impact rendering drivers for the segment.
Moreover, the ongoing pandemic of COVID-19 has put more scrutiny on livestock and herd management, which led to the sale such as monitoring devices among cattle. The poultry segment is projected to register a growth rate of over 16%. Continuous increase in consumption of poultry-based products and the keen interest of corporate players have increased the adoption of such monitoring systems.
Insight by Component
In 2019, the hardware segment accounted for the largest revenue share. This high share is attributed to the growing interest of hardware manufacturers in livestock monitoring devices. Innovations and miniaturization in hardware components also few segmental factors contributing to such growth.
The software segment is anticipated to register a lucrative growth rate over the study period. The majority of the companies engaged in livestock management are focusing on software incorporation for real-time monitoring. It also eases data collection and promotes interoperability between data management systems.
Insight by Application
Based on the application, the global market is bifurcated into milk harvesting, breeding management, feeding management, animal health monitoring & comfort, heat stress, behavior monitoring, and others. In 2019, the feeding management segment accounted for the largest share. Awareness about the cattle feed, its type, and requirement planning among owners with proper diet, to increase productivity are few segment drivers favoring the segment's growth.
The milk harvesting segment is projected to register a lucrative growth rate over the study period. The emergence of well-managed dairy farms and auto-milking solutions offers significant opportunities for the segment to prosper. Moreover, the growing population in the emerging nations and large scope for development with significant corporate investments will also propel the segment's future.
Geographic Overview
Geographically, the global market is bifurcated into North America, Asia Pacific, Europe, Latin America, and Middle East & Africa. North America accounted for more than 35 percent revenue share in 2019. Presence of cattle care companies equipped with technological advancements, corporatization of farm and poultry sectors, government-based programs for livestock management.
Increased per capita meat consumption in both U.S. and Canada also induced interest among corporate players. According to the statistics of the Food and Agriculture Organization (FAO), in 2019, the U.S. was the highest meat consumer all over the world. Moreover, the emergence of zoonotic diseases among livestock also paves a strong need for livestock management.
The Asia Pacific is projected to register a lucrative growth rate over the assessment period. The growth is mostly driven by strong consumption scenario in India and China. As per statistics of the Agricultural and Processed Food Products Export Development Authority (APEDA), in 2018, India accounted for around 3 percent of the global meat production. According to the 2019 Livestock census, India had 109.8 buffaloes, 148.8 million goats, 74.3 million sheep, 9.1 million pigs, and 851.8 million total poultry. Moreover, significant government policies also favoring the market growth.
For instance, the Indian government spearheaded the National Livestock Mission (NLM) for qualitative and quantitative capacity development and improvements in livestock management with a strong focus on quality feed and fodder. NLM also planned for pig livestock development in northeastern states of India, skill development, and technology transfer.
Competitive Insight
The prominent players operating are Lely International NV, GEA Farm Technologies, BouMatic, LLC, Antelliq Corporation, Gallagher Group Limited, DeLaval, Afimilk Ltd., HID Global Corporation, Dairymaster Ltd., Communications Group Lethbridge Ltd., IceRobotics Ltd., Fancom BV, Nedap N.V., Hokofarm-Group BV, Sum-It Computer Systems, Ltd., Fullwood Packo Ltd., Sensaphone, Valley Agriculture Software, Infovet, Quantified AG, and GAO RFID Inc., FBS Systems Inc., Sol Chip Ltd., Cainthus, and Connecterra B.V.