The global vertical farming market was valued at USD 2,073 million in 2017 and is anticipated to grow at a CAGR of more than 20.8% during the forecast period. Vertical farming is a method of food production on vertically inclined structures. This process uses vertically stacked layers integrated into skyscrapers or shipping containers to produce high quality crops. Vertical farming artificially controls factors such as light, temperature, and humidity to maximize crop production in a limited space, which enables year-round crop production under controlled indoor environments. It uses a combination of natural and artificial lights to maintain suitable growing conditions for crops. Hydroponic, aeroponic, or aquaponic are used as growing mediums to improve productivity, which enables crop production with 70-95 percent less water as compared to normal cultivation. The primary aim of vertical farming is to increase crop production per square footage of area.
The increasing demand for high quality food primarily drives the growth of vertical farming market. Another major factor driving vertical farming is increase in food demand due to growing population coupled with reducing arable lands. Other factors driving the growth of this market include reduced use of water for cultivation of crops, lower dependency on weather conditions, and ability to produce crops throughout the year. Increased production of organic crops using vertical farming further enhances the adoption. However, high initial investment restricts the growth of the vertical farming market. Additionally, high labor costs, and limited variety of crops grown limit the growth of this market.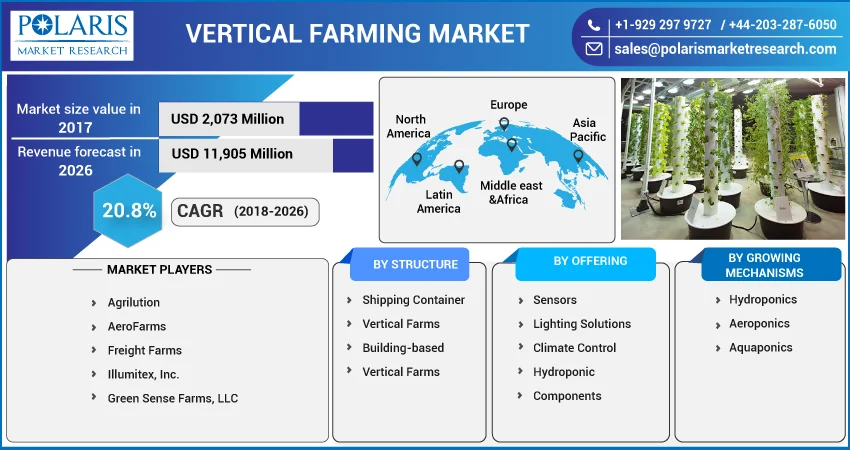 Segment Analysis
The global vertical farming market is segmented on the basis of structure, offering, growing mechanism, and region. Based on the type of structure, the market is segmented into shipping container and building-based. Based on the type of offering, the market is segmented into lighting, hydroponic components, climate control, and sensors. The growing mechanism segment is categorized into hydroponics, aeroponics, and aquaponics. This report comprises a detailed geographic distribution of the market across North America, Europe, APAC and South America, and MEA. North America is further segmented into U.S., Canada, and Mexico. Europe is divided into Germany, UK, and France. Asia-Pacific is bifurcated into China, India, and Japan. Asia-Pacific accounts for the largest share in the global vertical farming market owing to increasing population, scarcity of fertile land, and growing need to improve agricultural productivity.
Competitive Landscape
The vendors in the market offer a wide range of products and services to help consumers enhance crop quality and maximize profits. Leading players in the market partner and collaborate with other players in the market to enhance their offerings in the market and expand their customer base. For instance, Aerofarms has partnered with Dell Technologies to expand its technological requirements of machine learning and network systems. Another player in the market, Fluence Bioengineering, offers lighting solutions for vertical farming. It's Fluence RAZR Series is developed for various vertical farming applications such as full-cycle cultivation of leafy greens, young plant propagation of vegetable, ornamental and cannabis crops. Other leading players in the market include Agrilution, AeroFarms, Freight Farms, Illumitex, Inc., and Green Sense Farms, LLC among others.