The global aquaponics market was valued at $410 million in 2017 and is anticipated to grow at a CAGR of 11% during the forecast period. Aquaponics uses a combination of aquaculture and hydroponics to enable growth of fish and plants together in one integrated system. Aquaculture is the process of growing fish and other aquatic animals, whereas hydroponics is the process of growing plants without soil. The fish waste provides an organic food source for the plants, and the plants naturally filter the water for the fish. Microbes or nitrifying bacteria also play a significant role by converting ammonia from the fish waste first into nitrites, and then into nitrates. Aquaponics eliminates weeds, back strain, and small animal access while offering recycling of nutrient-rich water continuously. Aquaponics removes toxic run-off, and uses only 1/10th of the water of soil-based farming. Some methods of aquaponics include deep water culture, media-based aquaponics, nutrient film technique, and vertical aquaponics among others.
The aquaponics market is driven by factors such as increase in global population, and increasing demand for high quality food. There has been a significant growth in the demand for organic fruits and vegetables worldwide, boosting the growth of the aquaponics industry. Factors such as growing urbanization, and off-season availability of fruits & vegetables influences the aquaponics market growth. The technological advancements in farming methods, along with lower transport & storage costs of food, and increasing awareness among consumers improves the aquaponics market growth rate. The increasing food demand due to growing population coupled with reducing arable lands, and reduced use of water for cultivation of crops has increased the growth of the aquaponics market. Lower dependency on weather conditions, and ability to produce crops throughout the year would provide numerous growth opportunities in the aquaponics market.
Global Aquaponics Market Share By Region, 2018 & 2026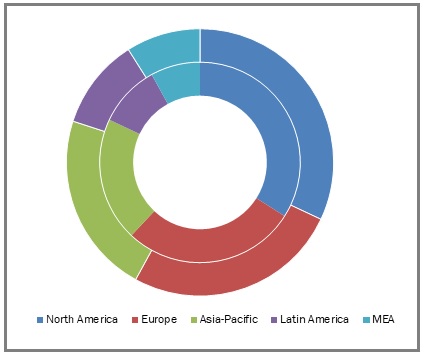 Know more about this report: request for sample pages
Segment Analysis
The global aquaponics market is segmented on the basis of product, component, methods, end-user, and region. The aquaponics market report segments the products into Fish, Herbs, Fruits, Vegetables, and others. The fish segment accounted for the highest aquaponics market share in 2018. The increasing demand for high quality products, growing population, and technological advancements boost the growth of this aquaponics market segment.
The component segment is divided into Bio Filter, Rearing tanks, Settling Basins, Hydroponics Subsystem, and others. The aquaponics market report segments the methods into Deep Water Culture, Nutrition Film Technique, Media-Filled Beds, Ebb and Flow, Drip Irrigation, and others. The Deep Water Culture segment accounted for the highest aquaponics market share in 2018. In Deep Water Culture, water from the fish tank drains through a series of filters into the water-filled grow bed. The plants are floating or supported above the grow bed. The pump is present either in the grow bed or in a small sump below, and moves water back up to the fish tank.
The end-user segment is divided into Commercial, Home Production, Community, Agriculture and Farming, Education and Research, and others. The vendors in the market offer a wide range of products and services to help consumers enhance crop quality and maximize profits.'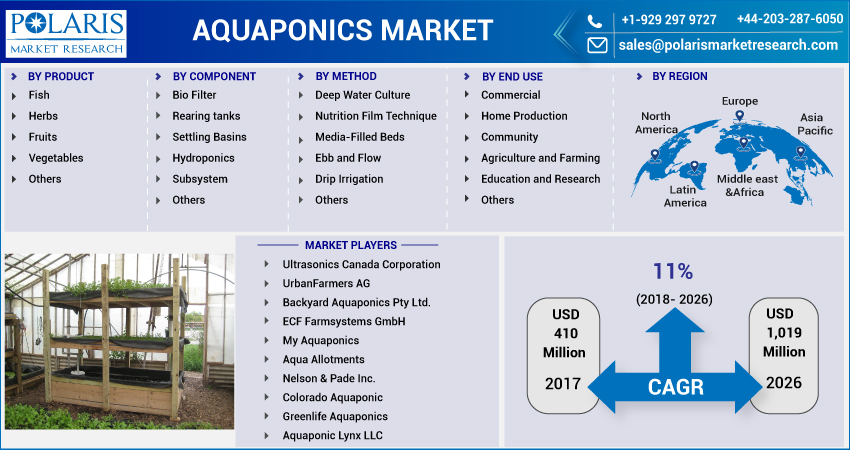 Know more about this report: request for sample pages
Aquaponics Market Scope
By Product

By Component

By Method

By End-User

By Region

Fish
Herbs
Fruits
Vegetables
Others

Bio Filter
Rearing tanks
Settling Basins
Hydroponics Subsystem
Others

Deep Water Culture
Nutrition Film Technique
Media-Filled Beds
Ebb and Flow
Drip Irrigation
Others

Commercial
Home Production
Community
Agriculture and Farming
Education and Research
Others

North America (U.S., Canada)
Europe (Germany, UK, France, Italy, Spain, Belgium, Russia, Netherlands)
Asia-Pacific (China, Japan, India, Australia, Korea, Singapore, Malaysia, Indonesia, Thailand, Philippines)
Latin America (Brazil, Mexico, Argentina)
Middle East and Africa (UAE, Saudi Arabia, South Africa)
Regional Analysis
This aquaponics market report comprises a detailed geographic analysis of the aquaponics market across North America, Europe, Asia-Pacific, Latin America, and MEA. North America is further segmented into U.S., Canada, and Mexico. Europe is divided into Germany, UK, Italy, France, and Rest of Europe. Asia-Pacific is bifurcated into China, India, Japan, and Rest of Asia-Pacific. North America is the major region contributing to the aquaponics market growth due to increasing population, scarcity of fertile land, and growing need to improve agricultural productivity. Moreover, increasing demand for organic food products has accelerated the growth of the aquaponics market in this region.
Competitive Landscape
The leading players in the aquaponics market include Ultrasonics Canada Corporation, UrbanFarmers AG, Backyard Aquaponics Pty Ltd., ECF Farmsystems GmbH, My Aquaponics, Aqua Allotments, Nelson & Pade Inc., Colorado Aquaponic, Greenlife Aquaponics, and Aquaponic Lynx LLC among others. These leading players are introducing innovative products in the aquaponics market to cater to the growing demand for consumers. Global players are entering new markets in developing regions to expand their customer base, strengthen market presence, and increase their aquaponics market share.