The global Precision Farming market was valued at USD 10,919.06 million in 2022 and is expected to grow at a CAGR of 13.0% during the forecast period. Precision farming, also known as site-specific crop management (SSCM) or satellite farming, is a controlled and precise approach to crop farming aimed at maximizing quality, productivity, sustainability, and profitability. It involves real-time data collection, tracking, monitoring, and analysis of various environmental factors such as soil, water, weather conditions, nutrient demand, and crop growth.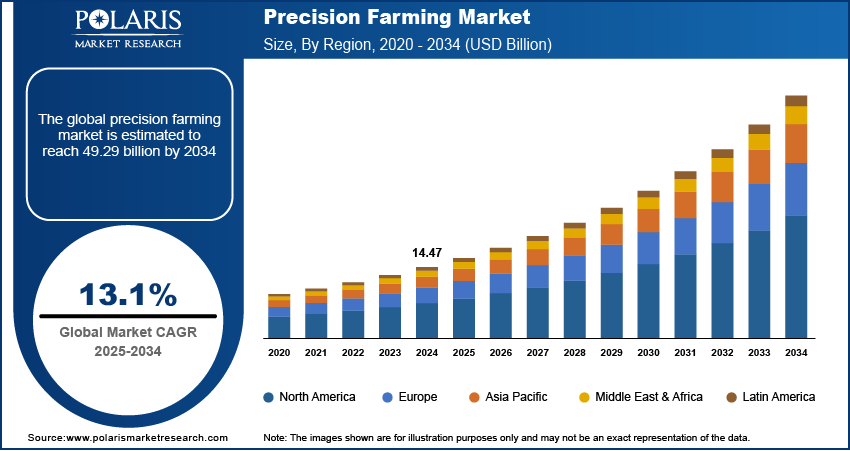 Know more about this report: Request for sample pages
Advanced technologies like high precision positioning systems like GPS, geo-mapping, automated steering systems, remote sensing and sensors, integrated electronic communication systems, and variable rate technology are used in precision farming. These technologies allow farmers to effectively use crop inputs such as irrigation water, fertilizers, and pesticides based on soil, crop, and weather requirements, enhancing crop yield while reducing environmental pollution.
The adoption of precision agriculture is on the rise worldwide due to the increasing need to maximize crop production while ensuring environmental protection. The market growth is primarily driven by the growing demand for food crops due to population growth and the increasing need to monitor crop health for high-quality crop production. The market is further propelled by the development of the global agricultural industry, land use limitations, and declining arable land.
The integration of advanced technologies such as big-data analytics and telematics, along with government support and subsidies, supplement the growth of this market. However, the high initial investment required to implement precision farming practices hinders the market growth. Additionally, low awareness and lack of standardization also impede the development of the precision agriculture market.
Several stakeholders acquire the precision agricultural solutions these companies provide for various uses. COVID-19 affected the operations of the numerous precision farming manufacturers and the suppliers' and distributors' industries. The decline in export exports and slowing domestic demand for precision farming compared to pre-COVID-19 levels are also anticipated to have an adverse effect and temporarily stall the market.
Industry Dynamics
Growth Drivers
The precision farming market is expected to grow significantly in the coming years. The world population is growing rapidly to an increase in demand for food. Precision Farming techniques enable farmers to improve crop yields, reduce waste, and optimize resource utilization, increasing agricultural productivity and meeting the growing demand for food.
The market is experiencing rapid technological advancements, including using drones, sensors, and artificial intelligence (AI). These advancements are enabling farmers to gather data and insights that were previously impossible to more precise and efficient farming practices.
Governments worldwide are taking initiatives to promote Precision Farming, including providing subsidies, tax incentives, and funding for research and development. These initiatives aim to encourage farmers to adopt advanced farming practices and improve the overall efficiency of the agricultural industry.
Consumers are becoming increasingly aware of the environmental impact of farming practices. Precision Farming techniques enable farmers to reduce their environmental impact by optimizing resource utilization and reducing waste to increased adoption of sustainable farming practices.
With increasing competition for natural resources, such as land, water, and fertilizer, there is a growing need for efficient resource management in agriculture. Precision Farming techniques enable farmers to optimize resource utilization, reducing input costs and increasing efficiency.
Report Segmentation
The market is primarily segmented based on offering, technology, application, and region.
By Offering

By Technology

By Application

By Region

Automation & Control System

Sensing Devices

Access Points

Web-based/Local

Cloud Based

System Integration

Managed Services

Maintenance & Support

Consulting

Guidance Technology

Remote Sensing Technology

Variable Rate Application

Yield Monitoring

Crop Scouting

Field Mapping

Variable Rate Application

Weather Tracking and Forecasting

Inventory Management

Farm Labor Management

Financial Management

Others

North America (U.S., Canada)

Europe (France, Germany, UK, Italy, Netherlands, Spain, Russia)

Asia Pacific (Japan, China, India, Malaysia, Indonesia. South Korea)

Latin America (Brazil, Mexico, Argentina)

Middle East & Africa (Saudi Arabia, UAE, Israel, South Africa)
Know more about this report: Request for sample pages
The hardware segment is anticipated to hold the

highest

market share

over the forecast period
In 2022 the hardware segment held the highest market share. Within the hardware segment are two sub-categories as control systems and automation and monitoring and sensing devices. The automation and control systems category, which includes variable-rate technology devices, steering devices and guidance, and GPS receivers, is anticipated to dominate the hardware market share during the forecast period, primarily due to their widespread application in precision farming. The substantial growth of this market can be attributed to the significant adoption of automation and control devices like irrigation controllers, drones/UAVs, GPS/GNSS, yield monitors, guidance and steering systems, and sensors in the agricultural sector.
The variable rate applications segment accounted for the largest market share in 2022
Among the different technologies, variable rate technology is projected to experience the largest market growth in 2022. Farmers' early adoption of this technology is the primary factor contributing to the market's growth. With the help of GPS-based auto-guidance technology, growers can significantly minimize equipment overlapping and tractor passes, resulting in fuel and labor savings, time reduction, and soil compaction prevention.
In the precision farming market, the yield monitoring segment accounted for the significant market share by application. The market's expansion can be credited to the advantages offered by climate service initiatives that assist farmers in effectively coping with climate-related disasters, enhancing food security, and making informed agricultural decisions.
North America significantly dominated the market in 2022
In 2022 North America is a significantly dominating market due to the region's highly developed agricultural industry, strong technological infrastructure, and favorable government initiatives. Precision Farming refers to using advanced technology and data analytics to optimize crop yield, reduce waste, and improve efficiency in agricultural production.
The adoption of precision agriculture techniques, such as variable rate technology, GPS mapping, and yield monitoring, is growing rapidly in North America. It is driven by the need to optimize crop yield, reduce input costs, and minimize environmental impact. North America is home to several Precision Farming technology providers. These companies continuously innovate and develop advanced technologies to meet the growing demand for precision farming techniques.
The governments in North America are taking several initiatives to promote precision agriculture techniques, including providing subsidies and tax incentives to farmers. These initiatives aim to encourage farmers to adopt advanced farming techniques and improve the overall efficiency of the agricultural industry. North America has a large-scale farming operation with vast farmland under cultivation. Implementing precision agriculture techniques in such large-scale operations can significantly improve yield and efficiency, resulting in reduced costs and increased profits.
Competitive Insight
The Precision Farming market is characterized by intense competition and comprises numerous significant players. Among the major companies in this market are Deere & Company, Trimble Inc., Agco Corporation, Raven Industries Inc., Agjunction Inc., Topcon Positioning Systems Inc., Precision Planting LLC, SST Development Group Inc., The Climate Corporation, and AG Leader Technology Inc.
Recent Developments
In July 2021, Deere & Company unveiled JDLINK, an information management product that offers customers connectivity services without extra charges. This product facilitates the connection of customers' machines.

In October 2019, Deere & Company acquired Unimil, which supplies aftermarket parts for sugarcane harvesters. This acquisition will assist the company's customers in Brazil in reducing their sugarcane production expenses.

In September 2020, Trimble launched the Trimble R12i GNSS receiver, which includes tilt compensation based on an inertial measurement unit. This feature provides 30% superior performance compared to other receivers in difficult environments.

In May 2021, Raven Industries declared the introduction of its new brand for autonomous products called "OMNI." This brand emphasizes the company's expertise in providing independent solutions.

In May 2021, AGCO, a manufacturer of agricultural machinery, partnered with Raven and other brands to assess spraying technology's efficacy in making the application of crop protection products more efficient and productive.
Precision Farming Market Report Scope
| | |
| --- | --- |
| Report Attributes | Details |
| Market size value in 2023 | USD 12,290.49 million |
| Revenue forecast in 2032 | USD 36,949.86 million |
| CAGR | 13.0% from 2023 - 2032 |
| Base year | 2022 |
| Historical data | 2019 - 2021 |
| Forecast period | 2023 - 2032 |
| Quantitative units | Revenue in USD million/billion and CAGR from 2023 to 2032 |
| Segments covered | By Offering, By Technology, By Application, By Region |
| Regional scope | North America, Europe, Asia Pacific, Latin America; Middle East & Africa |
| Key companies | Deere & Company, Trimble Inc., Agco Corporation, Raven Industries Inc., Agjunction Inc., Topcon Positioning Systems Inc., Precision Planting LLC, SST Development Group Inc., The Climate Corporation, and AG Leader Technology Inc. |