The global autonomous tractors market was valued at USD 2,255.49 million in 2022 and is expected to grow at a CAGR of 20.6% during the forecast period. Evolving technologies are revolutionizing every industry worldwide, and agriculture is no exception. Technological developments in agriculture meet the increasing demand for farm automation, sustainability, and digitalization. Agriculture is evolving towards more sophisticated farming and more effective use of time and resources while reducing crop losses.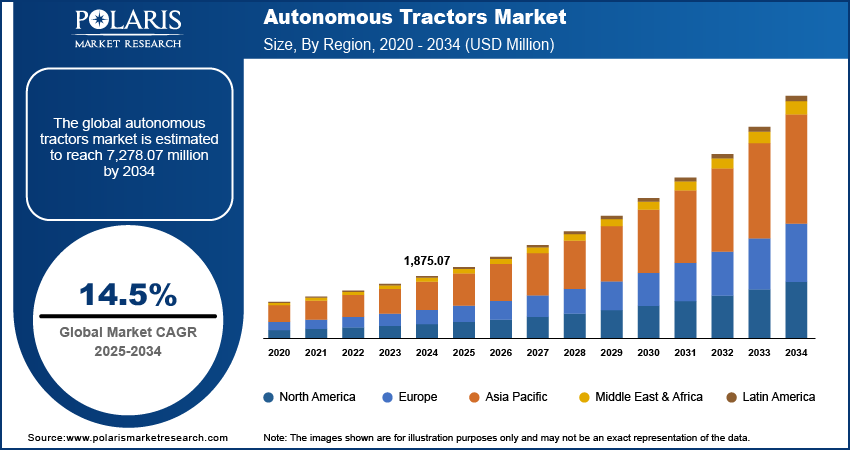 To Understand More About this Research: Request a Free Sample Report
For example, in July 2022, Monarch partnered with India-based artificial intelligence start-up Einsite to improve the development of edge applications and autonomy models. The popularity of automation in this sector has led manufacturers to launch more products in the market to tap a large number of farmers and improve their productivity. As a result, this factor is largely augmenting the growth of the global market.
The COVID-19 pandemic has had a mixed impact on the autonomous tractor market. While there has been a slowdown in production and supply chain disruptions due to lockdowns and restrictions, there has also been an increased demand for automation and reduced human contact in the agriculture sector. The pandemic has led to a reduction in agricultural activities, which has affected the demand for autonomous tractors. This has resulted in delays in the production and delivery of autonomous tractors, which have impacted the growth of the global market.
However, COVID-19 has also highlighted the need for automation and reduced human contact in agriculture. Autonomous tractors can operate without human intervention, reducing the risk of infection among workers. This has increased tractor demand, particularly in regions where the pandemic has hit hard. Moreover, the pandemic has also led to an increased focus on food security, which has resulted in increased investment in the agriculture sector.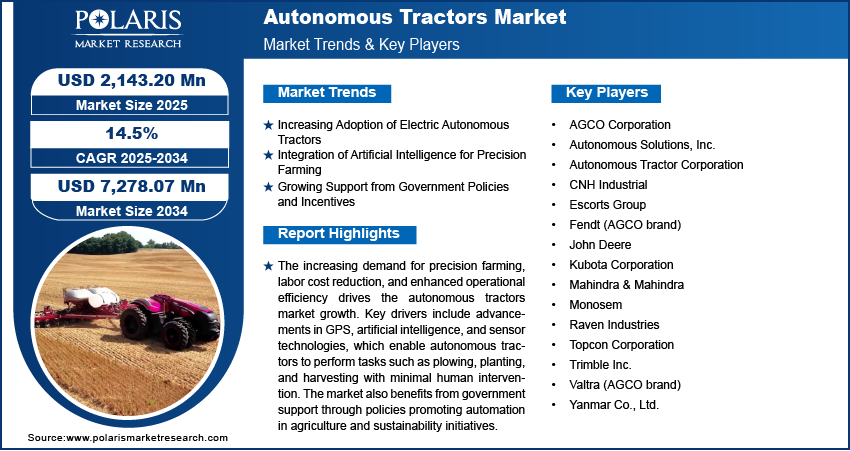 For Specific Research Requirements, Request for a Customized Report
Industry Dynamics
Growth Drivers
Expanding the agriculture industry internationally is one of the prime factors in improving the autonomous tractors market global revenue. With a continually growing population, the demand for food is also escalating. For example, raising the standards in agriculture is crucial to eliminating poverty, promoting inclusive economic growth, and ensuring food security for the projected global population of 9.7 billion by 2050.
Advancements in the agricultural sector have proven to be two to four times more effective in uplifting the incomes of the most underprivileged individuals, surpassing the impact of progress in other industries. As a result, the demand for food is increasing at a high rate with improvements in agriculture across the globe. The agriculture industry needs to become more efficient and productive to meet this demand, and autonomous tractors can help achieve this goal. This is bolstering the global market's growth.
Growing market strategies to improve efficiency in farming is another growth factor influencing the global market's growth. Many farmers opt for autonomous tractors to improve accuracy, reduce labor costs, and reduce fuel consumption. Many companies are investing in the market to meet their demand. For example, in February 2023, as part of their partnership with airport operator Fraport, NAVYA, a pioneer in autonomous mobility systems, and Charlotte Manutention, a partner, announced the implementation of their Tract Autonom AT135 solution at Frankfurt Airport in Germany. Likewise, many other businesses are working with other major vendors to enhance their businesses. This is consequently broadening the global market.
Report Segmentation
The market is primarily segmented based on power output, component, crop type, application, and region.
By Power Output

By Component

By Crop Type

By Application

By Region

Up to 30 HP

31–100 HP

101 HP & Above

Camera/Vision Systems

LiDAR

Hand-Held Devices

Radar

Ultrasonic Sensors

GPS

Cereals & Grains

Oilseeds & Pulses

Fruits & Vegetables

Tillage (Primary & Secondary Tillage)

Seed Sowing

Harvesting

Steak

Other Applications

North America (U.S., Canada)

Europe (France, Germany, UK, Italy, Netherlands, Spain, Russia)

Asia Pacific (Japan, China, India, Malaysia, Indonesia. South Korea)

Latin America (Brazil, Mexico, Argentina)

Middle East & Africa (Saudi Arabia, UAE, Israel, South Africa)
To Understand the Scope of this Report: Speak to Analyst
31–100 HP segment held the largest share of the global market in 2022
In 2022, the 31–100 HP segment dominated the market share, as many of the current autonomous tractor models fall within this power output and are typically used for smaller-scale farming operations. Tractors in this power range are versatile and can be used for various farming tasks, including plowing, planting, harvesting, and hauling. Technological advances have made it possible to produce smaller tractors with the same level of automation as larger tractors. This has helped to increase the availability of autonomous tractors in the 31–100 HP power range.
The radar segment was dominating the global market in 2022
In 2022, the radar segment held the largest global share in volume and value. This is attributed to radar components' reliability, range, cost-effectiveness, versatility, and regulatory compliance. With the ability to provide accurate and reliable data about the tractor's surroundings, radar components are gaining huge popularity in the market. To leverage the benefits of this feature, industry participants are participating in it.
Radar sensors are highly reliable, even in adverse weather conditions like rain, fog, or snow. This makes them a valuable component for autonomous tractors, which must operate in various environmental conditions.
The fruits and vegetable segment accounted for the largest share in 2022
Fruits and vegetables held the largest share of the global market in 2022. Fruits and vegetables typically require more labor-intensive tasks such as planting, harvesting, and sorting, leading to higher labor costs. Autonomous tractors can help reduce these costs by performing these tasks more efficiently and without the need for human operators. Tractors also perform precise farming practices, such as controlled watering, fertilization, and accurate planting depths. Moreover, increasing consumer demand for locally-grown and sustainably produced fruits and vegetables is also attributed to boosting the demand for autonomous tractors in this segment as they help farmers meet these demands by improving efficiency and reducing the use of harmful chemicals.
Tillage is anticipated to dominate the global market in 2022
The tillage segment is expected to hold the highest share of the global market in 2022. This is due to the high labor costs, precision farming requirements, large-scale farming practices, cost savings, and environmental benefits. Autonomous tractors help perform various operations, such as preparing the soil for planting, which can be labor-intensive and require significant physical effort.
Tillage operations are often performed on larger farms, which can benefit from the increased efficiency and productivity of autonomous tractors. Larger farms may also have more resources to invest in advanced autonomous machinery. As the demand for advanced automation in agriculture grows, tillage applications will likely remain a key global market focus.
North America is accounting for the largest share of the global market in 2022
North America is expected to lead the global market share. This is primarily due to strong technological expertise, large-scale farming, demand for advanced agricultural automation, and many other factors. For example, four autonomous Yanmar tractors with 88-113 HP are priced between USD 104,800 & USD162,330. Monarch Tractor, a 40 HP EV tractor, is available in the U.S. for USD 50,000. North America was one of the first regions to embrace autonomous tractors and has been at the forefront of their development and implementation. As a result, this factor is driving the market growth in this region.
Asia Pacific is the fastest-growing during the forecast period. This is due to the growing production of vegetables, fruits, and other food. For example, the Chinese government has continuously placed a high priority on the expansion of agriculture. China is a leader in producing fruit, vegetables, cereals, cotton, meat, eggs, poultry, and fishery products worldwide. The growing production of such foods is significantly propelling the region's growth.
Competitive Insight
The global market involves AGCO Corp., Autonomous Solutions, Autonomous Tractor, CNH Industrial, Deere & Company, KINZE Manufacturing, Kubota Corp., Mahindra & Mahindra, Trimble, & Yanmar
Recent Developments
In August 2021, Deere & Co. acquired an autonomous tractor startup, Bear Flag Robotics Inc., based in California. The US$ 250 million acquisition augmented the growth of agricultural autonomy and promoted Deere's long-term strategy to produce smarter machines with emerging technology to support customer needs.
Autonomous Tractors Market Report Scope
| | |
| --- | --- |
| Report Attributes | Details |
| Market size value in 2023 | USD 2,716.06 million |
| Revenue forecast in 2032 | USD 14,624.86 million |
| CAGR | 20.6% from 2023 – 2032 |
| Base year | 2022 |
| Historical data | 2019– 2021 |
| Forecast period | 2023– 2032 |
| Quantitative units | Revenue in USD million and CAGR from 2023 to 2032 |
| Segments covered | By Power Output, By Crop Type, By Component, By Application, By Region |
| Regional scope | North America, Europe, Asia Pacific, Latin America; Middle East & Africa |
| Key companies | AGCO Corporation, Autonomous Solutions, Inc., Autonomous Tractor Corporation, CNH Industrial, Deere & Company, KINZE Manufacturing, Kubota Corporation, Mahindra & Mahindra, Trimble, and Yanmar |