The global breast lesion localization market was valued at USD 316.46 million in 2022 and is expected to grow at a CAGR of 5.6% during the forecast period.
With the development of surgical, imaging, and biological technology, localizing breast lesions has become a more common practice. The first method for locating nonpalpable, image-detected breast lesions was introduced approximately 50 years ago and is called wire localization. The evolution of new technologies for the treatment of breast lesion localization is increasing their adoption rate,driven by their new features. Research and development activities are increasing to innovate new systems in the marketplace to cater to ongoing consumer health issues.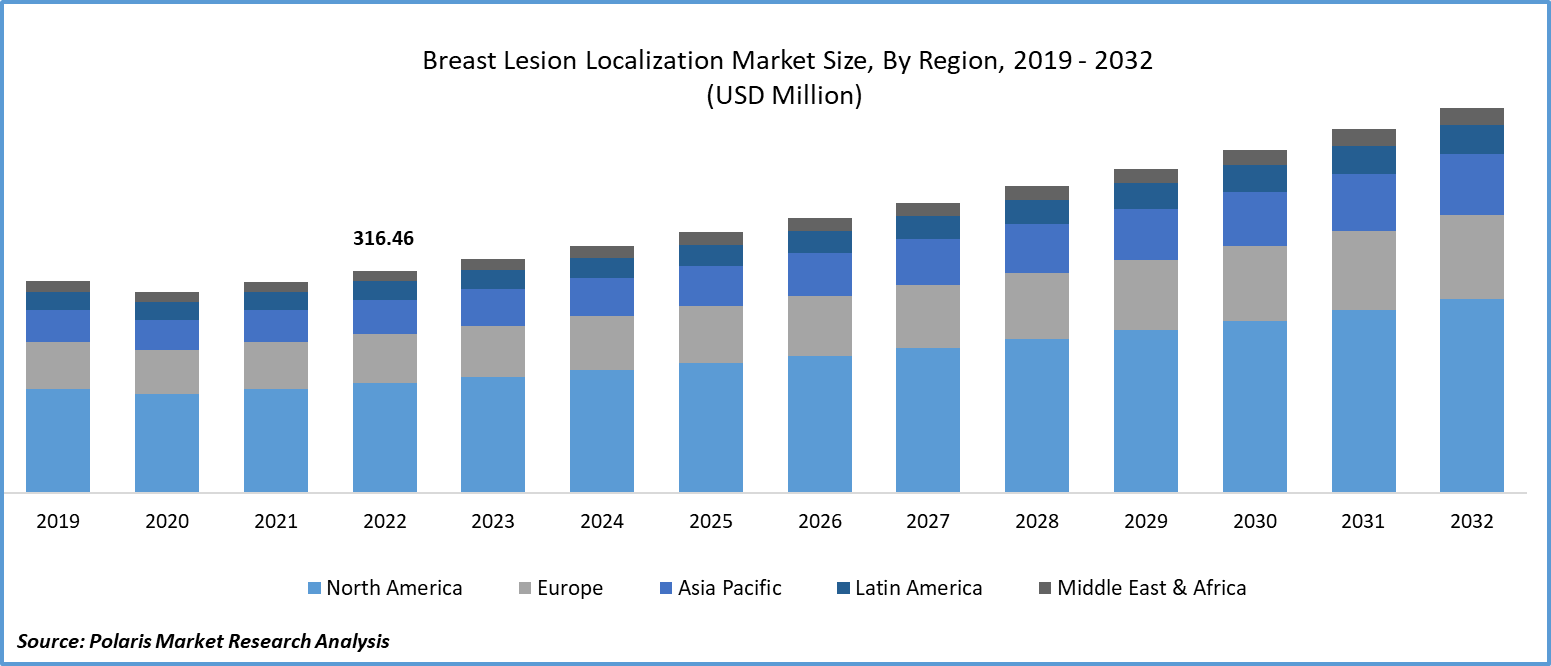 To Understand More About this Research: Request a Free Sample Report
For instance, in July 2022, a study published in PLOS ONE innovated a new technology called Mammowave, which detects breast lesions with microwave imaging devices. The data show that automated breast lesion localization using microwave imaging meets the benchmark, attaining 81.82% sensitivity in malignant finding (MF) detection.
Moreover, the growing government initiatives to promote consumer health by enforcing equipment related to breast cancer. This may further drive demand for breast lesion localization technology as it enables surgeons to identify abnormal cells or tissues.
However, the initial costs associated with the installation of breast lesion localization technology are hampering sufficient treatment for the needy, as small healthcare centres with lower budgets are unable to afford the latest technologies, which may hamper the adoption rate in the coming years.
Growth Drivers
Rising prevalence of breast cancer among the population, along with organizational initiatives to tackle breast cancer cases
The diagnosis rates of breast cancer have significantly increased over the past few decades due to mammography and other imaging tools, but methods for localizing breast lesions have essentially remained unchanged. Localization techniques are now required in up to 50% of all lumpectomy and surgical biopsy procedures to assure correct removal of the target lesion due to early diagnosis of breast lesions.
According to the World Health Organization, in 2020, 685 000 people world-wide died and 2.3 Mn women were diagnosed with the breast cancer. Half of breast cancer cases affect women who have no known risk factors for the disease other than their gender (female) & age (over 40).
The WHO Global Breast Cancer Initiative (GBCI) aims to prevent 2.5 Mn breast cancer deaths across the globe between 2020 & 2040 by reducing, mortality rate by around, 2.5%. Health promotion for the early detection, prompt diagnosis, & the comprehensive BC management are 3 foundations for achieving such goals. As the organization steps forward to control breast cancer, there will be a need for breast lesion localization technology, as it enables surgeons to detect early and assist patients to recover early.
Report Segmentation
The market is primarily segmented based on type, usage, end user and region.
By Type

By Usage

By End User

By Region

Wire Localization

Radioisotope Localization

Magnetic Localization

Electromagnetic Localization

Other Localization Methods

Breast Biopsy

Breast Conservation (Lumpectomy)

Hospitals & Clinics

Diagnostic Imaging Centers

Ambulatory Surgical Centers

Others

North America (U.S., Canada)

Europe (France, Germany, UK, Italy, Netherlands, Spain, Russia)

Asia Pacific (Japan, China, India, Malaysia, Indonesia. South Korea)

Latin America (Brazil, Mexico, Argentina)

Middle East & Africa (Saudi Arabia, UAE, Israel, South Africa)
To Understand the Scope of this Report: Speak to Analyst
By Type Analysis
Electromagnetic localization segment is expected to witness the highest growth during the forecast period
The electromagnetic localization segment is projected to grow at a CAGR during the projected period, mainly driven by its higher ability to detect breast lesions among the patients, which assists the surgeon in an effective treatment procedure with patient safety. The rising innovations in electromagnetic localization technologies, like wireless breast lesion localization systems, enable discomfort for patients and restrict the need for physical wires that are attached to the body.
By Usage Analysis
Breast conservation segment accounted for the largest market share in 2022
The breast conservation segment accounted for the largest breast lesion localization market share. The malignancy and surrounding tissue are removed during breast-conserving surgery. The objective is to remove just enough tissue so that the breast recovers from surgery looking as natural as possible while minimizing the risk of cancer recurrence. The rising demand for breast conservation surgery is driven by patients' preferences to conserve breast shape and appearance.
The breast biopsy segment is expected to grow at the fastest growth rate over the next few years on account of the improved diagnostic accuracy. During a biopsy, a little bit of tissue is taken and examined in a lab. Breast tissue may be retrieved for a breast biopsy using a unique biopsy needle. It might also be taken out surgically. It is examined to determine whether it contains cancerous or other aberrant cells.
By End User Analysis
Ambulatory surgical centers segment held the significant market revenue share in 2022
The ambulatory surgical centers segment held a significant market share in revenue in 2022, which is highly influenced by the continuous rise in minimally invasive procedures. The growing concerns about breast-related health issues like breast cancer among people are motivating them to go into early detection centres like ambulatory surgical centres and driving surgeons to use breast lesion localization procedures for further treatment in the coming years.
Regional Insights
North America registered the largest share of the global market in 2022
The North American region accounted for the largest market share. The growing incidence of breast cancer in the region is driving the need for efficient technology in the detection of breast lesion localization systems. According to a study published in JAMA Network, breast (12,649), thyroid (5,869), and colorectal cancers (4,097) had the most early-onset cases of any malignancies reported in 2019 in the US. Countries in the region are working on promoting the health and well-being of citizens.
Furthermore, the American Cancer Society gives recommendations for early detection of breast cancer among the population. Every year, mammograms are advised for women ages 45 to 54. Women 55 and older have the option of continuing with yearly mammograms or switching to a mammogram every other year. As countries in the region understand the need for technology to detect breast cancer as well as equipment for treatment, there will be a huge potential for breast lesion localization technology in the coming years.
The Asia Pacific region is expected to be the fastest growing region with a healthy CAGR during the projected period, largely due to the need for effective tools for surgeon driven by growing health issues related to breast cancer. According to the article published in WebMed, more than 2,87,000 new cases of invasive breast cancer are diagnosed in 2022, and one in eight women is expected to be diagnosed with breast cancer throughout their lifetime in the region. This demonstrates the increasing number of breast cancer cases, which may further drive the need for treatment systems like breast lesion localization, as it ensures surgeons can identify abnormal tissue in breast cells.
Key Market Players & Competitive Insights
The breast lesion localization market is gaining traction nowadays with the rapid evolution of companies in this domain with the new product launches and portfolio expansion. The increasing partnerships, collaborations, mergers and acquisitions among key industrial players is driving the market outreach to the wider audience in the marketplace.
Some of the major players operating in the global market include:
Ambu

ARGON MEDICAL

Biomedical Srl

BPB Medica

Dragerwerk

Elucent Medical

Endomagnetics

GE Healthcare

Hologic

Intramedical Imaging

Isoaid

Izi Medical Products

Koninklijke Philips

Laurane Medical

MatekMedikal

MDL SRL
Recent Developments
In August 2021, a study published in the journal of breast imaging focused on the usage of image-guided techniques for non-palpable breast lesions. It revealed that there are no significant differences in surgical outcomes between the usage of wire and non-wire localization, facilitating surgeons and patients' preferences during the selection of image-guided localization technologies.
Breast Lesion Localization Market Report Scope
| | |
| --- | --- |
| Report Attributes | Details |
| Market size value in 2023 | USD 333.40 million |
| Revenue forecast in 2032 | USD 546.74 million |
| CAGR | 5.6% from 2023 – 2032 |
| Base year | 2022 |
| Historical data | 2019 – 2021 |
| Forecast period | 2023 – 2032 |
| Quantitative units | Revenue in USD million and CAGR from 2023 to 2032 |
| Segments covered | By Type, By Usage, By End User, By Region |
| Regional scope | North America, Europe, Asia Pacific, Latin America, Middle East & Africa |
| Customization | Report customization as per your requirements with respect to countries, region and segmentation. |