The global mammography market was valued at USD 2,345.00 million in 2022 and is expected to grow at a CAGR of 10.5% during the forecast period. The mammography market refers to the global industry involved in developing, manufacturing, and distributing mammography systems and related products. Mammography is a specialized medical imaging technique used to screen, diagnose, and monitor breast cancer. It plays a crucial role in early detection and enables healthcare professionals to identify abnormalities in breast tissue, including tumors or other suspicious lesions.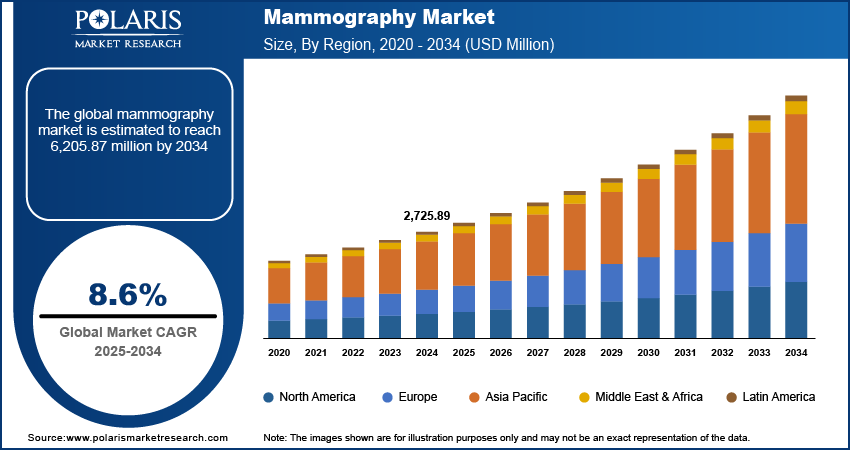 To Understand More About this Research: Request a Free Sample Report
The increasing prevalence of breast cancer and the growing emphasis on early detection and improved patient outcomes have driven the demand for mammography systems worldwide. Mammography technology has evolved significantly, with advancements in digital mammography, 3D mammography (tomosynthesis), and other imaging modalities. These innovations have enhanced breast cancer detection and diagnostic accuracy and efficiency.
The market encompasses various products, including mammography systems, imaging software, biopsy systems, and accessories. Additionally, the market includes installation, maintenance, and support services.
The demand for mammography systems is influenced by rising awareness about breast cancer, increasing healthcare expenditure, government initiatives for cancer screening programs, and technological advancements in imaging technologies. Additionally, the growing aging population and the higher incidence of breast cancer among women further contribute to the market's growth.
Key market players in the mammography industry include medical imaging equipment manufacturers, healthcare providers, research institutions, and regulatory authorities. These stakeholders collaborate to develop advanced mammography solutions and ensure quality and safety standards compliance.
The market experienced a downturn during the COVID-19 pandemic as many mammography centers temporarily suspended their screening services to mitigate the risk of virus transmission among patients and healthcare staff. This disruption resulted in a decline in the growth of the market. Furthermore, the growing awareness about the importance of regular breast cancer screening and the need for early detection further contributed to the recovery and ensuing growth of the mammography market.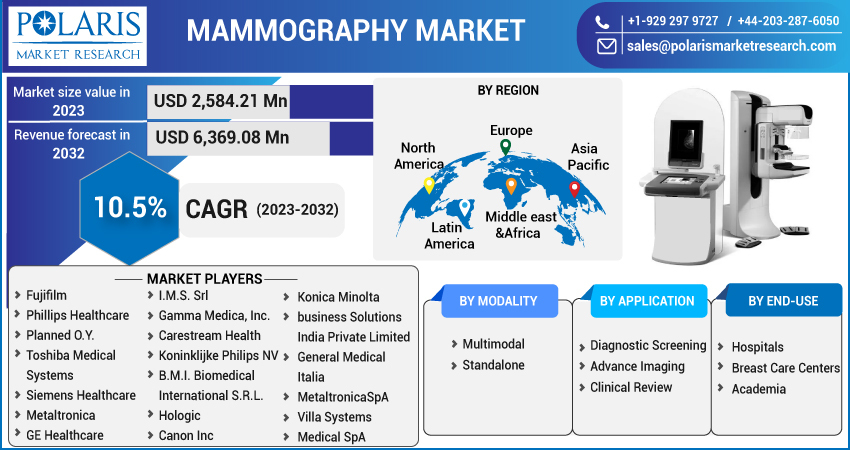 For Specific Research Requirements, Request for a Customized Report
Industry Dynamics
Growth Drivers
According to WHO reports, breast cancer is the most common cancer type among women, with a prevalence rate of 11.7%. Asia has the highest number of affected individuals. After the COVID-19 period, there has been a surge in screening rates, indicating increased awareness among people about available technologies for early detection and diagnosis of cancer. The rising incidence of breast cancer is creating a higher demand for mammography as it is an essential screening tool for early detection and diagnosis. The need for timely and accurate breast cancer detection is driving the growth of the mammography market.
The growth of the market is driven by the advancement of cutting-edge technologies in breast imaging. These innovative technologies, including digital mammography, 3D mammography (tomosynthesis), and breast ultrasound, have significantly improved diagnostic capabilities and accuracy in detecting breast abnormalities, fueling the market growth.
Also, governments and healthcare organizations are implementing breast cancer screening programs and awareness campaigns to promote early detection and reduce breast cancer-related mortality. These initiatives and reimbursement policies drive the demand for mammography services and contribute to market growth. Increasing healthcare expenditure in many countries and improved access to healthcare services are boosting the demand for mammography. Investments in healthcare infrastructure, advancements in medical technology, and growing disposable incomes are supporting the growth of the market.
Report Segmentation
The market is primarily segmented based on modality, application, end-use, and region.
By Modality

By Application

By End-Use

By Region

Diagnostic Screening

Advance Imaging

Clinical Review

Hospitals

Breast Care Centers

Academia

North America (U.S., Canada)

Europe (France, Germany, UK, Italy, Netherlands, Spain, Russia)

Asia Pacific (Japan, China, India, Malaysia, Indonesia. South Korea)

Latin America (Brazil, Mexico, Argentina)

Middle East & Africa (Saudi Arabia, UAE, Israel, South Africa)
For Specific Research Requirements: Request for Customized Report
The diagnostic screening

segment held the largest market share in 2022
In 2022, the diagnostic screening segment held the largest market share; contributing to its growth is the increased accessibility to detailed breast imaging services at affordable prices. Technological advancements have enabled the development of advanced diagnostic tools and techniques, allowing for more accurate and comprehensive breast examinations. Additionally, the presence of skilled and experienced healthcare professionals who can provide high-quality diagnostic services has further fueled the growth of this segment. The diagnostic screening segment continues to play a crucial role in the early detection and diagnosis of breast abnormalities, thus driving the overall development of the market.
The hospital segment held the highest revenue share in 2022
In 2022, the hospital segment held the highest revenue share of the market by contributing to its high revenue share at a relatively lower cost than other market segments. Additionally, hospital settings are equipped with advanced mammography machines that offer both 2D and 3D imaging capabilities, enhancing breast examinations' performance and accuracy. This advanced technology improves the patient experience, reduces wait times, and allows for faster inspections.
The demand in Asia Pacific is expected to witness fastest growth over the forecast period
Asia Pacific expected the fastest growth over the forecast period. This growth can be attributed to the initiatives taken by governments across various countries in the region to promote breast cancer screening and awareness programs. These initiatives aim to educate women about the importance of early detection through mammography and encourage regular screenings.
The increasing prevalence of breast cancer in Asia Pacific is another significant factor driving the growth of the market in the region. The rising incidence of breast cancer has led to a greater emphasis on early diagnosis and timely treatment, increasing the demand for mammography technology.
Moreover, there is a growing awareness among individuals regarding the benefits and effectiveness of mammography screening. This increased awareness and advancements in mammography technology have further propelled the market growth in the Asia Pacific.
North America is anticipated to be the growing region for mammography, primarily due to the increasing adoption and penetration of mammography services in both the private and public healthcare sectors. The area has witnessed significant investments in advanced mammography technologies and infrastructure, particularly in the United States, which is expected to drive revenue growth.
Competitive Insight
Some of the major players operating in the global market include Fujifilm, Phillips Healthcare, Planned O.Y., Toshiba Medical Systems, Siemens Healthcare, Metaltronica, GE Healthcare, I.M.S. Srl, Gamma Medica, Inc., Carestream Health, Koninklijke Philips NV, B.M.I. Biomedical International S.R.L., Hologic, Canon Inc, Konica Minolta, business Solutions India Private Limited, General Medical Italia, MetaltronicaSpA, Villa Systems Medical SpA.
Recent Developments
In December 2021, GE introduced an advanced mammographic platform incorporating 3D technology while utilizing the same low radiation levels as traditional 2D technology. This innovation enhanced breast cancer detection and diagnosis capabilities, offering healthcare providers and patients a safer and more efficient imaging solution.

In January 2022, ScreenPoint Medical expanded its global presence by launching Transpara, an AI Breast Care system, in the United States and 30 other countries. This expansion allowed healthcare providers worldwide to benefit from the advanced capabilities of Transpara in assisting with breast cancer detection and diagnosis. The AI-driven system provided enhanced accuracy and efficiency in mammography interpretation, aiding in delivering hithankagh-quality breast care services

.
Mammography Market Report Scope
| | |
| --- | --- |
| Report Attributes | Details |
| Market size value in 2023 | USD 2,584.21 million |
| Revenue forecast in 2032 | USD 6,369.08 million |
| CAGR | 10.5% from 2023 - 2032 |
| Base year | 2022 |
| Historical data | 2019 - 2021 |
| Forecast period | 2023 - 2032 |
| Quantitative units | Revenue in USD million and CAGR from 2023 to 2032 |
| Segments covered | By Modality, By Application, By End-Use, By Region |
| Regional scope | North America, Europe, Asia Pacific, Latin America; Middle East & Africa |
| Key companies | Fujifilm, Phillips Healthcare, Planned O.Y., Toshiba Medical Systems, Siemens Healthcare, Metaltronica, GE Healthcare, I.M.S. Srl, Gamma Medica, Inc., Carestream Health, Koninklijke Philips NV, B.M.I. Biomedical International S.R.L., Hologic, Canon Inc, Konica Minolta, business Solutions India Private Limited, General Medical Italia, MetaltronicaSpA, Villa Systems Medical SpA |