The global bridge inspection system market was valued at USD 0.98 billion in 2022 and is expected to grow at a CAGR of 5.35% during the forecast period. Analytical and monitoring tools are used in infrastructure inspection to help determine the condition of the infrastructure. The technology includes the gathering and analysis of important infrastructure-related data. In essence, it examines relevant data and infrastructure-related information. The upkeep and success of a nation are fundamentally dependent on improvements to the equipment used in the infrastructure.

To Understand More About this Research: Request a Free Sample Report
In addition, vital and directly related to people's lives is the infrastructure that facilitates physical distribution, such as roads and trains. Bridges are necessary for people to efficiently travel areas with severe elevation changes, such as hilly regions that span over rivers. In the past, bridges were built with wood or bricks or suspended by plants like ivy. They can now accommodate people and loads since they are constructed using a variety of materials, including steel and concrete. Modern motorways, city streets, and in some cases even train tracks are raised. They may also be thought of structurally as bridges.
Further, increased traffic caused by an increase in the number of cars on the road raises the need for bridges. According to the World Economic Forum (WEF), by 2040, it is anticipated that there will be around 2 Bn cars on the road, while there will be 20 trillion air transport kilometers. Also, due to increased government efforts, rising investment levels, and economic expansion in both established and emerging nations, the global market for bridge inspection is anticipated to expand rapidly. The G20-initiated Global Infrastructure Hub collaborates with both the public and commercial sectors on a worldwide scale to improve the quantity and quality of infrastructure projects.
Several businesses, notably the market for infrastructure inspection, were negatively impacted by COVID-19. Because of the financial issues experienced during the COVID-19 epidemic, both the public and government sectors suffered tremendously. The enactment of lockdown and the social separation rules resulted in the closure of businesses in several nations. Due to personnel scarcity and insufficient productivity, the infrastructure inspection sector had severe issues. Due to the reduced output and closure of several businesses, including the oil and gas sectors, among others, the need for infrastructure inspection systems has decreased. Nonetheless, due to a rise in building activity, the market for infrastructure inspection is anticipated to experience growth in demand following the COVID-19 crisis.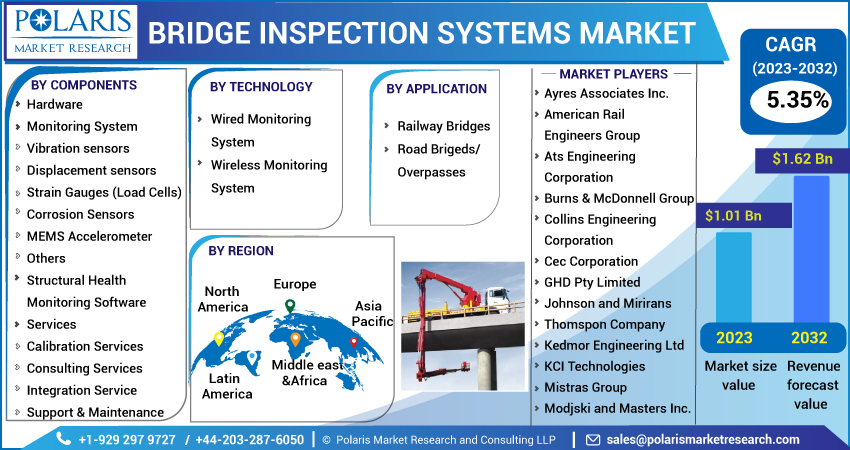 For Specific Research Requirements, Request For Customized Report
Industry Dynamics
Growth Drivers
The rising development of bridges for reducing traffic and well as management of the bridge at regular intervals is the major factor driving the growth of the bridge inspection system market over the forecast period. Bridges are an integral aspect of the wider transportation network. A crucial step in the process of overall asset management and a necessary component of long-term asset management is the bridge management system (BMS). Assuring the safety and ongoing functioning of bridges throughout their full life cycle is one of the fundamental goals of installing a bridge management system. An inspection and maintenance log, a system for risk assessment and monitoring, and a database of information on bridges are all common components of a bridge management system. This danger results from a circumstance where necessary rehabilitative interventions are not provided owing to a lack of budgetary allocations.
Further, many BMS application teams have a typical propensity to avoid predicting the risk involved. The strategy aims to reduce the risk by distributing funding to all bridges in part. Such fund distributions result in the Source of anguish being partially eliminated. This method is taken since the team does not have enough technical evidence to reliably prolong the rehabilitation intervention for non-critical bridge structures. The updated Global Analytics tool ensures that adequate technical information is assessed using cautious scientific procedures, providing the necessary degree of confidence. The evaluation of Balance service life and Absolute balance service life serves as the foundation for risk assessment and analysis. When these criteria are accurately assessed, the team has the confidence they need to decide how far the rehabilitation therapies may be delayed for all bridges with minimal distress.
Additionally, bridge managers use the findings from the risk assessment to rank the inventory of their bridges in need of maintenance and repair and to create long-term management strategies. Finding out the overall risk associated with the bridge structure is also important. A risk analysis is produced based on the output of the cause matrix, and it evaluates the Medium Service Life, Time of Deterioration, & the Actual Balance Service Life. The team receives crucial information from the evaluation of the median service life regarding the best window for the whole life cycle of the bridge structure when rehabilitation operations are most crucial. This aids in correct budgeting for various bridges in the network.
Report Segmentation
The market is primarily segmented based on components, technology, application, and region.
By Components

By Technology

By Application

By Region

Hardware

Monitoring System

Vibration sensors

Displacement sensors

Strain Gauges (Load Cells)

Corrosion Sensors

MEMS Accelerometer

Others

Structural Health Monitoring Software

Services

Calibration Services

Consulting Services

Integration Service

Support & Maintenance

Wired Monitoring System

Wireless Monitoring System

Railway Bridges

Road Brigeds/ Overpasses

North America (U.S., Canada)

Europe (France, Germany, UK, Italy, Netherlands, Spain, Russia)

Asia Pacific (Japan, China, India, Malaysia, Indonesia. South Korea)

Latin America (Brazil, Mexico, Argentina)

Middle East & Africa (Saudi Arabia, UAE, Israel, South Africa)
To Understand the Scope of this Report: Speak to Analyst
The railway bridges segment is expected to witness the fastest growth during forecast period
The growth of railway networks all through the world is anticipated to support rising urbanization, which will in turn support market trends for bridge building. Traditionally, tiltmeters or inclinometers are used to measure an object's inclination. An inclinometer's basic mode of operation is the measurement of different reactions produced by pendulum behavior as a result of gravitational impacts. Because commercially available sensors are not accurate enough to detect minute bridge rotations, the inclination is arguably the least used character in the area of bridge SHM. Huseynov et al. (2020) devised a unique method for monitoring object rotations to microradian precision utilizing high-grade force balance-type accelerometers, nevertheless, in recent research.
The road bridges are expected to hold the significant revenue share in 2020
The most widely utilized form of transportation worldwide is via road. Demand for the device is anticipated to increase as the need to identify road damage increases. The inspection method will aid in finding issues like rutting, cracks, and potholes. Moreover, inspection systems will categorize the kind of damage and submit it for repair. Increasing calls for traffic congestion relief and making roads the safest and most convenient mode of transportation of transportation is anticipated to fuel market expansion. Increased bridge construction for enhanced city connectivity is anticipated to fuel market expansion. It is anticipated that growing public safety and smooth driving trends would increase system demand. Moreover, it is projected that throughout the projection period, urbanization and the need for road traffic would accelerate market growth for road inspection systems.
Road travel is the most used mode of transportation in the globe. The requirement to detect damage to road bridges is expected to enhance demand for the gadget. Rutting, cracks, and potholes will all be found using the inspection procedure. Moreover, inspection systems will classify the damage type and submit it for repair. It is projected that rising requests for traffic congestion alleviation and making bridges the safest and most practical means of transit would drive market development. It is projected that increased bridge building would support market development by improving city connections. The demand for the technology is expected to rise as public safety concerns develop and driving habits to become more comfortable.
The demand in North America is expected to witness significant growth during projected timeframe
North America is expected to continue to dominate the worldwide market for bridge inspection during the projected period due to the region's strong vendor ecosystem and industry adoption of automation. Additionally, Asia Pacific has grown with more CAGR because of government support to market players. In China During the last ten years, maintaining and extending the lifespan of existing infrastructure has taken on increasing importance in comparison to investing in the construction of new infrastructure. Over the past 20 years, Several countries have installed bridge monitoring systems.
Competitive Insight
Some of the major players operating in the global bridge inspection system market include Ayres Associates Inc., American Rail Engineers Group, Ats Engineering Corporation, Burns & McDonnell Group, Collins Engineering Corporation, Cec Corporation, GHD Pty Limited, Johnson and Mirirans Thomspon Company, Kedmor Engineering Ltd, KCI Technologies, Mistras Group, Modjski and Masters Inc., Mabey Group Corporation, Patriot Rail Company, and Short Elliot Hendrickson Inc.
Recent Developments
In May 2020, The American Rail Engineers Group Project Management Portal (PMP) and Vimana's construction management SaaS platform combined drone data collecting, processing, and outputs. As well as reviewing site observation, data collecting, and asset inspection, this enables project teams to complete important management analytics and reporting duties in a single, easy-to-access location.
Bridge Inspection System Market Report Scope
| | |
| --- | --- |
| Report Attributes | Details |
| Market size value in 2023 | USD 1.01 billion |
| Revenue forecast in 2032 | USD 1.62 billion |
| CAGR | 5.35% from 2023- 2032 |
| Base year | 2022 |
| Historical data | 2019- 2021 |
| Forecast period | 2023- 2032 |
| Quantitative units | Revenue in USD billion and CAGR from 2023 to 2032 |
| Segments Covered | By Components, By Technology, By Application, By Region |
| Regional scope | North America, Europe, Asia Pacific, Latin America; Middle East & Africa |
| Key Companies | Ayres Associates Inc., American Rail Engineers Group, Ats Engineering Corporation, Burns & McDonnell Group, Collins Engineering Corporation, Cec Corporation, GHD Pty Limited, Johnson and Mirirans Thomspon Company, Kedmor Engineering Ltd, KCI Technologies, Mistras Group, Modjski and Masters Inc., Mabey Group Corporation, Patriot Rail Company, and Short Elliot Hendrickson Inc. |