The global broth market was valued at USD 7.78 billion in 2022 and is expected to grow at a CAGR of 3.4% during the forecast period. Consumers are increasingly seeking out products that are made with natural and organic ingredients, and broth is no exception. Many consumers are willing to pay a premium for broths that are made with high-quality, organic, and grass-fed ingredients, and this has helped to fuel the growth of the organic and natural broth market.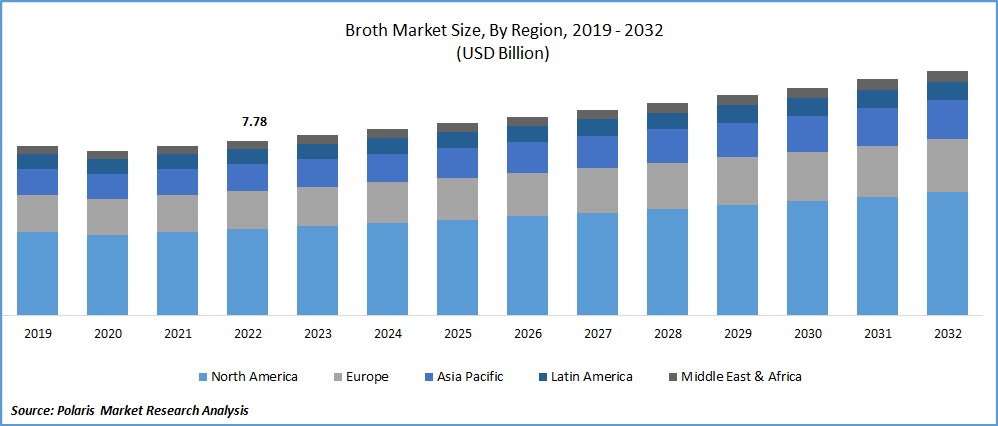 To Understand More About this Research: Request a Free Sample Report
Organic sales topped $63 billion between 2020 and 2021, growing by $1.4 billion (2%) overall during the year. Over 90% of organic sales are made up of food, which increased to $57.5 billion (an increase of about 2%), and non-food sales reached $6 billion (an increase of 7%) according to the Organic Sales Association.
The growing sales of organic products have fueled the growth of the broth market as consumers increasingly seek out organic and natural foods, including broth. As consumers continue to seek out organic and natural foods, the demand for organic broth is likely to continue to grow.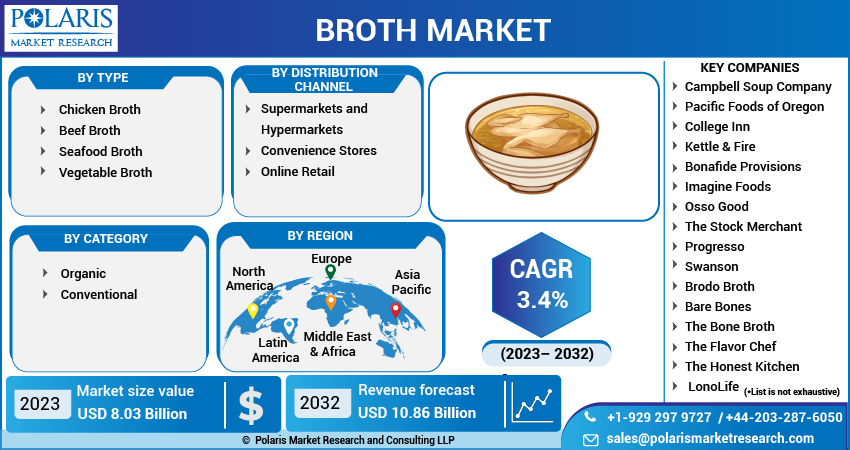 For Specific Research Requirements, Request for a Customized Report
Industry Dynamics
Growth Drivers
There is growing interest in the role of the gut microbiome in overall health, and broths are believed to be beneficial for gut health due to their high collagen content. As a result, many consumers are turning to broths as a way to support their gut health. The growing fascination with gut health is another upward trend. Consumer interest in adopting probiotics and prebiotics to support a healthy gut flora is rising, according to the 2021 IFIC Survey.
The growing adoption of probiotics and prebiotics is fueling the growth of the broth market by increasing consumer awareness of the importance of gut health and creating a demand for bone broth products that support gut health. As consumers continue to seek out foods that support gut health, the demand for bone broth products is likely to continue to grow.
Report Segmentation
The market is primarily segmented based on product, wax type, distribution channel and region.
By Type

By Category

By Distribution Channel

By Region

Chicken Broth

Beef Broth

Seafood Broth

Vegetable Broth

Supermarkets and Hypermarkets

Convenience Stores

Online Retail

North America (U.S., Canada)

Europe (France, Germany, UK, Italy, Netherlands, Spain, Russia)

Asia Pacific (Japan, China, India, Malaysia, Indonesia, South Korea)

Latin America (Brazil, Mexico, Argentina)

Middle East & Africa (Saudi Arabia, UAE, Israel, South Africa)
To Understand the Scope of this Report: Speak to Analyst
Chicken broth segment is expected to witness fastest growth over forecast period
Chicken broth segment anticipated to faster growth in the forecast period. This is one of the most popular types of broth globally and has traditionally been a staple ingredient in many cuisines worldwide. The rise of health-conscious consumers has played a significant role in driving the growth of the chicken broth segment. Consumers are increasingly looking for natural and organic products that offer a range of health benefits. Chicken broth is a great source of protein, and its consumption is associated with several health benefits such as improved digestion, stronger bones, and reduced inflammation. The increasing popularity of the ketogenic diet and other low-carb diets has also contributed to the growth of the chicken broth segment.
Conventional segment expected to witness higher growth rate during forecast period
Conventional segment is projected to experience higher growth in the study period due to its wide availability and lower cost compared to organic broth. Conventional broth is often more affordable and widely available in supermarkets and grocery stores than organic broth, making it a popular option for many consumers.
Furthermore, this segment is witnessing increasing product innovation by manufacturers. Companies are introducing new and improved flavors, ingredients, and packaging options to cater to the changing consumer preferences and differentiate their products from competitors. This has helped to attract new consumers and retain existing ones. In addition, the demand for convenience food products is growing rapidly, and the conventional broth segment is well-positioned to cater to this demand. Consumers are increasingly seeking out easy-to-prepare meal solutions that are healthy, delicious, and time-efficient. This will further fuel the growth of the market in coming years.
Supermarkets and Hypermarkets segment is expected to hold the larger revenue share
Supermarkets and Hypermarkets segment accounted for larger revenue share. These stores are popular shopping destinations for consumers due to their convenience, accessibility, and wide range of product offerings, including broth. They have a large customer base and offer competitive pricing due to their purchasing power, which makes them an attractive option for many consumers. They often provide attractive promotional offers and discounts on food products, including broth, which further boosts their sales. This helps to attract price-sensitive consumers who are looking for good deals on their grocery purchases.
These stores are increasingly focusing on private-label brands, which are often cheaper than branded products and can help to drive sales in this category. Private-label brands of broth offer supermarkets and hypermarkets higher profit margins and greater control over the pricing and marketing of their products.
APAC registered with the highest growth rate in the study period
APAC is projected to witness a higher growth rate for the market. The region has a large and rapidly growing population, which is increasingly adopting a health-conscious lifestyle and is seeking out nutritious food products such as broth. The Chinese government has set a goal of reducing the nation's meat consumption by 50% by 2030, a local plant-based business is expanding quickly. Initiatives to reduce meat consumption in some countries like China are fueling the growth of the broth market as more consumers seek out plant-based alternatives to traditional meat-based dishes.
In recent years, the Chinese government has launched campaigns to reduce meat consumption and promote healthier, more sustainable diets. As a result, there has been a growing interest in plant-based foods, including plant-based broths. Broths made from plant-based ingredients such as mushrooms, seaweed, and soy have become increasingly popular in China as consumers look for alternatives to traditional meat-based broths.
Europe and North America projected to witness larger revenue share
Europe and North America are expected to have a larger revenue share for the broth market. Both regions have a mature market for broth products, with a high level of consumer awareness and demand for the product. Broth has been a staple food in both European and North American cuisine for centuries and is a popular ingredient in many traditional dishes. The rise of health and wellness trends in both regions is expected to drive the growth of the market further.
The COVID-19 pandemic has led to a surge in health consciousness and is driving the growth of the broth market. Based on the study conducted by OnePoll, following the epidemic, more than 70% of Americans are more health-conscious. Consumers in both Europe and North America are increasingly looking for food products that offer health benefits, and broth is seen as a nutritious and healthy option. The growing trend of clean label and natural food products is also driving the demand for broth in both regions.
Competitive Insight
Some of the major players operating in the global market include Campbell Soup Company, Pacific Foods of Oregon, College Inn, Kettle & Fire, Bonafide Provisions, Imagine Foods, Osso Good, The Stock Merchant, Progresso, Swanson, Brodo Broth, Bare Bones, The Bone Broth, The Flavor Chef, The Honest Kitchen, LonoLife, Vital Proteins, Ancient Nutrition, Osius Bone Broth, Manischewits, The Hain Celestial, Look's Gourmet Food Company, Del Monte Foods, Zoup Specialty Products, Unilever, knorr, General Mills & Epic Provisions.
Recent Developments
In January 2023, FOND Bone Broth introduced ready to market regenerative bone broth. Now it is produced using organic ingredients & biodegradable packaging to combat climate change.

In January 2023, LonoLife, an Ohio-based company launched of its newest item 'Tomato Beef Bone Broth', which is offered in individual packets.
Broth Market Report Scope
| | |
| --- | --- |
| Report Attributes | Details |
| Market size value in 2023 | USD 8.03 billion |
| Revenue forecast in 2032 | USD 10.86 billion |
| CAGR | 3.4% from 2023 - 2032 |
| Base year | 2022 |
| Historical data | 2019 - 2021 |
| Forecast period | 2023 - 2032 |
| Quantitative units | Revenue in USD billion and CAGR from 2023 to 2032 |
| Segments covered | By Type, By Category, By Distribution Channel, By Region |
| Regional scope | North America, Europe, Asia Pacific, Latin America; Middle East & Africa |
| Key companies | Campbell Soup Company, Pacific Foods of Oregon, College Inn, Kettle & Fire, Bonafide Provisions, Imagine Foods, Osso Good, The Stock Merchant, Progresso, Swanson, Brodo Broth, Bare Bones, The Bone Broth, The Flavor Chef, The Honest Kitchen, LonoLife, Vital Proteins, Ancient Nutrition, Osius Bone Broth, Manischewits, The Hain Celestial, Look's Gourmet Food Company, Del Monte Foods, Zoup Specialty Products, Unilever, knorr, General Mills & Epic Provision |