The global plant-based oils market was valued at USD 48.47 Billion in 2022 and is expected to grow at a CAGR of 6.50% in the forecast period. Health-conscious consumers' increasing demand for organic food products is the major driving factor for this market. Technological advancements in processing techniques have further added to the market's growth prospects in the coming years.

To Understand More About this Research: Request a Free Sample Report
The plant-based oils market refers to the demand for edible oils derived from various plant sources, including soybean, palm, sunflower, and canola. These oils are widely used in the food industry for cooking, frying, and baking, as well as in the cosmetics and personal care industries.
The oils are generally considered healthier than animal-based oils, as they are often lower in saturated fat and higher in unsaturated fats, which are considered better for heart health. They are also a more sustainable and environmentally friendly alternative to animal-based oils, requiring less land, water, and other resources to produce. Oils offer a variety of benefits, including heart-healthy fats, low cholesterol levels, anti-inflammatory properties, and rich in antioxidants. Oils are generally high in unsaturated fats, healthier for the heart than saturated fats. It can help reduce the risk of heart disease and stroke.
These oils are used in various applications, from cooking and food production to cosmetics and personal care. It makes them versatile ingredients that can be used in many different ways. Some Oils are used as lubricants in machinery and other equipment. For example, soybean oil is sometimes used as a lubricant in printing presses. Other Oils can also be used as biofuels, particularly in diesel engines.
For instance, as per the United States Department of Agriculture, the global production of sunflower seed oil has increased from 19,032 thousand metric tons in 2021 to 20,583 thousand tons in 2023. The Soyabean oil production increased from 38.99 million metric tons in 2010 to 59.27 million in 2023.
Higher prices of prime sources of Oils, fluctuating raw material prices, and changing climatic conditions are the major restraining factors for the market. Weather conditions such as drought, floods, or extreme temperatures can affect the yield and quality of crops that produce Oils, leading to higher prices.
Changes in consumer preferences can impact the demand for specific raw materials used to produce Oils. If demand for a particular raw material increase, prices may rise accordingly.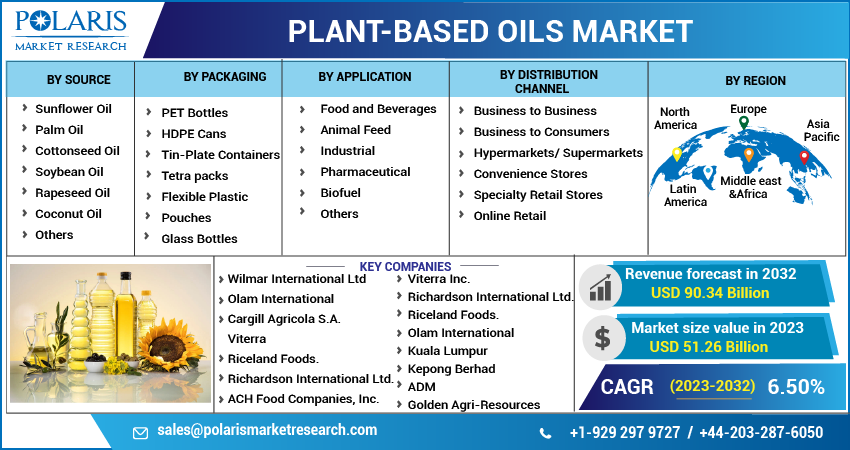 For Specific Research Requirements, Request for a Sample Report
Industry Dynamics
Growth Drivers
The increasing preference for healthy foods is one of the key drivers of the plant-based oil market. Consumers are becoming increasingly health-conscious and are seeking more nutritious food options. They are considered a healthier alternative to animal-based fats and oils as they are lower in saturated fat and higher in unsaturated fats, which are considered more beneficial for the heart.
Additionally, the oils are rich in essential fatty acids such as omega-3 and omega-6, which are important for maintaining good health. These oils also contain antioxidants that can help to protect against chronic diseases such as cancer and cardiovascular disease.
Technological advancements in producing oils have been a driving factor in the plant-based oil market. These advancements have allowed for increased efficiency and improved production methods, resulting in higher yields and better-quality oils. Advances in extraction methods have made it possible to extract oils from a wider range of plant sources, including seeds, nuts, and fruits. Improved extraction techniques such as cold-pressed and solvent extraction have also improved the quality and purity of Oils.
These technological advancements have made it possible to produce Oils more efficiently, sustainably, and cost-effectively. As a result, the market has expanded to meet growing consumer and food industry demand. With ongoing research and development, further technological advancements are expected to continue to drive growth in the market.
Report Segmentation
The market is primarily segmented based on source, packaging, application, distribution channel, and region
By Source

By Packaging

By Application

By Distribution Channel

By Region

Sunflower Oil

Palm Oil

Cottonseed Oil

Soybean Oil

Rapeseed Oil

Coconut Oil

Others

PET Bottles

HDPE Cans

Tin-Plate Containers

Tetra packs

Flexible Plastic Pouches

Glass Bottles

Food and Beverages

Animal Feed

Industrial

Pharmaceutical

Biofuel

Others

Business to Business

Business to Consumers

Hypermarkets/ Supermarkets

Convenience Stores

Specialty Retail Stores

Online Retail

North America (U.S, Canada)

Europe (Germany, UK, France, Spain, Italy, Russia, Netherlands)

Asia-pacific (China, Japan, India, South Korea, Indonesia, Malaysia)

Latin America (Argentina, Brazil, Mexico)

Middle East & Africa (UAE, Saudi Arabia, Israel, South Africa)
To Understand the Scope of this Report: Speak to Analyst
Sunflower Oil is expected to account for the fastest growth rate in the forecast period.
Sunflower oil is one of the most popular Oils, and there has been a growing demand in the market. Some factors expected to drive the demand for sunflower oil owing to its health benefits, versatility, availability & affordability, and other benefits. In addition to its use in cooking, sunflower oil is used in various industries, such as cosmetics and biofuels. It has further contributed to its growing demand and popularity in the market.
PET bottles are anticipated to dominate the market in the forecast period.
PET (polyethylene terephthalate) bottles are one of the most commonly used packaging materials for Oils, and they currently dominate the market. Cost-effectiveness, lightweight & shatter-resistant, barrier properties, and recyclability are some of the essential benefits of this segment. Despite these advantages, there are also concerns about the environmental impact of PET bottles. They are made from fossil fuels and take a long time to degrade, which can contribute to plastic pollution. As a result, there has been a growing interest in developing more sustainable packaging materials for these oils.
The food & beverage segment will dominate the market in the forecast period.
The dominance of the food and beverage segment in the plant-based oil market can be attributed to several factors.
Firstly, they are widely used as cooking, frying, and baking ingredients in the food industry. They are also key ingredients in many food products, such as sauces, dressings, and spreads. As a result, the demand for Oils is high in the food and beverage segment.
Secondly, consumers are becoming more health-conscious and are looking for healthier alternatives to traditional cooking oils. Oils are considered a more nutritious option as they are lower in saturated fats and higher in unsaturated fats, which benefit heart health. Thirdly, there is an increasing trend towards vegan and vegetarian diets, which has led to a surge in demand for plant-based foods and ingredients. Oils are a key ingredient in many vegan and vegetarian food products.
Asia Pacific region is projected to account for the fastest growth rate in the forecast period.
The Asia Pacific region is a major market for oils, driven by its large population and growing demand for healthier and sustainable food products.
The region is a major producer of oils, including palm, soybean, canola, sunflower, and coconut oil. Indonesia and Malaysia are the largest palm oil producers, while China is a major producer of soybean oil. India is the largest consumer of vegetable oil in the world, with palm oil being the most widely consumed oil in the country.
The Asia Pacific region is highly competitive, with many domestic and international players operating in the region. Some of the key players in the market include Wilmar International, Cargill, Archer Daniels Midland, and Bunge Limited. These companies focus on expanding their production capacities, improving their distribution networks, and developing innovative products to cater to the growing demand for Oils in the region.
Competitive Insight
Some of the prominent key players operating in the plant-based oils market space includes Wilmar International Ltd, Olam International, Cargill Agricola S.A., Viterra, Riceland Foods., Richardson International Limited., ACH Food Companies, Inc., Viterra Inc., Richardson International Limited., Riceland Foods., Olam International, Kuala Lumpur Kepong Berhad, ADM, Golden Agri-Resources
Recent Developments
April 2023: Bunge, a player in agribusiness, has agreed with Fuji Oil New Orleans to acquire a port-based refinery location and enhance its position in the vegetable oil market.

June 2022: Unilever has collaborated with Genomatica and launched a venture to commercialize alternatives to palm oil and fossil-fuel-based cleansing ingredients.
Plant-Based Oils Market Report Scope
| | |
| --- | --- |
| Report Attributes | Details |
| Market size value in 2023 | USD 51.26 Billion |
| Revenue forecast in 2032 | USD 90.34 Billion |
| CAGR | 6.50% from 2023 - 2032 |
| Base year | 2022 |
| Historical data | 2019 - 2022 |
| Forecast period | 2023 - 2032 |
| Quantitative units | Revenue in USD Billion and CAGR from 2023 to 2032 |
| Segments covered | By Source, By Packaging, By Application, By Distribution ChannelBy Region |
| Regional scope | North America, Europe, Asia Pacific, Latin America, Middle East & Africa |
| Key companies | Wilmar International Ltd, Olam International, Cargill Agricola S.A., Viterra, Riceland Foods., Richardson International Limited., ACH Food Companies, Inc., Viterra Inc., Richardson International Limited., Riceland Foods., Olam International, Kuala Lumpur Kepong Berhad, ADM, Golden Agri-Resources |