The global Brugada syndrome market was valued at USD 1.37 billion in 2022 and is expected to grow at a CAGR of 5.7% during the forecast period. Brugada syndrome is a condition in which the heart's normal rhythm is disrupted, resulting in persistent heart disease or failure. This disorder can result in ventricular arrhythmia or irregular cardiac beats in the bottom chambers of the heart known as ventricles. If untreated, irregular heartbeats can cause fainting (syncope), seizures, breathing problems, and even death. These problems frequently occur while the person is asleep or resting. Among the Brugada syndrome treatments are preventive measures such as avoiding aggravating medicines and decreasing fever. If necessary, an implantable cardioverter-defibrillator may be utilized as a part of the treatment.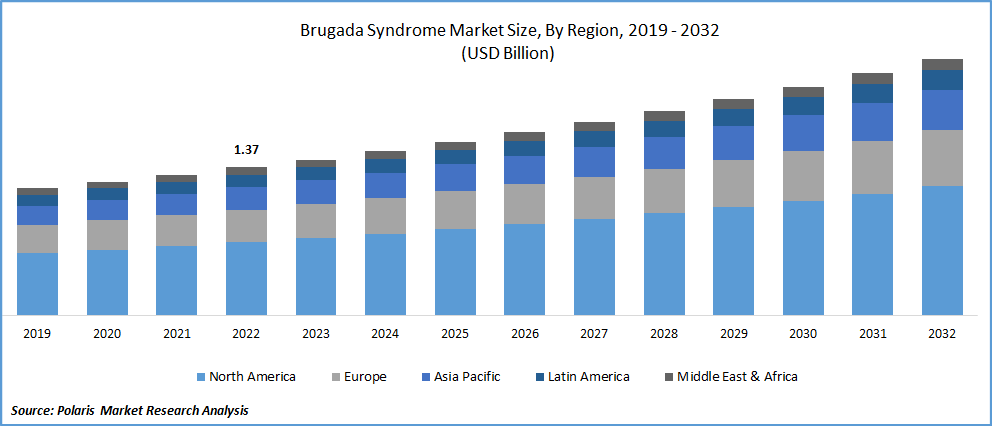 Know more about this report: Request for sample pages
The rising frequency of cardiac illnesses such as Brugada syndrome and others, as well as a strong need for diagnostic and treatment approaches, drive the worldwide Brugada syndrome market. Furthermore, the increased availability of diagnostic services for respiratory illnesses promotes market expansion. Furthermore, favorable reimbursement policies are expected to enhance the market growth.
During the projected period, the rise in the prevalence of Brugada syndrome is expected to boost the worldwide Brugada syndrome therapy market. Shortly, the worldwide market is likely to benefit from increased government prioritizing of medications for uncommon illnesses. Furthermore, a scarcity of cardiovascular healthcare professionals in Latin America, the Middle East, and Africa is impeding the growth of the Brugada syndrome therapy market in these areas. The Genetic and Rare Diseases (GARD) Information Center and the Sudden Arrhythmia Death Syndromes Foundation are two organizations that assist in the treatment of this illness worldwide.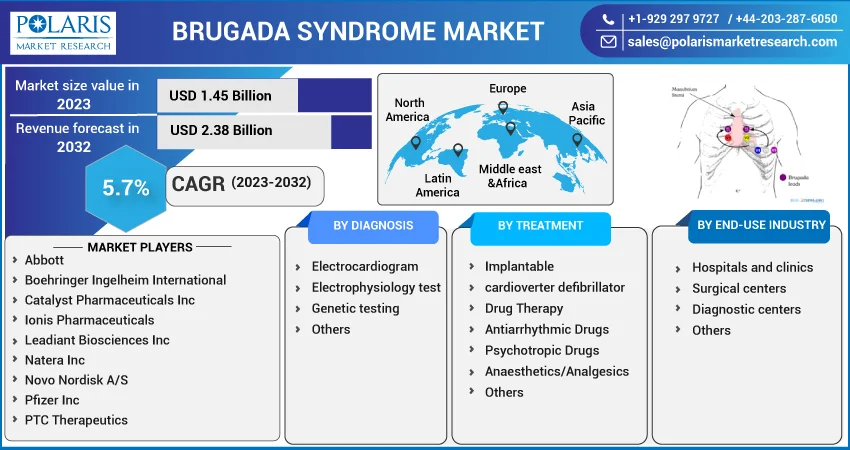 Know more about this report: Request for sample pages
Industry Dynamics
Growth Drivers
The rising frequency of cardiac illnesses such as Brugada syndrome and others, as well as a strong need for diagnostic and treatment approaches, drive the market. Also, the growing availability of diagnostic services for respiratory illnesses contributes to the expansion of the Brugada syndrome market. Furthermore, favorable reimbursement policies are expected to drive Brugada syndrome market expansion.
The fact that cardiovascular transplants have large waiting lists is the key driver of the business. The demand for heart transplantation has increased considerably in recent years due to a rise in the prevalence of heart failure. However, a global scarcity of eligible organs for transplantation has evolved from the inability to meet present demand. According to the National Database of the Health Resources and Services Administration of the United States, as of March 2020, there were around 4,150 candidates on the heart transplant waiting list.
Report Segmentation
The market is primarily segmented based on diagnosis, treatment, end-use, and region.
By Diagnosis

By Treatment

By End-Use

By Region

Electrocardiogram

Electrophysiology test

Genetic testing

Others

Implantable cardioverter defibrillator

Drug Therapy

Antiarrhythmic Drugs

Psychotropic Drugs

Anaesthetics/Analgesics

Others

Hospitals and clinics

Surgical c

enters

Diagnostic centers

Others

North America (U.S., Canada)

Europe (France, Germany, UK, Italy, Netherlands, Spain, Russia)

Asia Pacific (Japan, China, India, Malaysia, Indonesia, South Korea)

Latin America (Brazil, Mexico, Argentina)

Middle East & Africa (Saudi Arabia, UAE, Israel, South Africa)
Know more about this report: Request for sample pages
The electrocardiogram diagnosis segment accounted major share
An electrocardiogram (ECG) is a rapid, painless procedure that captures electrical impulses in the heart. Sensors (electrodes) are placed on the chest and sometimes the limbs during an ECG. The examination can discover irregularities in the heart's rhythm and structure. This test measures the electrical activity in your heart that causes it to beat. Because a classic Brugada syndrome pattern may not present at first, a provider may repeat the test two more times right away. To catch the pattern, they relocate the leads between testing. They may also do an EKG before and after you have a substantial meal.
Some persons with suspected Brugada syndrome may have this test, commonly known as an EP study. A healthcare worker inserts thin, catheters tipped with electrodes into the blood vessels of the various parts of the heart. When the electrodes are in place, they may display the dispersion of electrical signals across the heart.
This can confirm that you have a particular genetic mutation associated with the syndrome. Other family members may wish to be tested for this mutation as well. Genetic testing is important in identifying the risk of acquiring certain diseases, as well as in screening and, in certain cases, medical treatment. Echocardiography creates pictures of the heart using sound waves. This test cannot diagnose the syndrome on its own, however, it can aid in the identification of structural cardiac issues.
Implantable cardioverter defibrillators accounted for the fastest-growing segment
For BrS patients who have had a previous cardiac arrest or have confirmed VT, implantation of an ICD is first-line treatment. In situations of an electrical storm, pharmaceutical therapy is advised as an adjuvant to ICD and as prophylactic therapy. Medication, catheter treatments, or surgery to implant a device that regulates the heartbeat may be used to treat Brugada syndrome. The therapy of Brugada syndrome is determined by the risk of having a significant irregular heartbeat (arrhythmia).
Quinidine's favorable impact in reducing arrhythmic events in BrS is mostly due to its potent Ito-blocking activity. In experimental models of BrS, quinidine was demonstrated to be successful in normalizing the epicardial action potential dome and the ST segment, as well as inhibiting phase-two re-entry and polymorphic VT. Quinidine's anticholinergic activity may contribute to its antiarrhythmic impact. A variety of circumstances can have an impact on the electrocardiographic and arrhythmic symptoms of BrS. The primary method of action of psychiatric medications is the blocking of ventricular sodium and calcium channels. 36 This differs from the most prevalent mechanism underlying QT-prolonging in psychiatric medications, which is myocardial potassium channel blockage.
BrS is known to be a significant cause of sudden cardiac mortality in young people. Some medications often used during the perioperative phase might produce ventricular arrhythmias. Although various case studies describe anesthetic management in BrS patients, the safest anesthesia strategy remains uncertain. Regardless of the procedure employed, the patient's safety should be maintained at the highest degree possible by taking all required measures.
The hospitals and clinics segment held a significant market revenue share
The hospitals and clinics are made up of businesses (organizations, single proprietorships, and partnerships) that sell hospital and outpatient care services and related items. This industry comprises hospitals that provide treatment and diagnosis for a variety of disorders, such as general hospitals, specialized hospitals, and mental and drug misuse facilities. It also comprises clinics that offer renal dialysis, family planning counseling, and other outpatient care services.
Patients suffering from BrS may require heart surgery. This study covers diagnostic criteria and recommendations for safe perioperative care. Close collaboration between the surgeon, anesthetist, electrophysiologist, and perioperative staff is critical for the effective management of this high-risk patient population. The diagnostic center plays an important role and a huge market share with the recent advances in diagnostic techniques along with genetic testing, and other cardiac imaging techniques.
North America dominated the global market in 2022
North America is primarily driven by the rising use of electrocardiograms, electrophysiology (EP) tests for illness diagnosis, and a large population base diagnosed with heart-related ailments. Furthermore, due to the existence of a significant number of market participants producing Brugada syndrome drugs and rising knowledge about risk factors and instances of the condition, the United States is the largest market in North America.
Canada is predicted to be the fastest expanding market, owing to rising demand for diagnostic medical equipment and advancements in the medical device industry. South America is predicted to be the fastest-expanding market due to technologically sophisticated diagnostic instruments and rising need for respiratory illness treatment alternatives.
Competitive Insight
Some of the major players operating in the global market include Abbott, Boehringer Ingelheim International, Catalyst Pharmaceuticals Inc, Ionis Pharmaceuticals, Leadiant Biosciences Inc, Natera Inc, Novo Nordisk A/S, Pfizer Inc, PTC Therapeutics, Roche, Salarius Pharmaceuticals Inc, Takeda Pharmaceuticals, Novartis AG.
Brugada Syndrome Market Report Scope
| | |
| --- | --- |
| Report Attributes | Details |
| Market size value in 2023 | USD 1.45 billion |
| Revenue forecast in 2032 | USD 2.38 billion |
| CAGR | 5.7% from 2023 – 2032 |
| Base year | 2022 |
| Historical data | 2019 – 2021 |
| Forecast period | 2023 – 2032 |
| Quantitative units | Revenue in USD billion and CAGR from 2023 to 2032 |
| Segments Covered | By Diagnosis, By Treatment, By End-Use, By Region |
| Regional scope | North America, Europe, Asia Pacific, Latin America; Middle East & Africa |
| Key Companies | Abbott, Boehringer Ingelheim International, Catalyst Pharmaceuticals Inc, Ionis Pharmaceuticals, Leadiant Biosciences Inc, Natera Inc, Novo Nordisk A/S, Pfizer Inc, PTC Therapeutics, Roche, Salarius Pharmaceuticals Inc, Takeda Pharmaceuticals, Novartis AG. |