The global diagnostic services market was valued at USD 818.4 billion in 2021 and is expected to grow at a CAGR of 13.3% during the forecast period. Imaging is an appropriate diagnostic procedure because it provides vital information safely and efficiently. Image processing services include sonograms, nuclear medicine scans, X-Ray, MRIs, and Computed tomography, all of which are non-invasive procedures for diagnosing various diseases.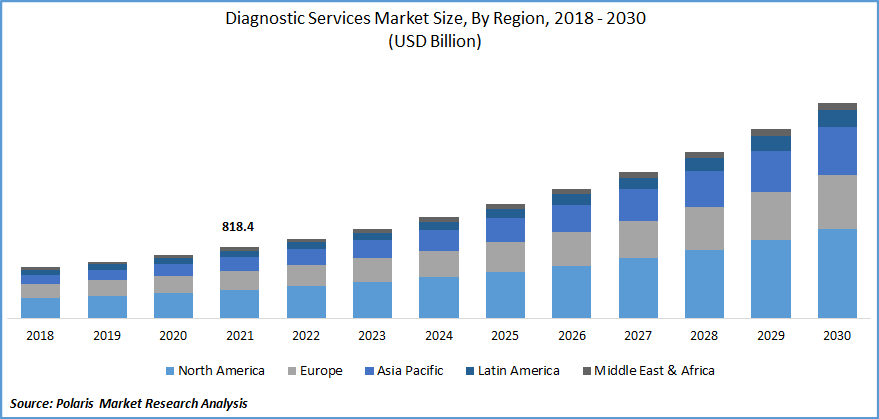 Know more about this report: Request for sample pages
Growing technological developments in MRI modality and expanding the implementation of MRI in the healthcare profession are the key drivers supplementing the market growth, which has boosted the global diagnostic services market. Furthermore, rising healthcare insurance for medical imaging offerings and new service debuts by crucial players will support market growth throughout the forecast period.
The increasing product launches for advanced diagnostic testing services are driving market growth over the forecast period. For instance, in August 2022, PepiPets introduced a new mobile diagnostic testing service. The above new service, announced in a company release, will enable customers to receive diagnostic procedures for their pets right at home. PepiPets hopes that the at-home relation to performance will make pets more pleasant with the methodology while saving time on travel to and from an initial in-person appointment.
The COVID-19 bubonic plague had implications on the diagnostic imaging market globally, both positively and negatively. One of the most severe implications was that hospitals and imaging centers reduced the number of procedures performed. Furthermore, due to the COVID-19 outbreak, the estimated price of these procedures enhanced in 2020.
This decline, however, used to have a short-term negative impact on the market. The lengthy fundamental drivers influencing demand for diagnostic equipment will change little or nothing. These factors contributed to a reduction in the number of diagnostic procedures performed globally, resulting in negative growth in diagnostic services.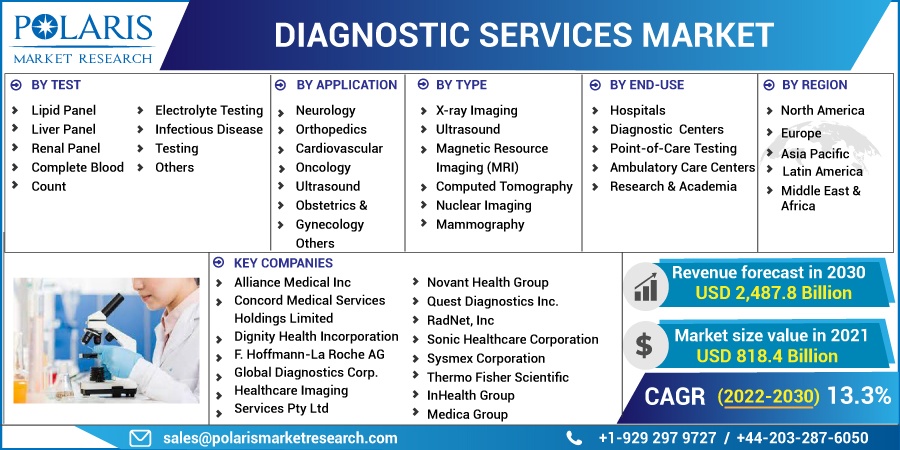 Know more about this report: Request for sample pages
Industry Dynamics
Growth Drivers
The rising research and development funding by the public and private players for diagnostic services in the market boosts the market growth over the forecast period. For instance, in November 2021, the UK Government announced financial support for the National Health Service (NHS) of £248 million ($334.6 million) to digitize diagnostic testing care and address the issue of patient waiting times.
That financial support has been designated for efficient innovations to the NHS' diagnostic procedures, to improve the entire procedure of ordering, being able to perform, and evaluating tests to identify and treat health issues as quickly as possible.
Also, in May 2021, Truepill confirmed the systematic unveiling of its diagnostic testing service, a significant step toward the company's goal of digitally delivering 80% of healthcare in the coming years. Truepill's API innovation underpins the new service, which can be fully integrated with the company's current telehealth and prescribing fulfillment services. Therefore, the rising funding has expanded diagnostic services, boosting market growth over the forecast period.
Report Segmentation
The market is primarily segmented based on test, application, end-use, type, and region.
By Test

By Application

By Type

By End-Use

By Region

Lipid Panel
Liver Panel
Renal Panel
Complete Blood Count
Electrolyte Testing
Infectious Disease Testing
Others

Neurology
Orthopedics
Cardiovascular
Oncology
Ultrasound
Obstetrics & Gynecology
Others

X-ray Imaging
Ultrasound
Magnetic Resource Imaging (MRI)
Computed Tomography
Nuclear Imaging
Mammography

Hospitals
Diagnostic Centers
Point-of-Care Testing
Ambulatory Care Centers
Research & Academia

North America (U.S., Canada)
Europe (France, Germany, UK, Italy, Netherlands, Spain, Russia)
Asia Pacific (Japan, China, India, Malaysia, Indonesia. South Korea)
Latin America (Brazil, Mexico, Argentina)
Middle East & Africa (Saudi Arabia, UAE, Israel, South Africa)
Know more about this report: Request for sample pages
Neurology segment is expected to witness the fastest growth
The rise in neurobiological disorder instances and stroke occurrences is most likely to contribute to the segment's dominance. Diagnostic services may help doctors confirm and diagnose neurological disorders. Parkinson's disease, after Alzheimer's disease, is the most common disintegrating neurological disorder.
According to a Parkinson's Foundation article, approximately 1 million people in the United States have Parkinson's disease, which is expected to increase to 1.2 million by 2030. Because of the higher incidence of cancer in the United States, oncology is the second most dominant component and is anticipated to grow during the forecast period.
Because of the growing number of cardiovascular cases in the United States, the cardiology segment is expected to hold a significant market share during the forecast period. Following the CDC, one person dies from cardiovascular disease every 36 seconds in the United States, and approximately 659,000 individuals die from heart disease yearly.
CT Scans segment industry accounted for the highest market share in 2021
The segment's dominant market share is due to Computed tomography due to a rise in the amount of CT scan procedures and its relatively high price. According to OECD data, the number of CT exams performed in the United States in 2017 was 83.3 million and 91.6 million in 2019.
CT exam processes increased by around 3.1% in 2019 compared to 2018. Furthermore, the rise in the aging population has been associated with increased consumption of CT scan procedures. According to the United States Census Bureau, the aging population aged 65 and up accounts for approximately 16.5% of the nation's people.
Furthermore, the demand for computed tomography has been steadily increasing. CT scanners ever since the beginning of the COVID-19 disease outbreak. CT scan of the chest helps diagnose COVID-19; almost every patient requires a CT scan to supervise disease progression. As a result, even with the postponed procedures, the increased supply of disease treatment has favored the CT scanner segment. Because of product announcements with technologically advanced features, the X-ray segment will be the second most dominant segment.
Home diagnosis is expected to hold the significant revenue share
Home diagnostic tests have emerged as a protector for people restricted at home due to the disease outbreak last year, and extraordinary experiences have prompted a mindset change among the general public from lab visits to at-home doctor visits. Home diagnostics, like remote patient monitoring, is still in its infancy and lacks absorption at the moment, but this is likely to change as people recognize the comfort of at-home tests.
The prevalence of home health tests also enables patients to accomplish the overall healthcare management succession from home, from blood tests to teleconsultation with doctors to medication delivery. People would most likely only visit a lab in the future for complex and specialized tests. Home health screening tests for chronic health conditions are progressively becoming a habit as people recognize the potential and convenience they provide.
The demand in North America is expected to witness significant growth
The expanding geriatric population, growing patient knowledge and understanding of the significance of laboratory tests, and the increased incidences of infectious and chronic conditions are driving the regional clinical diagnostics services market. The rising number of COVID-19 infections has resulted in increased financial support and testing, which has bolstered overall market growth. According to the CDC, four out of every ten people in the United States have two or more long-term diseases, and 6 out of every ten adults suffer from a chronic condition.
Chronic diseases, including cancer, cardiovascular disease, and obesity, are the foremost causes of death and disabilities in the United States, accounting for most of the USD 3.8 quadrillion spent on medical care each year. This has increased the demand for improved treatment with effective management, driving the marketplace in the region even further. As a result, the growing incidence of chronic and infectious diseases and increased recognition of the significance of laboratory tests are expected to propel market expansion in the country.
Asia Pacific is expected to grow at the fastest CAGR over the forecast period, attributed to promoting health infrastructure, rising investments in medical testing, a continuing to improve reimbursement scenario, and expanding insurance benefits in several Asia Pacific countries. Further, in June 2022, Bertelsmann India Investments and General Catalyst led a $25 million Series B financing round for Orange Health.
Orange Health intends to use the funds for product innovation, laboratory construction, user experience enhancement, and team collaboration. Orange Health claims to have served over 1 million customers in Bengaluru and the National Capital Region. The new funds will be used for product development, laboratory construction, and improving user experience. It also intends to enter new markets and enhance its teams.
Competitive Insight
Some of the major players operating in the global market include Alliance Medical Inc, Concord Medical Services Holdings Limited, Dignity Health Incorporation, F. Hoffmann-La Roche AG, Global Diagnostics Corp., Healthcare Imaging Services Pty Ltd, InHealth Group, Medica Group, Novant Health Group, Quest Diagnostics Inc., RadNet, Inc, Sonic Healthcare Corporation, Sysmex Corporation, and Thermo Fisher Scientific.
Recent Developments
In June 2022, Orange Health must have announced the commencement of its services in New Delhi as a component of its optimistic geographical expansion strategy. Customers in the NCR region can now access a variety of diagnostic services in just 1 hour from the convenience of their homes, with the information provided in 6 hours.
In March 2022, MedPlus Health Services opened a diagnoses hub in Gachibowli with PNDT and AERB authorizations. It is an expansion of the current Labs segment and would encompass radiology and pathophysiology services.
Diagnostic Services Market Report Scope
| | |
| --- | --- |
| Report Attributes | Details |
| Market size value in 2022 | USD 918.8 billion |
| Revenue forecast in 2030 | USD 2,487.8 billion |
| CAGR | 13.3% from 2022 - 2030 |
| Base year | 2021 |
| Historical data | 2018 - 2020 |
| Forecast period | 2022 - 2030 |
| Quantitative units | Revenue in USD billion and CAGR from 2022 to 2030 |
| Segments Covered | By Test, By Application, By Type, By End-User, By Region |
| Regional scope | North America, Europe, Asia Pacific, Latin America; Middle East & Africa |
| Key Companies | Alliance Medical Inc, Concord Medical Services Holdings Limited, Dignity Health Incorporation, F. Hoffmann-La Roche AG, Global Diagnostics Corp., Healthcare Imaging Services Pty Ltd, InHealth Group, Medica Group, Novant Health Group, Quest Diagnostics Inc., RadNet, Inc, Sonic Healthcare Corporation, Sysmex Corporation, and Thermo Fisher Scientific. |