The global business email compromise (BEC) market was valued at USD 0.97 billion in 2021 and is expected to grow at a CAGR of 19.32% during the forecast period.
BEC frauds frequently begin with an assailant gaining control of a company official's email account or any other publically available email account. This is usually implemented using keylogger software, malware techniques, or created email messages to trick the victim into disclosing account information.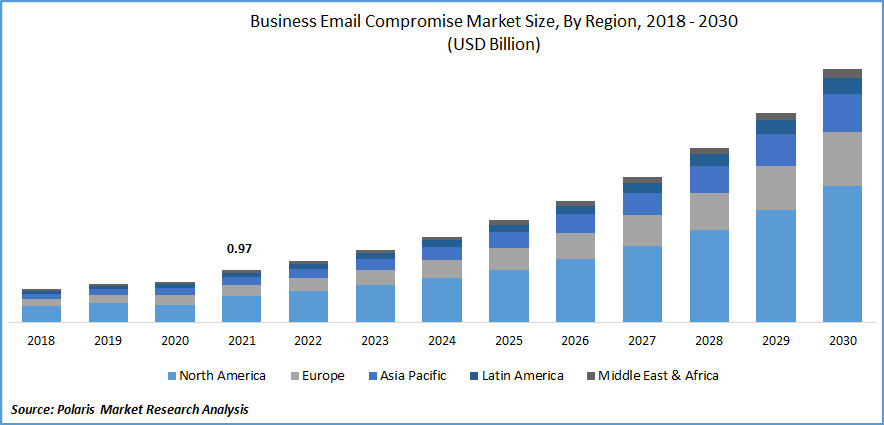 Know more about this report: Request for sample pages
Phishing emails use a web address similar to the company being targeted. After monitoring the hacked email account, the scammers would attempt to determine who demands wire transfers and who performs them. The criminals frequently conduct extensive research, searching for a company in which the finance section's C-suite has changed. In these businesses, top management is on business trips or sponsoring an investor conference call. They use these as opportunities to carry out their mission.
The enhanced utilization of mobile devices, internet penetration, and cloud-based deployment models are predicted to boost the adoption of email platforms and encourage the expansion of the deployment of BEC products and services.
The key factor is increasing collaborations among the major players for the launches of solutions that protect the BEC platform from cyber risk. For instance, in August 2021, Mimecast Limited announced important API integration with Humio, a CrowdStrike Company that provides the only backup and recovery platform that enables complete detectability for all video content logs in real-time and at scale. The correct implementation is intended to provide email-based threat intelligence as well as advanced recognition, exploration, and threat-hunting capabilities.
Further, in August 2021, Avanan, the quickest-increasing cloud email security company, was acquired by Check Point Software Technologies Ltd. For emails and SaaS collaborative effort suites, Avanan technology offers the highest level of protection. However, with the rise of zero-day threats and phishing scams, the business atmosphere's security requirements are changing. This lack of understanding about sophisticated security risks has put businesses at risk and is diminishing the expansion of the market.
The epidemic of COVID-19 pandemic has had an impact on many aspects of the business. More spam and phishing, and BEC attacks on the BFSI infrastructure have occurred as a result of the increased adoption of BYOD and WFH trends brought about by COVID-19. BFSI organizations are subject to stringent data security regulations due to the sensitive and personal knowledge they handle. As a result, there is a growing demand in the Financial Services sector for BEC solutions.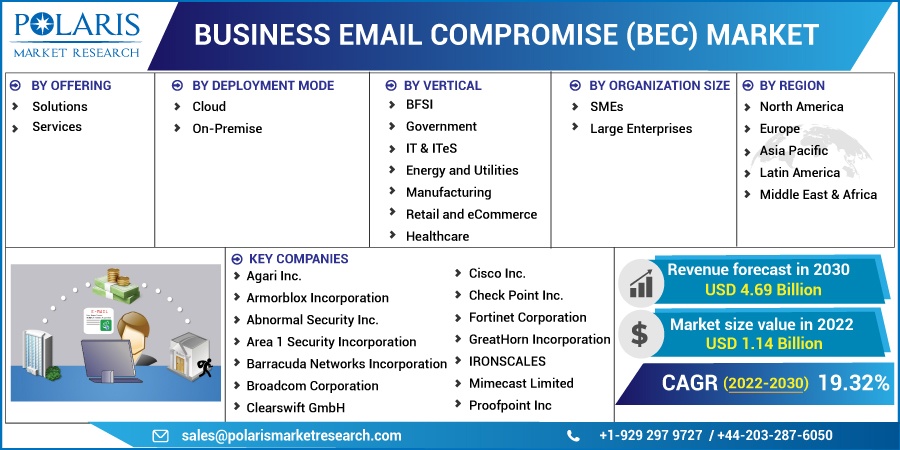 Know more about this report: Request for sample pages
Industry Dynamics
Growth Drivers
The rapidly rising adoption of technologies such as ML and AI in BEC solutions drives market growth over the forecast period. Attackers represent as someone their victim's faith and trick individuals into creating fraudulent financial transactions in a BEC scam. Gift card frauds, payment redirection, and provider invoicing fraud are examples of BEC scams. To counter BEC scams, market players use AI/ML capabilities to analyze every email response. To prevent large financial losses, ML/AI-powered BEC detection alternatives aid in the detection and prevention of email fraud threats. AI and machine learning techniques assist organizations in identifying and blocking phishing and BEC attacks against the enterprise.
Further, major players are boosting the launches of solutions based on AI and ML technology which can save individuals from attacks. For instance, in May 2022, ForgeRock successfully unveiled ForgeRock Autonomous Access, a product offering that uses artificial intelligence (AI) to avoid identity-based cyber threats and fraud. According to the company, the new solution displays login demands in real-time to block malicious attempts, adds verification steps for abnormal behavior, and helps streamline access for known individuals. This is boosting the market growth over the forecast period.
Report Segmentation
The market is primarily segmented based on offering, deployment mode, vertical, organization size, and region.
By Offering

By Deployment Mode

By Vertical

By Organization Size

By Region

BFSI
Government
IT & ITeS
Energy and Utilities
Manufacturing
Retail and eCommerce
Healthcare
Other Verticals

North America (U.S., Canada)
Europe (France, Germany, UK, Italy, Netherlands, Spain, Russia)
Asia Pacific (Japan, China, India, Malaysia, Indonesia, South Korea)
Latin America (Brazil, Mexico, Argentina)
Middle East & Africa (Saudi Arabia, UAE, Israel, South Africa
Know more about this report: Request for sample pages
Cloud segment is expected to witness fastest growth in 2021
The utilization of cloud services is gaining some traction as COVID-19 approaches. Enterprises are proactively implementing cloud-based encrypted communication solutions to protect end users from BEC attacks remotely. Cloud-based BEC alternatives are being sought by enterprises to facilitate cost-effectiveness, deployment, as well as on access to knowledge and experience for minimizing advanced threats on email platforms.
Cloud-based BEC services include security mechanisms such as innovative phishing protection and multi-factor authentication (MFA), which either are not facilitated by default or are only accessible at an additional cost relying on the distributor. Cybercriminals or attackers have spotted this trend and are looking for ways to connect email stored in the cloud.
Companies are proactive in deploying cloud-based BEC systems to safeguard end users' remote locations from phishing emails. Small and medium-sized businesses frequently rely on cloud BEC security provided by providers. All emails, both incoming and outgoing, are routed through the computer or smartphone.
Services segment is anticipated to grow significantly over the forecast period.
Organizations should provide security awareness training to educate employees to recognize phishing emails and BEC/EAC scams and to exercise caution when responding to emails asking for credentials or other personal data. Must be provided. The email appears to have been sent by a trusted individual, and the request for information often appears well-founded. For instance, Proofpoint and Telefónica togetherly provide cloud-based services that would combine various managed security solutions and offer companies with unparalleled, better protection against the growing email threats.
The BFSI segment industry accounted for the highest market share in 2021
BEC frauds are common in the finance sector due to the frequent and large amounts of cash transferred between organizations. Another possible explanation that they are popular in the BFSI sector is that the earnings are frequently much higher than standard email phishing scams. The risks associated with the relationship with the client, which is brought into play, represent a significant shift in how these attacks are carried out.
Because of the frequent transmission of extremely sensitive financial data via email, the BFSI sector is an early supporter of cutting-edge technical solutions. With COVID-19, there is greater adoption of BYOD and WFH trends, which results in a rise in phishing scams and BEC threats on BFSI infrastructure. Because of their sensitive and confidential data, BFSI companies have stringent data security standards. As a result, the supply of BEC alternatives in the BFSI vertical is growing.
The large Enterprise segment is expected to hold the significant revenue share
Enterprises are rapidly adopting BEC solutions. Large corporations typically have extensive infrastructure and a complicated system. Larger corporations that handle a high volume of transactions and invoices are anticipated to be targeted. Hackers are informed that the chain of command in large companies is longer and slower. As a result, it will take longer for a single invoice to be authorized for payment, as well as long before they are trapped. It gives attackers plenty of time to conceal their tracks and effectively escape with the stolen merchandise.
Companies that use a large number of suppliers and external provider companies may be unable to distinguish a genuine invoice from a forgery, making them vulnerable to BEC attacks. Due to stringent regulatory standards, large companies in North America have accepted BEC solutions to prevent massive financial damages suffered by advanced email-borne threats.
The demand in North America is expected to witness significant growth
North America dominates the global BEC market regarding the greatest number of BEC solution distributors. Regarding security technology development and adoption, the province is the most developed. Several laws regulate the overall security of the region's communications technologies. The National Institute of Standards and Technology (NIST) motivates US organizations by establishing regulatory requirements to safeguard critical infrastructure. HIPAA, GLBA, SOX, and other regulatory compliances assist organizations in safeguarding their customers' sensitive data. Cyberattacks are becoming more common in the region.
China, Japan, and Korea all have huge ICT sectors, while India and Indonesia are establishing eCommerce and internet service markets. Furthermore, with effective regulatory requirements and digitalization proposals, the BEC market is experiencing mainly focusing on this region. Cybercrime, which includes BEC attacks, is also increasing rise in the province.
The Asia Pacific has experienced enormous economic growth, various modes, and cultural reform in recent years. As businesses and SMEs across vertical markets deploy BEC solutions to data encryption, Asia Pacific is expected to see significant adoption of BEC products and services.
Competitive Insight
Some of the major players operating in the global market include Agari Inc., Armorblox Incorporation, Abnormal Security Inc., Area 1 Security Incorporation, Barracuda Networks Incorporation, Broadcom Corporation, Clearswift GmbH, Cisco Inc., Check Point Inc., Fortinet Corporation, GreatHorn Incorporation, Heimdal Security Solutions Company Ltd., IRONSCALES, Mimecast Limited, Proofpoint Inc., PhishLabs Corp., Trend Micro Inc., Tessian Corp., Terranova Security, Trustifi Inc., ZeroFox Company, and Zix Corporation.
Recent Developments
In May 2022, LogicHub announced the release of AuDRA (Autonomous Detection & Response Assistant), the company's service to detect threats, inconsistencies consciously, and threats from unlimited security-related events across the system, cloud, ending point, and hybrid information sources. LogicHub is the first company to use bot-enabled technology to streamline the process of developing threat detection events to supplement security teams and act as a key enabler.
In February 2020, Proofpoint, Inc., announced the company's first integrated, end-to-end solutions for addressing business email compromise (BEC) and email account compromise (EAC) attacks, which combine Proofpoint's foremost secure email gateway, safety awareness programs, and cloud account protective measures.
Business Email Compromise (BEC) Market Report Scope
| | |
| --- | --- |
| Report Attributes | Details |
| Market size value in 2022 | USD 1.14 billion |
| Revenue forecast in 2030 | USD 4.69 billion |
| CAGR | 19.32% from 2022 - 2030 |
| Base year | 2021 |
| Historical data | 2018 - 2020 |
| Forecast period | 2022 - 2030 |
| Quantitative units | Revenue in USD billion and CAGR from 2022 to 2030 |
| Segments Covered | By Offering, By Deployment Mode, By Vertical, By Organization Size, By Region |
| Regional scope | North America, Europe, Asia Pacific, Latin America; Middle East & Africa |
| Key Companies | Agari Inc., Armorblox Incorporation, Abnormal Security Inc., Area 1 Security Incorporation, Barracuda Networks Incorporation, Broadcom Corporation, Clearswift GmbH, Cisco Inc., Check Point Inc., Fortinet Corporation, GreatHorn Incorporation, Heimdal Security Solutions Company Ltd., IRONSCALES, Mimecast Limited, Proofpoint Inc., PhishLabs Corp., Trend Micro Inc., Tessian Corp., Terranova Security, Trustifi Inc., ZeroFox Company, and Zix Corporation. |