The global cable-blowing equipment market was estimated at USD 101.4 million in 2021 and is estimated to grow at a CAGR of 4.82% during the forecast period.
Key factors responsible for the market growth rise in the number of data centers, innovations in an optical network, expansion in communication channels with the advent of newer technologies such as 5G, coupled with the huge accumulation of data in varied forms, arising the necessity of robust data capability centers, thereby driving the market forward. Fiber optic connections are necessary for both intra- and inter-data center connectivity. Optical interconnects are used for intra-data center connectivity within data centers housed in structures or campuses to convey data. Moreover, optical interconnects for inter-data center communication operate in the metro because they link two or more data centers.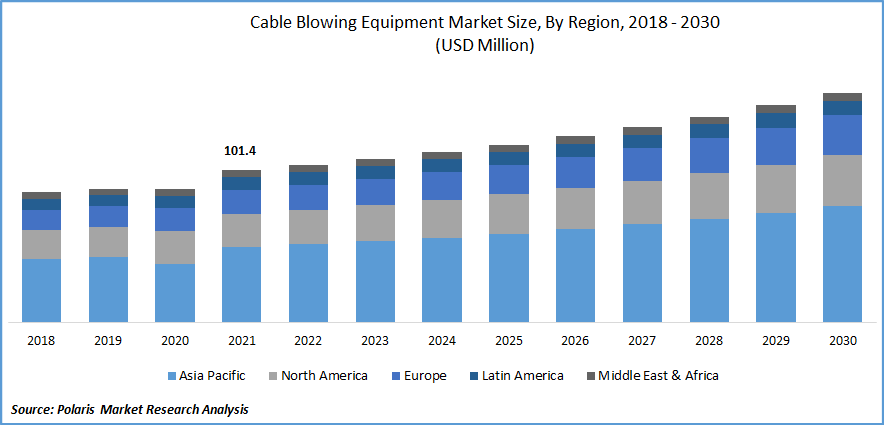 Know more about this report: Request for sample pages
A protective cable covering is made using a cable-blowing machine. This cover, which can have one layer or more, guards against the damaging effects of the elements, such as dampness, chemicals, rust, etc., on cables for electricity. For example, water can result in an electrolytic reaction that will cause the metal components of cables to corrode; it can also affect insulation characteristics and increase impedance levels, which will generate power loss and voltage drop over time and can cause severe damage.
When air is supplied through the one-way air valve from an air source like a compressor, the pusher head provides the initial pushing force that forces the cable into the duct. The cable will then be moved into ducts with the assistance of hydraulic or pneumatic motors. The cable's friction will be reduced by compressed air, keeping the cable away from the vents. As a result, thousands of kilometers of the pre-installed duct can eventually be traversed by the cable. Such long distances are possible with the low friction ratio and substantial air drag. These blowers are categorized according to the drive system type and the cable diameter they can handle (such as track feeders, roller feeders, belt feeders, or blowing heads without feeders).
The decline in commodity demand has resulted in a contraction of the world economy. Production has decreased across all industries as a result of the outbreak, which has reduced the availability of raw materials. Factors like supply chain instability and depreciation can lead to productivity decreases.
The COVID-19 situation has brought to light the significance of having sufficient digital literacy in order to utilize the knowledge and resources of the entire community. Increased data traffic to allow control of digital capabilities over data centers specifically created for healthcare and other applications involving people. To reach a specific number of people in the area, these data centers need high-speed, distant transfers. The OECD reports that a decline in internet consumption brought on by COVID-19 resulted in a 15% increase in fiber connectivity subscriptions in OECD countries in June 2021 compared to June 2020, creating a larger market for broadband internet connectivity with a quick download and upload rates.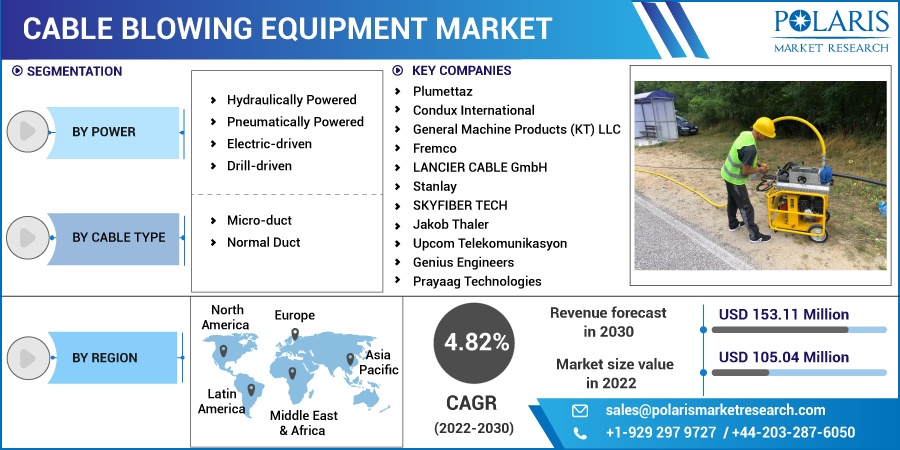 Know more about this report: Request for sample pages
Industry Dynamics
Growth Drivers
The rising deployment of data centers around the globe is the main factor driving the global market. Fiber optic cables are required for communications both within and between data centers. For connectivity, data is sent between data centers housed in structures or on campuses using optical interconnects. The fiber optic network's distance and fast transmission speeds can reach thousands of kilometers between two data centers. Therefore, sending enormous amounts of data across long distances requires a lot of data capacity for these data centers. This is driving increasing demand for fiber cables, which can be used as a backhaul network for data centers or to support access networks. The need for fiber installation work is growing as a result. As a result, the market is fueling the rise in bandwidth and power requirements in data centers.
Report Segmentation
The market is primarily segmented based on power, cable type, and region.
By Power

By Cable Type

By Region

Hydraulically Powered
Pneumatically Powered
Electric-driven
Drill-driven

North America (U.S., Canada)
Europe (France, Germany, UK, Italy, Netherlands, Spain, Russia)
Asia Pacific (Japan, China, India, Malaysia, Indonesia, South Korea)
Latin America (Brazil, Mexico, Argentina)
Middle East & Africa (Saudi Arabia, U.A.E., Israel, South Africa)
Know more about this report: Request for sample pages
The Pneumatically Powered segment is expected to witness the fastest growth.
In 2021, the pneumatically powered sub-segment was anticipated to grow rapidly throughout the projected period. The ability to blow fiber cables into HDPE pipes makes fiber cable-blowing devices quite helpful in this situation. The pressurized air is used by pneumatically powered cable-blowing equipment to propel a cable into the pipe at a high rate of speed. The air supply needs to be filtered and de-humidified because those are the ideal conditions for cable blowing. They are more affordable than hydraulically powered cable-blowing machinery since they mainly blast optical fibers, tiny coaxial cables, and multipair cables into ducts that have already been erected. The device is simple, even on challenging routes for cable operators and installers.
Micro-duct accounted for the second-largest market share in 2021
Micro-ducts will account for a significant market share and is expected to grow at the same rate over the study period. As Fiber to the Home networks is being deployed, there is an increasing need to reduce the total cost of ownership and improve flexibility and scalability. The backbone and access networks needed to support 5G networks are also beginning to take shape. Modern air-blown cabling solutions and installation procedures are compatible with the requirements of today's networks in practically every region. Blown-fibre micro-cable systems have improved and developed over time.
The demand in Europe is expected to witness significant growth
Compared to the rest of the globe, Europe is a center for technological development and has quicker adoption. The fact that most cable-blowing equipment business is headquartered in Europe also offers it a competitive edge. Europe is anticipated to expand significantly throughout the forecast period due to the growing use of connected and Internet of Things (IoT) devices. More significant investment in infrastructure development is driving the growth of the region. Datacenter applications and 5G technologies will be made possible by this. Due to its strategic prominence, the semiconductor industry has traditionally attracted much political interest.
The global market is anticipated to grow at the fastest rate during the forecast period in the Asia Pacific region. The area has become a global hub for substantial investments and potential for corporate growth. The increased demand for high-speed internet is projected to cause the area to experience significant expansion. Asia's markets also support the growth of 5G mobile technologies, with commercial rollouts in South Korea currently complete and in Japan and China about to follow. Due to the availability of cheap labor in China, which gives the region an advantage with reduced production costs, it competes on price. Each of these elements helps the market expand.
Competitive Insight
There are several major players in the global market, such as Plumettaz, Condux International, General Machine, LANCIER CABLE, Stanley, SKYFIBER, Jakob Thaler, Upcom Telekomunikasyon, Ningbo, Genius Engineers, Prayaag Technologies, JETTING, Adishwar Tele-Networks, Gabe's Construction, KNET, Hexatronic, Anfkom, and others.
Recent Developments
In February 2021, a micro-cable blowing machine–Hurricane, with an electric drive for fiber cables up to 14mm in diameter, was introduced by the General Machine. The double drive concept has been designed to ensure maximum protection for micro cables.
In February 2020, Plumettaz S.A. acquired HMS Machines and Infrared in order to strengthen its presence in the Dutch market.
Cable Blowing Equipment Market Report Scope
| | |
| --- | --- |
| Report Attributes | Details |
| Market size value in 2022 | USD 105.04 million |
| Revenue forecast in 2030 | USD 153.11 million |
| CAGR | 4.82% from 2022 – 2030 |
| Base year | 2021 |
| Historical data | 2018 – 2020 |
| Forecast period | 2022 – 2030 |
| Quantitative units | Revenue in USD million and CAGR from 2022 to 2030 |
| Segments Covered | By Power, By Cable Type, and By Region |
| Regional scope | North America, Europe, Asia Pacific, Latin America; Middle East & Africa |
| Key Companies | Plumettaz, Condux International, General Machine Products (KT) LLC, Fremco, LANCIER CABLE GmbH, Stanlay, SKYFIBER TECH, Jakob Thaler, Upcom Telekomunikasyon, NINGBO MARSHINE POWER TECHNOLOGY CO., LTD., Ningbo Huaxiang Dongfang Machinery., Genius Engineers, Prayaag Technologies, JETTING, Adishwar Tele-Networks Pvt Ltd, Gabe's Construction, KNET, Hexatronic Group, Anfkom, Ningbo Eastern-Grid Power CO., LTD., and others. |