The global cannabis pharmaceuticals market was valued at USD 67.3 million in 2019 and is expected to grow at a CAGR of 75.7% during the forecast period. The key factors responsible for the global market include its transformation from herbal pharmaceuticals to prescription drugs and the use of cannabis-infused drugs for multiple indications such as sleep disorders, inflammation, pain therapies, schizophrenia, genetic disorders, and memory loss disorders such as Alzheimer's and Multiple Sclerosis.
Moreover, the emergence of Cannabis 3.0, which necessitates the use of marijuana for value and perception-based outcomes. The concept focuses on the shift of the use of marijuana from the traditional way of smoking to its processed forms in the pharmaceuticals industry. There is a trend of licensing medical cannabis use to the global payers operating in the market. Recently in August 2020, Eqalis Pharmaceuticals, a New Zealand-based medical cannabis company, received a commercial license from a regulatory agency to manufacture cannabis-infused medicines for the domestic market.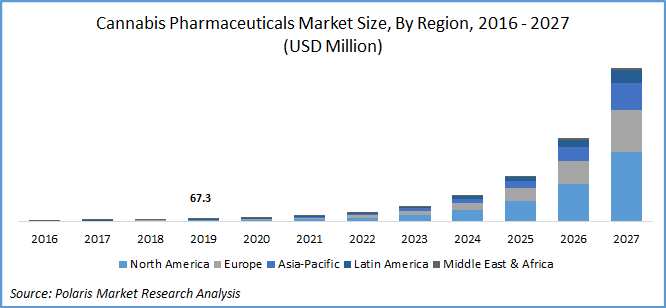 Know more about this report: request for sample pages
For instance, in March 2020, the South Korea-based pharmaceuticals cannabis company, Little Green Pharma, (LGP), received approval from the Office of Drug Control (ODC) for the cultivation, production of medical marijuana and other ancillary activities at its newly constructed manufacturing facility situated in Western South Korea. The approved facility will have 9 flowering rooms and plans to manufacture around 110,000 bottles of medical marijuana per year. The company is signing purchase agreements with distributors based in Germany and the UK to leverage its extended production facility.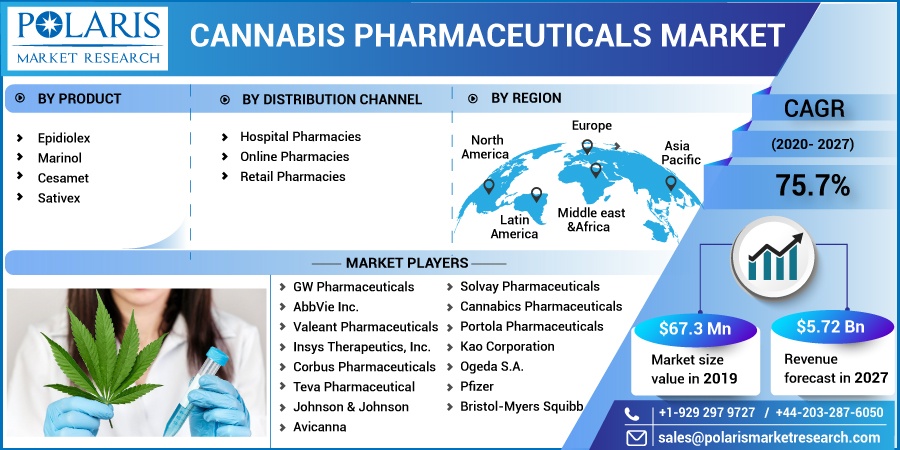 Know more about this report: request for sample pages
Industry Dynamics
Growth Drivers
The increasing number of clinical trials of cannabis-infused drugs for the different therapeutic areas, specifically the use of Cannabidiol, is positively influencing the market growth. As of June 2018, there were around 400 completed or ongoing clinical trials were carried out. GW Pharmaceuticals sponsored clinically was 40, while Sanofi had 38 active clinical trials.
Moreover, the narrative among physicians about the benefits, and supporting clinical evidence, increasing prescription of cannabis-infused medicines among patients. This is evident from the survey by Health Canada in 2019. As per the survey, there were approximately 13, 400 physicians, provided prescription on the average amount of 2.1 grams of marijuana daily to the patients in Canada.
In addition, several pharmaceuticals companies are focusing on new formulations to reap benefits, being an early mover advantage. For example, in 2018, GW Pharmaceuticals launched EPIDIOLIX oral solution for the treatment of seizures. Most of the companies are using plant-based CBD to innovate new formulations. EPIDIOLIX does not contain a psychoactive compound in marijuana, often known as THC.
Cannabis Pharmaceuticals Market Report Scope
The market is primarily segmented on the basis of product, distribution channel, and region.
By Product

By Distribution Channel

By Region

Epidiolex
Marinol
Cesamet
Sativex

Hospital Pharmacies
Online Pharmacies
Retail Pharmacies

North America (U.S., Canada)
Europe (France, Germany, UK, Italy, Spain, Netherlands, Austria)
Asia Pacific (Japan, China, India, Malaysia, Indonesia. South Korea)
Latin America (Brazil, Mexico, Argentina)
MEA (Saudi Arabia, UAE, Israel, South Africa)
Know more about this report:request for sample pages
Insight by Product
Based on the product, the global marijuana pharmaceuticals market is categorized into Epidiolex, Marinol, Cesamet, and Sativex. In 2019, the Sativex segment is expected to dominate the cannabis pharmaceuticals market. Segment's high share is owing to the fact that is used as a drug for the treatment of spasticity in patients suffering from multiple sclerosis and its approval in more than 21 countries for muscle spasticity. Moreover, ongoing clinical trials for its use in other conditions such as spasticity after spinal cord injury, neurological conditions, and post-traumatic stress disorders are anticipated to balance its dominance over the study period.
While the Epidiolex segment is projected to exhibit the highest growth rate over the study timeframe. This is the first cannabis-infused pharmaceuticals approved by the FDA. Moreover, in 2018, it was indicated for Lennox-Gastaut Syndrome (LGS) and Dravet syndrome treatments after promising clinical trial results showing a reduction in seizures. Thus, its high effectiveness, expected to increase its demand in the coming years.
Insight by Distribution Channel
Based on the distribution channel, the market is categorized into hospitals, online pharmacies, and retail. In 2019, the hospital segment is expected to be the largest among all the segments. Segment's high share is due to the exclusive strategic partnerships among manufacturers, and high sale of cannabis-infused medicines from the hospital pharmacies, as prescribed by the physicians. Most of the private hospitals have their in-house medicine disbursal outlet, located within the hospital.
The retail sales segment is expected to exhibit the highest growth rate over the study period. Factors responsible for this would be favorable industry events. For instance, in October 2020, the Colorado-based company, BDSA, provider sales tracking services, has increased its offering to the Cannabis industry. It partnered with Canada based technology company Buddi.
Geographic Overview
North America is the largest revenue contributor in the cannabis pharmaceuticals market. The North American region, in particular the U.S., is experiencing adverse COVID outcomes. While the United States has not federally legalized cannabis for medical or recreational use, 33 U.S. states have enacted laws legalizing cannabis in some form for medical use, and 10 states have legalized cannabis for adult use.
An additional 14 states allow the use of CBD a non-psychoactive cannabinoid with strong therapeutic value on a very limited basis. Despite federal illegality, cannabis use in the U.S. is so widespread at the municipal level that it is increasingly becoming a low priority for law enforcement and the courts. As result, not only do Americans hold very progressive views on cannabis legalization 62 percent believe it should be nationally legal the country has also led the world in cannabis innovation, with the creation of new genetics, cultivation techniques, derivative products, and ingestion methods.
The U.S. diplomacy always lied to its international allies based on its "war on drugs". The U.S. made international initiatives with the UN and the concerned international bodies, to effectively prohibit cannabis legalization globally through international treaties. Such policies, and the way how Canada and other counties are interpreting them, are driving the global debate about cannabis reform.
Many countries across the Latin American region are launching legal medical cannabis through highly regulated industries. Eight countries have legalized medical use: Argentina, Brazil, Chile, Colombia, Mexico, Paraguay, Peru, and Uruguay. The region's only country to have legalized recreational use is Uruguay, though Mexico is expected to legalize an adult-use program this year.
Uruguay's adult-use reform was enacted in 2014, and the country has since also established a regulated medical cannabis program. The stated goals of adult-use legalization were to reduce violence associated with drug trafficking and to promote public health. The respective country's government strongly controls the cultivation, processing, and dispensing of both medical and recreational cannabis.
Competitive Insight
Key players operating in the global market include GW Pharmaceuticals, AbbVie Inc., Valeant Pharmaceuticals, Insys Therapeutics, Inc., Corbus Pharmaceuticals, Teva Pharmaceutical, Johnson & Johnson, Avicanna, Solvay Pharmaceuticals, Cannabics Pharmaceuticals, Portola Pharmaceuticals, Kao Corporation, Ogeda S.A., Pfizer, and Bristol-Myers Squibb.