The global canola oil market was valued at USD 29.24 million in 2022 and is expected to grow at a CAGR of 5.6% during the forecast period. The growing proliferation of canola oil because of its high level of heart-healthy monounsaturated and polyunsaturated fats, omega-3 fatty acids, and low levels of saturated fats and widespread use of product in various non-food applications like biodiesel production, industrial lubricants, and as a feedstock for bioplastics, are the primary factors driving the global market growth. In addition, several other prominent factors like increasing population, changing dietary habits, and growing demand for processed foods, especially in emerging economies, provide ample growth opportunities for market players to expand their business.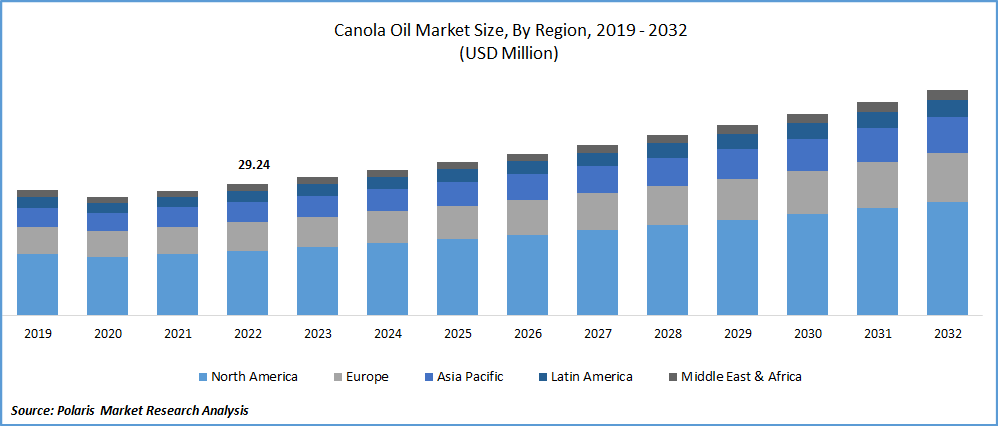 To Understand More About this Research: Request a Free Sample Report
For instance, in April 2022, Turkmen Company announced the launch of a new canola oil production facility that will soon reach the shelves of domestic retail outlets. With the start of this canola production, the company is expanding its rapeseed output in Turkmenistan and is also looking to establish its export business.
Moreover, according to a recent study, high use of canola could help individuals to modify fatty acid intake into greater compliance with recommendations effectively. There are also several other indirect evidence of nutritional benefits associated with the consumption of canola oil, mainly in relation to the high monounsaturated fatty acid & ALA contents, that is pushing the market growth forward.
The outbreak of the COVID-19 pandemic has significantly impacted the growth of the canola oil market. The rapid spread of the deadly coronavirus worldwide has forced countries to take stringent actions like lockdowns and other stringent restrictions, which led to huge disruptions in the global supply chain and also resulted in continuous fluctuation in raw material prices, resulting in declining sales of canola oil. However, the panic buying of essential cooking products from consumers, including canola oil, boosted the demand during the pandemic.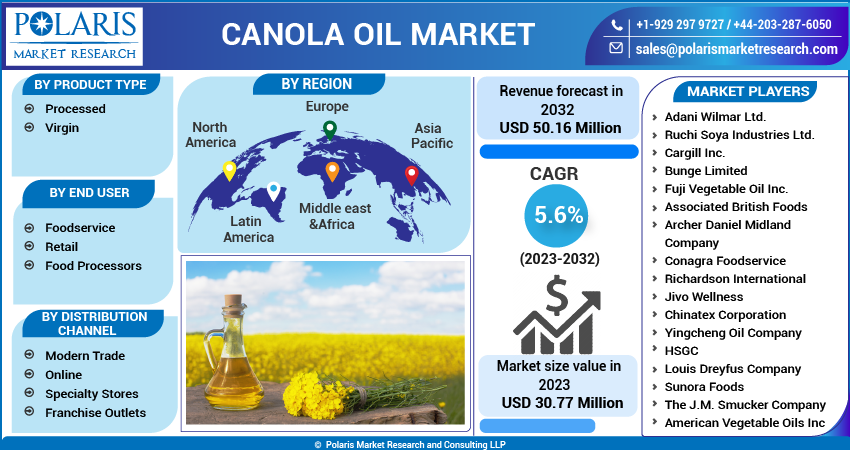 For Specific Research Requirements, Request for a Customized Report
Industry Dynamics
Growth Drivers
The growing penetration among major manufacturers of personal care and cosmetics products towards the incorporation of canola oil into their beauty and skincare products due to its moisturizing properties, ability to slow the appearance of wrinkles, acne, and blemishes, increases the injury healing rate, and protect the skin from free radicles, which has been acting as a major driver for the global canola oil market in the recent years.
Furthermore, key companies operating in the life science industry are stimulating the development and advancement of new canola varieties and traits, which help farmers in boosting their yield and manage challenges related to the agronomics and are significantly focusing on providing special oil profiles, higher oil content, and more protein, which is likely to create lucrative growth opportunities for the market.
Report Segmentation
The market is primarily segmented based on product type, end user, distribution channel, and region.
By Product Type

By End User

By Distribution Channel

By Region

Foodservice

Retail

Food Processors

Modern Trade

Online

Specialty Stores

Franchise Outlets

North America (U.S., Canada)

Europe (France, Germany, UK, Italy, Netherlands, Spain, Russia)

Asia Pacific (Japan, China, India, Malaysia, Indonesia. South Korea)

Latin America (Brazil, Mexico, Argentina)

Middle East & Africa (Saudi Arabia, UAE, Israel, South Africa)
To Understand the Scope of this Report: Speak to Analyst
Processed segment accounted for the largest market share in 2022
The processed segment accounted for largest market share in 2022, and is expected to gain noticeable growth rate over the next coming years, on account of rapidly growing popularity of processed canola oil as key ingredient in a wide range of processed and packaged foods such as baked goods, snacks, and ready-to-eat meals and surging demand for biofuels as a cleaner and more sustainable alternative to fossil fuels has also been pushing the market growth forward over the years.
The virgin segment is anticipated to gain significant growth rate during the projected period, which is highly attributable to increasing number of consumers across the globe being aware regarding the health benefits of consuming natural and unprocessed products along with the availability of neutral flavor and high smoke point in virgin canola oil, making it a versatile ingredient being used in numerous types of cooking applications ranging from cooking from frying.
Foodservice segment held the significant market revenue share in 2022
The foodservice segment held the majority market revenue share in 2022, that is largely attributable to growing adoption of canola oil across numerous foodservices due to its various beneficial characteristics including low in saturated fat and high in unsaturated fats and its high versatility. Moreover, the growing need to manage the operating costs and expenses among foodservice establishments is fueling the adoption of canola oil, as it is a cost-effective alternative to other cooking oils like olive oil, thereby propelling the segment market.
The food processors segment is likely to exhibit fastest growth rate over the study period, mainly due to increasing number of consumers becoming more environmentally conscious, resulting in higher prevalence for adopting sustainable ingredients in food processors. As, canola oil has gained significant traction as a sustainable option requiring less water and very fewer pesticides compared to other oilseed crops such as palm and soybean oil, which in turn, driving the market growth.
Online segment is anticipated to witness highest growth during forecast period
The online segment is anticipated to grow at a high CAGR during the projected period, that can be highly attributed to increased number of people with access to fast internet facilities and rapid emergence of online shopping platforms, as they offer wide array of benefits including convenience, wider availability of products from different brands, higher discounts and promotions, home delivery, and several payment methods. In addition, online platforms allow brands to increase awareness of their canola oil products characteristics and benefits through social media and digital advertising, resulting in increased consumer interest and sales.
For instance, there were over 5.16 billion internet users across the world in January 2023, that accounts for approx. 64.4 percent of the world's total population. The Asia region was home to largest number of online users globally with over 2.9 billion followed by Europe with 750 million users.
North America region dominated the global market in 2022
The North America region dominated the global market with substantial revenue share in 2022, and is projected to maintain its dominance throughout the forecast period, which is mainly driven by increasing product demand in wide range of cosmetics and personal care products including lotions, serums, and others along with the rising preference for healthier food options among consumers to maintain their health and well-being across the region.
Government policies, such as the implementation of regulations for the use of trans-fat-free oils and various subsidies that are being provided to the farmers for the cultivations of canola crops have led to an increase in the demand for canola oil and also contributed to the growth of the market at exponential pace.
The Asia Pacific region is expected to grow at fastest growth rate of over the anticipated period, owing to significant increase in the demand for food products due to surge in population and growing incidences of cardiovascular diseases that force consumers to opt for healthier alternative to their traditional cooking oils.
Competitive Insight
Some of the major players operating in the global market include Adani Wilmar, Ruchi Soya, Cargill Inc., Bunge Limited, Fuji Vegetable Oil, Associated British Foods, Archer Daniel, Conagra Foodservice, Richardson International, Jivo Wellness, Chinatex Corporation, Yingcheng Oil, HSGC, Louis Dreyfus, Sunora Foods, J.M. Smucker, and American Vegetable Oils.
Recent Developments
In November 2022, DSM, introduced new Vertis CanolaPro. Product is complementary to the proteins from legumes & the cereals also has optimum quantity of amino acids.

In March 2023, Corteva Agriscience & Chevron., collaborated to introduce new canola hybrids, producing oil with low carbon profile. Both companies are planning to introduce this hybrid into the Southern states of the U.S. for generating a new avenue for farmers with sustainable crop rotation.
Canola Oil Market Report Scope
| | |
| --- | --- |
| Report Attributes | Details |
| Market size value in 2023 | USD 30.77 million |
| Revenue forecast in 2032 | USD 50.16 million |
| CAGR | 5.6% from 2023 – 2032 |
| Base year | 2022 |
| Historical data | 2019– 2021 |
| Forecast period | 2023 – 2032 |
| Quantitative units | Revenue in USD million and CAGR from 2023 to 2032 |
| Segments covered | By Product Type, By End User, By Distribution Channel, By Region |
| Regional scope | North America, Europe, Asia Pacific, Latin America; Middle East & Africa |
| Key companies | Adani Wilmar Ltd., Ruchi Soya Industries Ltd., Cargill Inc., Bunge Limited, Fuji Vegetable Oil Inc., Associated British Foods, Archer Daniel Midland Company, Conagra Foodservice, Richardson International, Jivo Wellness, Chinatex Corporation, Yingcheng Oil Company, HSGC, Louis Dreyfus Company, Sunora Foods, The J.M. Smucker Company, and American Vegetable Oils Inc. |